I promised the rest of the story about my trip to Independence, Missouri, for the Mid-States Cactus and Succulent Conference. And here it is.
The conference ran from Thursday to Sunday; Part one covered the first of the conference. Now it is Saturday, starting with Jimmy Black's talk on medical xerophytes, meaning cactus and succulents. Aloe vera is thought to be the first succulent in history to be used for medicinal purposes, but there are others, the other most well-known being peyote from the Lophophora williamsii cactus native to the Rio Grande area in Texas and Mexico. But lots of myths and misinformation are around about using succulents as medicine and Jimmy, who has a background in pharmacology, shared the research done on this topic. And the research says that besides the Aloe vera gel being helpful, no other plants have medicinal uses, and the peyote cactus is really the only one with any mind-altering properties.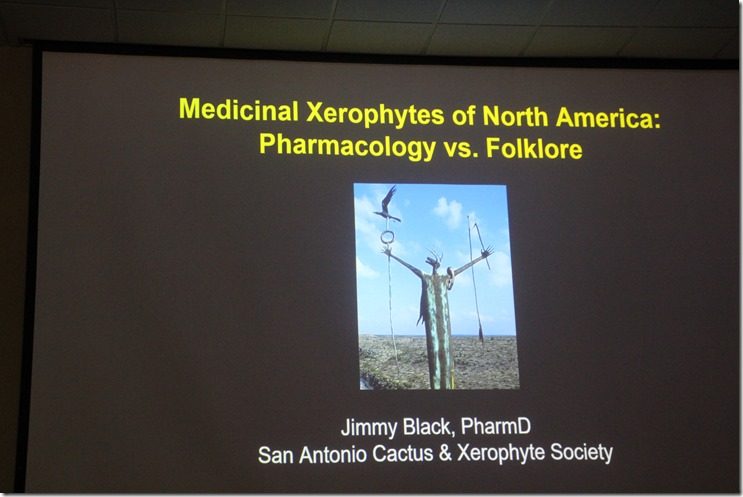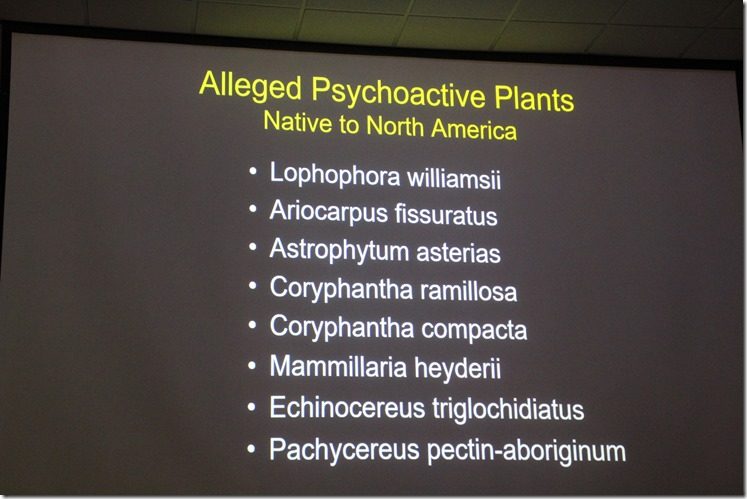 After Jimmy, Guillermo Rivera told us about more cactus from South America, this time those found in Peru.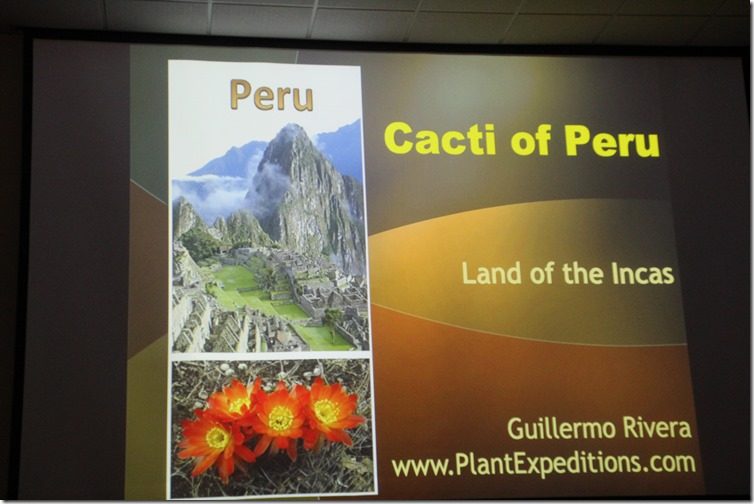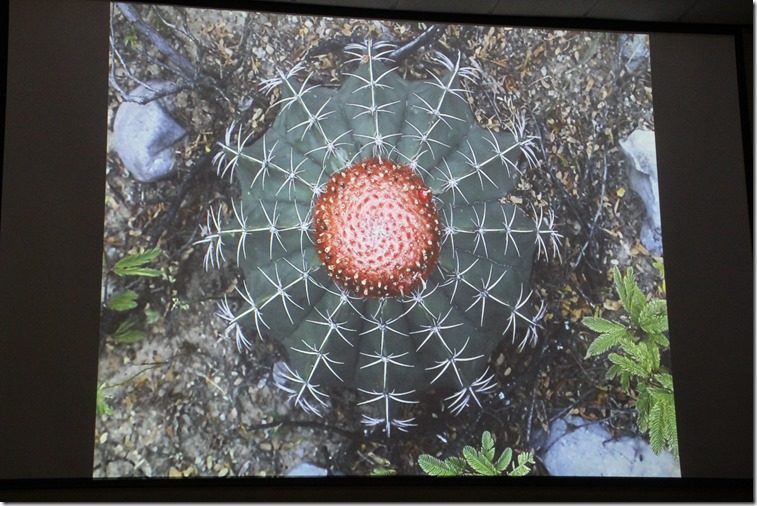 Mike Hellmann was next talking about Ficus and Dorstenias and did a bang-up job because after his talk, the list of bids on the little Dorstenia foetia crispa that he donated to the silent auction ballooned!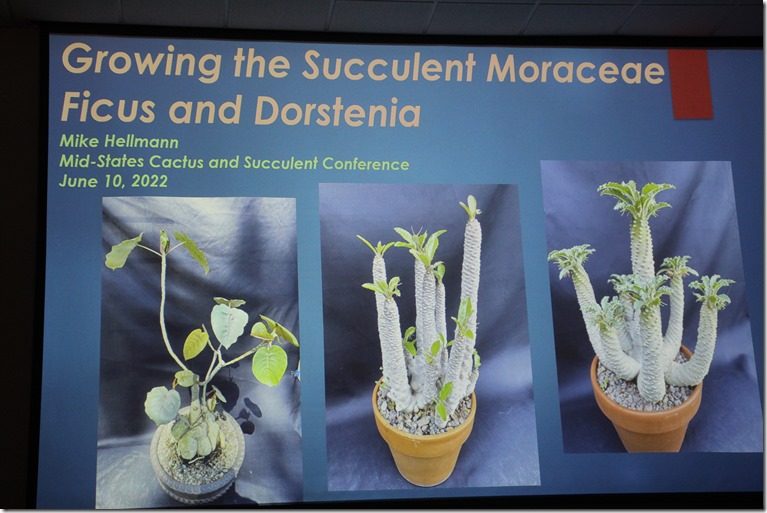 After a light lunch, Kathy Schlesinger talked about the ancient art of bonsai. I found out that bon means tray or pot and sai means to plant; hence "planted in a shallow container." And the word is pronounced bone si, not bon si, like I think I was saying it.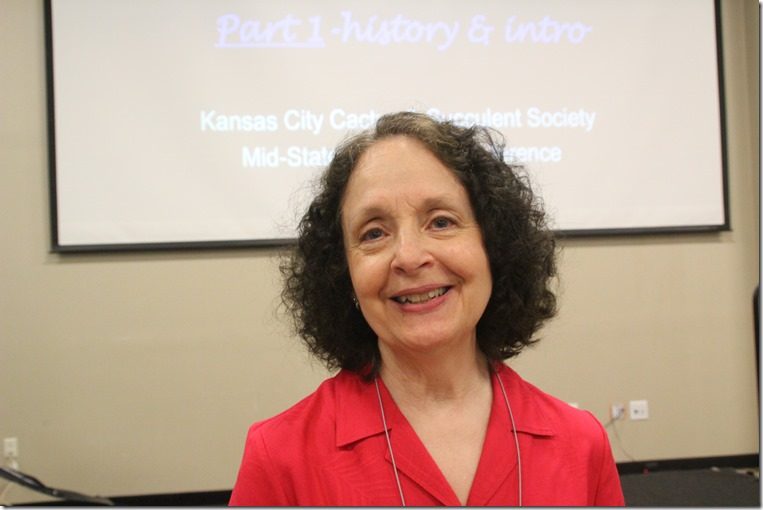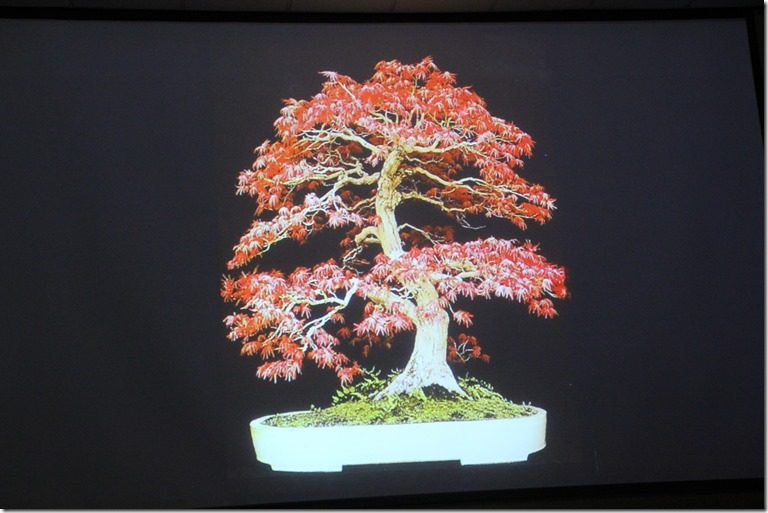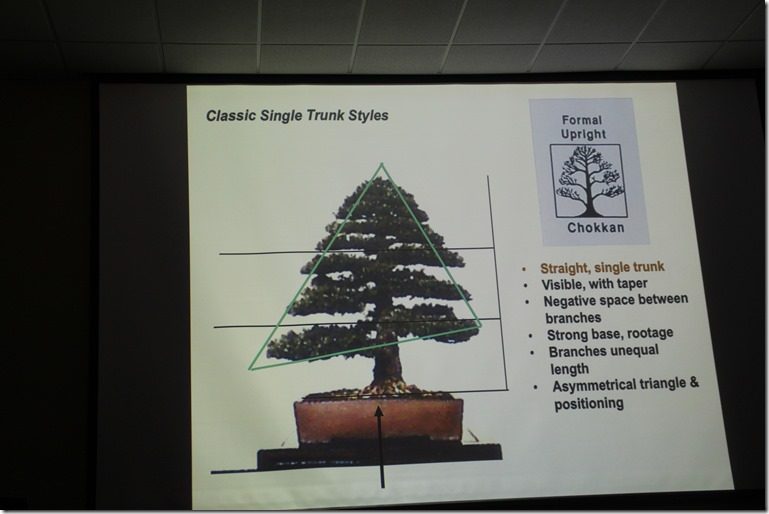 I missed the last of this talk because it was time to drive to Judy Pigue's house to see her garden and potted cactus collection. She has quite a variety of Opuntias- prickly pears and chollas- as well as other plants, and she was nice enough to share a couple of cuttings with me of some things I don't have.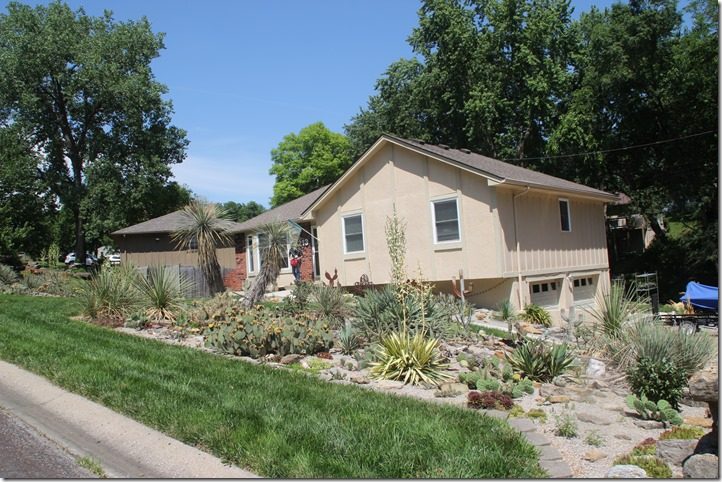 That night was the banquet. I sat with Rod from Colorado Springs, Kate and Mark from Oklahoma City, Ray and Bill from Chicago. We enjoyed the meal as well as the live rare auction afterward, and we all bid on several of the plants.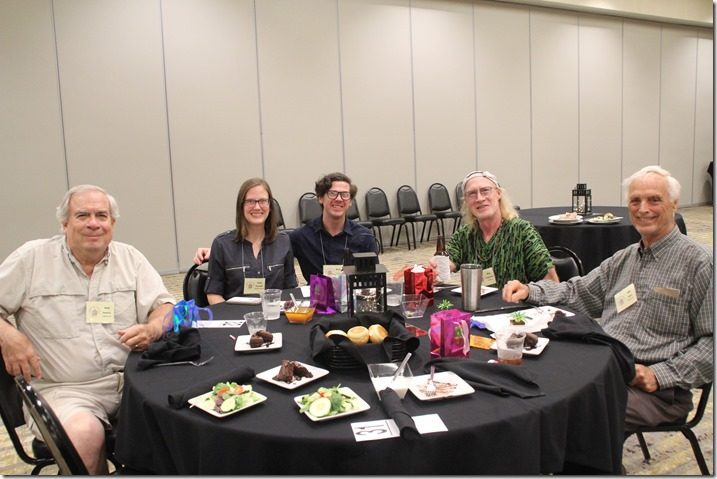 Woody Minnich and Rob Wallace have traditionally taken care of the auctioning duties at these cactus meetings, Rob doing the auctioneering and Woody talking up the plants offered to buy.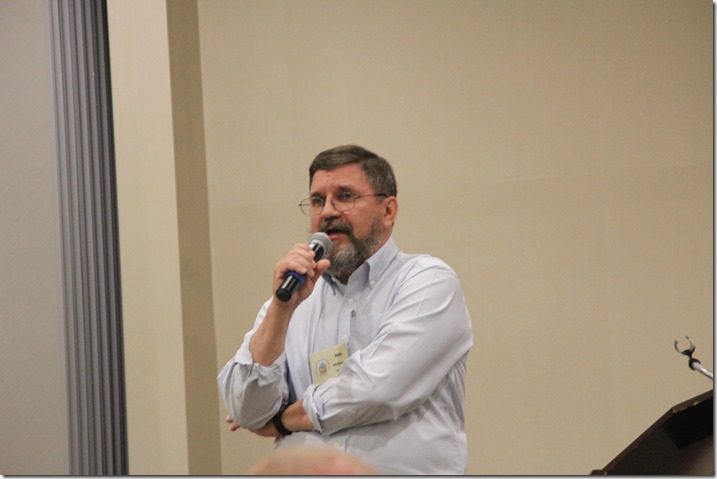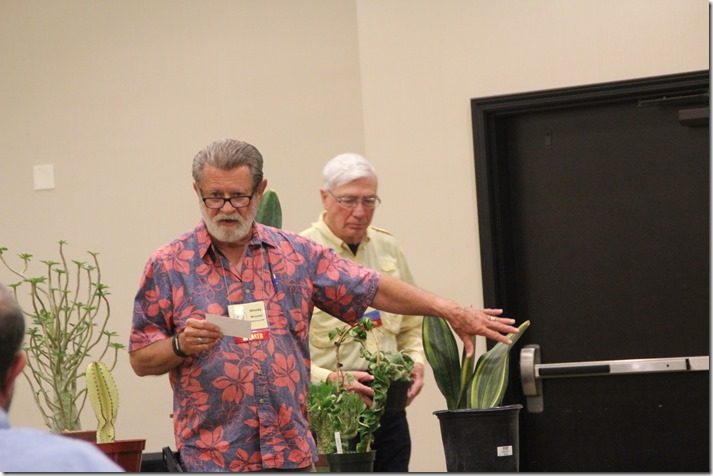 Remember the talk on Dorstenias I mentioned? Well, Mike Hellmann also donated a large, very nice Dorstenia foetia to this live auction, and the bidding war was fierce. A young man from Chicago finally made the winning bid at $725!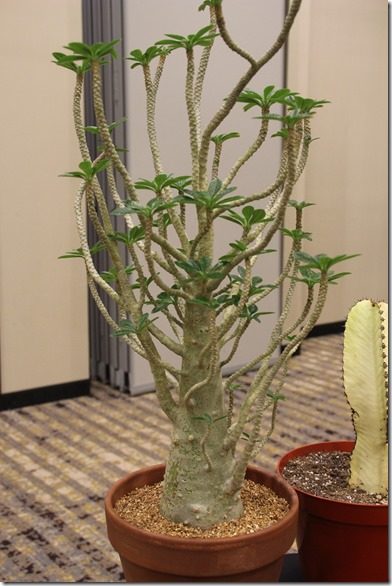 Mike also donated a Yucca endlichiana which just happen to have a nice little Dorstenia foetia seedling from the $725 plant in it; the yucca is a bit different to what I have, so I bid on it, and I assure you I didn't pay any $725 for it! But it was again one plant more than I had planned to come home with. I have already taken the little Dorstenia out and repotted it, so that's yet another plant I had not planned on coming home with!
Sunday was the last day of the conference, a short day that started with another presentation by Rob Wallace, "Succulent Science Simplified: What Every Grower Needs to Know," a really helpful talk. I took pictures of many of his slides so I can study them more closely at home and do some of the things he brought to our attention.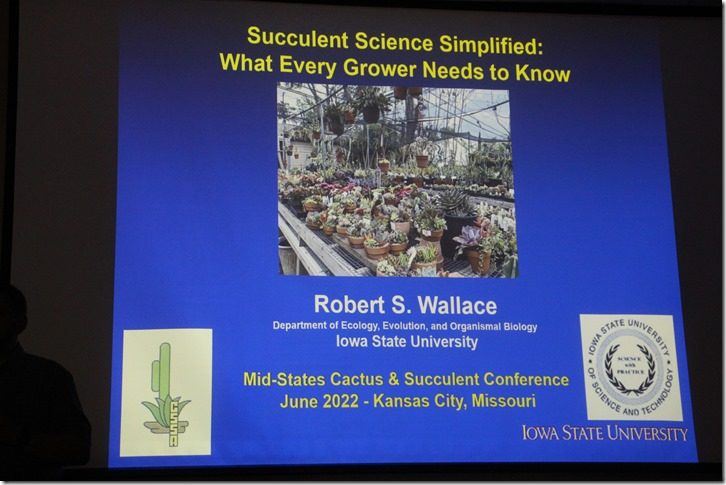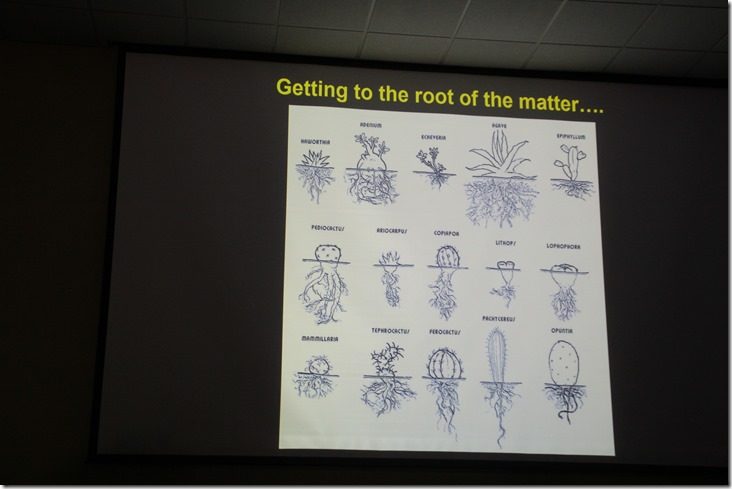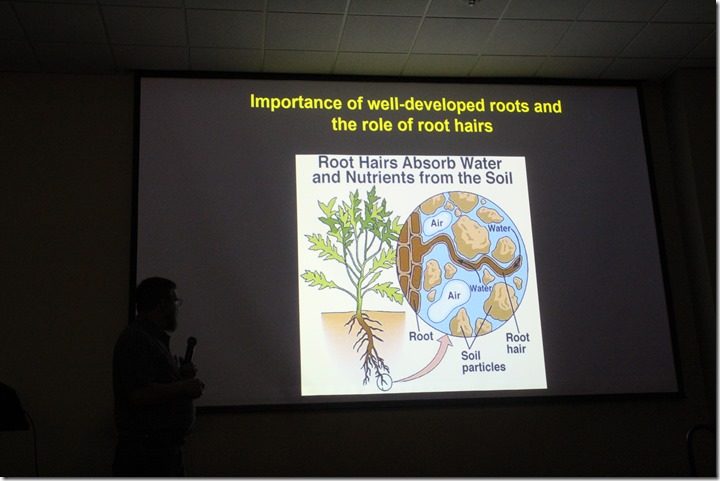 Woody followed with cactus from the states in our great Southwest. I missed his title slide because I had to rush back to the room for a fresh camera battery, but I did get this slide of the areas in our Southwest that he would be talking about.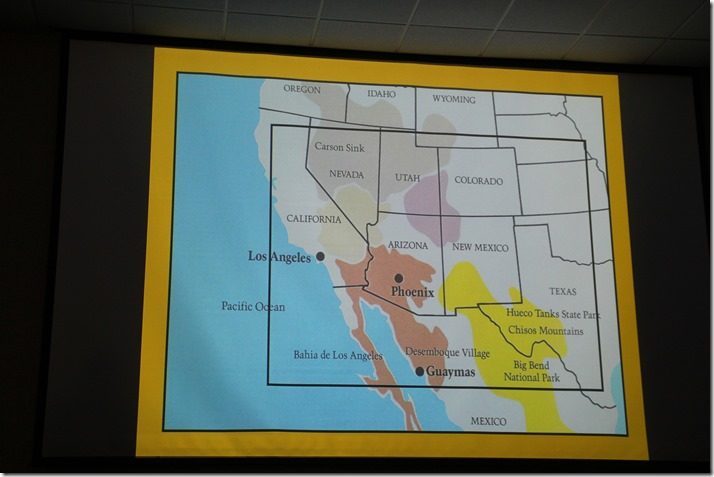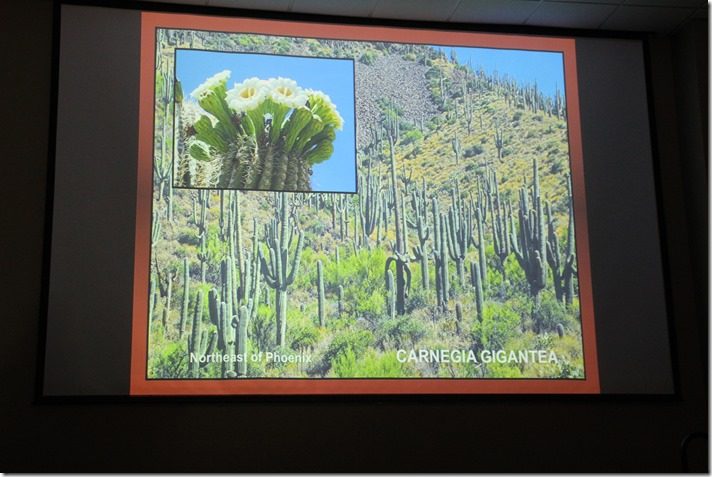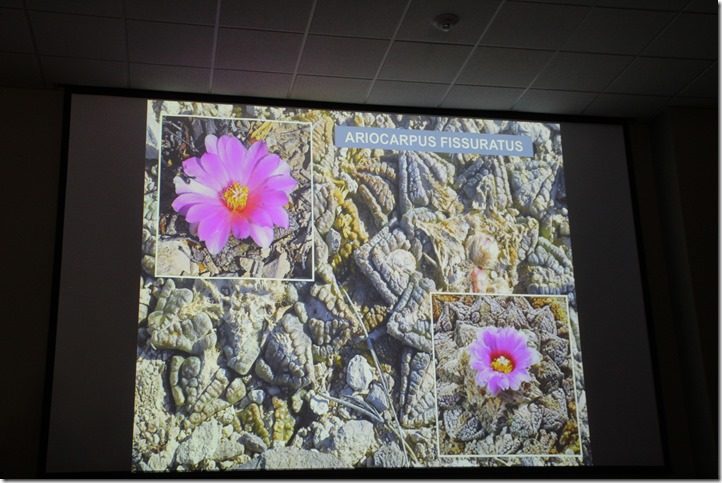 Rob Wallace followed this session with the last of his earlier talk where he ran out of time. Among other things, he talked about trying to create microclimates that would be similar to the native habitat of the plants, nurse plants that protect young plants until they are established, and most importantly, what is it we can and can't control when trying to duplicate the climates where these plants occur naturally.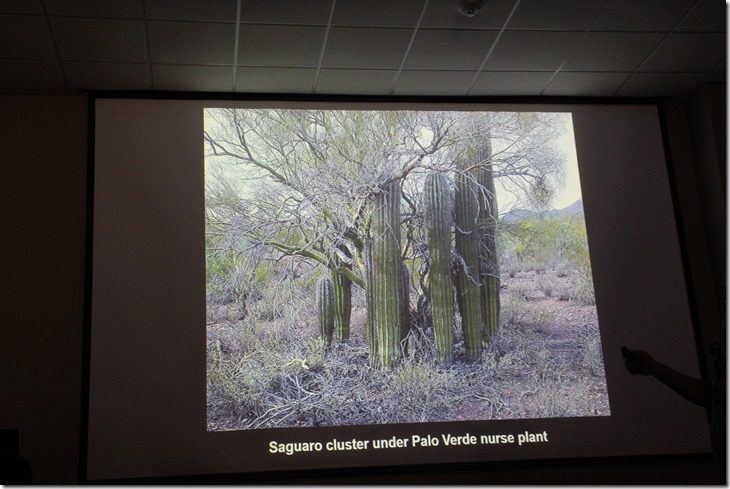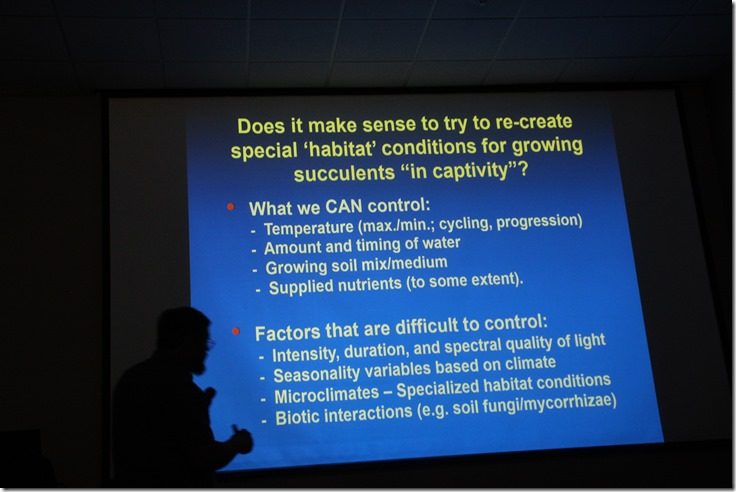 This ended the conference and people were leaving, but it was time for lunch, so Judy, Woody, John, Kathy, and I enjoyed a last meal at Los Cabos next door to the hotel.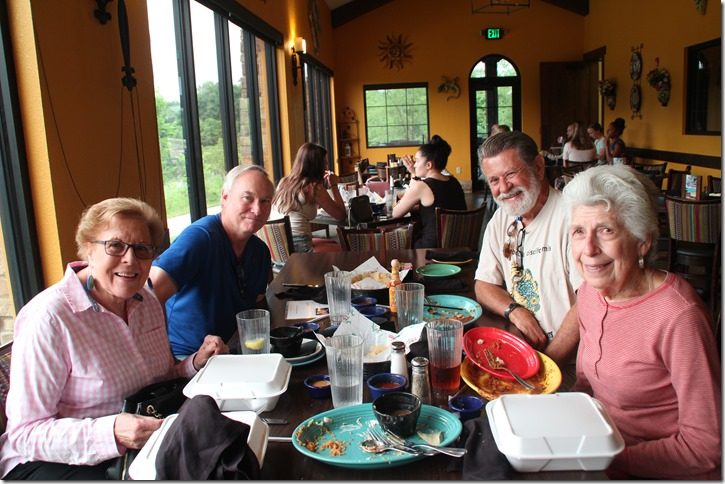 The conference over, I made my way to Wichita again, spent the night, and pulled into Muleshoe mid-afternoon. I enjoyed the conference and learned more tricks of the trade, and I have pictures of key presentation slides that I can study at home to work on giving my plants proper care and growing conditions. Good trip.
Looking forward to my next cactus extravaganza.