B.J. Thomas died Saturday, May 29th, to cancer. I was sorry we lost him. I grew up listening to his music when he sang with The Triumphs, a rock bank based in Rosenberg, Texas, where I grew up.
Okay, it's a stretch to say I knew  him. He was a senior at Lamar Consolidated High School in Rosenberg, where we both graduated, but I was just an insignificant little freshman, and he was a BMOC senior in 1961. He was lead singer for the Triumphs who played at dances in small town Knights of Columbus halls in small towns like East Bernard, Hillje, Beasley, and others.  They had battle dances with Roy Head the Traits, a similar-style band from San Marcos. Then, years later when Lamar had All 60s Class Reunions, the Triumphs were invited to play, and at least once B.J. sang with them. I suspect the crowds were much bigger when he was there.
Biographies of B.J. say he grew up in Houston, and I guess he did, but at some point the family must have moved to Rosenberg where he was a student at Lamar in Rosenberg, but maybe Houston felt more like home to him. He honed his singing skills and made a name for himself with the Triumphs. I am not privy to the history with the band and how he left to find fame and fortune in Hollywood and Nashville when he and the band parted ways, but apparently they are all still friends.
He did graduate from Lamar Consolidated. I know this because there he is in the 1961 annual, along with his brother Jerry Thomas. His birth name is listed as Billy Joe, but as you see in the annual picture he is listed as Benjamin Jehovah, quite a mouth-full. I have no idea which is really right, but I wouldn't put it past him to have listed that name as an inside joke; kids in those days were known to do stuff like that and get away with it. Just like when Bill Severin posed in the top ten 1963 graduates' picture with a graduation tassel hanging from each ear along with a very serious look on his face. And got away with it! But I digress.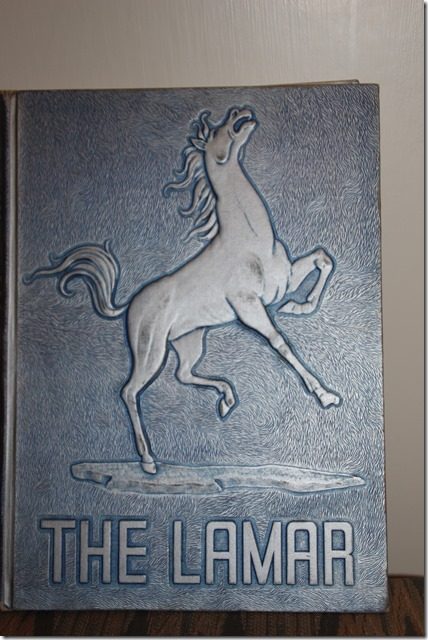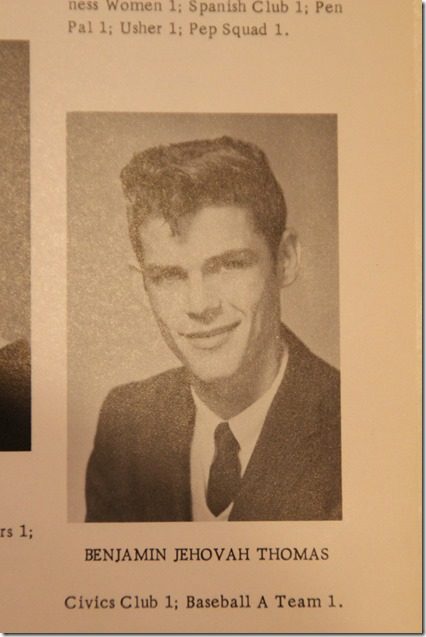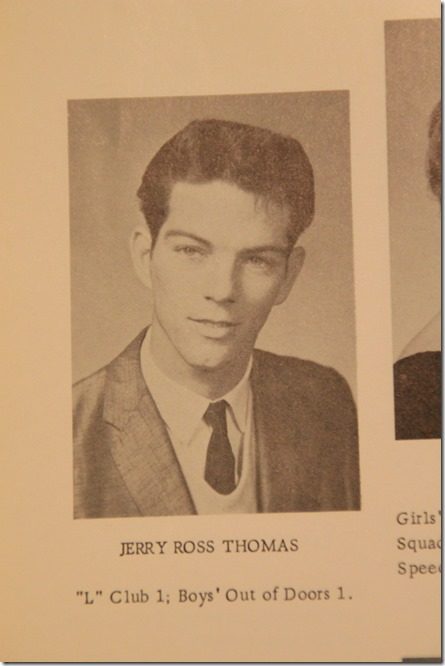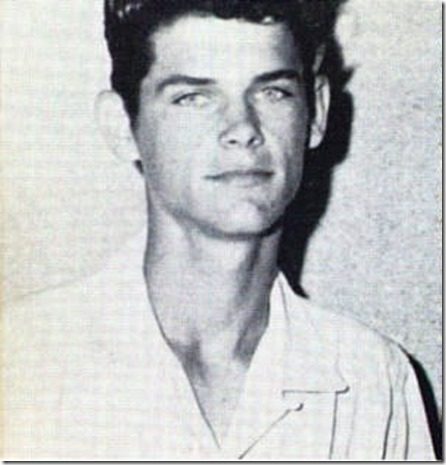 Photo courtesy of Don Drachenberg, I think!
Soon after we moved to Muleshoe from Edna, Texas, B.J. was scheduled to do a concert in Marshall Junior High in Clovis, New Mexico, in 1984. New friend Jan King was a fan, and when she found out I liked him and had a bit of a  history with his music, we decided to go. I find it interesting today that Reba McIntire was the opening act, all dry ice smoke and fancy costumes, as I recall, typical of her style. She was good. I got her autograph. Then when B.J. came on, he was in a suit and just sang, which was all we really wanted him to do. We hung around after the concert and waited by the tour bus until he came out. We giddily caught him before he boarded the bus, introduced ourselves, and I told him I was from Rosenberg and mentioned some people he might remember from school and places he had played. I know he had no idea who I was, but I think he did remember some people I mentioned. As I blathered on, he was amazed, sat down on the bus step and just listened. This was back before the days of phone cameras, of course, and before I carried a camera around with me, so we have no picture to prove it, but it made a good memory.  I think maybe he gave us a hug and kiss on the cheek, and then he was gone.
Then the years passed, he made a real name for himself, minus the Triumphs. "Raindrops Keep Falling on my Head" was a big hit, along with several others, none the old rock and roll songs we danced to at the dances, and he was a star on pop, country, and later, on Christian stations.
Then we all got old. In 2012 an All 60s Class Reunion was held in Rosenberg. B.J. and the Triumphs were to play. Bill and I went. They mostly played old stuff from our high school days, those dances in the K of C halls, and other good stuff as well as his hits. Good music and lots of fun. His old groupies would stop dancing and just stand in front of the bandstand in admiration when he sang their favorites. I can remember most of them singing along with "Hey, won't you play somebody done somebody wrong song." I suspect I at least hummed along as that is one of my favorites.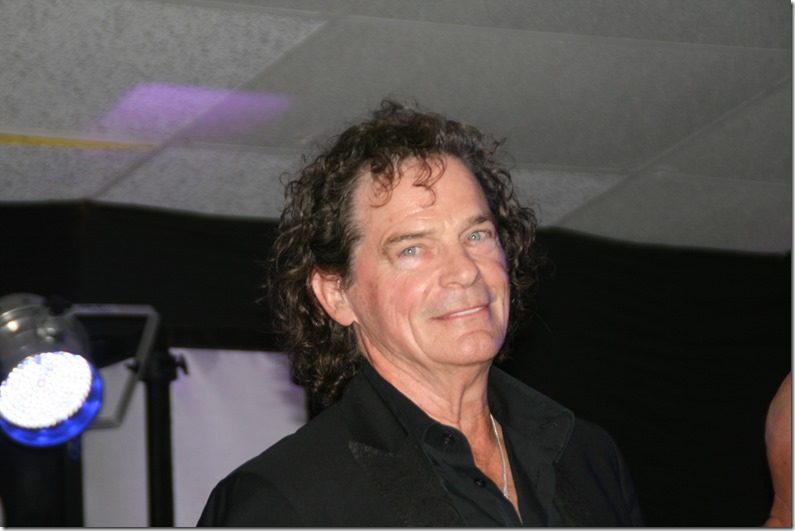 After the dance, lots of people lined up for autographs on CD and record album covers they had brought with them. I had not brought anything, but I had been working on a story about the Triumphs and some of the band members knew me, so I asked if I could have a copy of one of the playlists. The wish was granted and B.J. sighed that. It is in the Lamar scrapbook I have kept for myself and the class.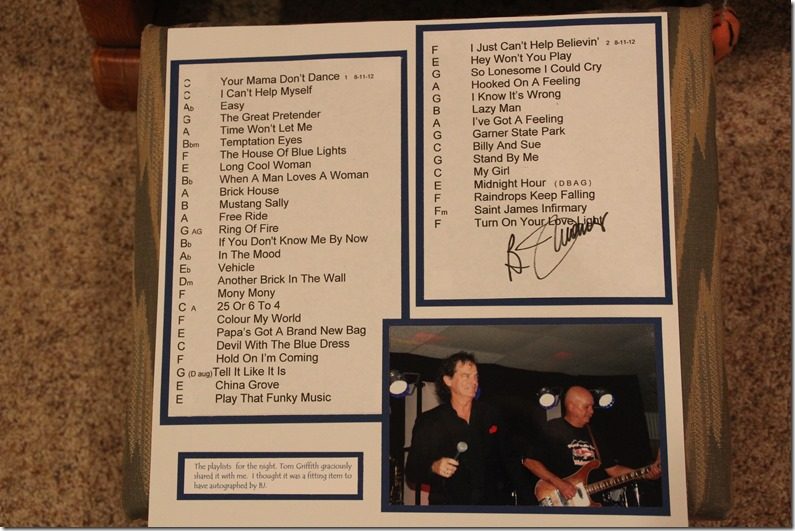 This is just my rambling tales having to do with B.J. Thomas. Come on, admit it. I think we all secretly, unconsciously, like to be able to lay claim to knowing someone famous. It's fun. Heck, my claim to fame for a while at Muleshoe High School was that I knew, and I really did know him, was Stone Cold Steve Austin when he was blonde-haired, blue-eyed, good-looking, athletic Steve Williams in Edna. He  most likely wouldn't remember me, either. But I digress. Again.
You can read the official history and documentation of his hits, of which there are many successes, all over the Internet. I have also given the links to the blog stories I have written earlier about B.J. that you might be interested in. Skip the pictures of all my old classmates and hunt for the pictures of him and information about B.J. and the Triumphs. I am glad he has been a part of my history.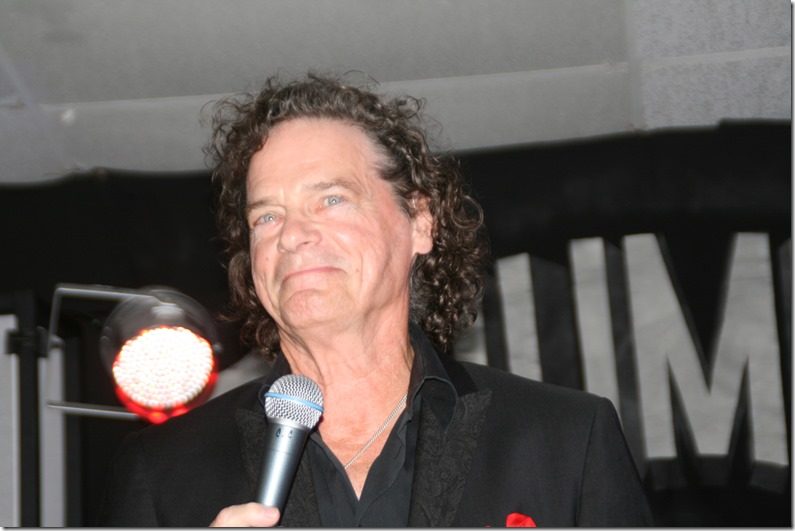 Godspeed, B.J.
https://www.aliceliles.com/2012/08/i-saw-old-people.html
https://www.aliceliles.com/2012/08/let-me-tell-you-about-triumphs.html