Since around 2003 a group of cactus lovers has converged on the McPherson 4M Ranch in Sonora, Texas, to appreciate cactus in its natural habitat and to also take home a few for personal gardens. I took part in the adventure this year.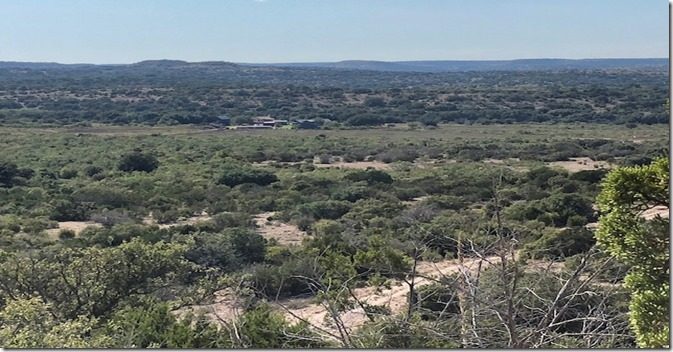 The story goes that around 2003, give or take a year, Ernie Akers' business partner came out to the McPherson 4M Ranch to hunt turkeys and told Ernie about it. Ernie knew the ranch was typical cacti country as well, and being a cactus collector, asked about coming out there to hunt cactus instead of turkeys. Permission was granted, and since then it has become a fairly regular October event at the ranch. I was signed up to go last year, but it had to be cancelled due to the unusually heavy rains that swamped the place last October.
Owner Sandy McPherson said the ranch has been in his family since the 1800s. The 30,000 acres, then known as the Aldwell Ranch, sold sheep and cattle in Abilene. It was customary then, and really, pretty much now, that men inherited land and women married it, which is how he wound up with part of the acreage, since it was his mom who eventually wound up with 12,500 acres, because her mother was one of the descendants who inherited the land. Sandy and his brother divided it up in the '80s and are now partners. They no longer run their own cattle on the place, but lease it out for cattle and for hunts of white tail, axis, and fallow deer, black buck antelope, aoudad goats, Rio Grande turkeys, wild hogs, bobcats, and now cacti.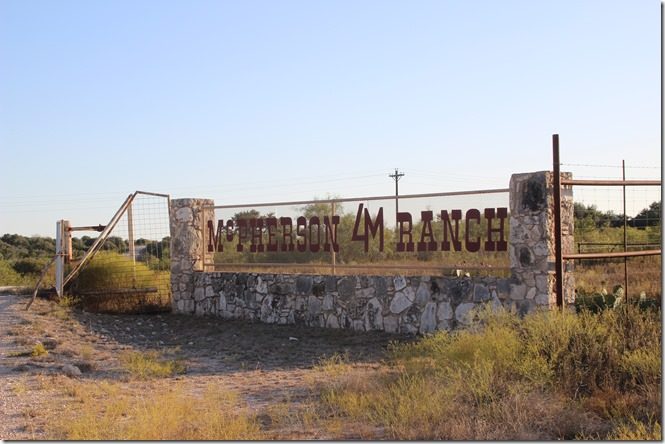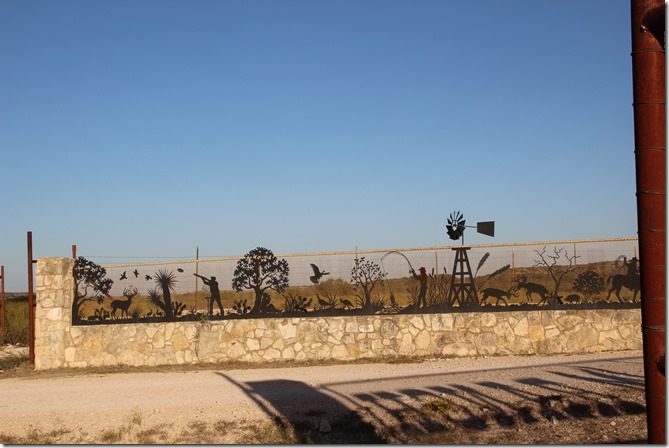 The cactus hunt runs from the Saturday when you arrive, this year October 18th, and ends when you leave Sunday by 11 a.m. I arrived  and was all settled in by 2:30. Accommodations were rustic, as is appropriate for a hunting camp, but comfortable and convenient.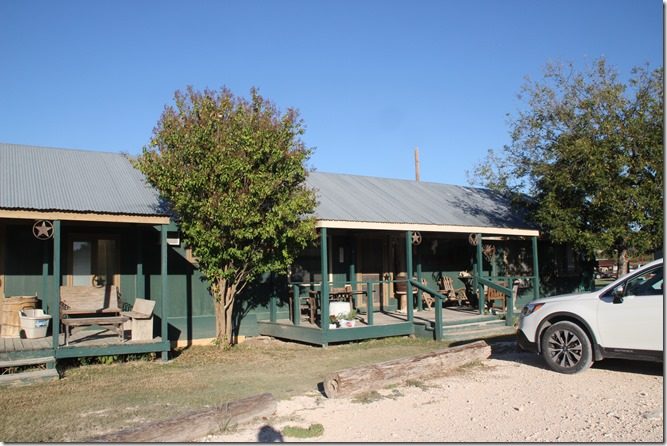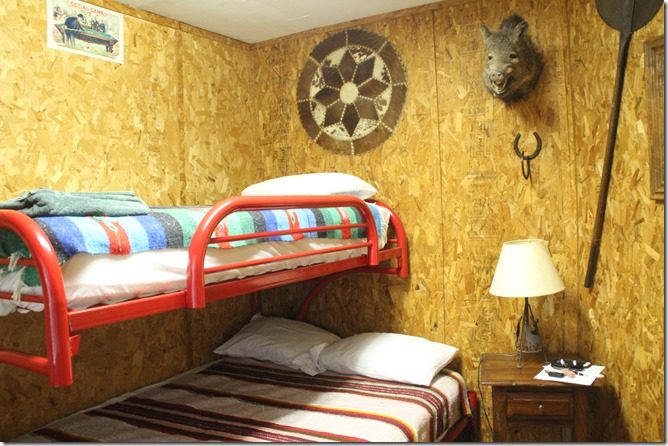 I met up with Claude Townsend and his wife Eula from the San Antonio Cactus and Xerophyte Society, who told me about the trip, and a few others who have taken the adventure before. Since Ernie Akers, Lorraine Pia, and Marie Garsjo knew where they were going and graciously let me tag along, I followed them in my car and it didn't take long to realize this was not the best choice of vehicle for tracking down cactus! But we found some cactus after we tumbled over lots of rocks on the very basic road. Like this clump of Echinocereus enneacanthus-at least that's what I think it is- a strawberry hedgehog that is new to me. And went home with me.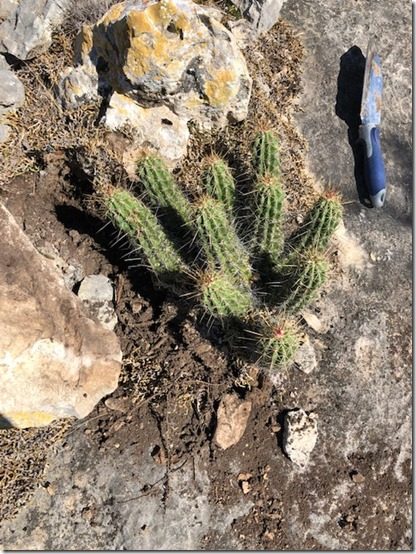 We found several Epithelantha micromeris, usually smaller and harder to spot than this one.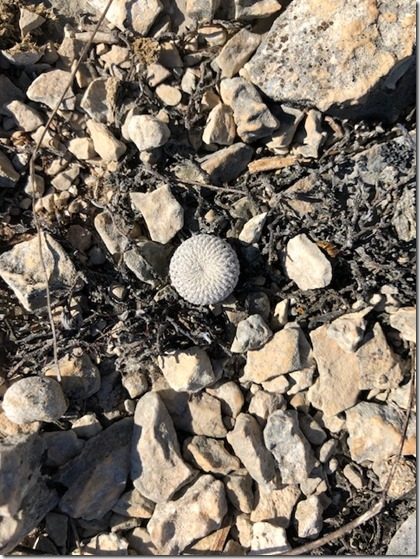 I didn't try to take this lizard home, but he posed nicely for me.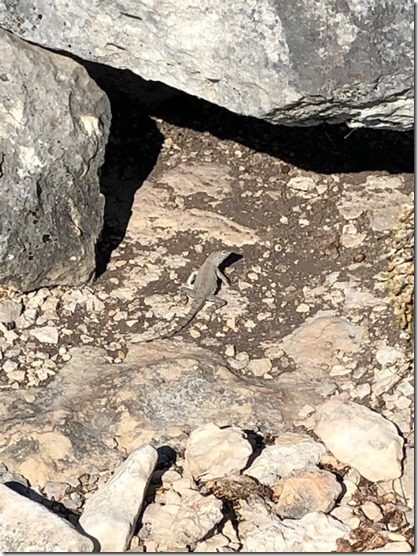 Ernie and Lorraine found this lovely Echinocactus texensis and decided to leave it for future seed germination and therefore new plants. I mean, after all, if we take them all, there will be none for our kids to appreciate, right?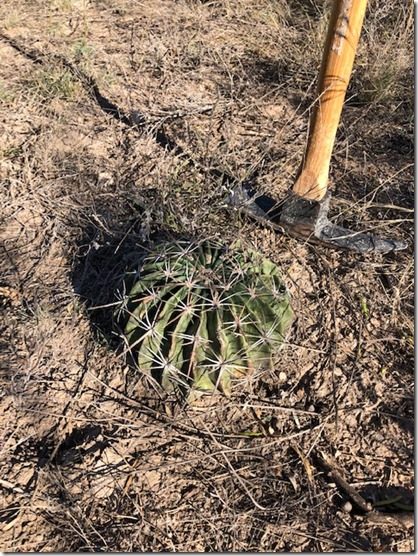 After a busy afternoon, we were all greeted at the dining hall by these two dogs, the names of which, alas, I failed to learn, but they made everyone feel welcome, and I suspect were anticipating a few scraps from the pork steaks being grilled outside as well as the rest of the dishes prepared in the kitchen by Manfred and Sherri Loeffler.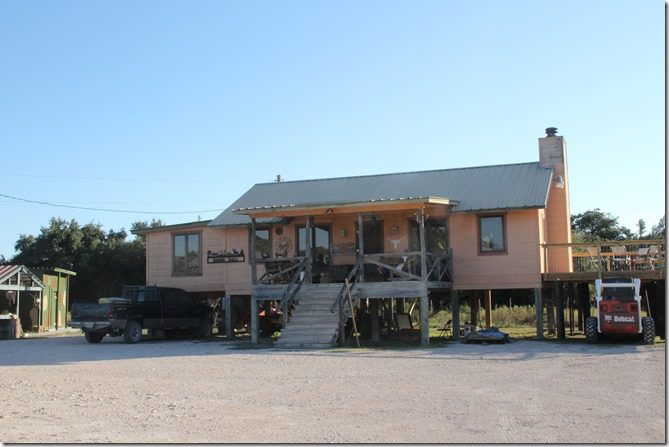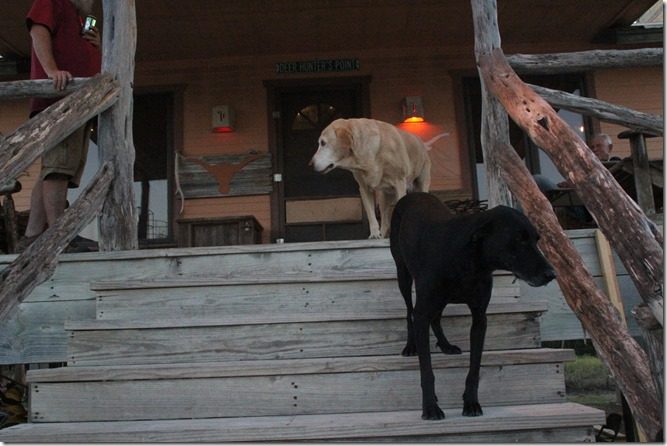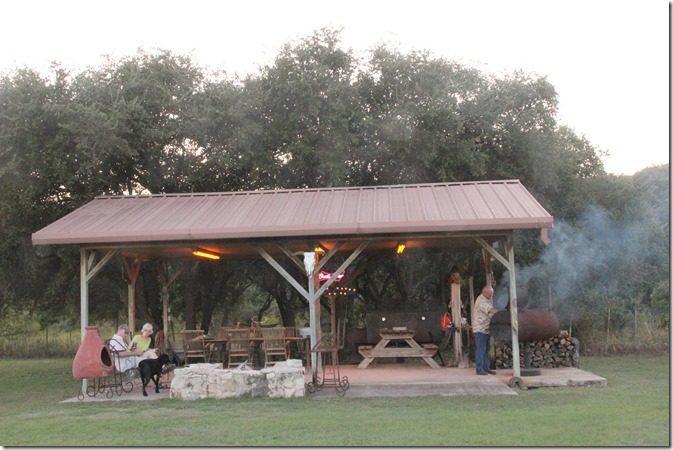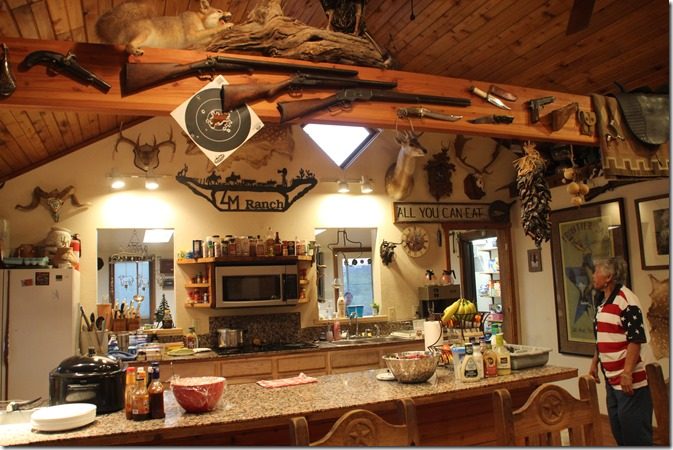 The kitchen, dining area, and living room with a pool table, easy chairs, and a big screen TV were all housed in the Dining Hall building. Tables and benches for eating are in a room behind the kitchen that I didn't take a picture of.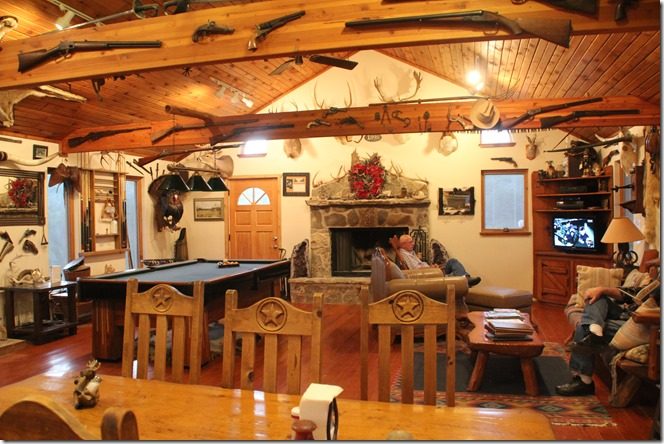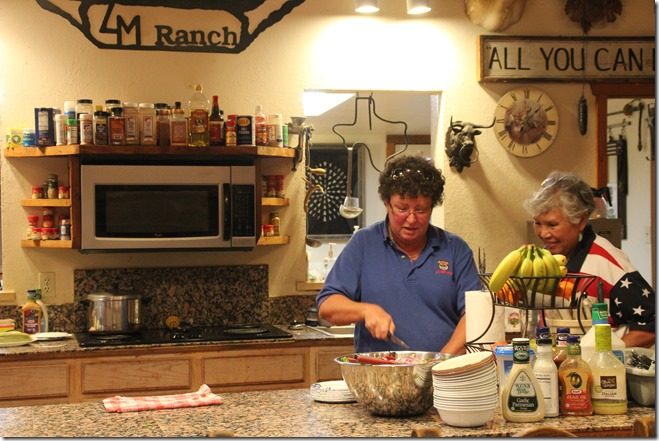 Saturday morning we were off again after breakfast, this time to rescue a big rock for Janice Johnson from Tucson, Arizona, who wanted the rock and the button cactus, Epithelantha micromeris, growing in it. She had found it two years ago, and mapped its location with the intent to come back, find again and take it home with her. So Marie Garsjo and I followed Marshall and Barbara McCloy, Janice Johnson and her mom Nedra Williams, and friend Liz Wise to this fabled rock. And sure enough, there it was, just where Janice left it two years before.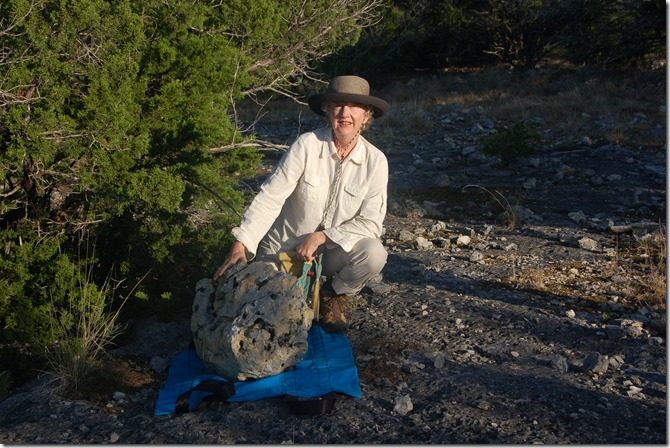 Photo courtesy of Marie Garsjo
Janice came prepared with a sling used in cactus rescues in Tucson. With handles on each corner, moving the rock was doable for four people. Marshall graciously put his pick-up in harm's way and backed right up to the rock, which also helped since we didn't have to carry it a great distance. Then we used a big piece of plywood as a ramp and slid the rock right into the bed of the pick-up. How it was moved from vehicle to Janice's yard I have no idea, but we were successful in the initial step. We cactus people are talented in finding a way to get what we want.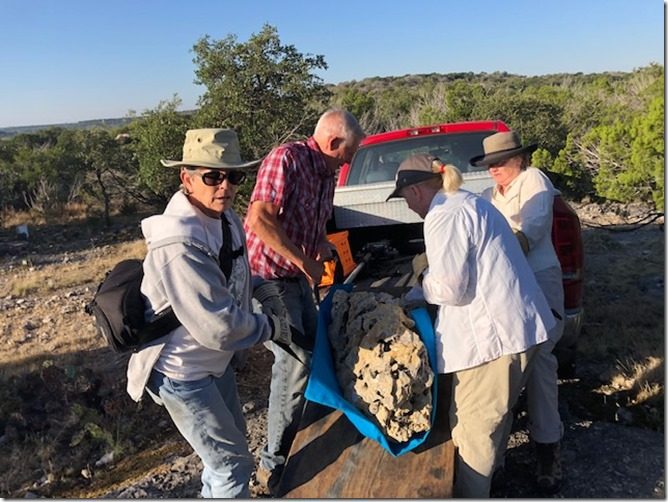 Photo courtesy of Marie Garspo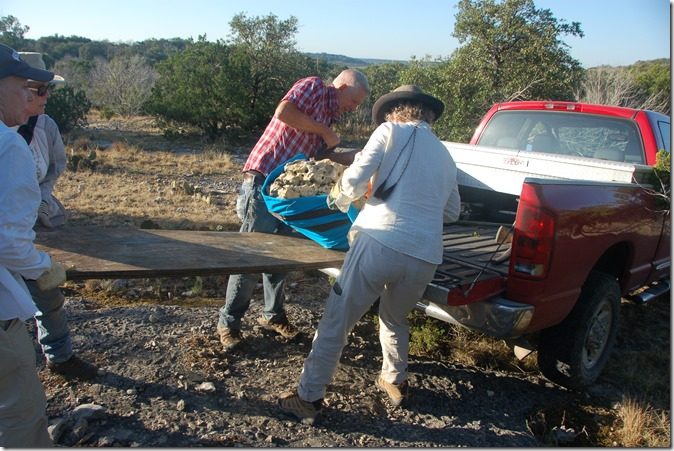 Photo courtesy of Marie Garspo
Then it was on to a bluff that had other rocks Marshall thought were worth checking out, and he again drove his pick-up close to our chosen pieces for easier loading.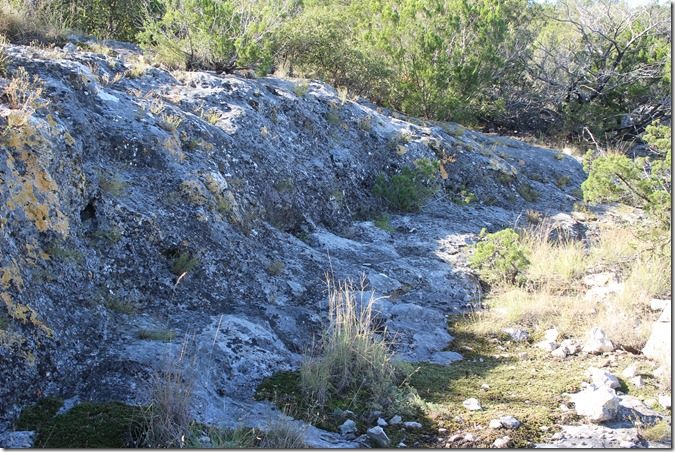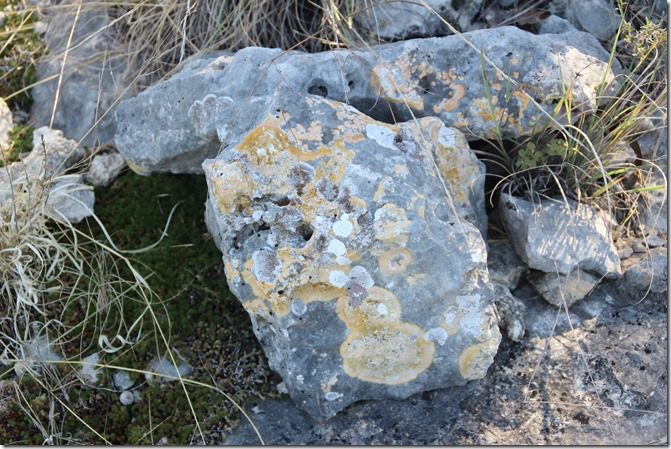 This is just a shot of typical landscape where the cactus grow here.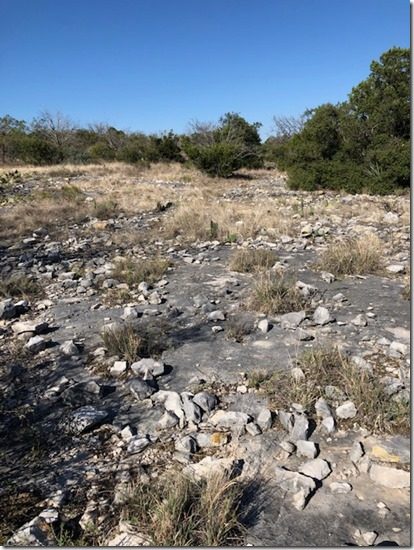 That afternoon I struck out with Doug Coates, Lorraine, and Marie to find the big barrels. We drove a distance, hiked what seemed like a longer distance, and saw  cactus along the way.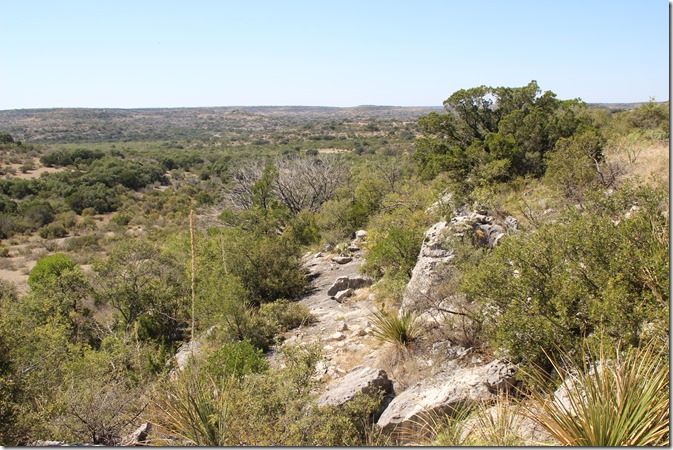 We found Echinocereus reichenbachii, lace cactus; more Epithelantha micromeris, button cactus (I purposely used this image to see if you can find the buttons in the rocks; it's not always easy to spot them); a barrel for me, this Ferocactus hamatacanthus; several more strawberry hedgehogs and claret cup hedgehogs, as well as some mammillarias and coryphanthas I didn't take pictures of. But then, there they were, the BIG barrels, clusters of Ferocactus hamatacanthus.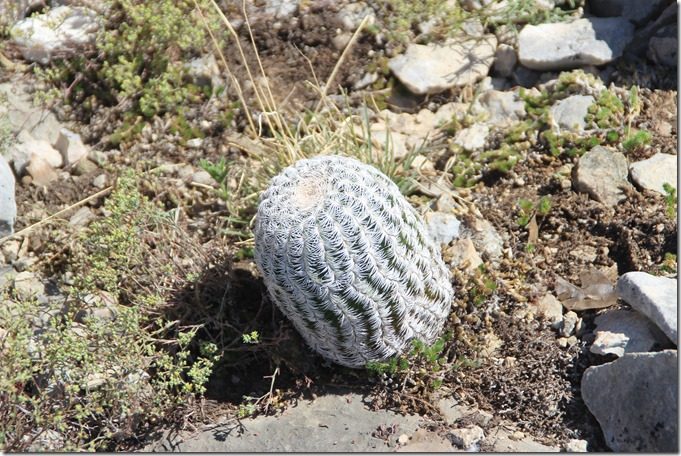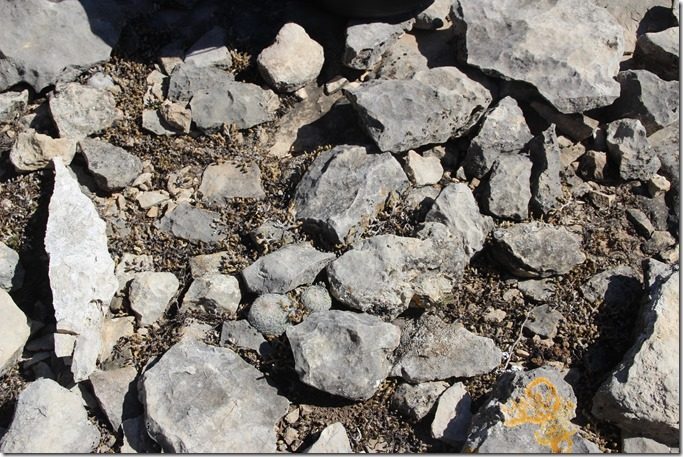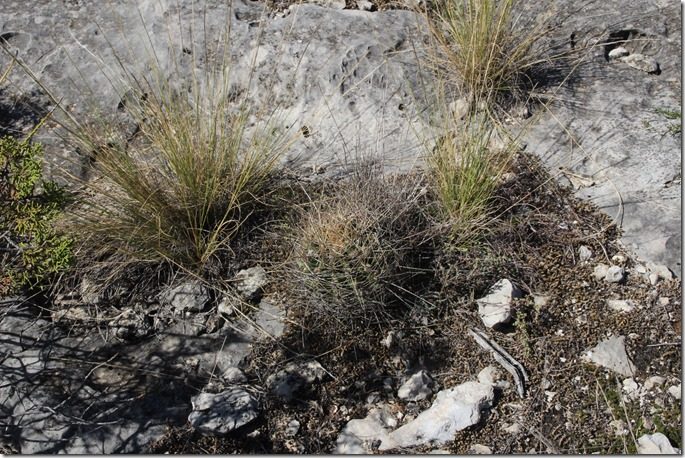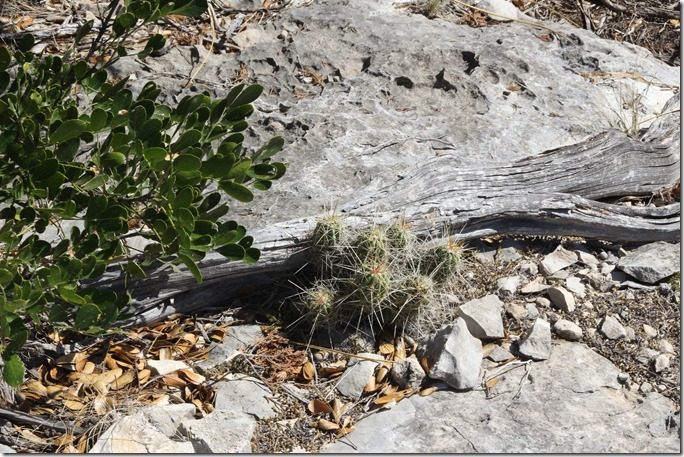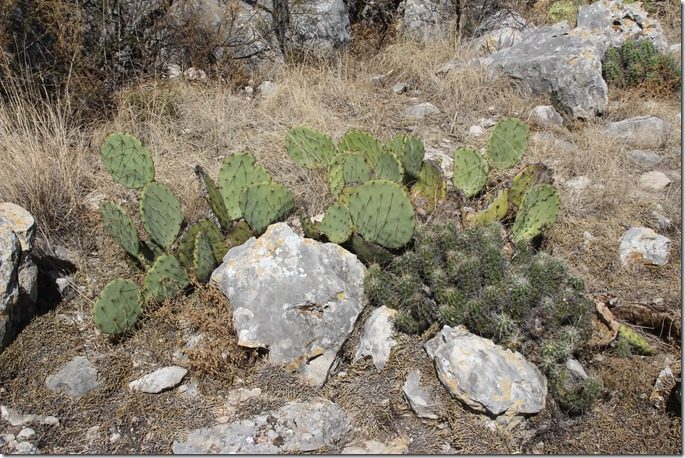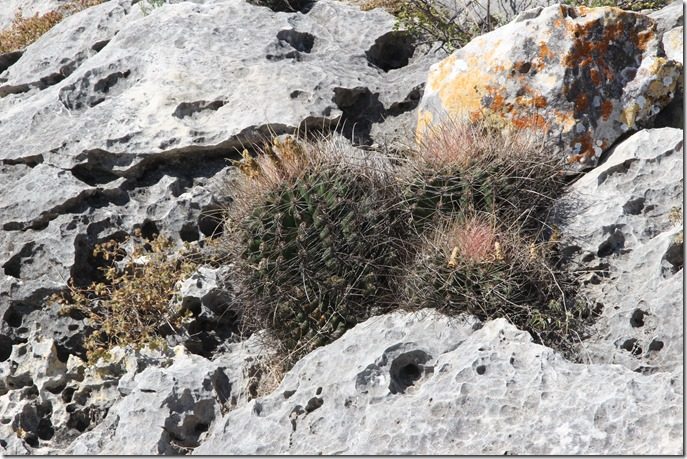 Later we found one even larger. The picture doesn't do it justice.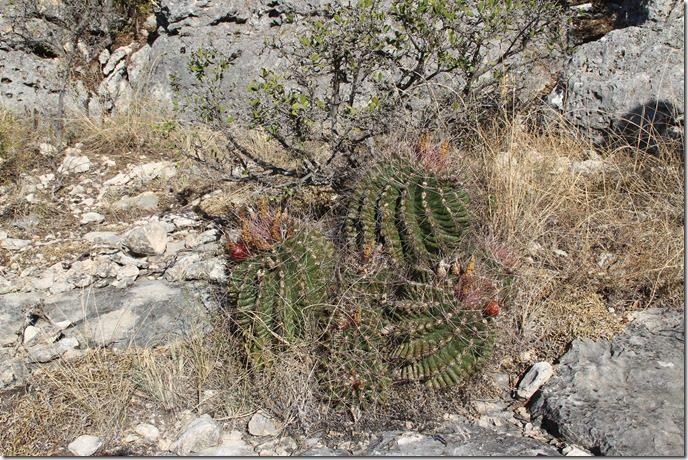 These were my hunting buddies: Marie, Lorraine, Doug.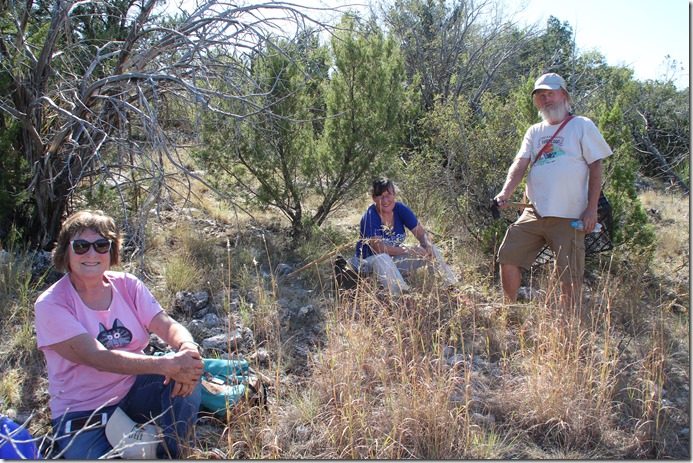 On our way out, we scared off a momma goat, only to discover her twins under a bush.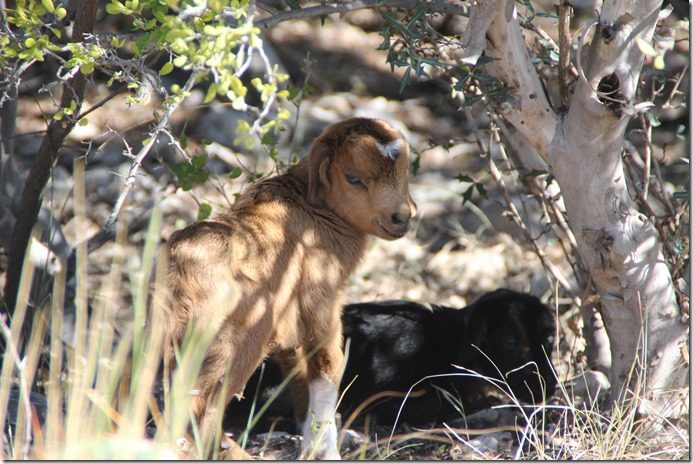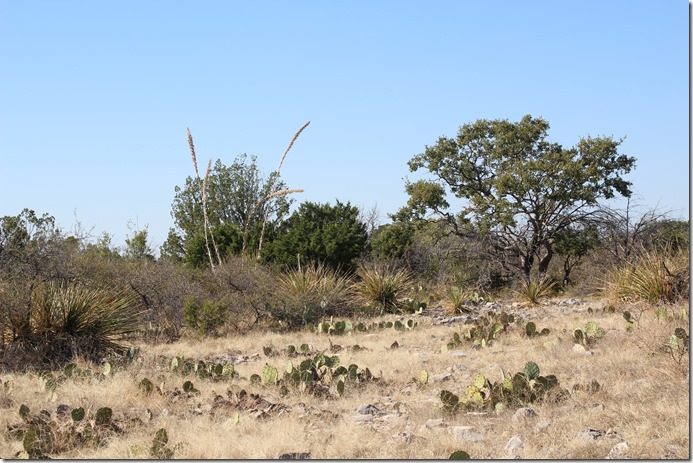 Finding the big barrels made for a long afternoon, so we headed back to camp and dinner, again provided by Manfred and Sherri Loeffler, shown here with ranch owner Sandy McPherson.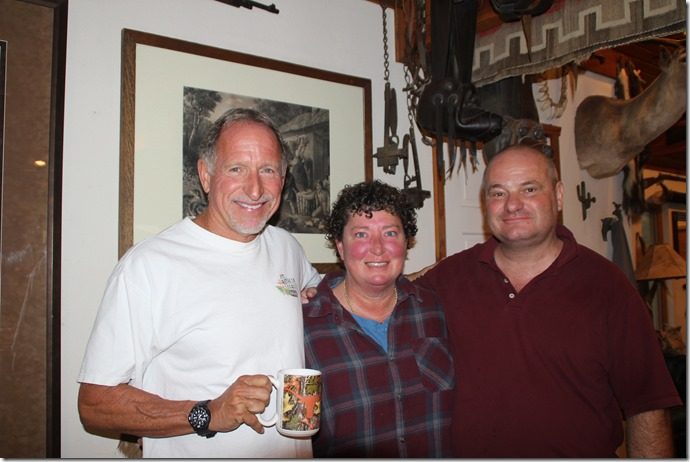 I also gathered up Claude, Ernie, and Doug, the three who came up with this adventure.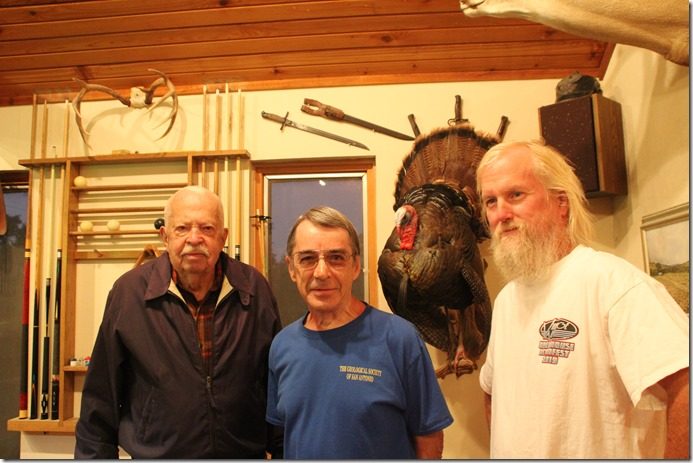 Sunday morning a few hardy souls went out one more time before check-out at 11:00,  but I had what I came for, a barrel, and a few other specimens, so I bid everyone good-bye and headed home. I met some interesting people, saw some wonderful cactus, gathered a few for my garden, and had a chance to see some of Texas up close and personal instead of from the highway. But, then, I also enjoyed the wide open spaces of Texas from the highway as well.
So it was a good trip, I must say.
Thanks to Sandy McPherson, Marie Garsjo, Sherri Loeffler, Ernie Akers, Lorraine Pia, Claude Townsend, Doug Coates, Marshall McCloy, for sharing information and photos for this story. Thank you, Marie, for letting me ride with you instead of in my inappropriate car on those roads!  Thanks to all for guiding me to cactus and rocks and then helping to load them. Couldn't have done it without you. I  hope we left enough specimens to produce more for future generations to enjoy.