Well, not exactly. More like a hint of a creek or spring. I had a dry creek bed of gray/white rocks from Coleman, Texas, in my cactus garden. I had been reasonable happy with it all these years until I was inspired to do something different when I saw my friend Shari's stream in her garden in Spicewood, Texas. Our gardens are worlds apart in mood and style. Hers is green and full of foliage; mine is earth-tones and full of cactus. But we share decorating ideas for the gardens and tweak each other's landscaping designs to fit our garden's ambiance. This is the stream in her garden.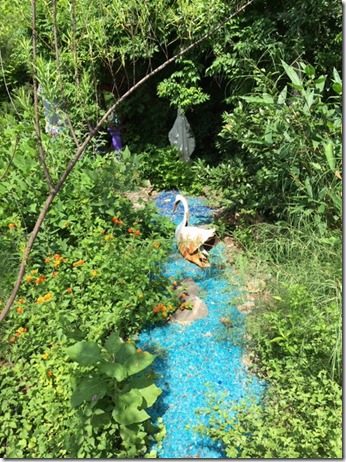 I had seen it before, but when I visited recently, I was inspired to remodel my dry creek bed to look more like her stream. She told me where she bought the chunky, crushed blue glass, AJ gathered up three bags of it in Austin, Bill brought them home to me, and I set to work on the update. This is the before picture.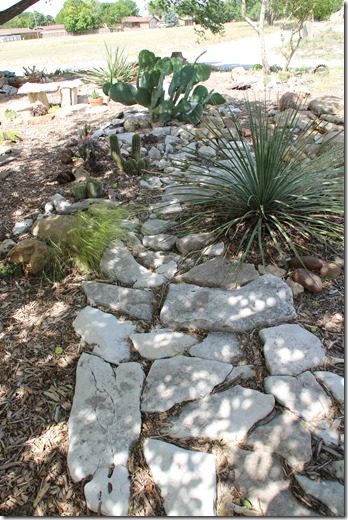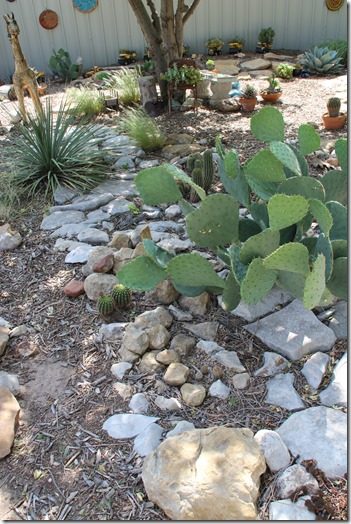 Running along side this mess of rocks I have a raised bed of stacked rocks with mulch in the middle that I call the mesa. It needed to be updated as well. It, too, looks like just a pile of rocks, but has mulch, or wood chips, in the center, which have decomposed and sunk down, which has allowed the rocks to sink in toward the middle.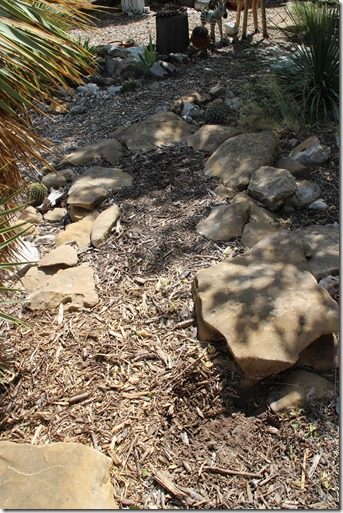 This all just looks like a mess, right? That's why the whole area needed to be redone. That is the mesa in front of the tall yucca in the background, and another shot of the so-called dry creek bed in the middle of the picture.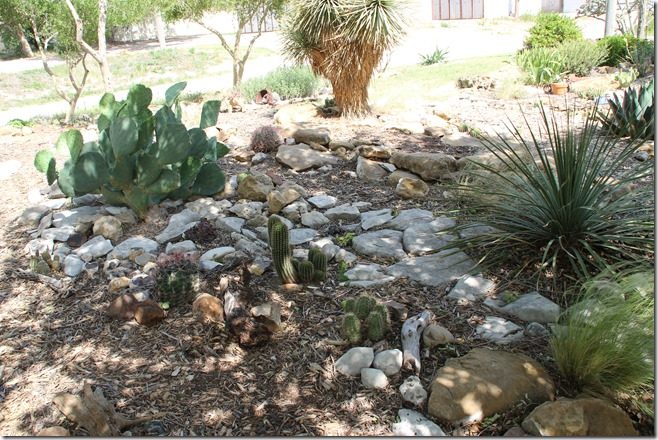 I set to work moving all the rocks from the dry creek bed and made a mess piling them up in another part of the garden. I then hauled in three cart loads of broken bricks from some other project that had been redone and used them to prop up the mesa rocks so they looked more like a stacked rock ledge. The plan is for the bricks to hold the rocks in place since they won't decompose like the mulch that I had originally put under the rocks and had replaced at least once before. I then had help from Victoria Bomer, FUMC's Youth Director, along with Emma and Gracie, two students in the group, who were doing a Summer of Service project helping people who requested their assistance with various odd jobs. Their odd job was to haul buckets of wood chips from the trailer full of chips to fill in the middle of the mesa with fresh mulch. They also trimmed our Mexican thread grass. They did good work and saved me many a step hauling that mulch, which made my renovation project moved faster.
After their work was done, I arranged rocks and laid out the path of the creek bed to give the impression of a spring or little creek originating in the mesa. And this is how it turned out. You can see more of what the mesa looks like, now that it is finished, and see that the creek seems to be coming from it.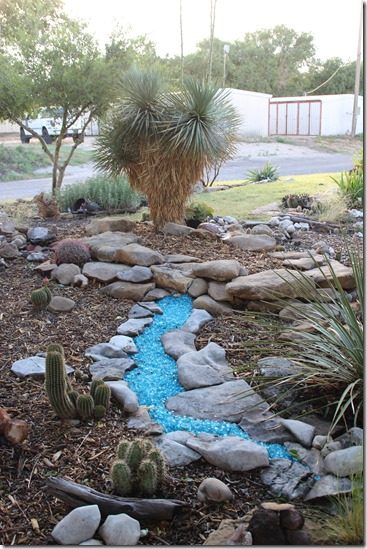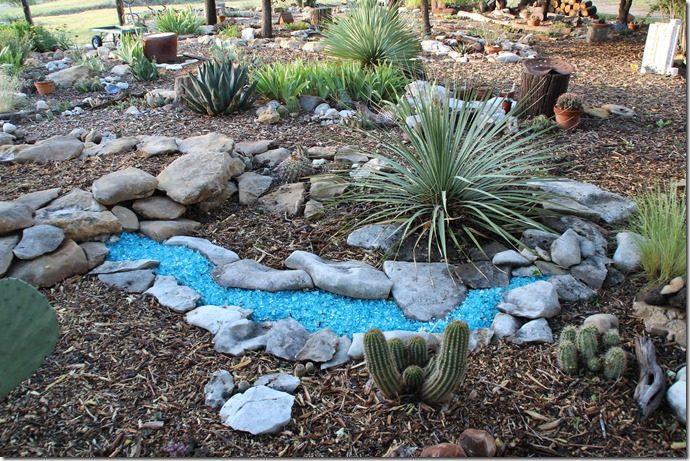 Everything looks so much neater now and actually looks like something other than just a pile of rocks! I still have some tweaking to do, but this is much better than before.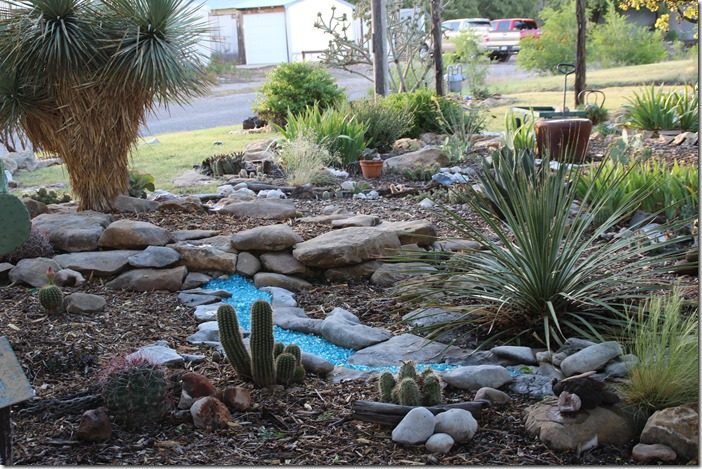 But now I have two piles of leftover rocks to find homes for; therefore other parts of the garden will get needed updates as well. They are pretty big piles and in the way, so I'd better get busy!