I had the pleasure of working with my son AJ last week designing and planting a succulent garden. A client, Kelly McKinney who lives in Buda, Texas, wanted him to turn a forgotten vegetable garden into a succulent garden. When she mentioned succulents, he told her he knew just the person to collaborate with on the project: his mother.
And I was looking forward to the assignment. AJ's guys would do the heavy lifting, AJ would tend to the watering system, I was in charge of the design and given free rein to buy what I thought would be appropriate for the garden, and, ultimately, I would not be in charge of maintenance. What a deal!
Sunday we visited with Kelly, and I saw the garden for the first time. Her house is in the center of a cul-de-sac and has a yard much larger than the usual home in the suburbs. This is the view of the back yard from her back porch.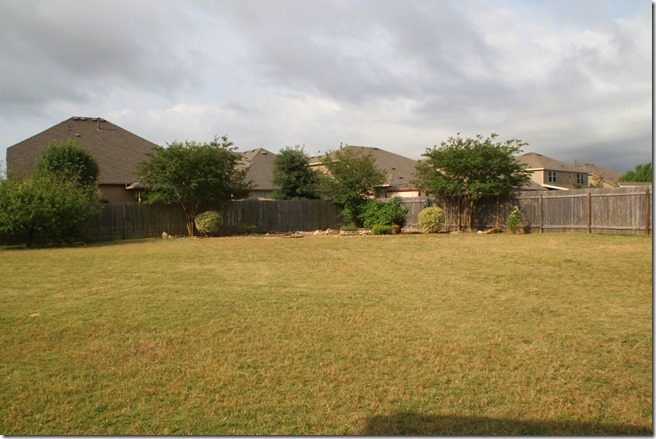 The original garden was designed in three sections, each lined with a brick and rock border. The section to the left had a crape myrtle, a shrub I think might be a variegated boxwood euonymus (agaves I know; bushes, not so much), a clump of orange lantana, a sago palm, and a couple of rocks big enough to add interest.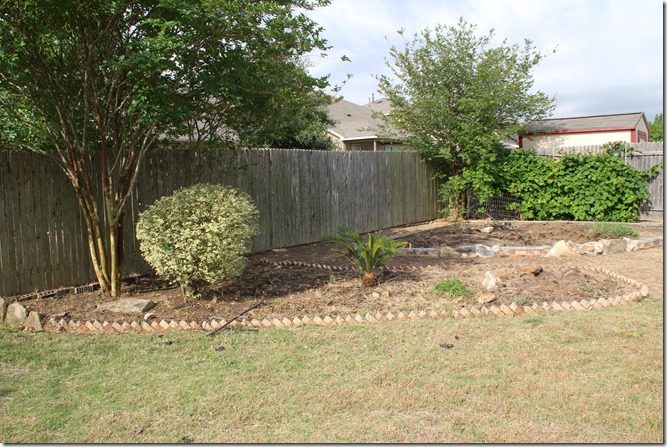 The middle bed had a clump of grassy oregano, some rebar with fencing wire attached to make a trellis, and not much else. Notice the flat rocks level with the path that goes between the beds. We dug those out to use later. The grape vine on the fence behind it was separated from the bed by the path and the rock border and adds a nice green touch-and grapes if she wants them.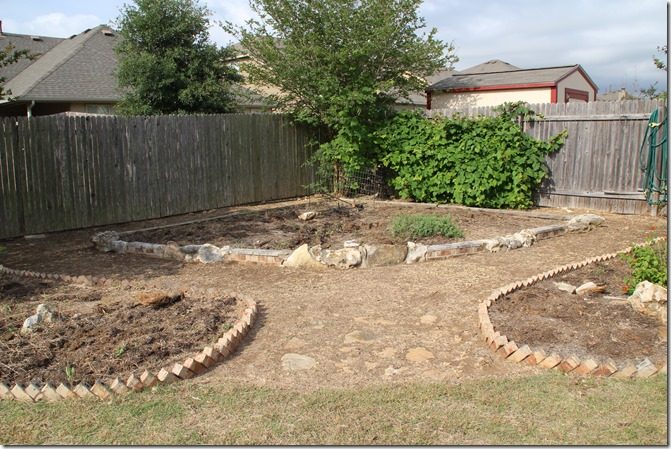 The right section matched the left with a crape myrtle, matching bush, and sago palm, along with two batches of lantana and two more rocks.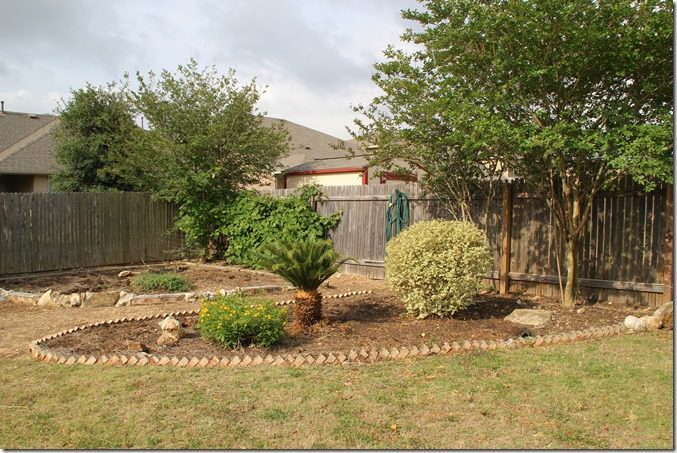 Kelly liked succulent plants and wanted something low-maintenance and drought-tolerant that had more to offer in looks and style than the vegetable garden that had ceased long ago to be productive. Realistically, nothing is completely maintenance-free, but succulent-type plants come about as close as you can get to low maintenance and low water needs, so a xeriscape garden would meet her needs nicely.
AJ and his crew had already cleaned out the weeds and sprayed with Round-Up to kill what they might have missed. The flat rocks in the path were dug up and set aside. Big rocks to use for hardscape decoration were also set aside.The oregano was so full of grass it would have been difficult if not impossible to keep clean, making it high-maintenance, so it had to go. Decomposed granite and pea-gravel were wheel-barrowed in and stockpiled on tarps till later. The rebar and wire and other trash were removed. The crape myrtles, boxwoods, and sago palms, being established, were worth keeping and Kelly liked them, so AJ had trimmed and cleaned them up. Landscape dirt was brought in by wheelbarrow and dumped in the middle bed to add height and interest. The plants we had purchased after visiting with Kelly Sunday were brought in to be planted as the beds were made ready.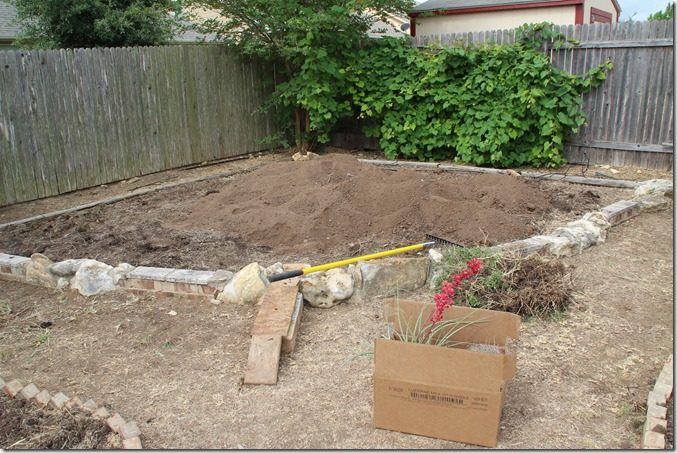 As the crew supplied the muscle and AJ worked on the irrigation system, I got to do the fun stuff, deciding where the plants and rocks would go. And things began to take shape. Landscape fabric covered the path, the flat rocks were scattered here and there before the granite was spread over the path. Extra bricks were used to make a border at the front edge of the path.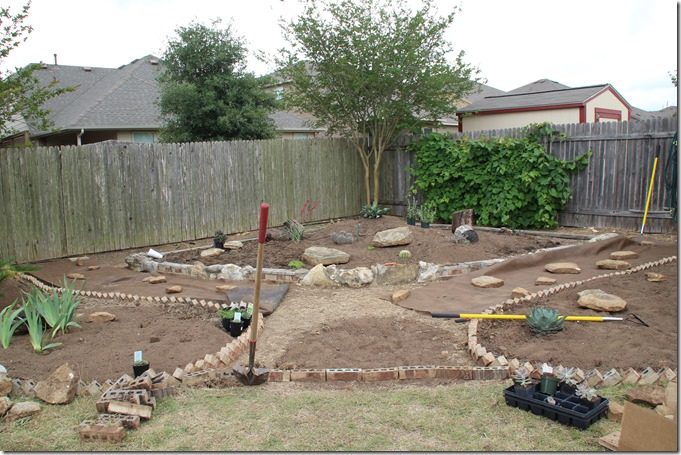 I like using newspapers rather than landscape fabric under the pea-gravel top dressing to separate it from the dirt and to discourage weeds because I find it easier to fit around the plants. If done well, newspaper is effective in blocking out grass coming up in the garden. Wetting the paper helps keep it from blowing away and holds it in place as the gravel is shoveled over it. Overlap whole, thick sections of paper, not single sheets, and I promise it will work. Weeds that come up from stray seeds pull up easily because the roots don't go through the paper into the dirt. And yes, there will sometimes be weeds to pull- nothing is completely maintenance-free, remember?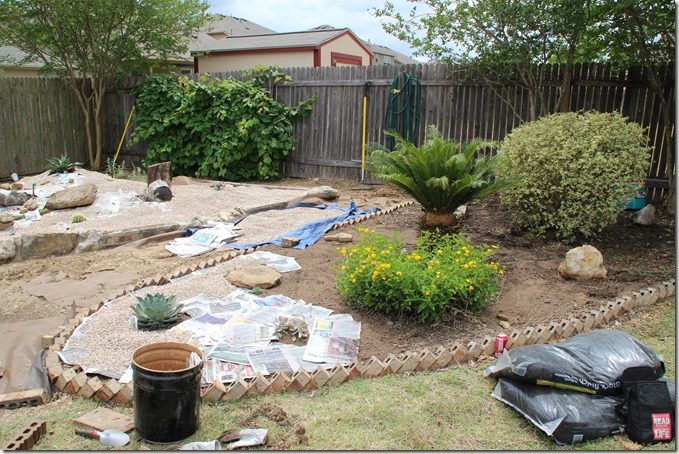 We were blessed with overcast skies which made it much cooler to work, but we did get chased off once by thunder and lightning that hit way too close and brought some rain, so we took a break, but got back to it.
Tuesday under more gray skies and occasional sprinkles the last of the gravel and granite were spread, all the plants were planted, drip lines were in place and dripping, and the final touches added. Kelly had some pieces of old firewood that I used as hardscape along with the rocks, as you see here with the red yucca.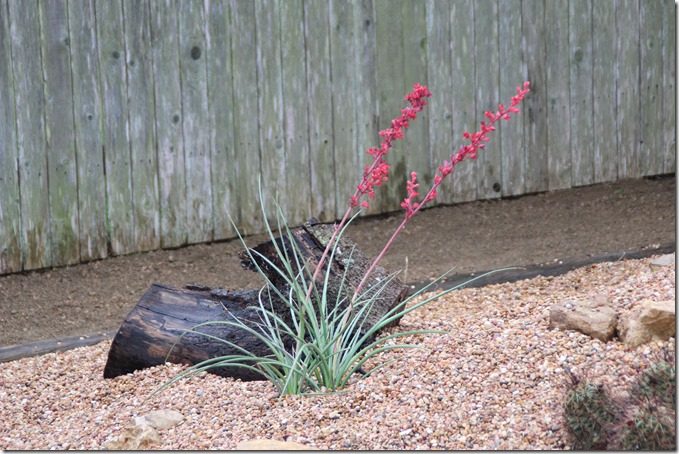 She also had an old park bench with a broken leg sitting forgotten behind the storage shed. We pulled it out, propped it up on a piece of the firewood, and not only does it look nice in the garden, it can actually be used for a seat. You just have to sit really still, like Kelly is doing here Wednesday morning when AJ and I went back for the finishing touches.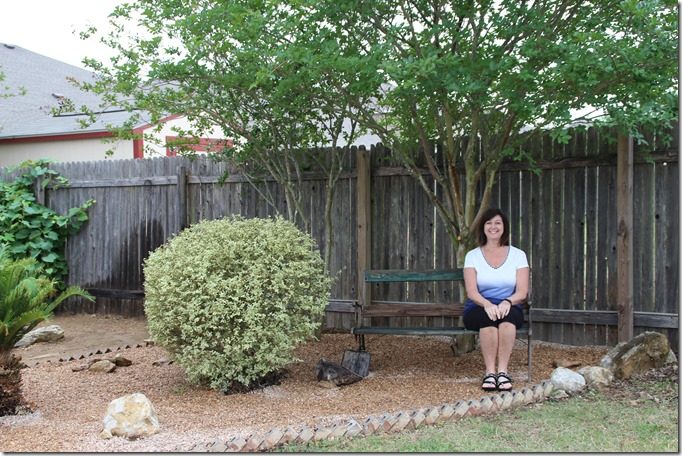 And this is what the garden looks like now: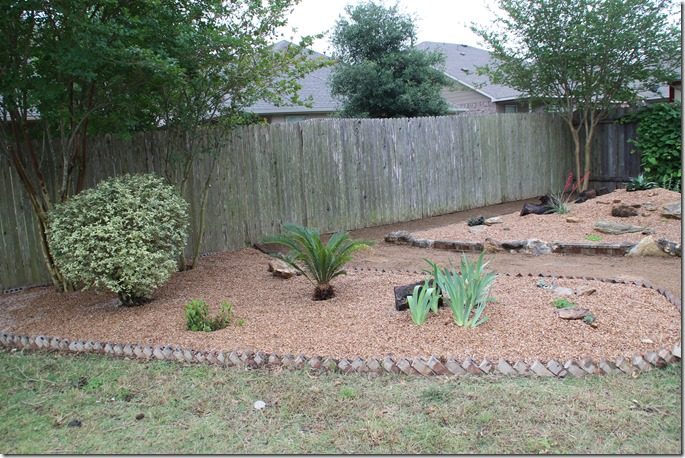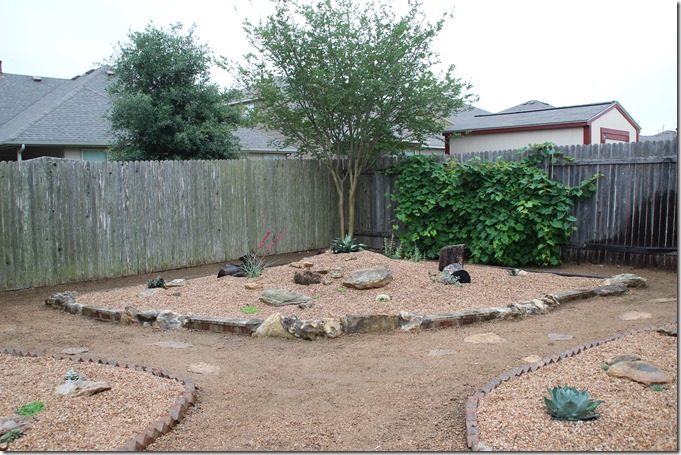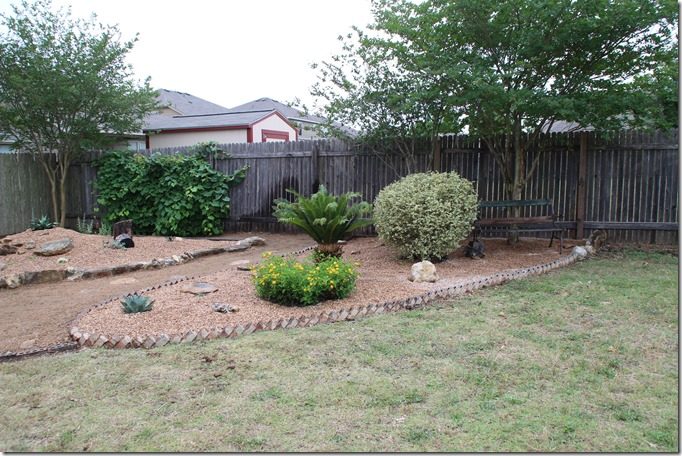 We could have used more plants, but Kelly also wanted to keep things simple and leave space for additions later on if the mood strikes her, so while you may think the garden looks empty, keep in mind the plants were spaced with growth in mind and allowing for others to be added. I had color in mind when choosing purple iris, brake light red yucca, yellow, red, and purple ice plant, blue Russian sage for height and color at the back of the center bed, while keeping the yellow and red lantana she already had. The crape myrtles will add color when they bloom, but I forgot to ask what color their blooms will be! She has a golden barrel cactus and a Texas barrel cactus that will eventually bloom as they get larger, and a hedgehog claret cup cactus that will bloom bright red for her next spring. Whale's tongue, artichoke, and harvardiana agaves will grow and fill in while adding structural patterns and interest in the garden.I included two succulents, string of pearls-senecio rowleyanus- and ghost plant graptopetalum because they are good succulents for accent plants. A variety of hens and chicks will also spread and add a nice contrast to the other succulents in the garden. She has a nice variety that should meet her low maintenance and water requirements.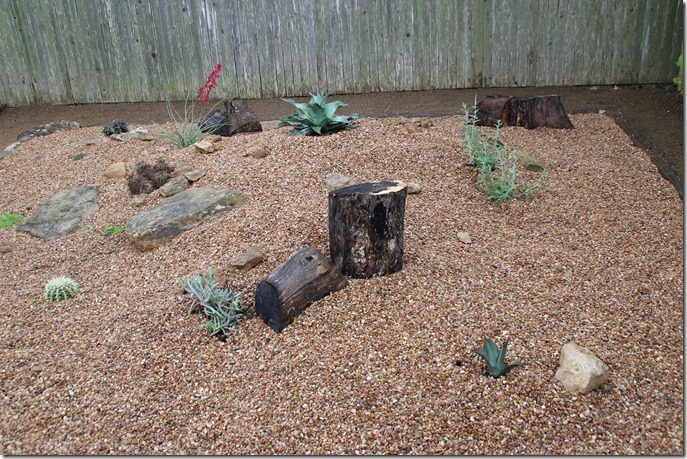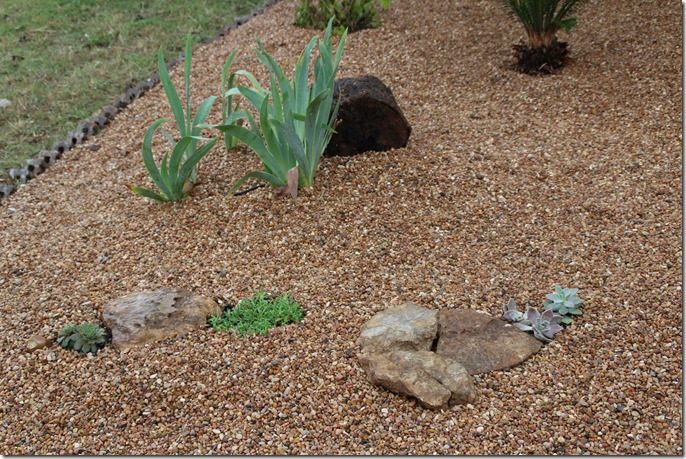 A day or two after we had finished and I was on my way home, Kelly texted me that she and her fiancé had pulled up lawn chairs and enjoyed coffee in the garden. I think she likes it!