Not too long ago toy trucks and cars started showing up on Pinterest planted with succulents. Clever idea, but I had no toys that were suitable to be used as interesting containers for plants. And then I happened to visit a friend's garage sale.
Sitting out all by itself was this forlorn little faded yellow Tonka dump truck. I almost passed it up, and then walking back to the car, I hesitated. How much, I asked casually. Two dollars was the reply. I scooped it up and headed home feeling like I had made out like a bandit since I had priced them in antique stores for a whole lot more! And this is what it looks like now.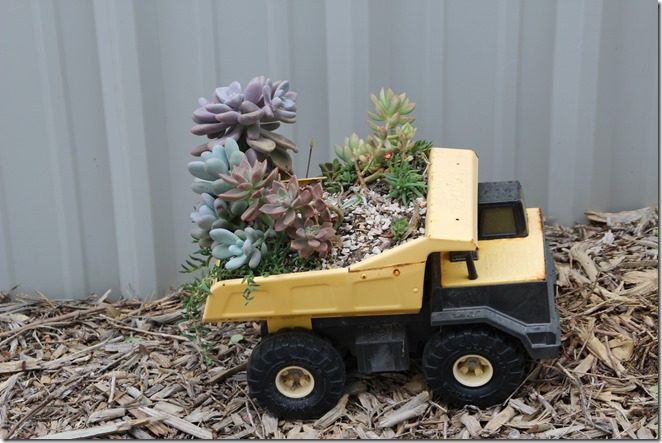 I asked Caroline if Korben and Ty might have one lying around discarded now that they were more into video games and real-life 4-wheelers. There it was, forgotten, out in the pasture.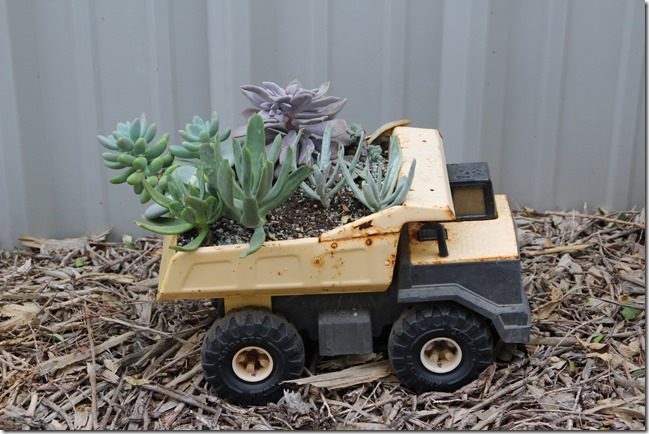 Then I asked AJ to be on the look-out when he visited yards for his lawn service. About the same time I asked, this one just happened to be listed on his neighborhood give-away website, and he got it for me. The little one I bought at the Dollar Store; just couldn't resist since it was a smaller version of the big one, even if it is not a Tonka brand toy.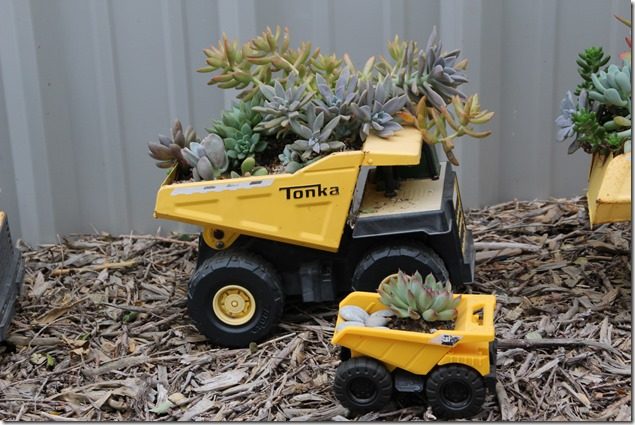 And this one AJ found abandoned in the corner of a back yard and was told he could have. It is my Velveteen Rabbit truck. It had been played with so much that the sides of the truck bed had been bent. I think it was truly loved, but absentmindedly discarded as its owner grew up. Now it has a new home where it is appreciated and not forgotten.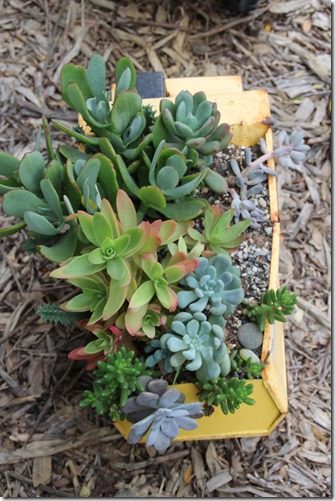 Time passed and I came across one in an antique/junk store in Lubbock, and I actually bought it, but for a whole lot less than in most antique stores. This one is in pretty new condition and looks nice, and I like it. But there is no story, no connection of where it came from or perhaps what it had been through, to go with it, and I discovered that makes a difference. Somehow after I got it home, it wasn't quite as much fun as I had thought it would be.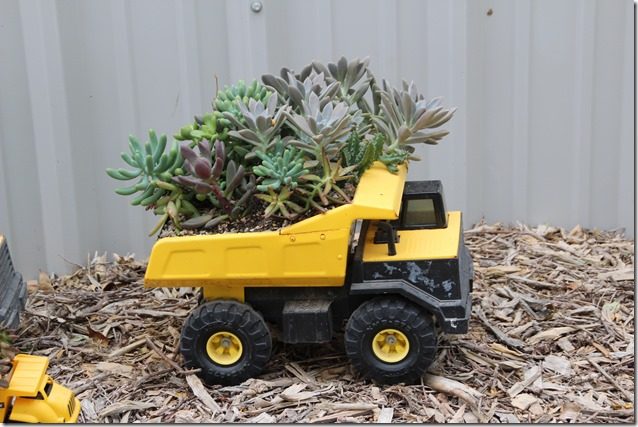 I will have to admit I have bought two more for the collection, a collection I never intentionally set out to acquire, and they sort of have a story, which makes it okay. We were driving home from the lake by way of the little town of Santa Anna one Sunday, and surprisingly, all the junk shops, of which there are many, were closed. But we stopped at one anyway and poked around a bit and sure enough, there sat two Tonka toys, one a beat-up tractor and one a front-end loader with a big scoop on the front. Both were older than my trucks, rusted, a different color, and not really the right shape to plant anything in, but I liked the front-end loader and felt like it went with my other trucks. The owner had a number posted to call if a customer found something to buy, so I called. He practically gave it away! I deposited the money where he told me to and made off like a bandit again.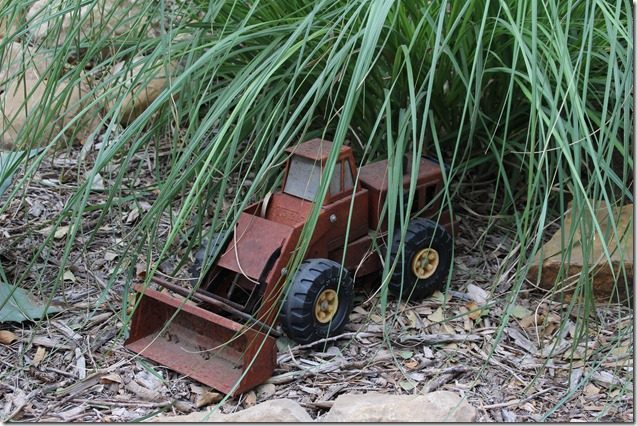 Then just recently I was in a junk store in Clovis, and way back in the back where things were easy to overlook, there was a really old, really rusty Tonka dump truck. Well. Bless its heart, this one needed a home, too. No telling how long it had been sitting there, overlooked and ignored because it was just about to fall apart. I asked the price on it, also a steal; apparently the vendor was ready to make room for something else. I carefully picked it up and brought it home. This one I could plant in, but I decided to leave it alone. To plant in them you have to add a tail gate, and I wasn't sure how well it would stand up to the modification . But it has its own place now in the garden.
This is how they look in the garden. I try to remember to turn them from time to time so the plants won't get lopsided turning toward the sun, or turn them around so they are facing the other way. I also added another small one from the Dollar Store that looks like the big ones. The little ones have no story; just cute and for fun.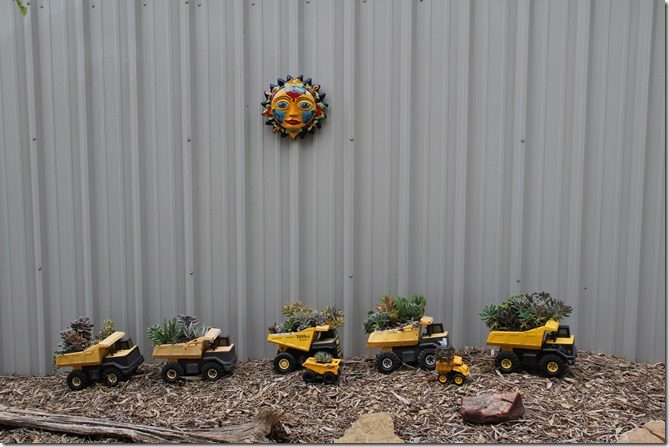 For the winter they have been moved into the barn.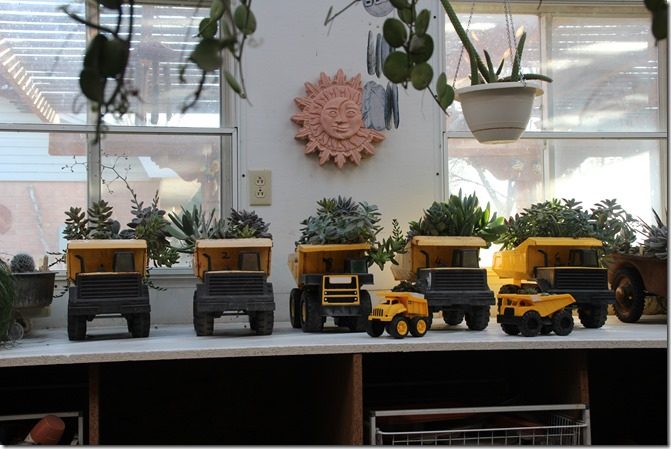 I probably have more than enough Tonka trucks, but if I see one that needs a home, or one that has a back story, it will probably make its way into the garden to line up with these.
Tune in next week, and I will show you how we added the tailgates and share some tips for planting them.