What do parking spaces and school principals have in common? All the good ones are already taken.
And Muleshoe High School took one of the best high school principals in the business, David Jenkins. In 2007 he retired from his principal's position, which also provided him with one of those good parking spaces. But he loved Muleshoe and stayed here to play golf and enjoy his friends. Then Mr. Jenkins passed away on September 6, 2023.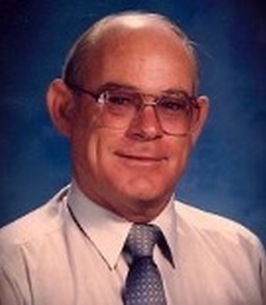 Photo courtesy of Ellis Funeral Home.
Now, you can read all about his life history in his obituary. What you can't read there are the stories about what made him one of those good principals that we were so fortunate to have, and I was blessed to have as a boss.
But just for a little background, I will tell you that he was born in Texas,  moved to New Mexico, and attended East New Mexico University on a track and football scholarship. He met and married his wife Sharry there, had a daughter, Shawna, and earned his bachelor's and master's degrees in education at ENMU. He served in a variety of positions in the Portales, New Mexico, school system, retired and moved to Muleshoe as assistant principal and then became the principal of Muleshoe High School from 1994-95 to 2007.
Mr. Jenkins began his Muleshoe tenure as assistant principal with principal Al Bishop in 1994.  Stacy Connor, who presided at Mr. Jenkins funeral, shared this story with us. After Mr. Bishop interviewed applicants for the assistant's position and chose Mr. Jenkins, he sent him over to visit with Superintendent Bill Moore. And, as Stacy said, Mr. Jenkins had all the right answers. He had been principal and didn't want to be the person in charge anymore; let someone else do the hard things, and he would just help make the train run on time, as he put it.  Time passed, Mr. Bishop chose to take a principal's position elsewhere in 1997, and Mr. Jenkins went back to Bill Moore and said he wanted to be the principal now. But what about not being in charge and not doing the hard stuff? Mr. Jenkins said he was over that and went on to say, "We have good things going on at the high school. We have a good system, good teachers. We're making progress and I don't want you to hire someone who will come in here and mess all of that up."
Sounds just like him. Quite a compliment to those of us in the faculty. He was always supportive of his teachers and trusted us to do the right thing. Case in point: when the cat wound up in the sofa in the teacher's workroom. It was homecoming, and the building was wide open as kids and teachers wandered in and out to decorate homeroom doors in support of the football team for the big game Friday night. The next morning as teachers were milling about in the workroom, Chris Mardis jumped up off the sofa and exclaimed, " I hear a cat!" We all heard it too, but went on to class when the bell rang. Around second period,  school nurse Michele Barton comes into my class holding this terrified gray kitten that Coach Wood had managed to rescue from the back of the sofa. I guess I was picked because my room was the closest to the workroom and the fact that they knew I liked cats.
"Here," she says as she hands me this kitten, who latched onto me in desperation, "she's yours."
I told her I had plenty of cats, why didn't she take it?
"My dogs would eat her up, you take her."
Never mind that I had a dog, too, but the decision had obviously been made, and we had to do something with her. So off I went in my hippy garb-it was homecoming week, remember, and every day had a dress theme-to take the kitten to the vet's office to be checked out before I took her home to be with my cats. Time was of the essence, so Michele stayed with my class, and I took off right past Mr. Jenkins in his office, door wide open, left the kitten with the vet, and came back in a heartbeat. Michele went back to her office, and I continued the lesson.  I'm sure Mr. Jenkins wound up hearing about all this after the fact, but I was never reprimanded for leaving without at least asking permission or signing out. And I think that's because Mr. Jenkins knew his teachers and knew we would take care of business. Which we did.
He also knew his teachers liked to have fun, and he did, too. Like the time Ted Lepps and a couple of the other coaches followed him down to the Stripes convenience store where he always went for a large soft drink every morning. He would go in to make his purchase and leave his pick-up running. The coaches had observed this before, and they waited for him to get in the building and then jumped into the pick-up and drove it out of sight, then hid to watch his reaction. He did a double-take when he came out with his drink and was at a loss about what to do with the disappearance of the pick-up. After they enjoyed the trick, they drove the pick-up back to him and admitted they were the perpetrators. As I recall, there were no repercussions for them, either.
I'm sure there were lots of other tricks like this, but who can forget the Christmas gift exchange between then-counselor Linda Marr and Sharry, Mr. Jenkins' wife. We would draw names for gift-giving and bring pot luck dishes to the party. Linda made sure she got Sharry's name. Linda had taken Mr. Jenkins' yearbook picture, had it enlarged, and then added it to a less than principal-ish poster, which Sharry opened at the party to everyone's delight! And Mr. Jenkins, bless his heart, took it like a trooper and laughed with us. I'm just pretty sure most principals might not have been that good a sport about it. And Linda wouldn't have done it if she had not known Mr. Jenkins so well.
Counselor Gayla Gear and others remember him as being a man willing to be fair and give the kids a second chance. Like the time a couple of boys showed up at the football game high on marijuana. He gave them their money back, told them to go home and never do it again. Gayla said she had witnessed a few swats. He would do the swat, then look at the student, shake his/her hand, and tell them it was done and tomorrow was another day, and it was not mentioned again. He also singled out a student each year who had overcome some bad breaks and tried to give them recognition for making better choices.
I'm not sure when it started or who had the bright idea to do it, but it became customary that graduating seniors would slip something into Mr. Jenkins' hand as he shook their hands as they walked the stage for their diplomas. Rosie Cabrera remembers her class giving him golf tees with their names on them. Stacey Mata remembers the class of 2004 gave him marbles. Golf balls with names on them may have been given more than once, and I can remember a jar in his office full of golf balls, proudly displayed. After a few years of this, I'm pretty sure he would have been disappointed if he had not been given a memento by the seniors.
Mr. Jenkins' enjoyed golf and casino gambling trips. He and friend/fellow golfer John Saylor shared the same birthday, July 30, so they and several other friends always seemed to have a road trip planned every year around that date, such as this golfing trip to Albuquerque one July. Left to right: Vince Erdmann, who happened to be Mr. Jenkins' assistant principal, Marshall Pool, Tim Black, Hal Wood, Rusty Whitt, John Saylor, Mr. Jenkins, Fred Locker.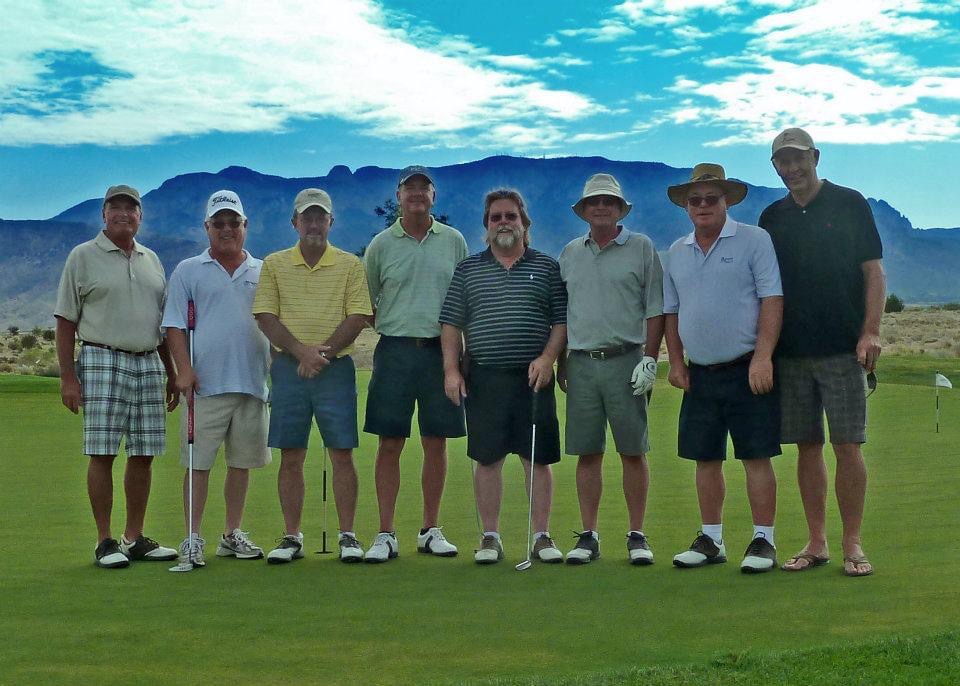 Photo courtesy of Diane Saylor.
Here's the group that made many casino trips to Las Vegas and other locations along the way, pictured here at the Muleshoe Country Club: Diane and John Saylor, Sharry Jenkins, Gayla and Joe Gear, Michele and Mark Barton, Linda and Vince Erdmann, and Mr. Jenkins.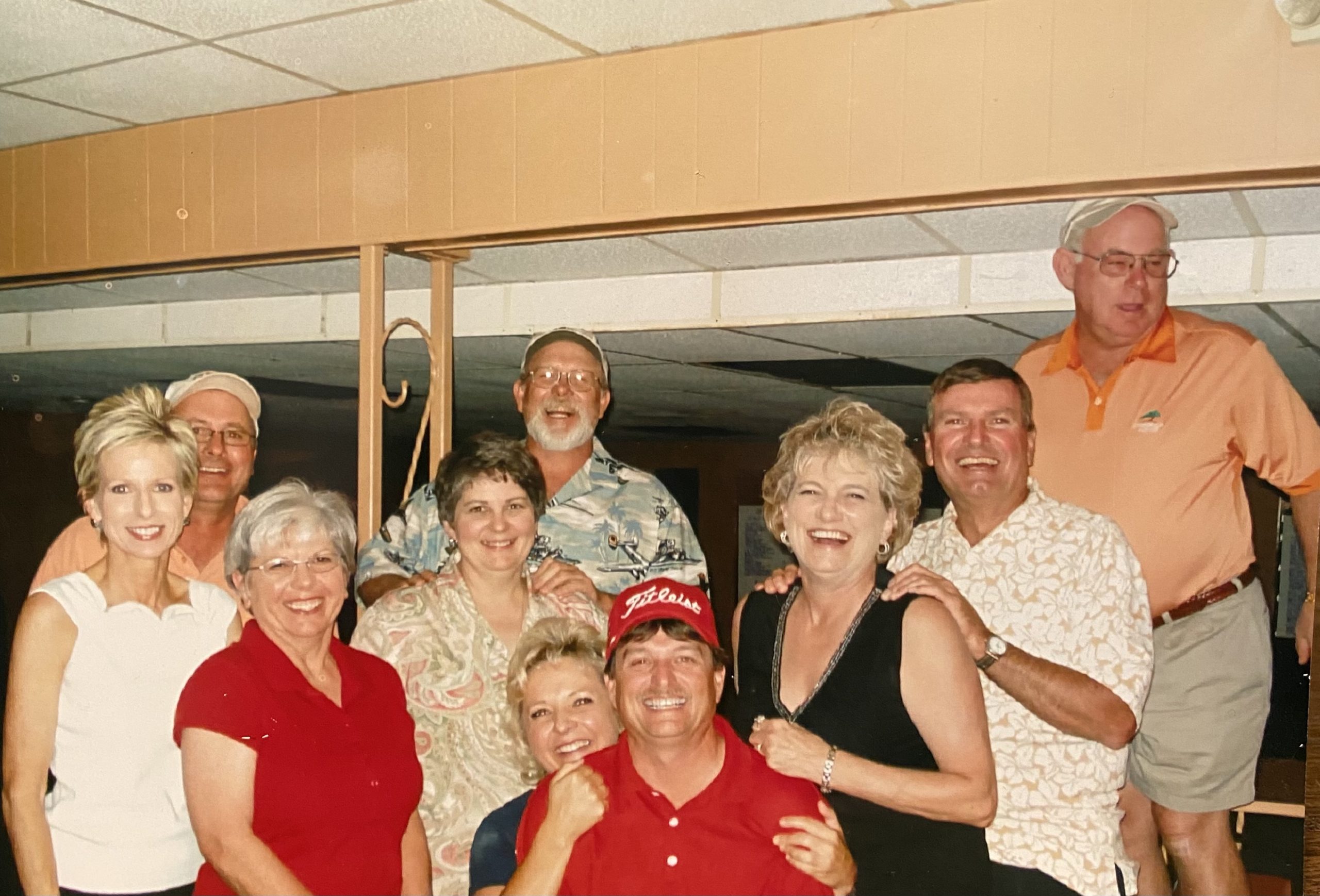 Photo courtesy of Diane Saylor.
Comments poured in on Facebook when the news of his death broke. Time and again comments mentioned his humor and wit, respect for the kids, their respect for him, great principal, support for students and teachers, his big heart, great educator, favorite principal, a positive influence on the students, good memories, always there to listen and help those in need, being there in a way a parent couldn't be, a fine man, and his positive impact on the kids. Which all comes down to, like I said earlier, he was one of the good ones.We had fun and success with him as our leader.
At the end of the graveside service, Dr. Connor said it was fitting to end the service with the one phrase we all knew was Mr. Jenkins' favorite. Without even having to tell us what to say,  we all smiled and belted out, as best we could like he would have done it-
How 'bout them Mules!!
You won't be forgotten, Mr. Jenkins.
And he will always be Mr. Jenkins to me, never Dave.
Thanks to Dr. Stacy Conner for sharing his notes with me, Diane Saylor for sharing pictures, Rosie Cabrera, Dustin Wilhite, and Stacey Mata, all the people who shared prayers and memories on Facebook, Misty Simmons, Gayla Gear, and Ellis Funeral Home for sharing a picture for this story.