Sometimes my attitude needs a wake-up call, and I got one the other day when I was interviewing Terome and Jim Ella Clemmons for this story.We talked about Terome's near-fatal encounter with a round hay bale and  his time spent in recovery and rehab. He recalled one of the people he commiserated with in the waiting room one day, an older man with probably more medical issues than Terome had. After sharing their problems, Terome said this man leaned over and told him, quite confidently, "Son, you know how you can tell you've had a good day? You on the right side of the dirt!"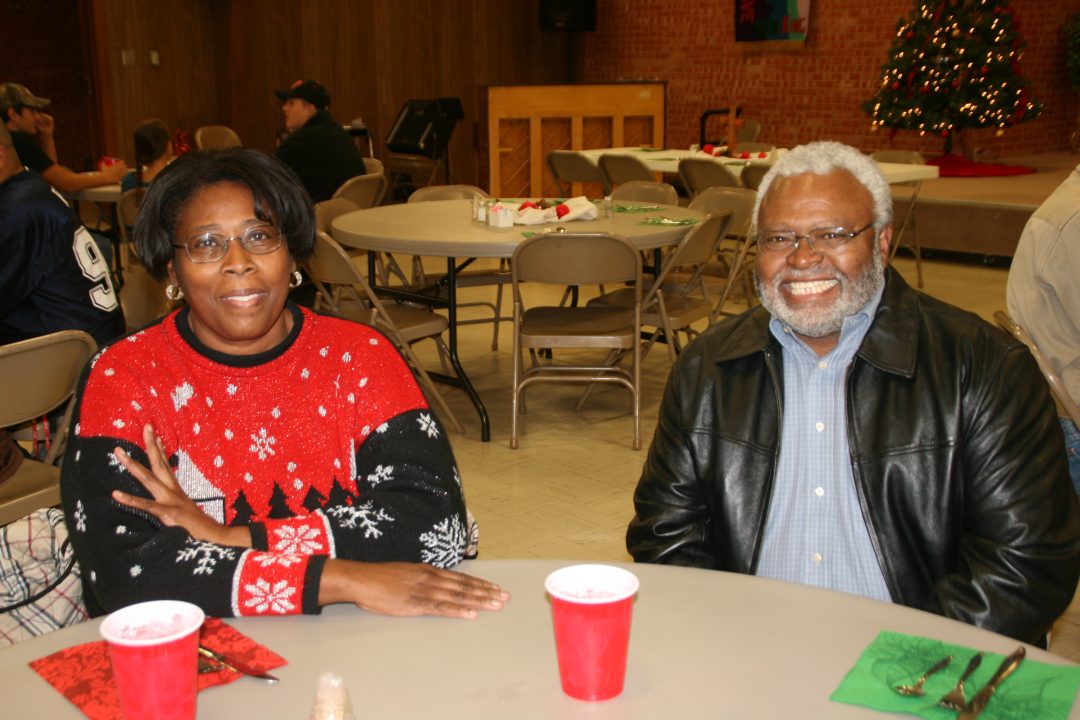 Terome looked at me and said, equally confidently, "Best thing we can do these days is know the Lord-He created us and He knows what's going on for us."
And the Lord came up several times as we talked about their life stories, including their childhoods, that hay bale, family, and their involvement in the town of Muleshoe.
When we moved here in 1980, I first met Jim Ella Clemmons when she greeted me behind the counter at Lambert's Cleaners. Later I knew her and husband Terome as parents of Monica and Jerome when I taught them at Muleshoe High School. Our paths would cross from time to time as they were involved in whatever was going on around town.
Photo courtesy of Jim Ella Clemmons
Terome's family came here from Brenham, but he was born in Muleshoe at the hospital when Dr. Green was here. Terome's grandparents lived with the eight brothers and sisters and mom, Lucille, and helped with the family. His grandmother, Louise, cleaned houses and had a small cafe, the Busy Bee. His granddad worked as a farm hand for several local farmers and did landscaping and yard maintenance.
The Normans came to Muleshoe from Livingston. Jim Ella Norman was born at home in Earth. Her dad, Jim,  also worked on farms, and Mom, Ella Wese, did some house cleaning and cooked for MISD while corralling twelve kids. And you'll notice now where Jim Ella's name came from!
Jim Ella and Terome both commented on the fact that they were from large families where work was a necessity, and their work ethic was instilled in them from hard working parents. Jim Ella said cotton to be picked was what brought most Black families to this area back then, and that's probably why their families came as well. Their strong work ethic came with them.
When it came time to go to school, Jim Ella said where her family lived on the highway in Earth, she had the option to attend the Black school in Earth or Muleshoe's Hill Top School. She chose Hill Top and then later moved to Richland Hills in the fifth grade. She then smiled, "I just remember that sweet Mrs. Hawkins, Lena Hawkins."
Since this was before school integration, I asked if she had any trouble changing schools. She said she was a little nervous at first because she was the only Black child in the class, but classmates like Brenda Black, Kathy Embry, Gayla Gear, Freddy Locker, they made it easy after that first day.
Terome had similar memories of school. He went to Hill Top School where he said they weren't learning much, so he rode with Myron Young and James (Smoky) Martin to the Black school in Sudan. He came to Muleshoe for the sixth grade and had no problems. He said boys his age all played together and knew each other because their dads worked for the other boys' farming fathers. They all saw movies together at the Wallace Theatre with no problem, but they did have to sit in the balcony, which really was a better seat anyway.
I asked if school was where they met, and it was, even though at first they weren't necessarily friends. But then, Jim Ella smiled that she had liked Terome since the tenth grade. Everyone met at a place just referred to as the Tin Barn, and apparently one thing led to another there. Both graduated from Muleshoe High School, Terome in 1972 and Jim Ella in 1974.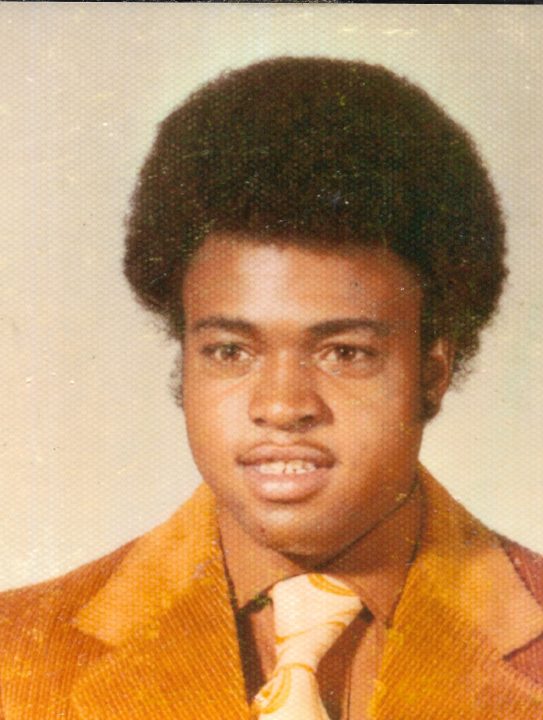 Photo courtesy of Jim Ella Clemmons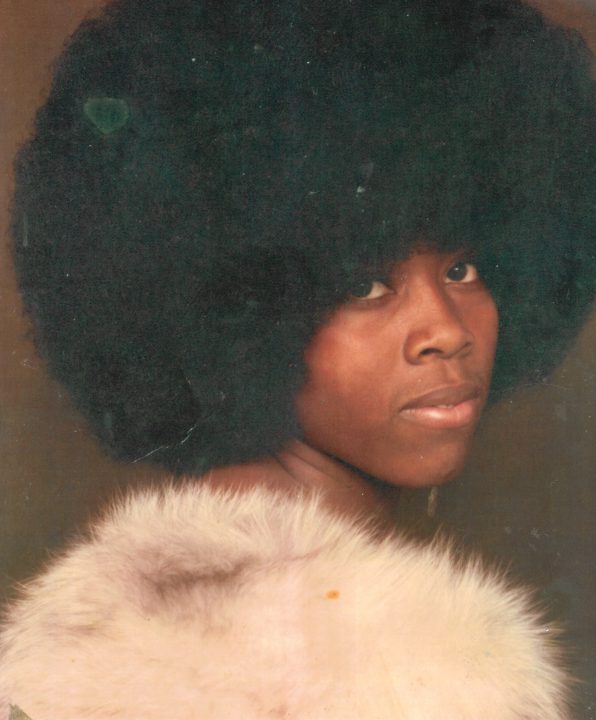 Photos courtesy of Jim Ella Clemmons
After graduation, Jim Ella worked at the Corral Restaurant and then the nursing home. She and Terome married in 1977 while she was working for Woodie and Mildred Lambert at the dry cleaners. Terome was working for R.O. Gregory at Leo's Blacksmith Shop at the time.  Jim Ella continued to work  for the Lamberts until they sold  the store to Jim Ella and Terome in 1983. Jim Ella ran the store and Terome kept the machinery running; at this time he was employed by Missouri Valley Construction building the Tolk station. Terome had later been on the road  using his pipe fitting skills when Ben Green from Tolk called Jim Ella and asked her if she thought Terome might be interested in coming back to Tolk. He went back, took a test, and earned journeyman's wages working on the pipe system at Tolk for several years.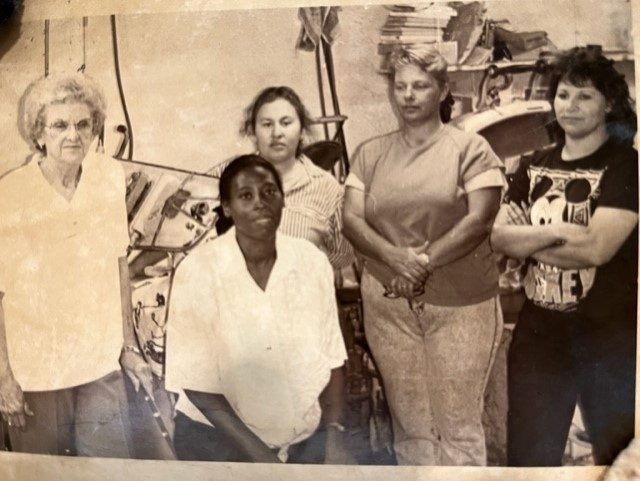 Photo courtesy of Jim Ella Clemmons
Robert Montgomery stood in the for absent mayor Charles Bratcher at the grand opening in 1983 after Terome and Jim Ella bought the cleaners. The Lamberts agreed with Jim Ella that keeping the Lambert's name was a good idea since it was well known and established, so the name remained the same.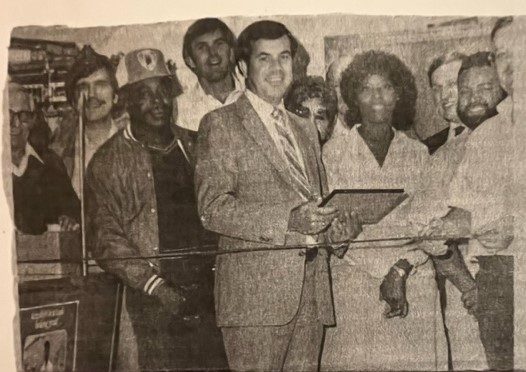 Photo courtesy of Jim Ella Clemmons
But the hay bale put a stop to that job in February 2002. Terome went out to feed his goats that round bale, but things didn't go as planned. Terome had put up a pole with a light on it for night feeding. Terome admitted he was driving too fast and had the hay bale up higher than he should have, and as he passed the pole, the hay bale accidently hit the pole and knocked it off the fork lift. When the bale came off the fork, it hit Terome and rolled to the ground. The hay bale injured Terome, but it also did damage to the tractor, and when Terome saw that the battery cables were loose, he figured he'd better get off the tractor in case it could electrocute  him. He was able to get off the tractor, but then realized he couldn't walk. He tried to drag himself toward the house, but to no avail.
In the meantime, Amelia was home but had dozed off to sleep, as fifth graders will do, and had no reason to be concerned about where her dad was at the time.  Jim Ella had gone with her mother to Levelland to watch a nephew play basketball, and when she got home, she just thought Terome was down the street playing dominoes with friends. When bedtime came and Terome was nowhere to be seen, Jim Ella said she had this feeling that God was somehow telling her she better go check things out.
And thank goodness she did. The bale had broken eight ribs and mangled his spinal cord, which was why he was unable to walk. His temperature had dropped to 82 degrees on that chilly February night, which Dr. Purdy said is probably what kept him from dying since it had preserved his body, slowed all systems down, while he laid there from 5 p.m. to 11 p.m.
The doctors said he likely would not walk again, but after 4-5 months of rehab, he managed to get it done, and he was still on the right side of the dirt. It did limit his work routine and made his health worse, but always the optimist, Terome told me, "I ain't that good, but compared to all those other things [that could be wrong], I'm better than the other guy."
By 2006 it was getting harder for Jim Ella to keep things going at the dry cleaners, what with Terome now having trouble with his end of the bargain to keep the machinery running, so they decided to sell the business. They sold the machines to Sparkle Cleaners and the building to Jim Ella's sister Mary and her husband Mickey Dawson, who live in California. Now brother Randy Norman runs the exercise business RUFit at that location.
Kids were around while all this was going on, and they all graduated from Muleshoe High School, too.  Monica lives in Lubbock where she is a professor at Lubbock Christian University; Jerome  lives in Clovis where he is the bank manager  at New Mexico Bank and Trust. Amelia, the youngest child, is a traveling CNA, Certified Nurses Aide, and she lives across the street from Mom and Dad here in Muleshoe.  The family also includes Marilyn Lewis Grant, Terome's sister, who came to live with them in the 6th grade and finished school here. She now lives in Seattle, Washington.
Kids and grandkids-left to right: Asher, Jayden, Soraya, Monica, Jim Ella, Terome, Amelia, Jerome, and Trinity. Jim Ella said the grandkids in particular get tickled when Terome always peppers his conversation with "Doggone," and then trails off with the rest of what he was talking about.. But then they also enjoy teasing her when she says "Oh shoot!" when she is talking to them. But she always finishes with "I love you, be careful, stay safe," and she tells them quite often that whatever it is they want in life, to work hard to accomplish it.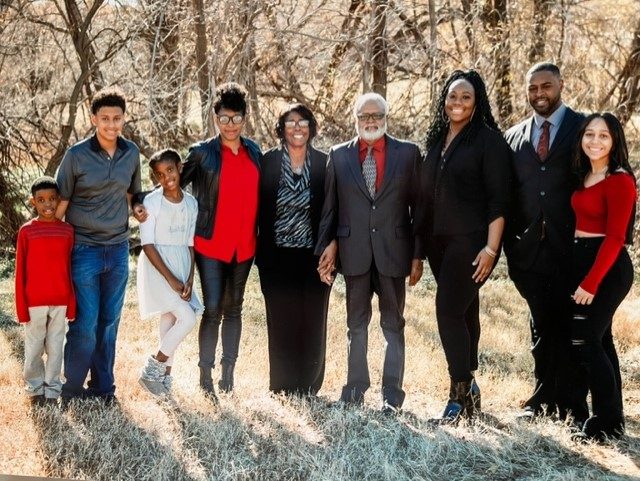 Photo courtesy of Jim Ella Clemmons
Monica and Marilyn as winners in the Cinderella pageant in Muleshoe.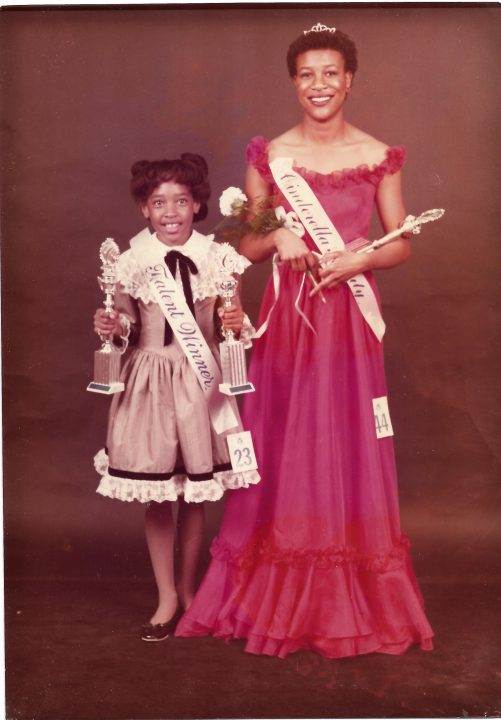 Photo courtesy of Jim Ella Clemmons
Jim Ella can't seem to lose that work ethic she grew up with! After they sold the cleaners, she worked for fourteen years at First Bank and retired when the bank sold to Happy State Bank. Terome was struck with prostate cancer shortly after she retired, and they resided in the Hope House in Lubbock for nine weeks to be closer to his radiation treatments. That was successful, and they are now back in Muleshoe where she is a substitute teacher and continues some janitorial work at selected businesses.
They still attend the Church of Christ on the hill and stay busy with the grandkids. While Jim Ella tends to her jobs,Terome is either reading his Bible, playing video games, or watching his favorite soap operas-really! But he plans to drive the tractor and disc the pasture one of these days. Tolk offered him his job back, but his health was compromised enough that he was unable do that, and he was on disability until he reached retirement age and officially retired from Tolk.
The dry cleaners may be closed, the goats may be gone, Tolk Station may have changed, but Terome and Jim Ella's presence is still with us, and will be for quite some time.
Doggone right.
Thanks to Terome and Jim Ella for sharing their story and pictures with me.