We lost Mari In October 2021("The Best Girl," October 24, 2021). She had been with us since 2009 and came to our family missing a back leg. Colten brought her into the family.
Cookie came to our house this September. Colten's mother, Caroline, brought her into the family. Can you see a pattern here?
Caroline lives just far enough out in the country where unkind, thoughtless people dump dogs which find their way to her house and a home. Caroline named this stray Cookie because she was sweet. And she is.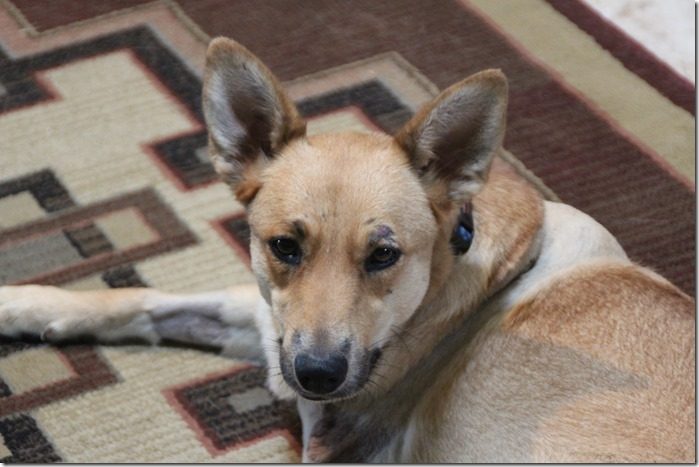 In fact, she is so sweet and has obviously been allowed in a house and learned to respond to commands that we can't figure out why anyone would dump her in the first place. She is a puppy, probably about a year old and does have typical puppy habits, like chewing on things, but she will outgrow that.
She arrived at Caroline's house on July 4th, and it was obvious she wasn't looking for another place to call home; she was now home. Caroline tried to get us to take her then, since she already has three other rescued strays and didn't need another. But as Porche was still healing from her ACL surgery, we felt like it wasn't a good time to introduce a younger, full of energy dog who could compromise Porche's recovery. So Caroline had her spayed, vaccinated and all was well.
Then Cookie made the mistake of wandering up to the road and was hit by a truck. Both bones in her left front leg were broken. It was suggested that the leg come off then as those injuries typically become infected and the leg has to come off anyway. I hated for that to happen and offered to let Cookie come stay with us while she was in a cast since we are retired and home all day and could give her the attention she would need, whereas Caroline and Neil would be at work all day and couldn't see about her. By this time it was September and Porche was healed and back to her old self, so that wasn't a problem.
I will have to say Porche wasn't exactly thrilled when this newcomer showed up, but she was a good girl and welcomed Cookie into the house on September 25. Cookie spent some time in her kennel to make sure she was not harming the leg in the cast. Bill even unrolled a length of surplus carpet in hopes of helping her walk without falling on the slick floor.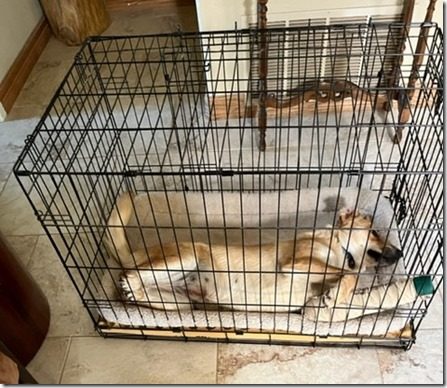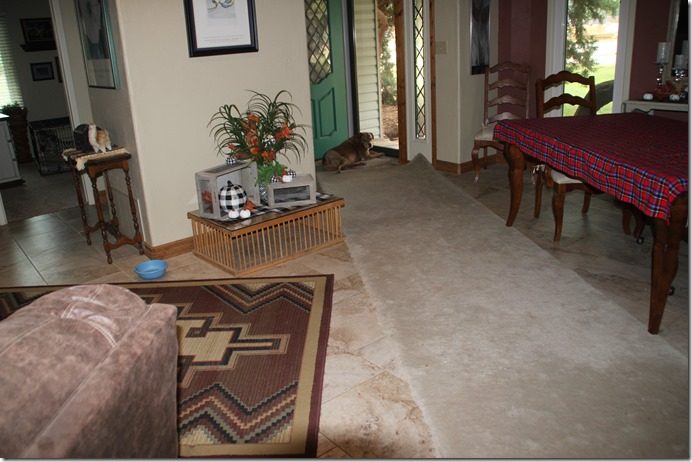 But alas, when she went back to the vet for a check-up and second cast, the leg had become infected and showed no sign of mending, and sadly, the leg was amputated. She came back to our house for the surgery to heal, again, because we were home all day and could take care of her.
Then by September 30 it became apparent she would just stay with us. Here she would have a fenced yard to keep her in when necessary and be a barrier to coyotes getting too close to her. I am so sorry now we didn't just take her at first, that it took losing a leg to get her here. But things happen.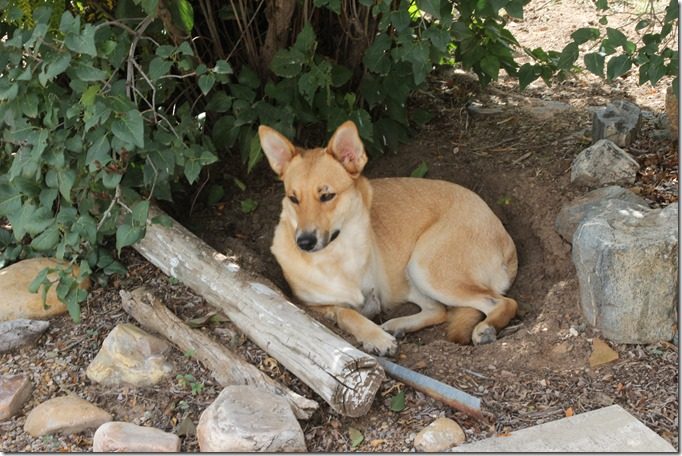 Early on she tried to use Siam's bed for her bed. She didn't fit too well and gave it up.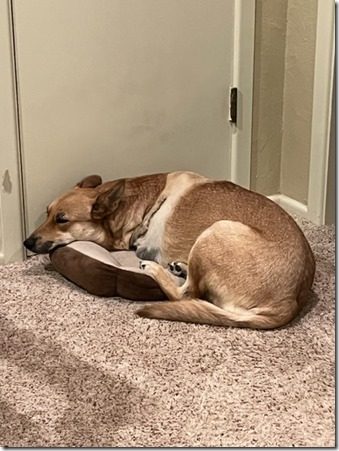 Cookie is a good girl, but she is a puppy! Bill would feed both dogs a snack outside, only to find the red plastic bowls shredded. After the fourth bowl, I finally wised up and we used metal dog bowls for that snack. Owners have to be smarter than the puppy, ya know! She wants to play, to rough-house with Porche, and we came home one day after being gone not very long to find a cushion on one of the sofas torn apart. I tried to cover it up to protect it from more destruction till we figured out how we could get it repaired. Then, almost the next day, the bottom of that sofa got torn! So now when the rough play starts, they go outside, and she stays in her closed kennel if she has to stay inside when we are gone. The sofa got reupholstered and will stay covered up with a heavy blue moving quilt till she outgrows the need to play. Our interior decorating style is modern dog!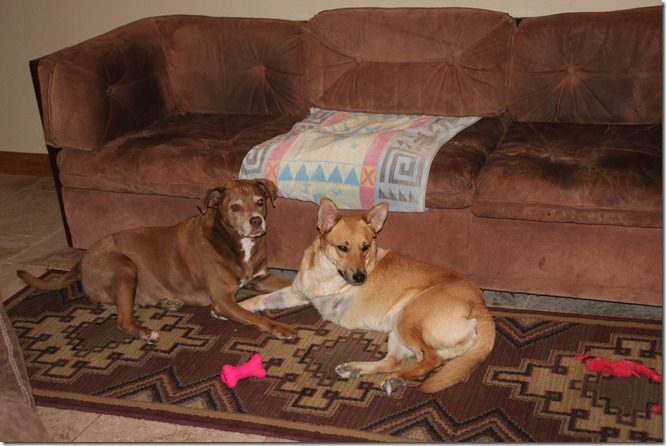 It's been two and a half months since she came to live with us and lost the leg. She loses her balance and slips now and then on the slick tile floor, but navigates well on those three legs. She keeps up with Porche on walks and pretty much takes every step I take inside or outside the house. Siam and Minnie don't pay her any mind; Wendy is not so sure. She and Frosty ae still figuring things out. Cookie wants to play; Frosty does not.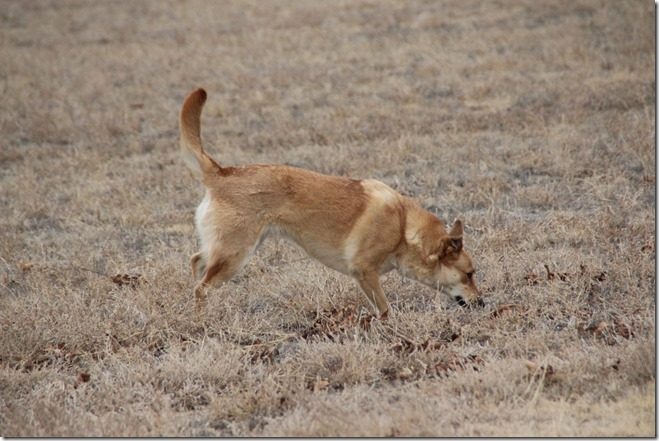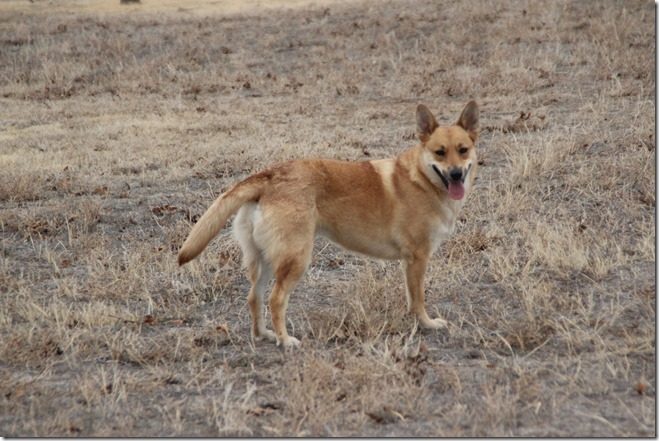 There will be other things chewed up, manners will be learned, cats will become friends, but Cookie will grow up and continue to be a valued member of the family.
Good girl.