I told you about the melocactus I brought home from the TACSS meeting in Austin this October. I also came home with a new agave, the one commonly known as the white rhino, and the one a website labeled "Arguably the most coveted novelty of the genus."
Well! I had no idea I was coveting something that special, but I knew I had wanted one after seeing it on Pinterest or somewhere. I have a lot of agaves in my collection already, so naturally I wanted this seldom-seen eye-catching addition.
So when I passed the East Austin Succulent booth at TACSS and had to catch my breath after seeing the price tag, I wondered if I really wanted it that much. They only had two; they donated one to the silent auction. I bought the other one.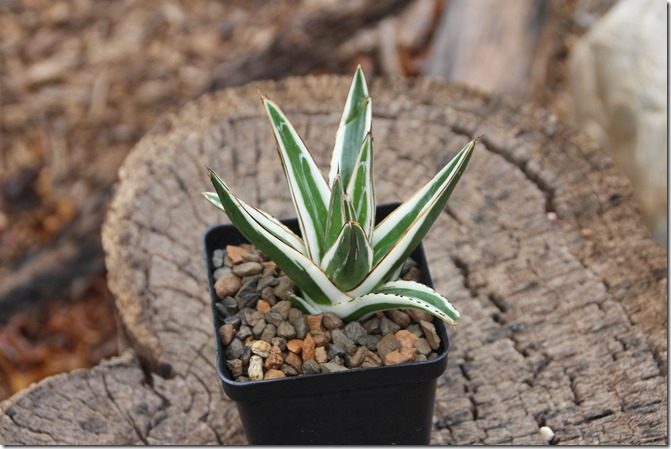 Now, to those of you not a fan of agaves, this may not look like a very unusual plant. But it is! And they are really impressive when they get bigger. They don't get really big like some agaves, which is a plus since not being cold-hardy also makes them need to be a container plant that can be brought in during freezing weather. And one reason they aren't cold-hardy is their extra helping of variegation that makes them special. Variegated succulents and cactus are never as cold-hardy as their solid green counterparts.
White rhino, sometimes called Baker's White Queen Agave, is from Mexico, as so many agaves are, and is a variegated cultivar of Agave victoriae-reginae. The story goes that back in the 1980s a nursery in California came in possession of one that produced pups, baby plants, which allowed them to grow a few plants. Plants with this much variegation are considered mutations and don't always produce viable seeds, and growing more plants from tissue cultures didn't work, either. It was discovered that splitting or quartering an adult specimen was one way to get more plants. But harvesting pups or splitting adults is not mass production, so these plants are somewhat rare and therefore expensive.
Nearly all agaves are monocarpic, meaning that after they bloom, they die. Victoria-reginaes are monocarpic, and since a white rhino is of that family, I guess that means they, too, are monocarpic. But I found no information to verify that, so I guess I will just have to wait and see. And since it will be years before it is even old enough to bloom, I think I have some time to enjoy it before that question is answered.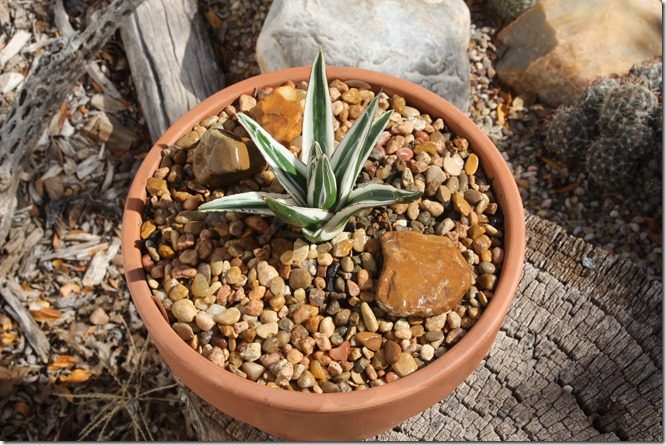 In the meantime, maybe it will make some pups. What fun!
Thanks to Eric Pedley at East Austin Succulents and Cactus for his help with this story.