In the last two years I have had the pleasure of attending four very different high school graduation exercises, three for grandchildren, and one for a former student's daughter. Two were fashioned to accommodate Covid, one of those for a large school with 237 graduates, granddaughter Maya ("Another Graduation to Remember", June 30, 2020), and the other one for a smaller school with 41 graduates, grandson Korben ("A Graduation to Remember," May 24, 2020). The next one was for a very small school with 14 graduates, friend Catalina Sanchez ("I was invited to the Lazbuddie Commencement Exercises," May 30, 2022). This last one, for grandson Ben, held June 1, 2022, was a traditional commencement for 202 graduates.
Well, the last one was traditional in order and style, but had one thing that set it apart from the others: sixteen year-old grandson Ben graduating a year early!
Ben attended Live Oak Academy, a high school campus in the Hays Independent School District that allows students to work at their own pace, and Ben's pace was apparently on fast forward. Part of his studies were influenced by Covid and done online, but as Covid settled down, he was also back in the classroom. And then as this year wound down, it turned out he had all his credits and was eligible to go ahead and graduate. So he did.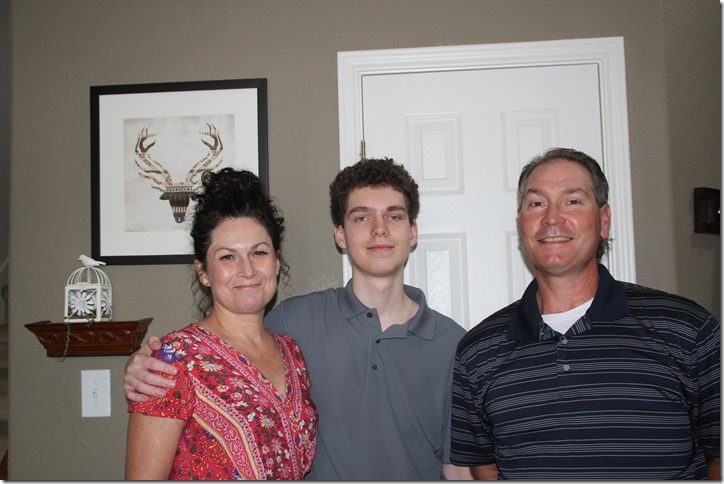 What a deal!
The ceremony was held at nearby Texas State University's Strahan Coliseum, as were several Hays ISD commencements during the day.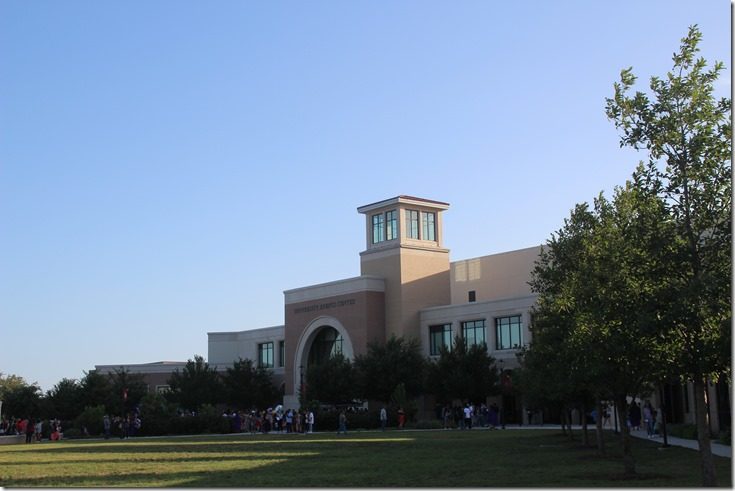 It's a nice, large facility, gives Texas State University some exposure to possible incoming freshmen, and one other advantage, I guess, to having it there was the jumbotron in the center of the basketball and volleyball courts, giving us up close and personal images of the graduates and all the proceedings on the floor. And we chose seats right in front of one side of the four-sided screen.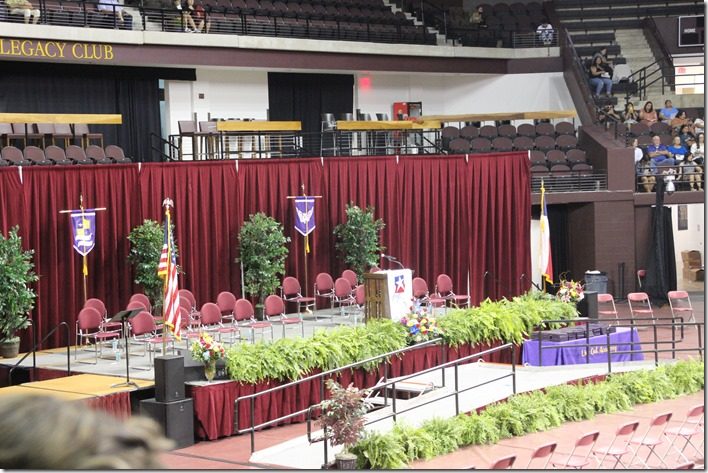 At the appointed time, the students entered from the side opposite the stage and walked down to the floor. Graduating juniors were designated with green chords, which you see on Ben here.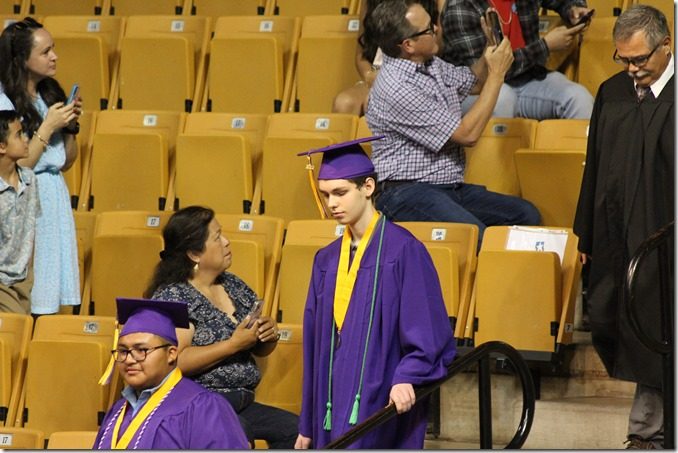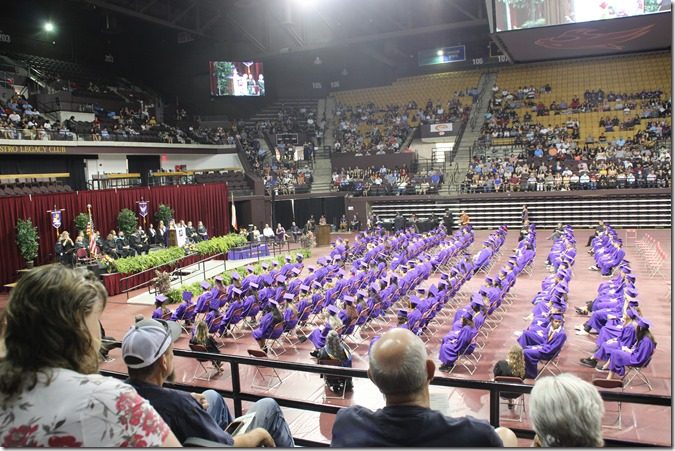 After all 202 graduates were in and seated, another Liles, Tyeisha Kaitryn Liles, gave the greeting and led us in the Pledge of Allegiance, followed by the National Anthem. And you can see here the screen we watched much of the time.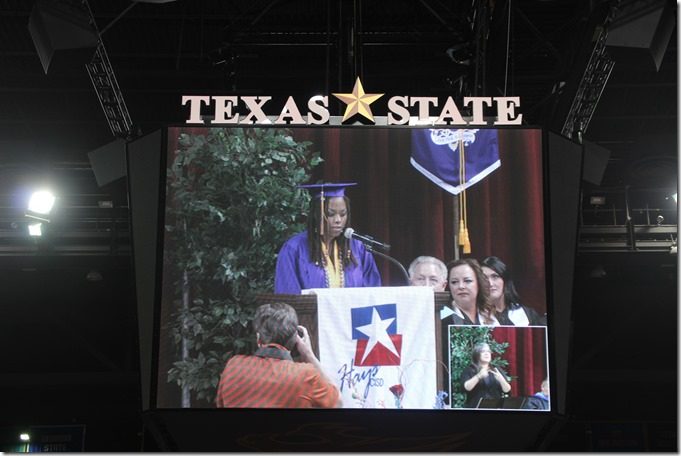 After introductions, an inspirational speech was then given by their valedictorian, Honor Graduate Kaunli Janay Yangfu Hehr, who had persevered through many hardships to rise to this occasion.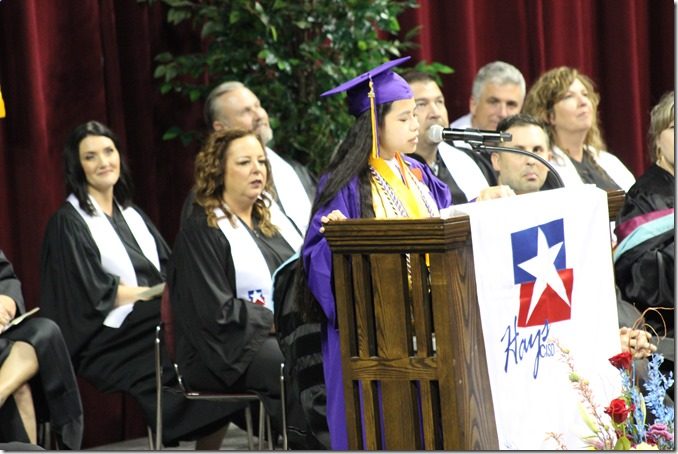 Awards and scholarships were announced, the recognition and certification of the students was given, and then came the whole point of the night: awarding the diplomas! Mr. Lance Jones, one of Maya and Ben's favorite teachers, announced each name with a flourish worthy of Jeopardy's announcer Johnny Gilbert or sports announcer Michael Buffer!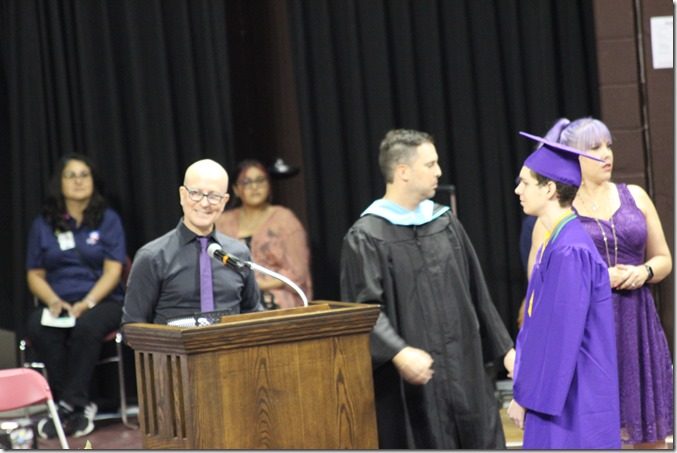 Diplomas were awarded by Mr. Doug Agnew, principal at Live Oak.
After everyone had enjoyed their moment on the jumbotron and had that diploma in their hands, Matthew Stephen Anaya finished the rite of passage and led the graduates in the Turning of the Tassel. I couldn't get a clear shot of Ben turning his, so I focused on Matthew moving his tassel.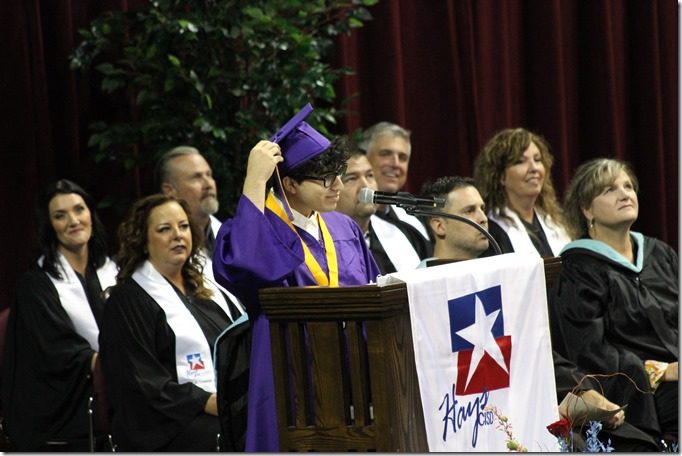 And then it was over, pomp went out the door, and they all just left en masse. Ben is in the middle.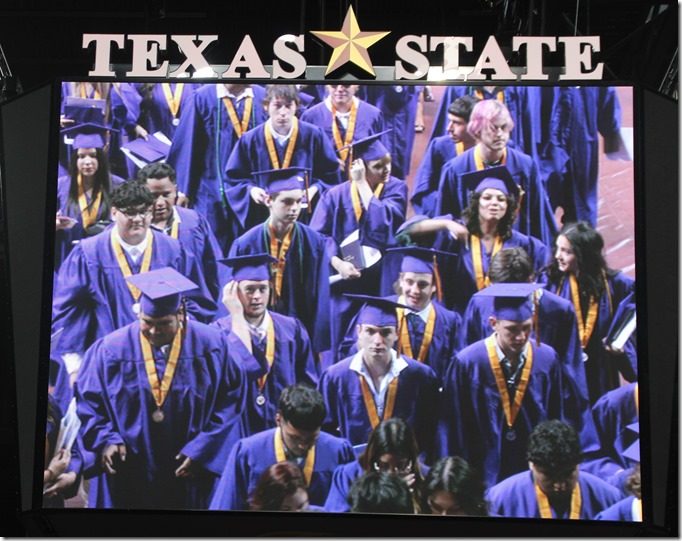 More pictures were taken outside before the trip home for a celebratory barbecue dinner and cake.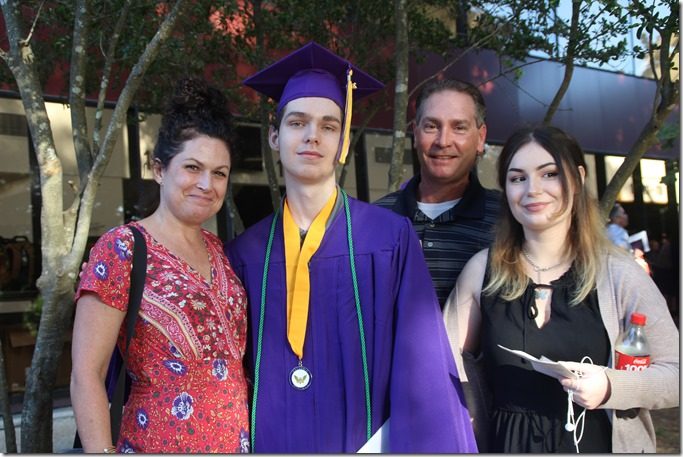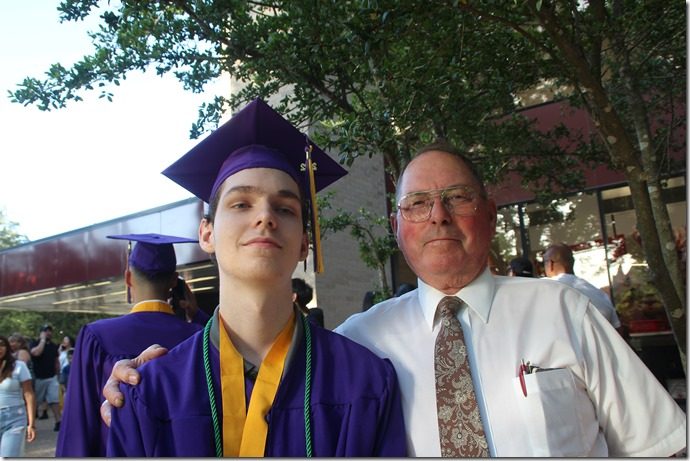 Ben and Maya both graduated from Live Oak Academy, but their commencement exercises were considerably different. And while the diplomas may look similar, this one has Ben's name on it.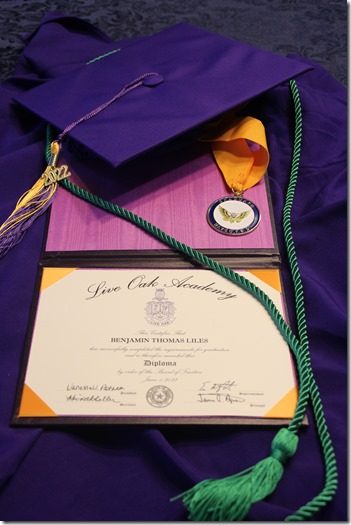 Today- Live Oak Academy and required credits at Austin Community College. Tomorrow-the world!
Way to go, Ben!
Rock on.