I was walking Porche Dog at the golf course last week, head down, watching my step. thoughts a million miles away. As we neared the turn at the first green, I looked up, and look what greeted me. A surprise mule!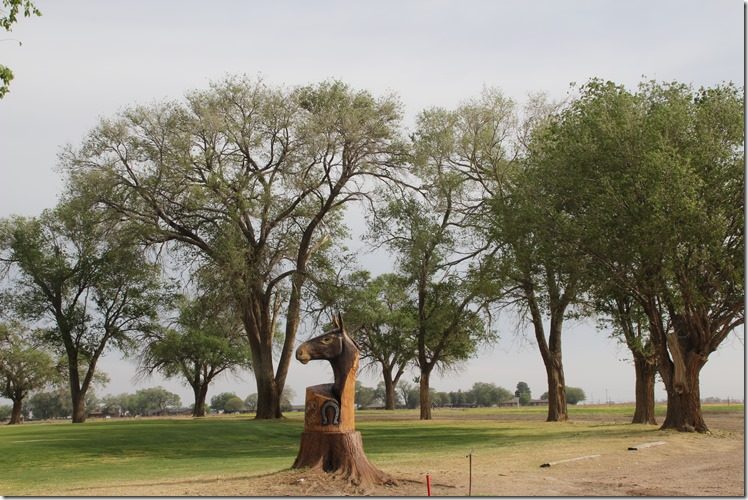 Naturally, I had to stop and do a closer inspection and then came back later with the camera to take some up close and personal pictures.
I called John Saylor, president of the Muleshoe Country Club,  to get the story behind this new mule that now greets everyone as they play the first hole of golf. He said the idea had been batted around to do something with some of the dead tree trunks around the course for a while, but no action had been taken. And then he said I should talk to club member Micheal Hardwick, who made it happen after making sure  John and the club were okay with it. And this is what I found out.
Micheal called Cam Dockery who carves all kinds of characters and animals out of wood at his Bearly Making It barn in Whitharral. Cam came over, checked out what remained of a tree Micheal said was planted in 1952 but had died about fifteen years ago, and discovered the wood was not in good enough shape to carve. Sometimes the root system also rots and the finished carving runs the risk of blowing over. Ideally, the prime time to do the carving is after the tree has been dead a reasonable length of time and when the bark begins to fall off.
But Cam had an elm tree trunk from the Levelland city park he could use instead. Elm wood works well in our climate and doesn't expand and contract like other woods do, so this was a good choice. Cam said he studied Ol' Pete, looked at other mules and mascots online, even looked at a Muleshoe football helmet before deciding on the look of this mule. He said mascot tended to have an angry look, no doubt to intimidate their opponents, so he wanted this mule to show the proper seriousness. Rather than do a full body mule like Ol' Pete, a representative head or bust was decided on. Once that decision was made, Cam got to work and finished the mule in a day.
Micheal asked that the appropriate Muleshoe Golf Course symbols be added, along with Cam's trademark and website address, and the new mule was ready for his unveiling.
\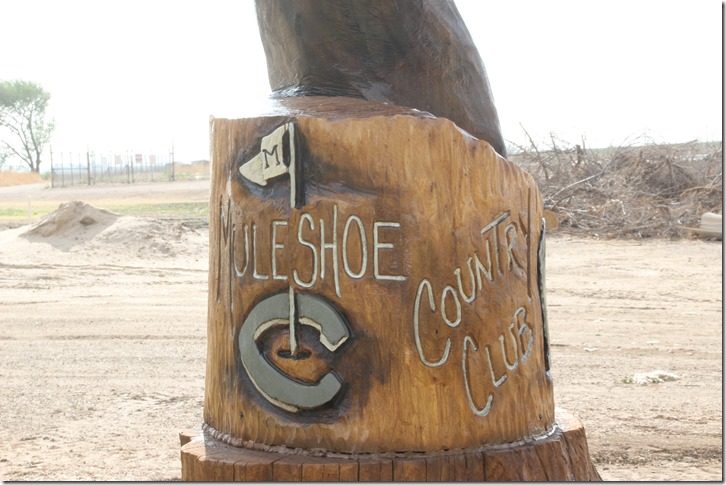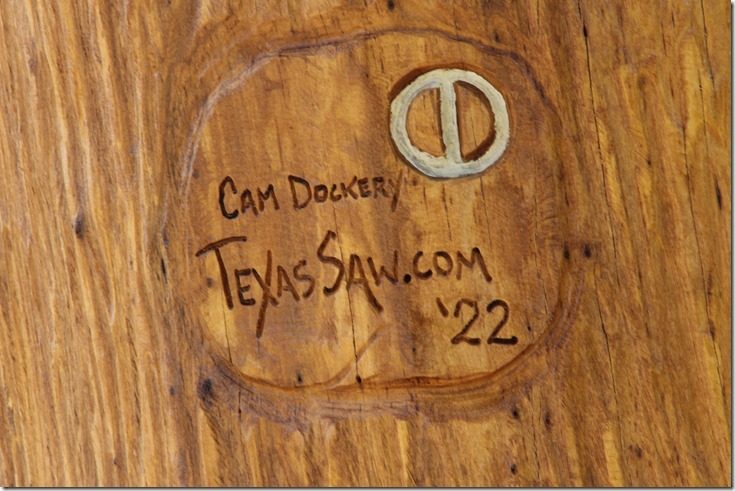 Once the carving was finished and the finish coat of lacquer applied and dried,  Cam brought the mule to the golf course, bolted and glued it to the remaining tree stump on the east side of the first green where it will greet golfers as they follow their ball to the putting green.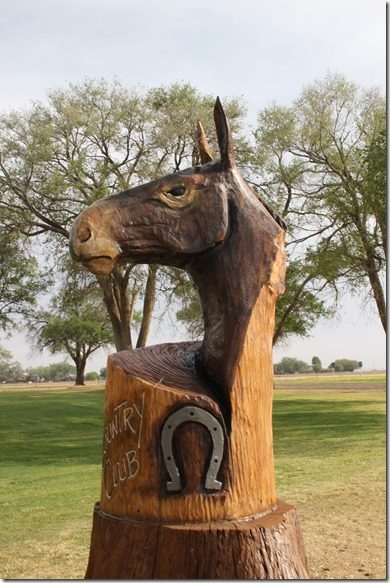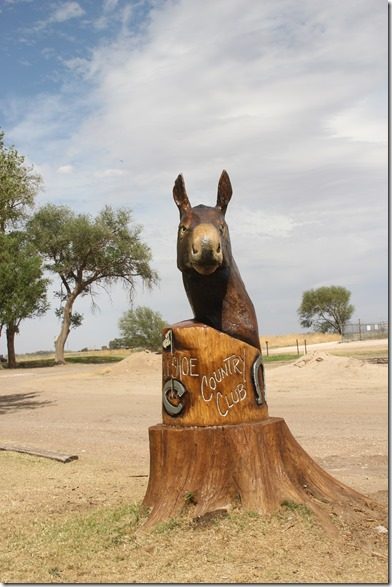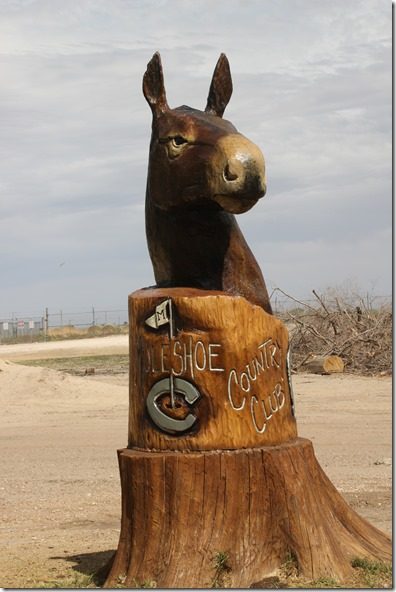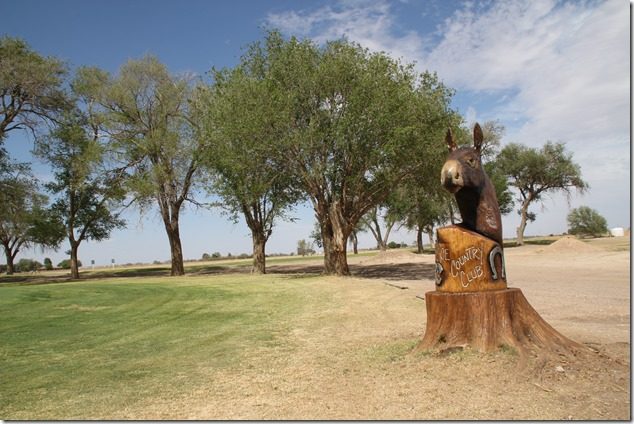 Cam has been carving bears, myriad other animals, Jesus, angels, cigar store Indians, cowboys, nativities, and just about anything a customer might order. He said carving started out as a hobby in 2001 when he was farming. But that hobby soon became his livelihood, and he has made probably 10,000 carvings to date. He was even spotlighted on Texas Country Reporter recently.
The mule is Micheal's gift to the club, but he laughed, " Donations are always acceptable!"
The mule is visible from our house, but to really appreciate him, a trip down the fairway to the first green as he greets you is the best way to enjoy his presence. But you don't really have to play golf to see him! A pleasant stroll or ride in a golf cart will get you down there to meet him.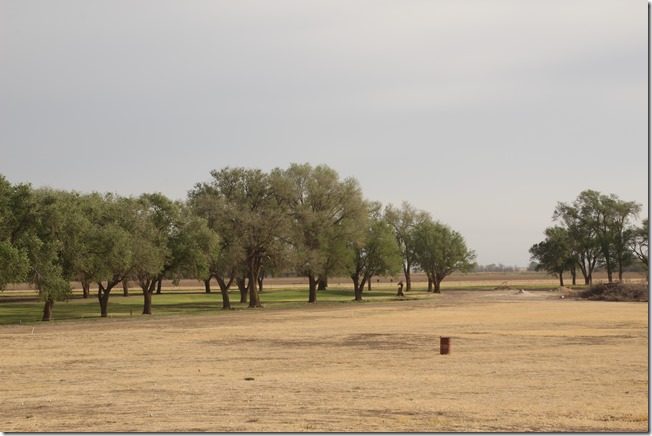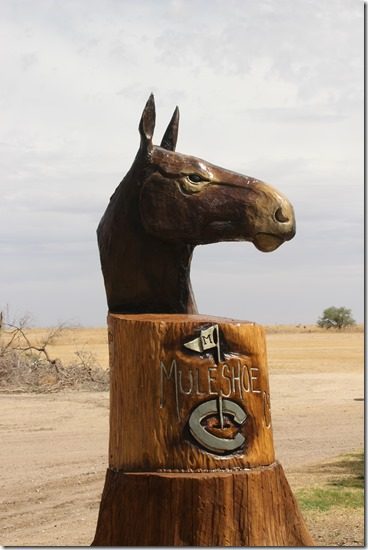 It's worth the trip.
Thanks to John and Diane Saylor, Micheal Hardwick, and Cam Dockery for their help with this story.