I had the pleasure of attending the graduation exercises of Catalina Sanchez at the Lazbuddie ISD auditorium on May 27th. Catalina is the daughter of Rosemary Franco Sellers, a former student of mine, so I was pleased to be included in the circle of life in relation to kids other than my own.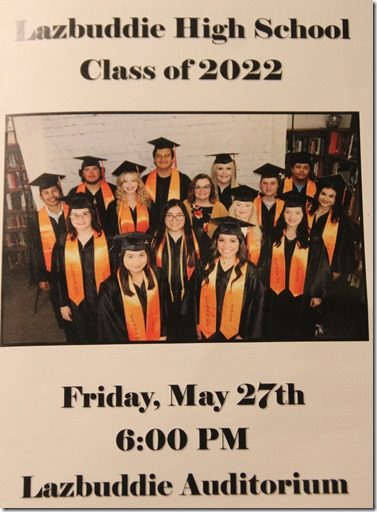 Lazbuddie is a small school district with a graduating class of fourteen seniors. And small graduating classes allow for some personalized perks that larger schools can't handle with their bigger numbers. For example, I always like to sit as close to the front as possible, but all the front rows were marked with the names of each graduate so their families could have the best seats in the house.
On the back of the program all the graduates' names were given, along with their educational futures; colleges and technical schools were listed, along with the field of study they planned to pursue. Catalina is attending South Plains College and will study occupational therapy. I liked that addition to the program, another small school perk.
The majority of the program was fairly standard stuff for high school graduations: Pomp and Circumstance, the welcome and introductions from school principal Mrs. Chambers and superintendent Mr. Wolf. Invocations were given in both English and Spanish, which was a bit different, and pledges to the flags followed. Scholarships earned by the students were announced next, amounting to over $700,000 worth, an impressive number for a small school, I thought.
Halley Wales gave the valedictory address, followed by Catalina, who was the salutatorian.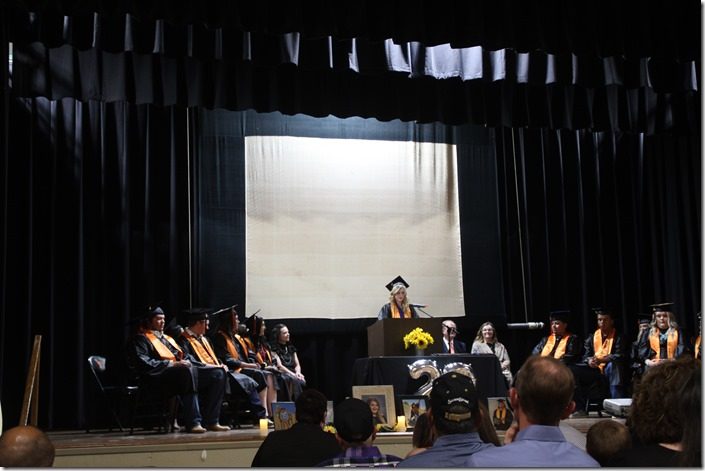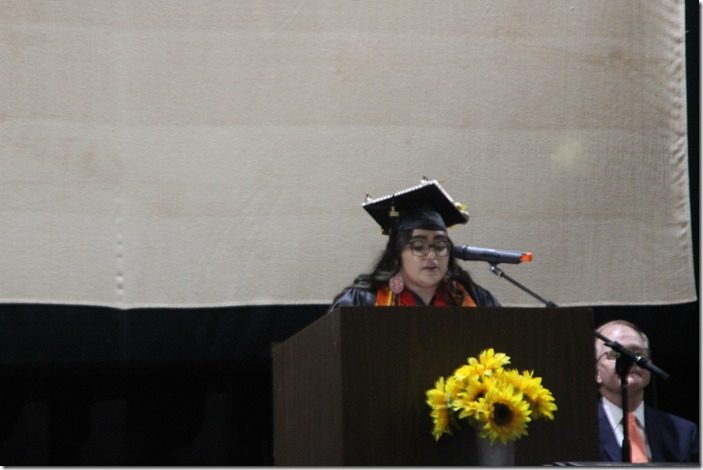 Julia Ibarra, class historian, led the students through some highlights of their school days, mentioning events and memories that brought smiles and laughter from the graduates as well as their families.
Guest speaker was Maggie Damron, one of their English teachers. She had taught most of these kids several times as they moved up through the grades, not uncommon in smaller districts. But this allowed her to know these students well and she used that in her speech, addressing each one by name as she talked about memories of them and her hopes for what she saw in their futures.
Diplomas were handed out by Mr. Wolf and school board members Brenna Burch and Candice Weaver.
What followed was another one of those perks allowed small schools. It was listed as Special Recognition of Parents from the Senior Class and was a video compiled of picture collages of each senior. As each senior's name appeared and the pictures ran, that senior came down from the stage and presented parents with a hug and a bouquet of flowers. This is part of Catalina's portion of the video.
After the benediction, everyone was invited to the cafeteria for refreshments and to view each graduate's table of mementoes and important things from their school careers. Naturally, lots of visiting and hugging went on outside before going into the cafeteria. Lots of picture-taking, too.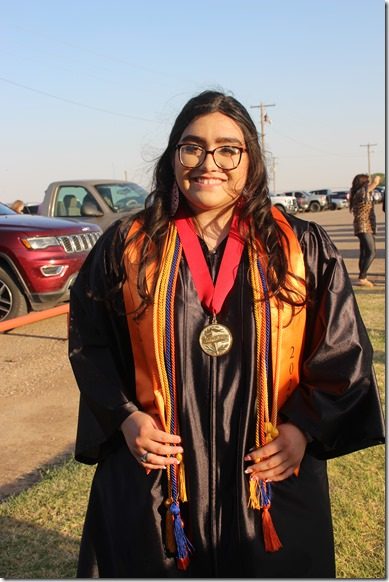 Many of them decorated the tops of their caps, something that wasn't allowed back in the old days when I graduated, as I recall! This was Catalina's.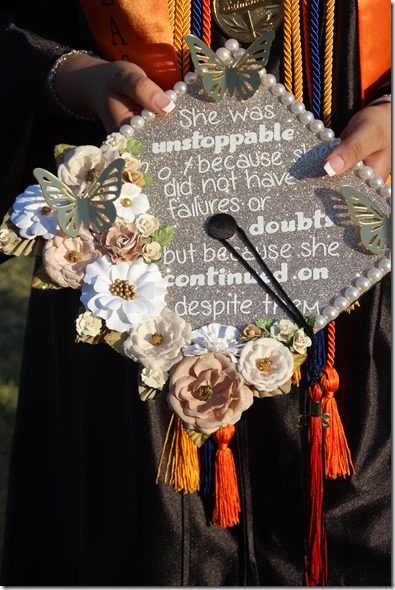 And as I write this, I realize I missed the opportunity to get a picture of mother and daughter. But I do have Mom's picture in a Muleshoe yearbook, so I guess that will have to do for now. But I wish I had the two of them together.
An unexpected part of the night was also getting to visit with other former students-Leesa Gable, Jedon and Tanya Copley Ruthardt, whose children were also graduating. More of that circle of life thing that happens pretty often in small towns and communities like ours. And perhaps I had other former students there watching their kids graduate as well, and I just didn't recognize them. They do grow up and change, ya' know!
Catalina and family invited me to their after-commencement party at the Clay's Corner Fire Station, too, complete with music, lots of good food, a picture-taking booth, and a mechanical bull to ride, just for fun. I didn't ride it, but I think Catalina did sometime during the night. And she was the perfect, thoughtful hostess as she sat with me as we ate and had a nice visit.
Thank you for including me, Rosemary and Catalina. I had a good time!
Congratulations, Catalina! Your future looks bright.