Teresa was a familiar face for me at the post office for a long time. But she won't be there any more, as she retired last week after twenty-nine years of service with USPS. Really? Has it been that long?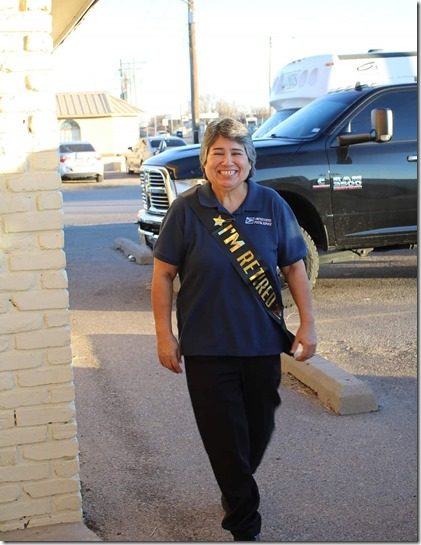 Photo courtesy of Kassandra Tovar
Apparently so! Another long time post office employee and close friend of Teresa's, Jan Smith, sat in on my interview with Teresa the other day at Teresa's request because she said Jan always had a calming effect on her when she was in unexpected situations. Again, really? Teresa always seemed happy and in control and handled transactions at the window with confidence when I would be waiting in line. At any rate, the three of us had a lively, interesting, fun visit while they shared Teresa's life with me.
Teresa Dabrowski was born Teresa Samaron in Hart, Texas, and grew up Earth, Texas. One of fifteen kids, she and her siblings worked with their dad Santiago seasonally in fields of cucumbers, corn, and cotton for a farmer named Mr. Davis. And as the seasons changed, they would go to Colorado and Kansas to hoe sugar beets. She laughed that with fifteen kids her dad had to keep them busy-and feed them, so they all worked. This much family also kept her mother, Genoeva, busy. And Genoeva was the one who took all the kids to church. "That the way we all became Christians and know the Lord the way we do," Teresa said. I asked her where she fell in that batch of fifteen kids, and Teresa said she was the middle child. "I got a relationship with the youngest and a relationship with the oldest, and that was hard," she smiled. All those children still live in this area, save one who died.
Teresa attended Springlake-Earth schools and graduated in 1978. She continued field work with her dad, and then she met her future husband, Edwin Dabrowski, who was from Massachusetts, for goodness sake! Edwin was stationed at Reese AFB , but he and her brother Jimmy met at a running club in Lubbock.
"My brother brought Edwin home for Thanksgiving, and I guess we hit it off," she told me gleefully. They met in 1986, were engaged by 1987, and married in 1988. Teresa continued to help her dad in the fields until they married, and then she became the housewife for 'her Edwin,' as she always affectionately refers to him.
After Edwin served his tour of duty in the military, he also worked for the post office in Lubbock. After they married, Edwin started working for Lowe's Market, first in Earth and then Littlefield where they settled and still live now. Teresa said they may live in Littlefield, but she knows more people in Muleshoe and feels like they are her real family. They have one daughter, Stephanie Irene, who worked for the post office in Lazbuddie and Lubbock. "Working for the post office must run in the family!" she laughed.
Teresa started her career with the postal service at the age of 26 as what was referred to as a casual, now called a PSE, a person who is not an actual postal employee but has an hourly job with the post office and is hired for a ninety-day period. After that period, the casual could be hired again if the boss liked your work ethic. She did that twice, once in '86 and '87, but was let go. She then came back 1993, met Jan Smith, and started her full career as a postal employee for the next twenty-nine years. Time spent as a casual doesn't count toward time spent with USPS since you are not considered an actual employee.
Two positions that do give full employee status with USPS are being a mail carrier and a clerk. Teresa started out as a carrier and did that for twelve years. She then switched to clerk at the front counter where she remained for the rest of her years with the postal service.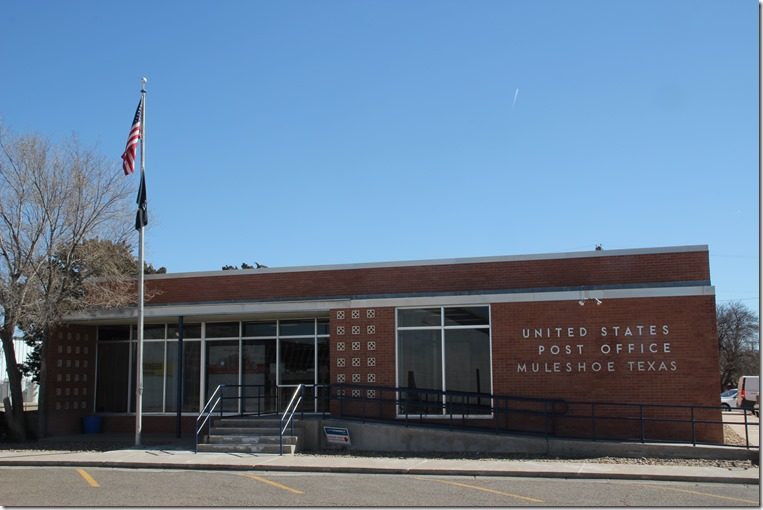 In the old days, applicants had to take a civil service exam in person and score well. Teresa did that. These days the exam is taken on a smart phone without a personal interview, something Teresa disagrees with.
In small towns, at least, postmasters seem to change frequently, and Teresa has worked under many, starting with Roland Bell, who hired her, all the way to Kassandra Tovar, the current Muleshoe postmaster. I asked her why she didn't apply for postmaster, which, it turns out, are appointed by management in the Lubbock office, but she quickly informed me she didn't want to be postmaster. "I can run the office, but I don't want to do the computers and the paper work. I like working the front counter and talking to the customers," Teresa said.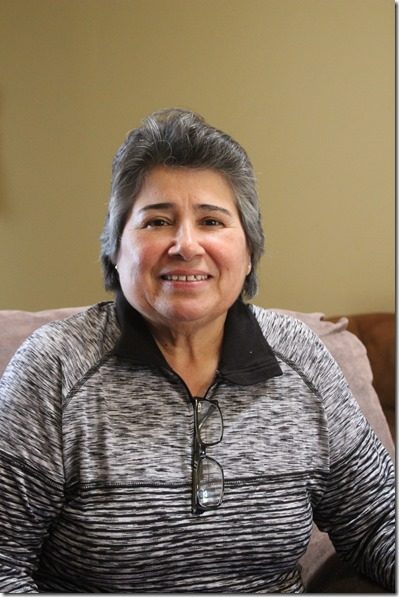 When Jan worked as clerk, I was teaching for MISD and wasn't in the post office as much during the day, so while I knew Jan, I didn't become as accustomed to seeing her face behind the counter as I was Teresa's in later years. Teresa helped me out in times of need, like figuring out what address to use sometimes for things like sympathy cards. She wasn't supposed to give out addresses, and she didn't, but she always had a way to point me in the right direction. And when I started shipping my books to readers, I would not have known about the media rate for mailing books had Teresa not filled me in. And I would tease her from time to time, and we would laugh. I got spoiled to our post office because of her. She made it a personal and pleasant experience, not like what you encounter in post offices in big towns.
Jan Smith, who retired in 2011, has remained good friends with Teresa even after she left the post office. Teresa commented, "Oh, I wanted to quit when Jan quit-with Jan my words came automatically; she would always help me when I got stuck on a word."
She went on to say, " [In the beginning] Smitty was a clerk and I was a carrier. When you have someone you work with and can have fun with, it makes it a pleasure. You build up trust. She went from co-worker to friend and we've been friends ever since."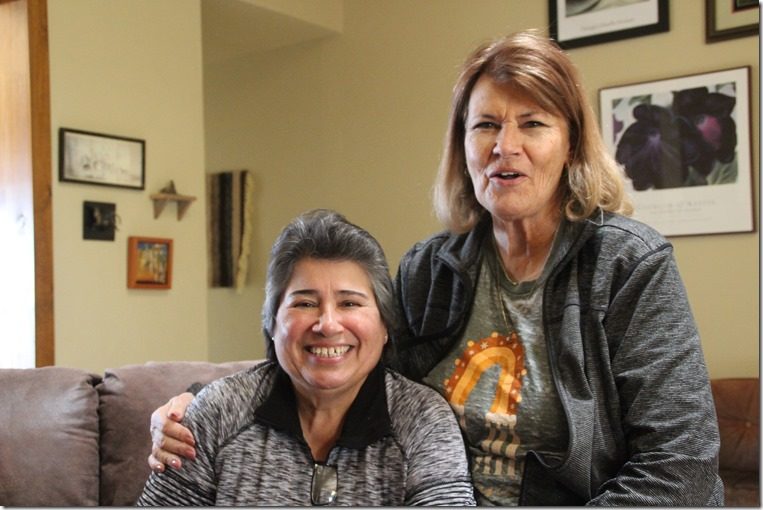 As time passed, it just felt like the right time to retire was now. I asked Teresa what plans were in her future now that she wouldn't be driving to work every day from Littlefield. Spend more time with her Edwin and granddaughters was mentioned, along with "Gotta get busy and fix up my house, get caught up on my housework!" She also likes to work in her yard, perhaps a habit developed from working in the fields with her dad.
At any rate, I suspect she will always be busy and spreading that smile wherever she is.
You go, Girl!
Thanks to Jan Smith, and Kassandra Tovar for their help with this story, and to Teresa for sharing her life with me.