I can't remember a time when I wasn't drawn to horses. I don't know that I can even explain what the attraction is. That they are beautiful goes without saying. Their strength is obvious. Their intelligence is sometimes overlooked.  Riding, for me, was being one with the animal. In "The Black Stallion," (the best movie of all time, by the way) when Alec sees the Black for the first time and tells his dad, "You know what I saw? The most fantastic thing. Come look," I know just how he feels. They are mysterious and spectacular and touch my soul.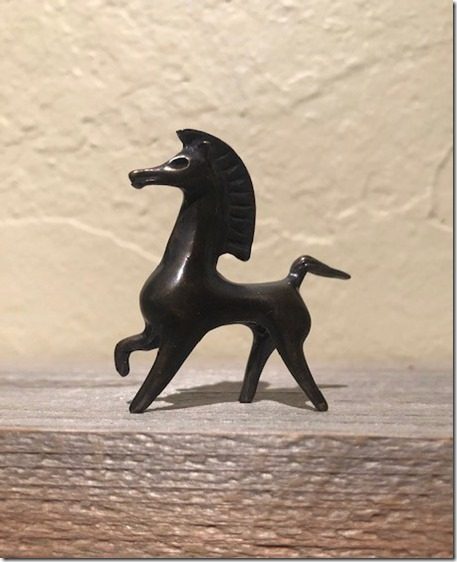 When I was young, we kept horses. I don't know if that was because Daddy loved them and wanted them around as a reminder of his childhood horse, Ol' Six-shooter, or as something we could do as a family, but we had them. I remember Dan, a palomino Mother was deathly afraid of, which, of course, in her case, applied to all horses. Seems like we had a mare named Dolly. Louise had a horse she named Star Baby.
The first horse in my life was a filly born to a mare we owned, maybe Dolly. I named her Betty Boots. I have no idea where that name came from, but Mother told me that upon hearing comments about her, I would always ask, " You mean my little horse, Daddy, my little horse?" That's all I remember about her; I have no idea what became of her, if we kept her or not. And now. of course, there is no one left for me to ask.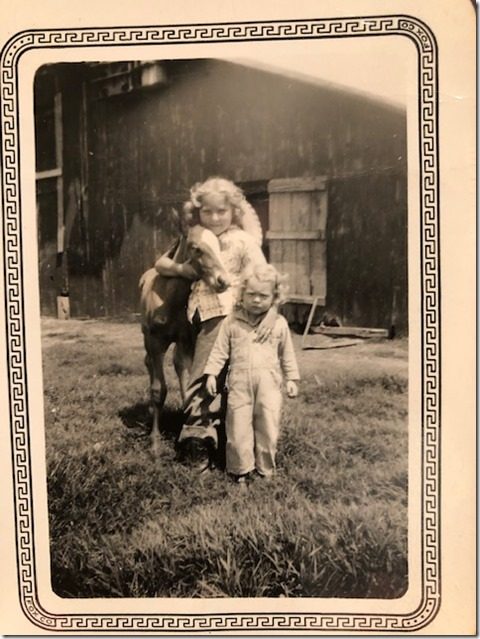 Louise, Betty Boots, Me, 1949
I remember Mother and Daddy riding with Al and Grace Jordan to help Van and Gabby Spiller's family move cattle from one pasture to the other on Matagorda Island or Danbury or somewhere in that area, and I got to ride along. I really got into that because it was like playing cowboys; mostly, it was a chance to ride. I always thought it would be great to be in Western movies, not to be a movie star, but to get to ride horses all day.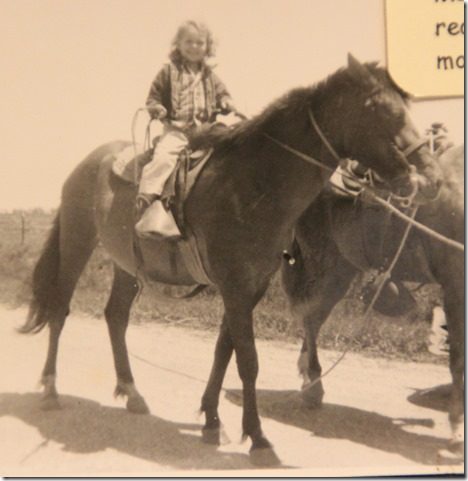 Time passed, and the horses were no longer with us, and I have no idea now how that came to be. And as is so often the case, sadly, I didn't ask the right questions at the right time as a adult to find out.
After Louise died in 1957 when I was ten, Mother and Daddy were pretty protective of me. At some point I asked for a horse. Mother was still afraid of them, and more to the point, afraid I would be hurt by one. Memory fails to provide me with the details, but in junior high I managed to work out a deal to ride a man's horse if I would feed the horse. For some reason, Mother was agreeable to this. After that deal went away, I got to feed and ride a mare and a gelding that belonged to our neighbors down the street.
And then my sophomore year with a little help from family friend Sid Talley, I got my little black horse, a two-year old filly  I named Samba Jo. She had good quarter horse bloodlines going back to King Joe Boy, but was not registered. I didn't care about that; I was just thrilled to have my own little horse again! I think this picture was taken in the summer of 1962.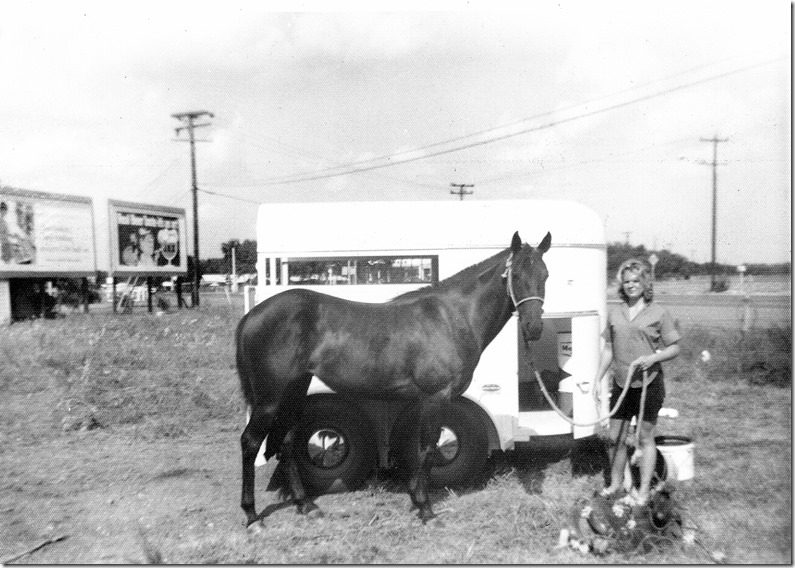 We went on to compete in youth rodeo, 4-H Horse Club, and traveled to myriad youth horse shows in the Rosenberg area and beyond. After graduation, I decided on Texas A&I University (now Texas A&M University Kingsville) and joined the rodeo team. She and I ran barrels and tied goats, but I never learned to rope; no matter, as I am not sure I would have ever taught her not to break the barrier since she wanted to rush out to run barrels.
Marriage to Bill at A&I, graduating from Texas A&M at College Station, three moves following jobs, two kids and two fillies from Samba later, most of my horseback riding days were over. She made all the moves with us, and I still rode for pleasure, but no longer competed. My children didn't inherit my love of horses, and Bill had no desire to ride, so I just loved Samba, and we both aged together. And when her time came after living with me for thirty-two years, Dr. Kennedy came, Andy Wilson dug her resting place with the company backhoe, and I said goodbye to her here in her pasture.
But all those things connected to her are still with me, all those cowgirl things I still can't part with, and probably never will.  Like the wooden tool box she was awarded for first place in a halter class. It came with a brush, curry comb, tail comb, and a hoof pick, and I added others along the way. She won lots of trophies, most of which I did finally part with after removing the engraved plaques and putting them in a scrapbook, along with scores of ribbons,  but this box of brushes I still have, and I always thought that was more  appropriate and helpful as a prize for a halter class than yet another trophy would have been.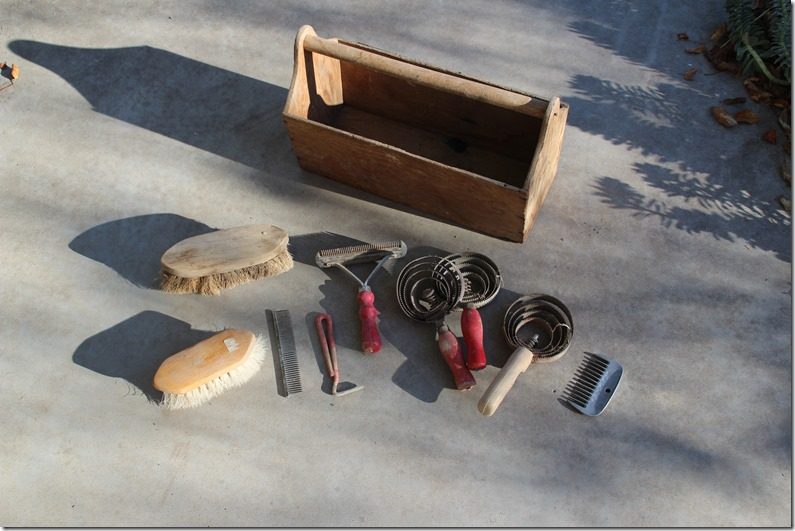 The tail comb I even took with me on the four trips I have made to the Vee Bar Guest Ranch in Wyoming, trips made for another chance to ride. Guests are given the opportunity to groom and saddle their mounts if they wish, so I would get up early to go do that every morning. And as it turned out, the other guests always wanted to borrow that comb. When I rode and showed, the style was short tail to the hocks and roached mane; today the style is long mane and tail, so a tail comb would especially come  in handy now, except the ropers braid the long tails to keep them out of the way. A short tail would look better, I think.  I still have the Sunbeam electric clippers I used to roach her mane and trim her fetlocks, but I doubt I will ever use them again.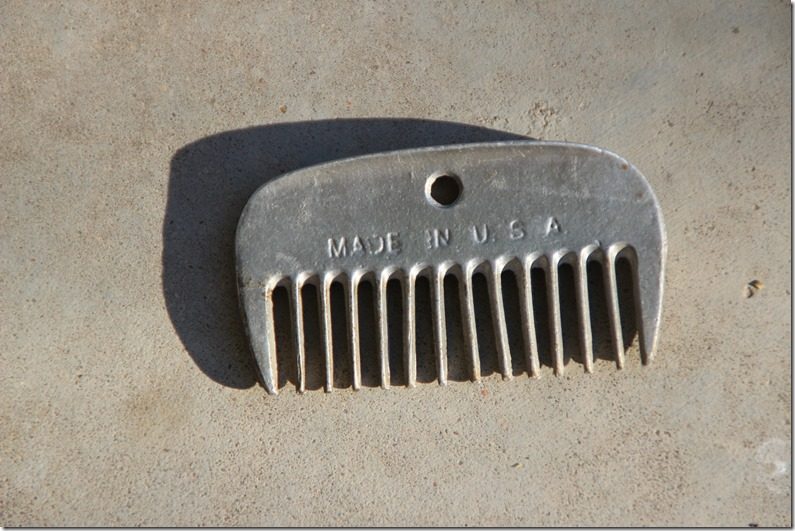 These are the only two trophies I kept. The small one my daddy gave me in 1957; not sure why exactly, but the date is 1957, the year Louise died, so I guess he was trying to take my mind off that. The other one was for a halter class in 1969. Note the short tails on both horses.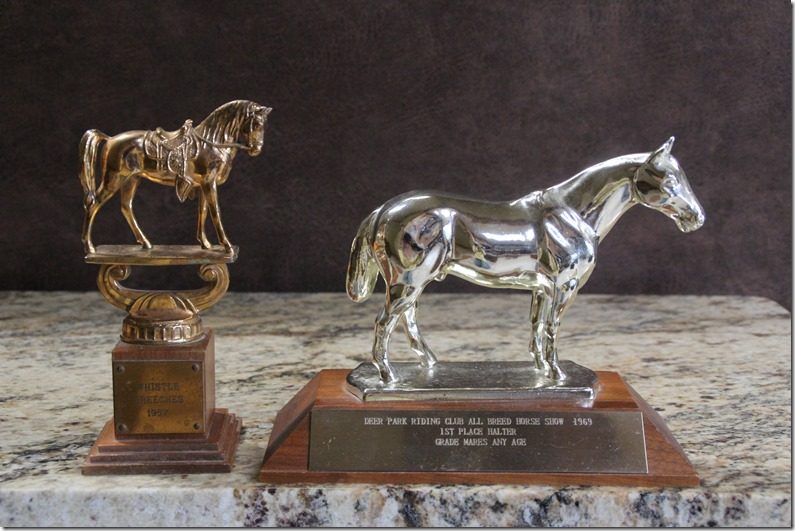 I still have Samba's feed bucket and the hoof trimming stand Bill devised to prop her foot up on to smooth and trim her hooves with a rasp. The rasp has wandered off, but I suspect it may still be around somewhere.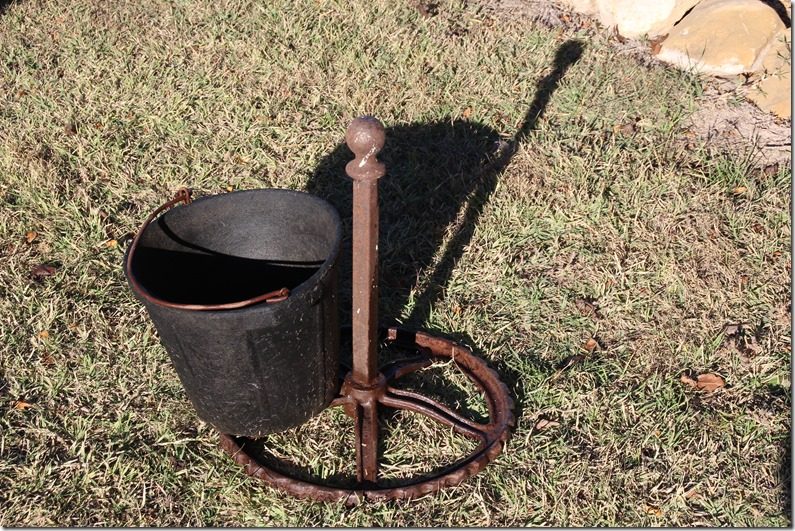 I still have most of the tack I used, the bosal I started using first, the bridles with different bits that came later. I don't have her buck-stitched halter, but she was buried in that.
Daddy bought me this plain, utilitarian Tex Tan saddle; nothing fancy, but it served me well. We had the stirrups covered with leather, which dressed it up and held my foot in the stirrup better. Mother knitted and lined the saddle blanket, I added one more saddle pad, and I was good to go. And I found out on those trips to the Vee Bar that my lightweight saddle had been just right for me as a youngster to sling up on my tall 15-hand mare. At the Vee Bar I tried to get the big, heavy saddle up on the 16-hand gelding they put me on there.  I groomed him, but gave up and let the wranglers saddle him!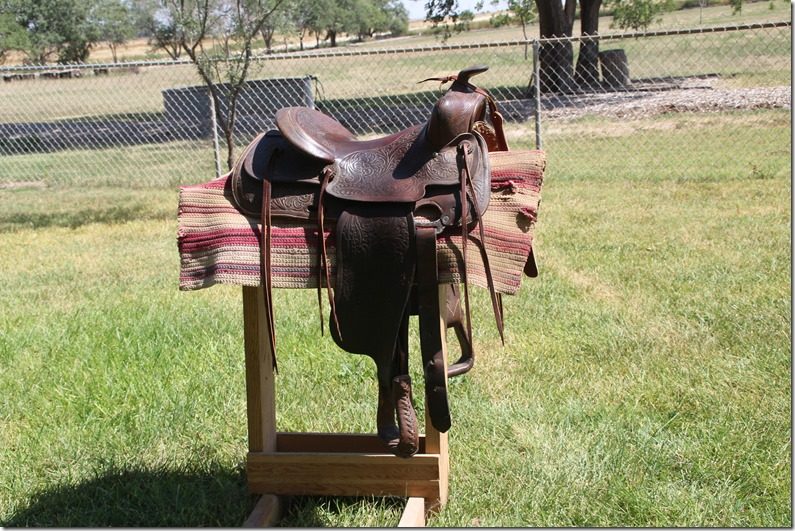 Samba is buried in the back of the pasture a distance behind the saddle with a picture of her and a letter in a plastic bag telling who she was and why she was important to me. Some day if the area is dug up and studied for archeological study, someone will know she was loved and wasn't just any old horse. That is important to me.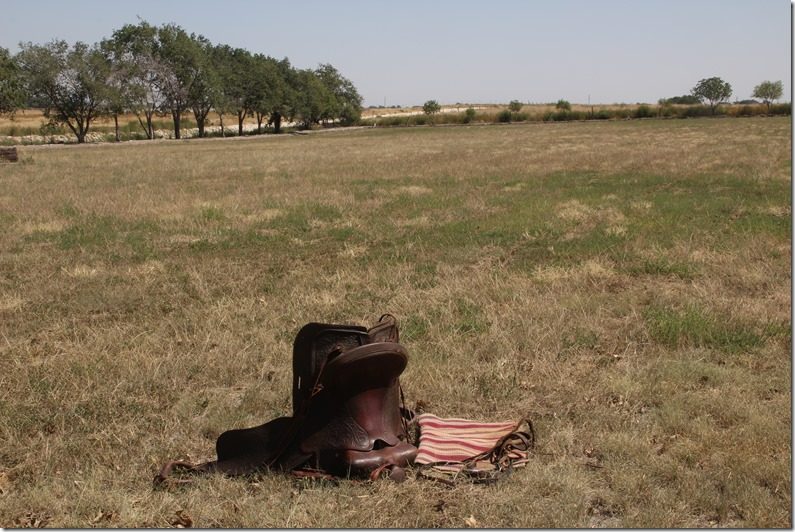 I started riding with these Tony Lama boots and have worn them from time to time even though they are a bit snugger these days.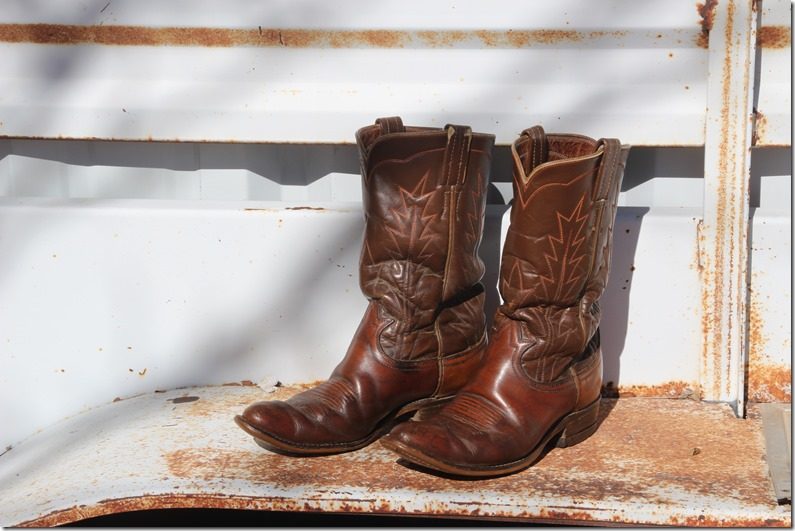 I wore my buck-stitched belt and the 4-H buckle we earned, too. I even have some of the jeans from those days. They definitely are snugger in the waist now! They are almost Levi antiques. Looking at these items again makes me want to wear them more, but it probably won't happen.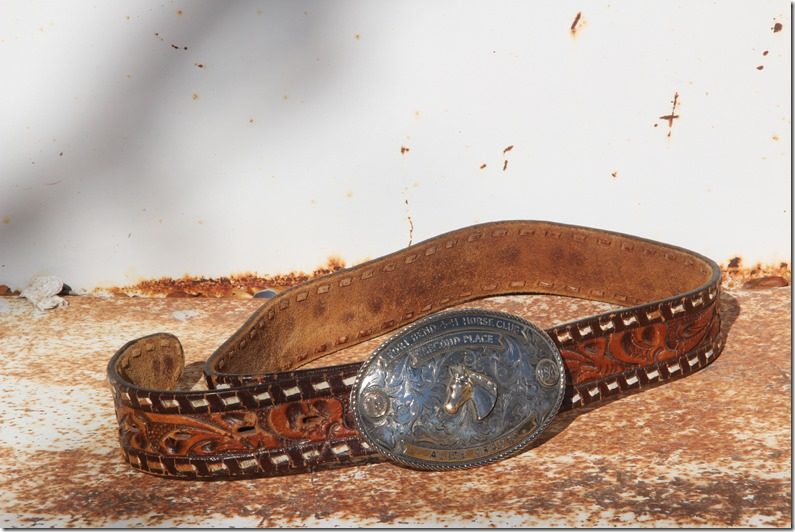 What I wish I had instead of all these things is that black mare that was there for me all those years. I will always be partial to black horses and cowgirl things.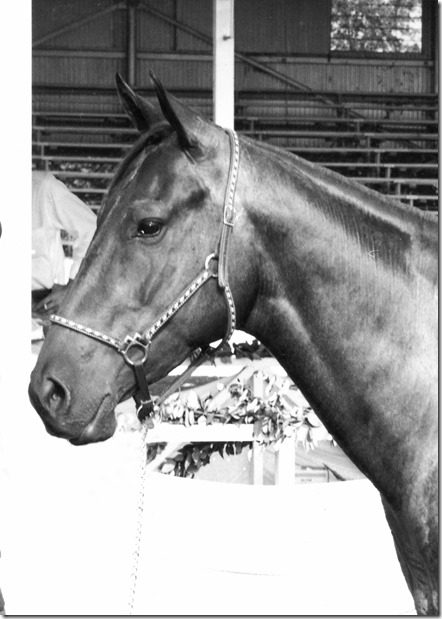 Easy, Mare.
We had a good life, didn't we?