Back in the 1980s the Muleshoe hospital auxiliary had a thrift store to make some extra cash for the hospital. Then when the hospital closed about that time, so did the thrift store. Vivian White, who had been active in the hospital auxiliary as well as the new Muleshoe Heritage Center, saw a need for a thrift store to help out in the community, but later also knew the Heritage Center could use some help establishing its financial stability. She just decided to do something about it, and  she and her husband T.R. White saw to it that another thrift shop was started in their recently closed White's Cashway Grocery Store. Donated items were available to be sold at a reasonable price or shared with people who were experiencing a low spot in their lives, and the profits from sales would go to the Heritage Foundation.
You can read more about the history of the thrift shop and these women and others who for many years gave of their time in "The Heritage Thrift Shop," February 15, 2012, here in the blog.
But this story is about four women who have volunteered to work at the thrift shop for twenty years, give or take a few, and we have all just taken them for granted.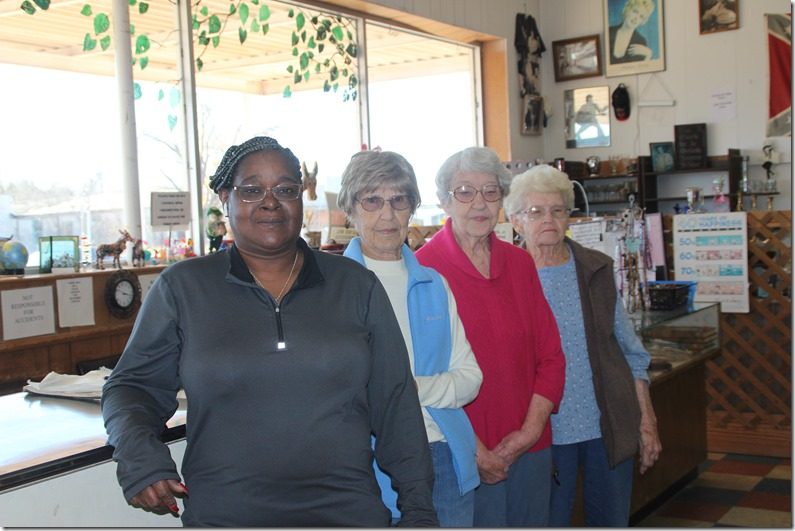 Peggy Bates started volunteering at the thrift shop after retiring as chief jailer for the sheriff's department in 2000. Before that, she worked for the juvenile probation office. He sister, LaDean Spears, worked at Bailey County Electric before spending her Mondays, Fridays, and Saturdays tending to thrift shop business. Probably around 2000, Ladean asked Peggy, who happens to be her sister, to come  help her one day, so Peggy did. LaDean, who had been a faithful worker at the thrift shop for all those years, died in 2010, but Peggy stayed on.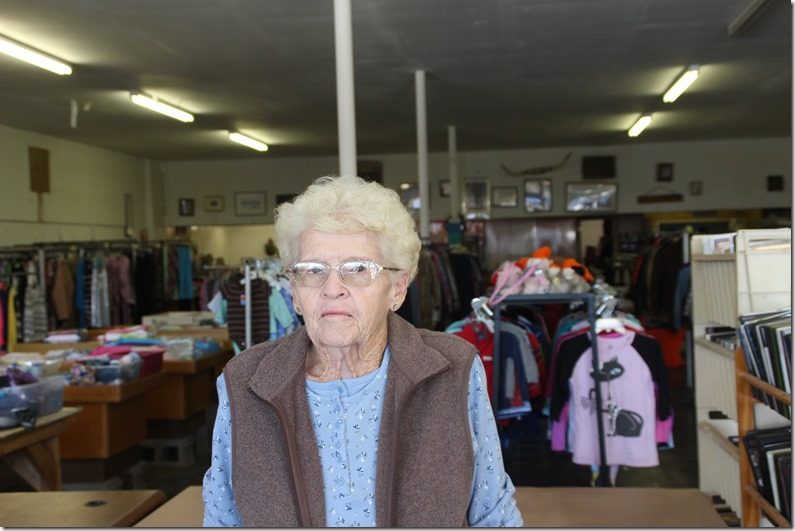 For the last twenty-one years, Peggy has been sorting donated items, dealing with the public, and continuing to carry out Vivian's wishes that the thrift shop take in some cash flow for the Heritage Center, but more importantly, seeing to it that people down on their luck who needed a helping hand were given thrift shop items that would help them get back on their feet. Local churches and the Bailey County Ministerial Alliance have referred families who have lost everything to a house fire, for example, to clothe and outfit their temporary living quarters till they can get control of the situation. Peggy said being able to help out like that is one of the best things about the job.
Ruby Henderson was born in Pettit, grew up in Bailey County and went to school in Bula. She worked for many years as as a teacher's aide at Watson Junior High. She came to the shop in 2006 and besides doing the good work of the shop, enjoyed seeing and visiting with the customers who came in. She said when she started she also sorted things when they were open on Friday and Saturday, but didn't come on the usual work days on Monday and sometimes Tuesday. As time passed, she also added the Monday and Tuesday work days to her schedule.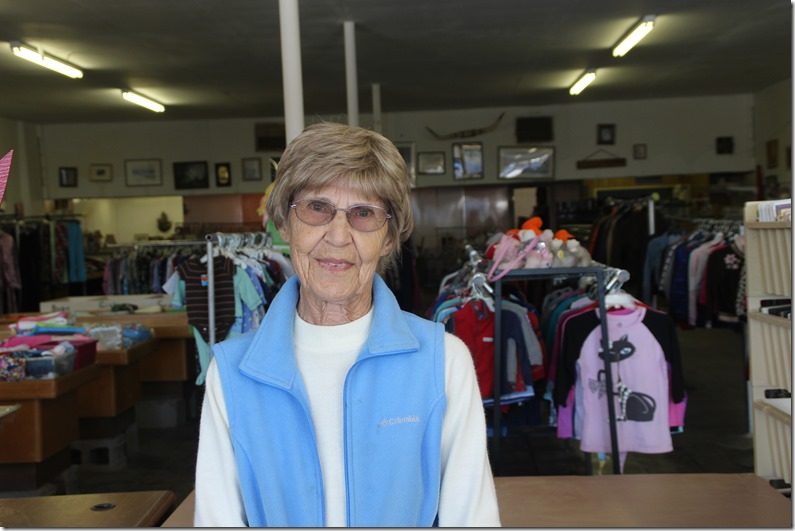 Martha Stroud came to the shop in March of 2006 after working with the Muleshoe school system. She started out in the Richland Hills, now Dillman, Elementary cafeteria around 1969-70 and later moved to De Shazo Elementary as a teacher's aide, spending a total of twenty-four years with MISD. Martha's parents moved to Muleshoe when she was four years old, so she grew up here and knows many of the people who shop at the thrift store.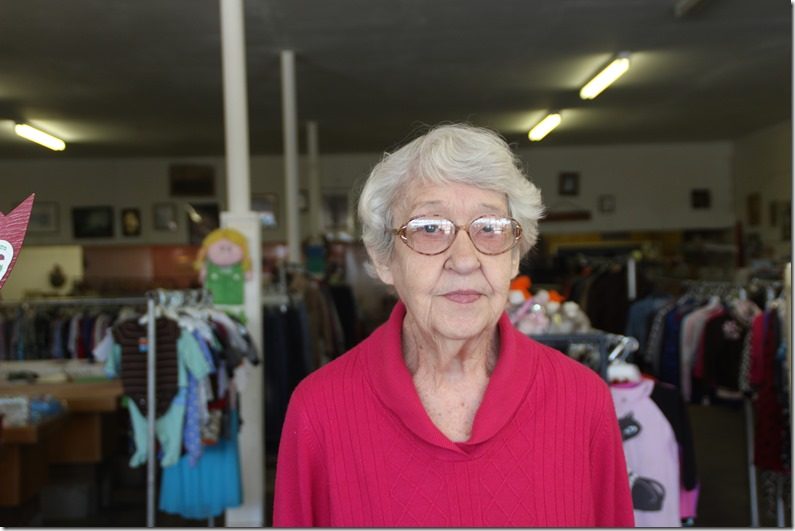 Jearldean Richardson has been working at the shop since 2009. Jearldean was born in Muleshoe and grew up here, graduating from Muleshoe High School in 1987. The comment was made that she knew Ruby when they both would have been at Watson Junior High. Besides working behind the counter and helping customers shop, Jearldean's focus at the store has been to check out all electronics like televisions and other devices that would be donated, hook them up and make sure they worked. Once she even went to Martha's house to work on her TV! I don't think Jearldean has ever met a stranger, as she always meets and greets people as they come into the store.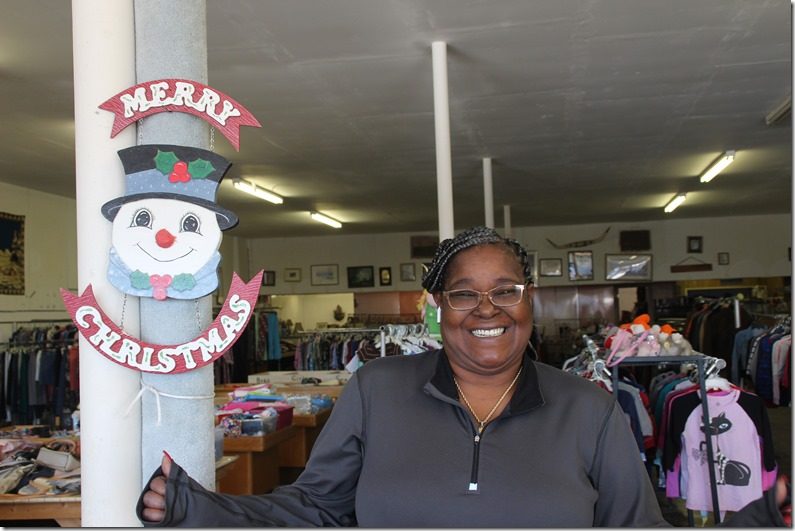 Peggy turned 86 this year and while she enjoys her work at the thrift shop, just decided it was time to do something else with the rest of her life, so she tended her resignation to Kenneth Henry and the Heritage Foundation board. She said she is looking forward to spending more time in her yard and garden.
Ruby, who also turned 86 this year, thought retirement sounded like a good idea, too, so she is now looking forward to seeing her sons Bobby and Jimmy more often and spending time with her grand and great-grandchildren.
Martha, who turned 87 in October, decided it was about time she rested a little herself and was ready to try something different. Growing up on a farm, she said there is always something that needs to be done, so she will always be busy on her small acreage outside of town.
Jearldean, at 53, is not quite up to retirement age, so I asked her why she decided to quit at the thrift shop, and she told me without hesitation: "I told Miss Peggy that whenever you retire, I'll retire," so she did! Jearldean will stay busy with her job at the Sonic and making trips to Dimmitt to continue working at times for "Aunt Gail" Wilcox, as she has done for several years. And she will also have more time to visit her sons, Erwin in Dalhart and Larry, Jr. in Plainview.
All four women said they will miss the people they have come to know at the thrift shop and will miss each other. After all, they have worked together for many years and know each others thoughts, routines, likes and dislikes. It would be hard to work with someone else now! But it is their time to move on, and they will be hard to replace.
Patience and dedication came up as requirements for being successful at this job. It takes patience to deal with the public sometimes, and dedication to be there when you need to be there. Someone has to come by every day and take in items donated and left outside by the front door, not to mention the time spent inside doing the sorting and selling.  The women have always donated their time on Fridays and Saturdays when the store was open, and for quite a while donated their Mondays and Tuesday doing the sorting and work. Now the work days are paid, but the selling days are still volunteer work.
So the time has come to pass the torch to someone else to serve the community at the thrift shop. Volunteers will be needed to open the shop and sell goods on Fridays and Saturdays, but a paid position is available for a manager to keep things organized, get the sorting done, and help volunteers do the selling. Contact Kenneth Henry at 806-946-7222 or Rhonda Myers at 806-729-6374 for more information.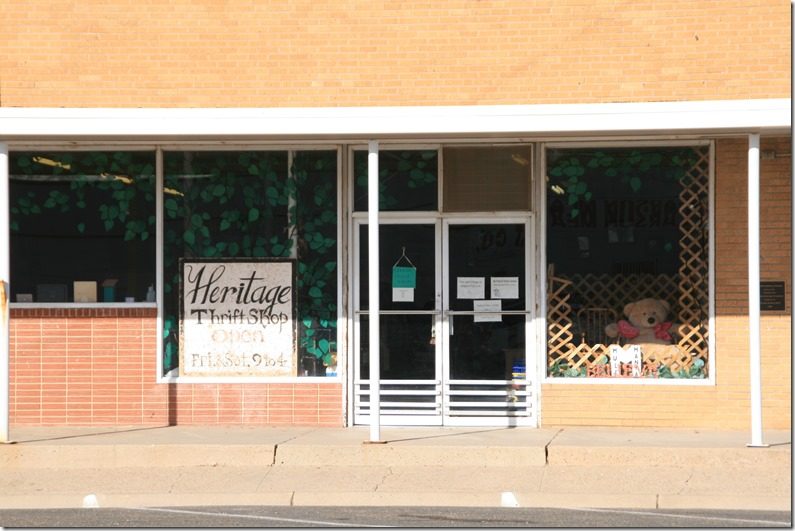 Thanks to Peggy Bates, Martha Stroud, Ruby Henderson, and Jearldean Richardson for sharing their stories with me and for sharing their time and energy all these years at the thrift shop.