I had a call from Ryan Kartje, USC (University of Southern California) Beat Writer for the Los Angeles Times, requesting a visit to learn about Muleshoe and its native son, Lincoln Riley, who, as you may be aware, has become the new head football coach at USC. I told him I didn't think I could tell him anything about Lincoln that he didn't already know, but what he was interested in for this story was Lincoln's roots, where he came from, what made him the person he is.
Ryan flew in to Lubbock Friday, December 3rd, drove to Muleshoe, and we had a delightful visit about Muleshoe, Lincoln, football, and small town life. Turns out Ryan grew up in the small town of Milan, Michigan, not quite as small as Muleshoe, but he could relate to how things work around here. He laughed that he had forgotten about the differences in our traffic and the traffic he had grown accustomed to in LA, however, when he was a short seven miles from Muleshoe and it only took a few minutes to get here, compared to maybe thirty minutes or more to go that distance in LA!
Ryan covers all USC sports, but he said 75 to 90 percent of his job deals with football since that's what people care about the most. So it was worth it to him to make the trip out here for a little different look at Lincoln and his background in relation to football.
I shared stories and background I knew about Lincoln, showed him pictures in the 2002 Muleshoe yearbook, and answered his questions about life in Muleshoe then and now. I also shared the copy of the Muleshoe Journal that ran a story written by a colleague, Bill Plaschke, in the LA Times. We both think Ryan's story will, or certainly should, run in our paper, too.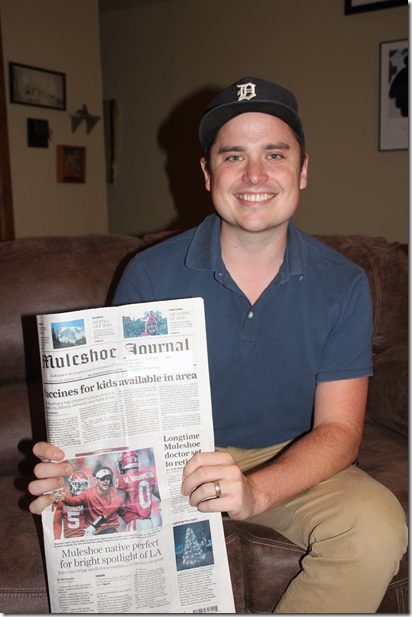 I sent him off with that newspaper, a copy of my book, which I believe is what brought him to my door in the first place, so he could read more about Muleshoe, and a Muleshoe t-shirt, compliments of our Chamber of Commerce, so he would be appropriately attired when bragging about his travels in Texas. Ha!
Ryan's Saturday began with a meal at Leal's with Mayor Colt Ellis, Bob Graves, and Dr. Stacy Conner. Colt then gave him a tour of the town, including a look at Ol' Pete and Benny Douglass Stadium. I believe he also had a chance to visit with a few more people in town, as well as a phone call to Kyle Atwood. I'm quite sure he heard some of the same stories I told him again, but he had a chance to hear stories I didn't know, as well as other perspectives on life in Muleshoe. And that's as it should be; more input from a variety of sources gives him more information and a better understanding of the town and its people.
Interviews and history lessons over, Ryan made sure he was back to his hotel room in time for more football! This time to watch his college alma mater, the University of Michigan, give a beating to the University of Iowa, and then it was home Sunday to be ready to write about his adventure to Texas.
What fun to have a visitor from far away and share life in Muleshoe with him! Bill joined in and between the three of us, we covered many more topics than Ryan needed for his story, but we had a good time. Perhaps our paths will cross again one of these days.
I look forward to reading what you learned about Muleshoe, Ryan.