In 1962 the Muleshoe Mules were the district 3-AA champs, the first time since 1938 the town had celebrated a district championship. The game ball from the winning game went home with Coach Bill Taylor.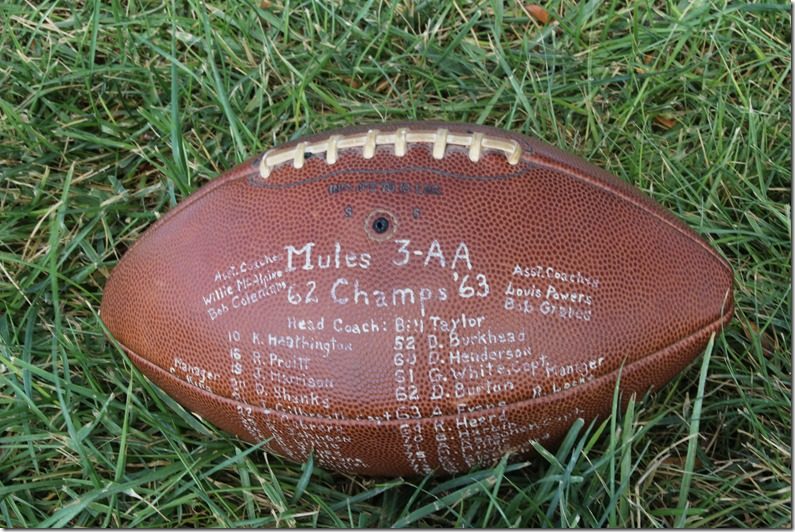 I suspect the addition of the names of those who made it happen were added later. The ball brought memories and smiles to Coach Taylor until he passed away in 1999. Later after his wife Margaret had also passed away, their son Bucky thought it would be appropriate to pass the ball on to Ron Scott, longtime family friend who served as the student trainer  while in high school and was the trainer for this winning team. The ball spent the next few years with Ron protected under a glass case made for it by Ron's son-in-law. Later that glass case protected the game ball of Ron's grandson, Rian White, who had an outstanding game as quarterback for Academy High School, located south of Temple.
And about that time Ron realized that the game ball and its history might be better served if it came home to Muleshoe. So he contacted Superintendent R.L. Richards about adding the football to the high school trophy case along with the memorabilia of the school's other sports accomplishments. That exchange to get the ball back to Muleshoe will take place at halftime of the Muleshoe-Dalhart game October 29th.
What about the Mighty Mules that won that game? Team member Jerry Harrison remembers Coach Louis Powers as a motivator who called them Chinese bandits when many of them were on the B team the year before,  what would now be the junior varsity or JV, because of their toughness and tenacity. I googled Chinese bandits, expecting to find a lesson in Chinese history, but was greeted with a list of links about the LSU defensive unit from 1958-59!  That group didn't give up a touchdown all season and this B team didn't give up but one touchdown in the '61 season and played with the same reckless abandon that folklore attributed to actual Chinese bandits. For the record, the nickname was later dropped at LSU due to international political tensions, but it stayed with the Mules for a couple of years.
But the '62 team was special because it had been such a long time since Muleshoe had won district and made it to the playoffs. Team member Dick Pylant said this team was the first team to play eleven games, two of those games against teams that went on to win state that year, Dumas and Clovis. Coach Taylor liked to schedule games with bigger schools to play hard and get experience against better teams so they would succeed in district play. That's a good strategy, but makes for a long pre-season, and while the Mules may have lost some of those games, the scores didn't reflect the competitiveness and quality of the play shown by these young men. Then, of course, winning district was a real shot in the arm for the town.
The Mules won the district championship game by beating Dimmitt 7-6 in a crowd-pleaser with Jimmy Cabrera making the extra point with "a low wobbly kick" as reported in the Amarillo Globe News, after which, it said, everyone just went nuts!
Then the Mules played Denver City in the bi-district game and were tied 0-0 at the half, but went on to lose 29-0 in a game that was much harder for Denver City to win than the score indicates.
By 1964 Muleshoe moved from AA to AAA and were always the smaller team having to play teams from the larger towns like Borger, Hereford, and Canyon, so games didn't get any easier. Another district championship for the Mules didn't happen till late in the '70s,  but they always worked to be a worthwhile opponent.
Two of the men I interviewed for this story commented that the next year many of the players who played on the '62 team played Denver City again in 1963 on the day that President Kennedy was shot. Thoughts of postponing the game came up, but they decided to go ahead and play and the Mules won 15-7. But isn't it interesting the things that stick in our memories and pop up unannounced sometimes? And every generation has an event like that. For the Greatest Generation it would be Pearl Harbor; for this generation, which is also my generation, it is the day Kennedy was shot; for my children's generation it would be 9-11. For school-age kids now perhaps it would be Covid. I am not sure what it will be or has been for other generations, but there will always be something.
But I digress. This is the team that brought the district championship to Muleshoe that year: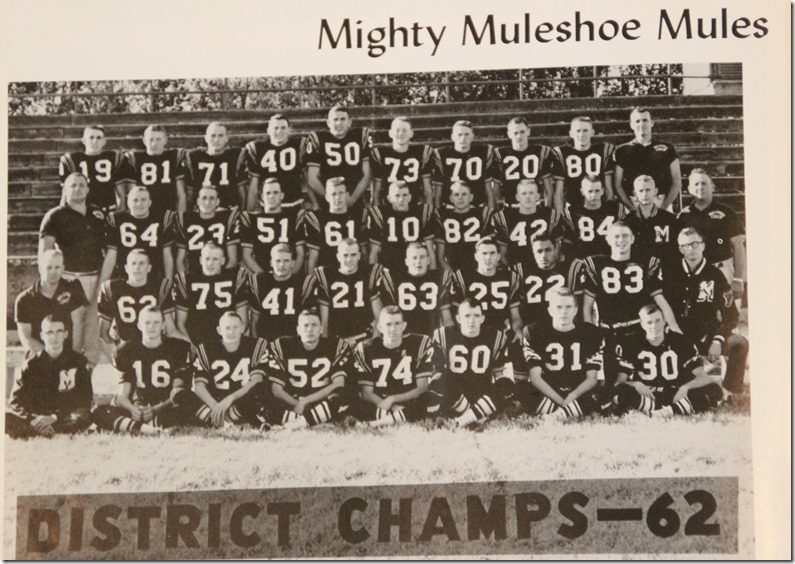 Left to right, top row: Jerry Harrison, 19 ; Gary Ratliff, 81;  Al Reasoner, 71; Dan Smith, 40; Dick Pylant, 50; Barry Lewis, 73; Bill Harbin, 70; Donald Shanks, 20; Scott Oliver, 80; Coach Lewis Powers
Second row: Coach Willie McAlpine; Ronnie Heard, 64; Ronnie Johnson, 23; Stanley Black, 51; Gerald White, 61, Kenny Heathington, 10; Larry Allison, 82; Clifford Gray, 42; Grady Casey, 84; Ronnie Locke; Coach Bill Taylor
Third row: Coach Bob Coleman; Darrell Burton, 62; Mike Miller, 75; Don Finn, 41; Jerry Gilbreath, 21; Archie Evans, 63; David Jones, 25; Jimmy Cabrera, 22; Mike Connell, 83; Ronald Scott
Fourth row: Charles King; Robert Pruitt, 16; Bruce Little, 24; Dwight Burkhead, 52; Greg Blackwood, 74; David Henderson, 60; James Warwick, 31; Bill Coltrane, 30.
Ronald Scott who served as student trainer for three years was close to the Taylors and would go to the Mule barn with Coach Taylor to get things ready for athletic trips. As an adult, Ron went on to enjoy a career as a certified and licensed sports athletic trainer with Texas schools and the Scott and White medical system.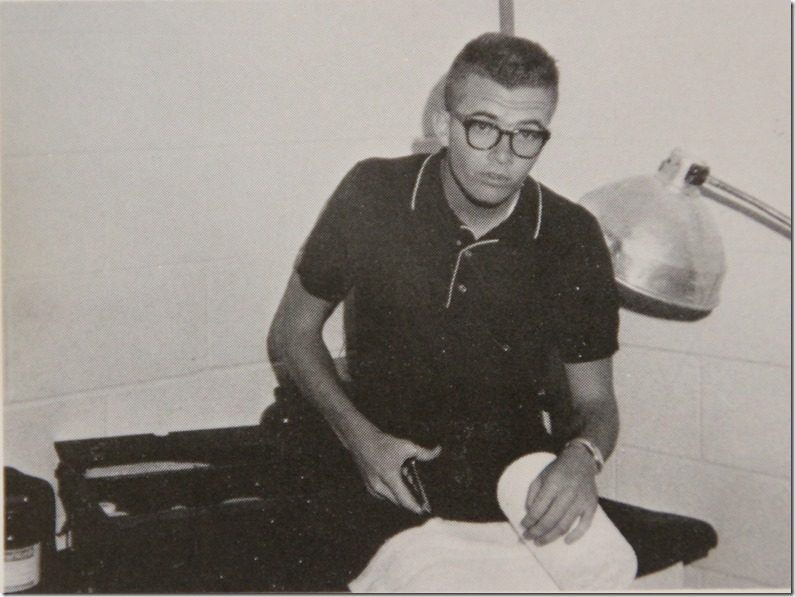 Seniors Jerry Gilbreath, Alvin Reasoner, and Gerald White were elected team captains for that year.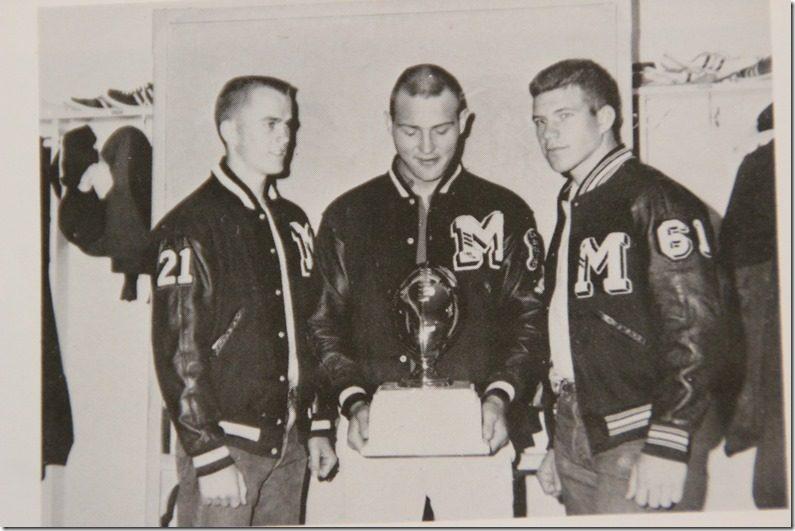 Willie McAlpine, Louis Powers, Head Coach Bill Taylor, and Bob Coleman were the coaches who led the team to victory that season.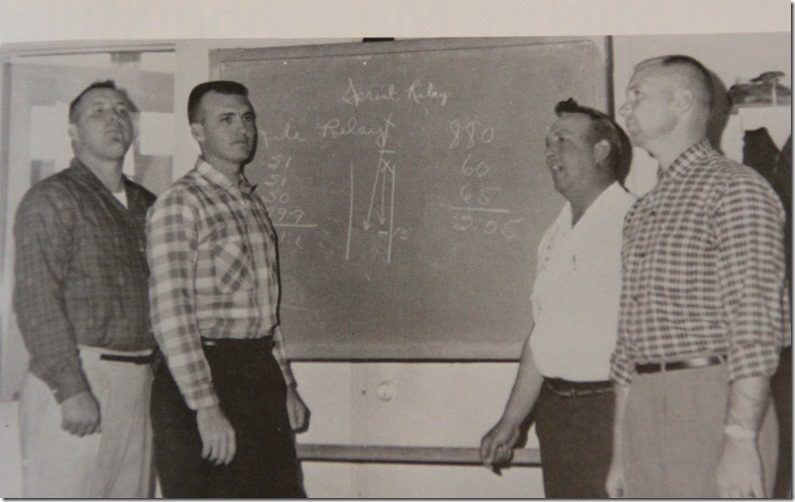 All of the black and white photographs and some of the details about the season in this story came from the '61-'62 yearbook that Muleshoe High School graciously shared with me. A game-by-game recap of the season is on page 93 if you would like to relive the team's path to the district championship.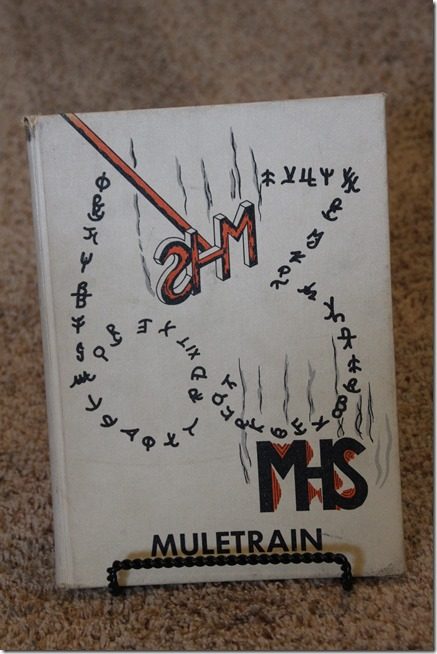 Back in the day, the football players would assume action poses for their portraits, like this one of Jimmy Cabrera, running back and the kicker who made that low wobbly kick for the winning point.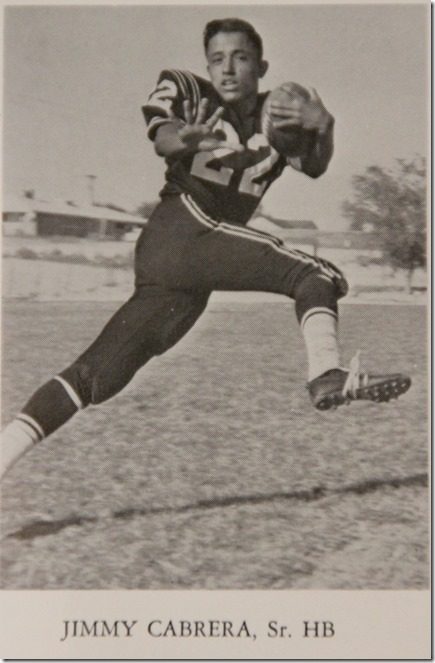 The names of all who were involved are on the game ball, but time has faded some of the writing and it is a bit hard to get a picture of all the names in one shot, so I repositioned  the football a little in hopes of giving everyone credit.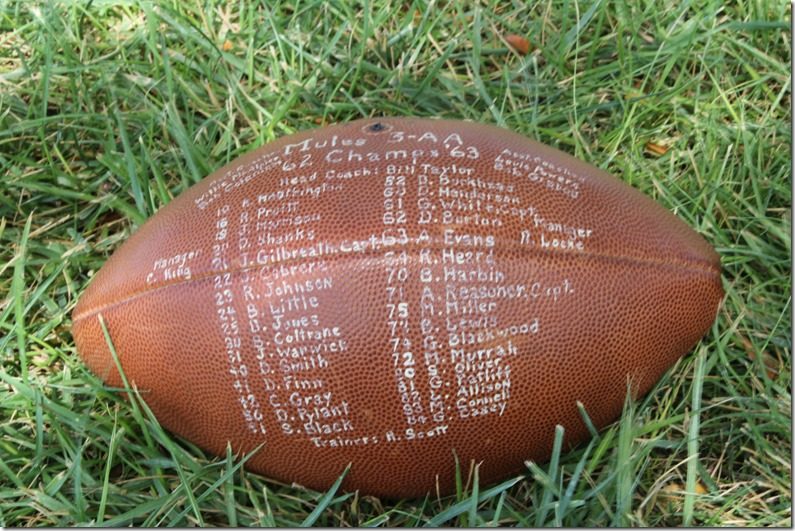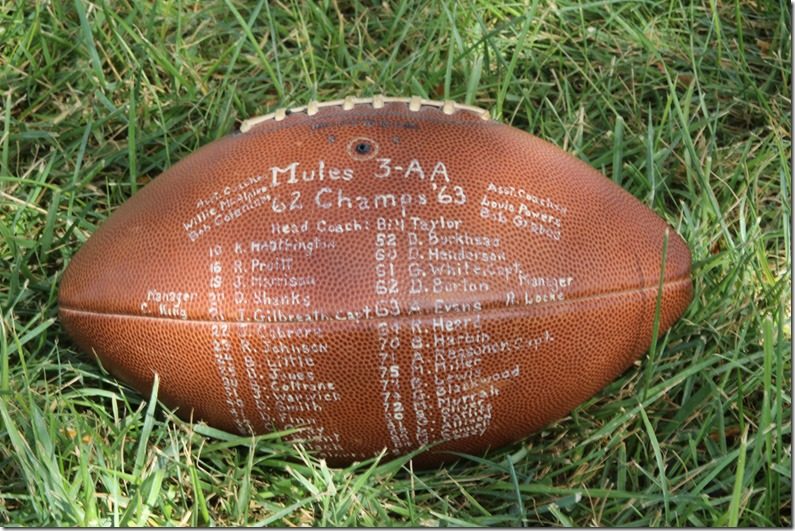 The Mules' victories have waxed and waned over the years since this group enjoyed their fame and glory, even state championships have come and gone, but the 1962 stand-out season will live on for these Muleshoe Mules masquerading as Chinese bandits.
Or, in the immortal words of retired MHS principal, Dave Jenkins, "How 'bout them Mules!"
Thanks to Ron Scott, Dick Pylant, Jerry Harrison, Travis Bessire, Bill Liles, April  Smith, and Dr. Richards for their help with this story.