Mari joined our family the year our grandson Colten turned 15. He brought her home one day from a classmate's house after convincing that family to let him have her since she was somewhat handicapped after having a back leg amputated and they might have no use for her anymore.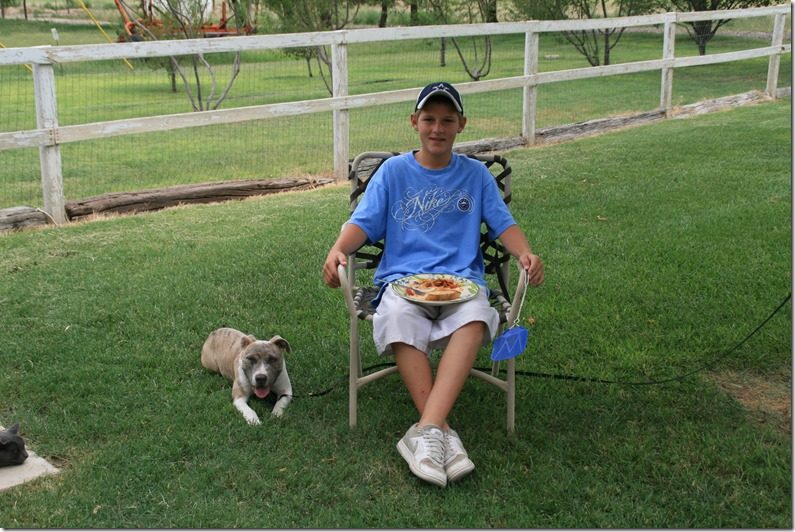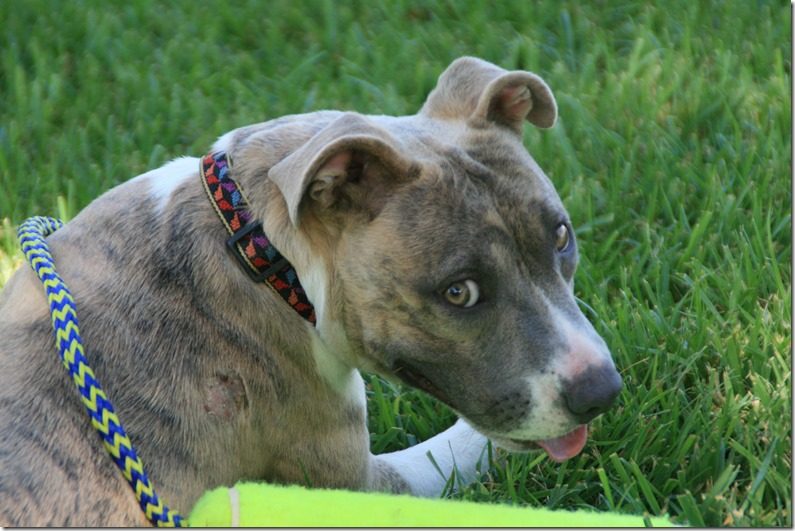 Colten was told she was about a year old when he brought her home. That was in 2009;  she was a part of our family for twelve years. We buried her today at the age of 13. She was an amazing little dog. This is her story.
We thought she was a pit bull, but later found out she was a Staffordshire bull terrier, a somewhat smaller but equally compact and strong dog with a mouthful of teeth and a huge capacity for loyalty, companionship, and love, which is what led her back to our house right soon after Colten brought her home.  He and his mother, our daughter Caroline, were living just around the corner in the next block, just two houses away. Colten would go to school, Caroline would go to work, and Mari was stuck in the back yard all day alone. She had been to our house a few times with Colten, enough to know where we lived. I looked out the window one day, and here she came, just as fast as her three legs would take her, down the road and up our drive-way! She had figured a way out of her fenced back yard and came here looking for family. It came to pass pretty quickly that she wound up living with us and became our dog, too.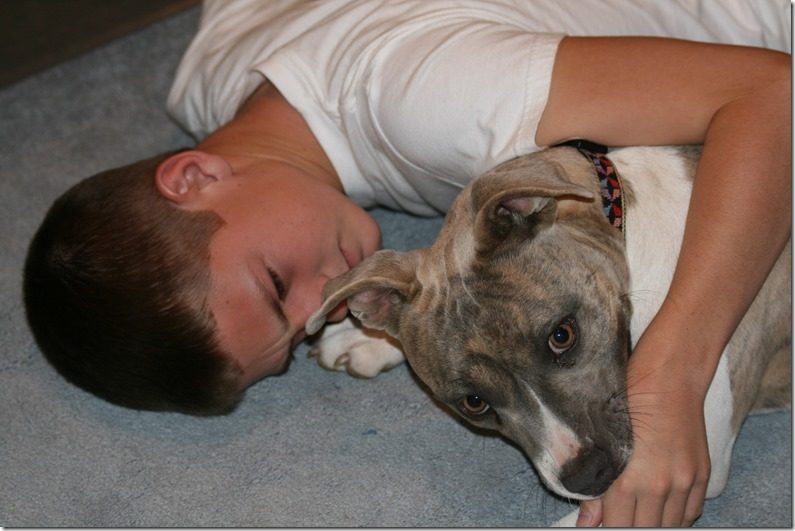 When Caroline remarried and moved to Clovis, Colten didn't want to change schools, so he and Mari lived with us till he finished high school in Muleshoe. When he left for college at Angelo State University, Mari lived with us. When he graduated Angelo and moved to Clovis, Mari stayed with us. She was still Colten's dog, but she was ours, too. Mostly, mine. She became my constant companion and protector.
We lived through the puppy version of the terrible twos and puppy training at PetSmart, which I highly recommend (Mari and Me, October 22, 2009); orthopedic repair of the ACL on her one back leg at Texas A&M University's vet school small animal clinic at College Station (Mari Goes to Aggieland, August 8, 2013); and I enjoyed her company more and more as Colten was busy with school, golf, and eventually college. She was always there to help with projects, which usually meant being right in the middle of the work to be done, and went with me in the golf cart when I had work to do. She was extremely protective, barking at vehicles that were too loud as they passed, intimidating the UPS driver, fussing at golfers as they unloaded across the street at the golf course, but then meeting visitors in the drive-way with barking and a wagging tail that would beat them to death as they exited their cars, after which she smiled at them and kept wagging the tail.  She was always thrilled to see Colten and still paid him lots of attention, but when he would be gone, she was my body guard.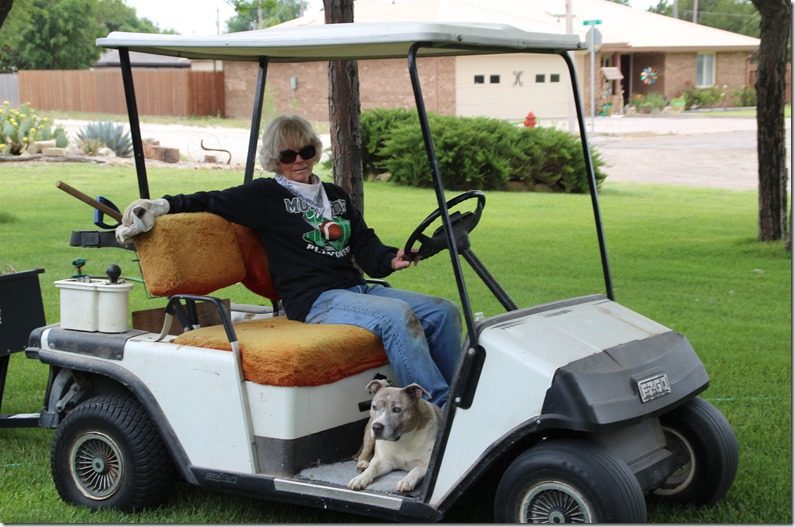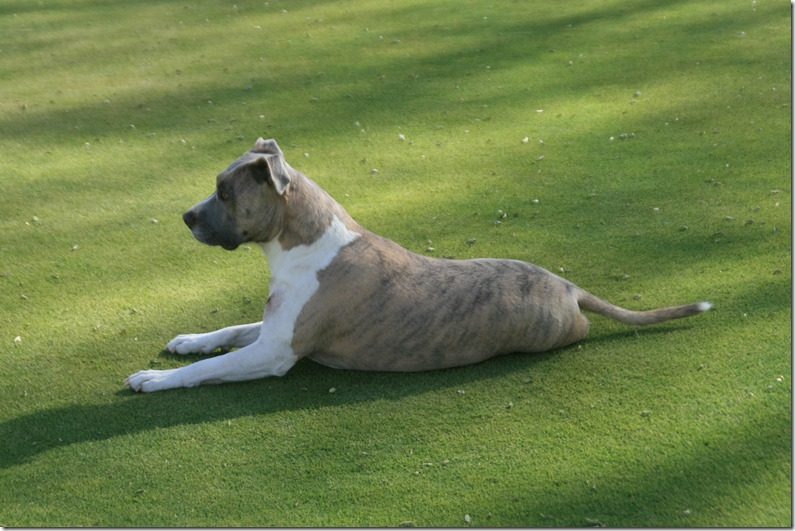 I know every grandparent's grandchildren and every dog owner's dogs are the prettiest, smartest, whatever, but this little dog really was one of those smart ones. It was uncanny what she could do, just like how to get out of that fence and come to our house, for example. Bill  would always say she's real smart, like when she figured out that if she moved her food bowl to the carpet, it would not scoot around on her when she wanted to lick the bowl clean. And she always moved it! None of our other dogs figured that out.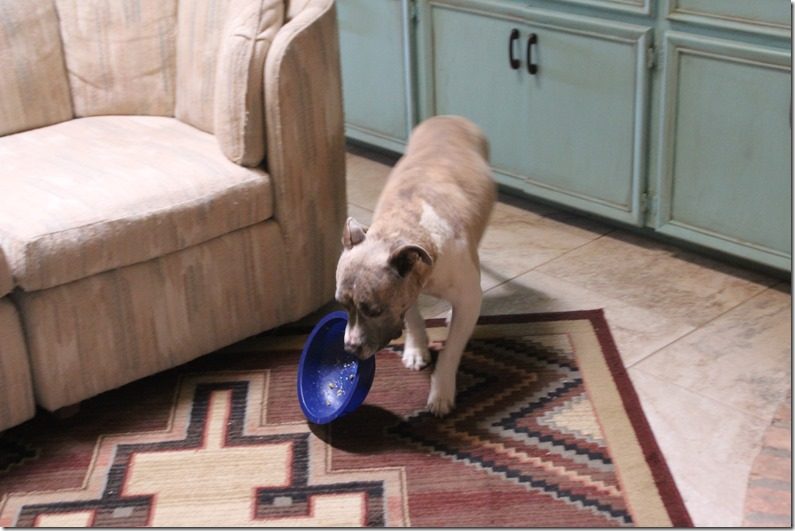 She would always know when we were going somewhere and beat us to the door. I swear she  learned to recognize the sound of my jacket when I would put it on to go outside. She always got to ride shotgun, and I had to ride in the back seat! Sometimes she would also manage to get in the driver's seat when we stopped for something.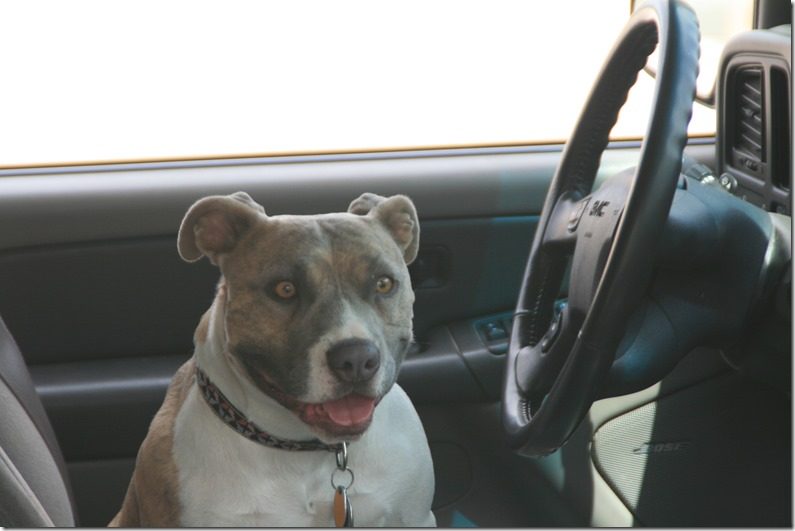 After Colten rescued another dog, Porche in January of 2013, who also came to live with us because he was off to college the next year, the two became inseparable and tagged along everywhere I went. I had my own posse; both dogs and Peaches Cat would file into the house behind me after a day working outside together. After we lost Peaches, Siam filled that spot at the end of the line. I don't have a picture of the whole posse, but I do have this one of these two friends.
But she was always at my office door keeping watch and sometimes not allowing Siam to come in, a bit of jealousy, or maybe protective instinct coming out, I suspect.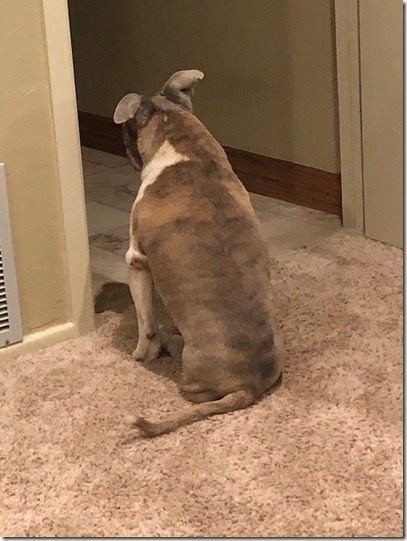 She had her own little pool to cool off in and knew it was hers.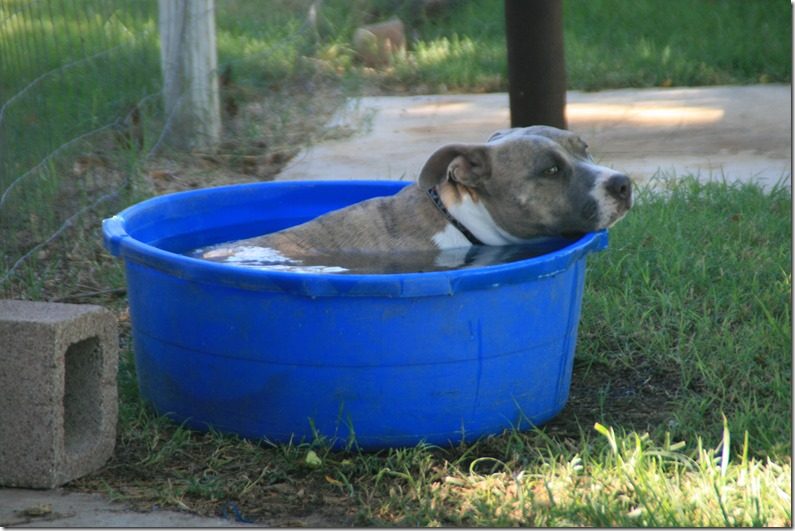 She was always there to help with projects, regardless of what they were.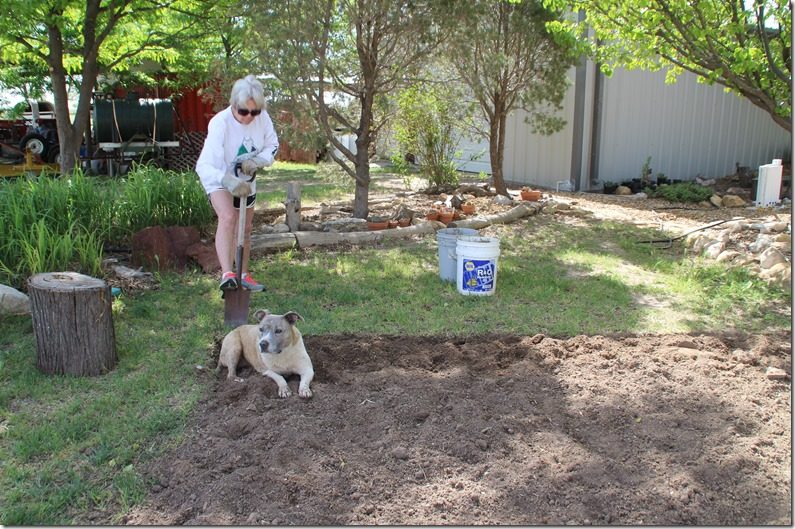 In August of 2013, the ACL in Mari's one back leg went out. She needed surgery to continue being mobile, so Dr. Urbantke recommended an orthopedic veterinarian and that's when we traveled down to the Texas A&M vet school's small animal clinic to have a TPLO procedure o fix it.  I slept on the floor with her and provided constant attention for the two and a half months of recovery time and the operation was a success.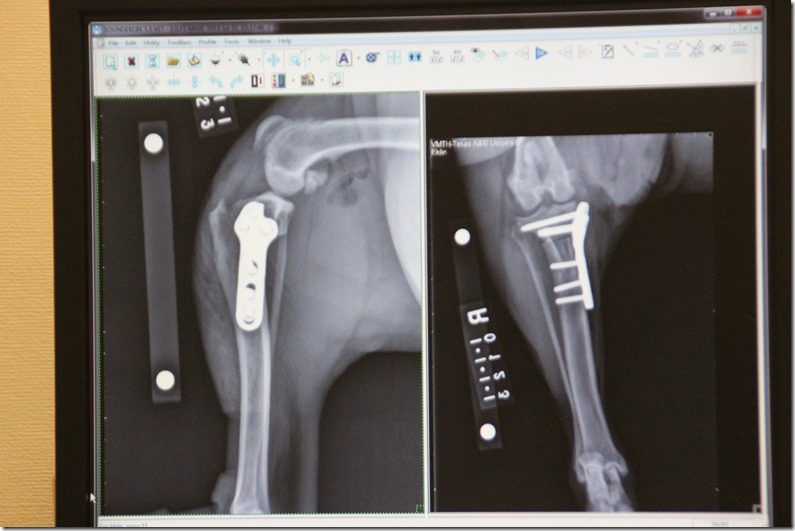 In 2019 Mari developed breathing problems. As it worsened, we used many different medications, made many trips to the vet clinic here and two in Lubbock for X-rays, CAT scans, biopsies, and discovered she had an inoperable tumor in her nasal passage. Radiation at a Dallas clinic was given as our best option, and it had no guarantees to really solve the problem. By this time, while the ACL procedure had held up beautifully and the plate was still intact, after all those years with one back leg to do the work, the poor leg was curving in and giving out. Given her age and the fact that the leg was about to give out before the tumor and breathing issues took their toll, we realized not putting her through radiation and its side effects was the best option and to let nature take its course while we provided the best quality of life and attention we could give her under the circumstances.
She tried to compensate with the weakening back leg with her front legs and they finally gave out on her as well. We began to carry her down the hall, outside, anywhere she needed to go. I listened to her struggling to breathe every night and could tell by the look in her eyes that she felt bad and was miserable. She never cried, but  began to whimper some at night.
So the time came to make the unpleasant but necessary decision to do the humane thing and give her some peace. We did that today. Dr. Summers, who was appreciative that she had defied the odds as long as she did,  came to the house, sedated her first, and then administered the final shot. I was with her the  whole time and thanks to the sedation, she was in no pain, felt nothing in the end. And that's all we could hope for. I can't imagine the pain and despair of losing a child, but dear God, how this broke my heart.
Bill dug her grave in one of her favorite spots in the yard. Colten and I each wrote her a goodbye letter. I put them and two pictures of her in a Ziploc bag and buried it with her in the Aggie blanket that she slept on. She was dressed in her collar for the journey.
Dr, Brian Saunders, her orthopedic surgeon at A&M, made the comment that she was a stoic little dog. Dr. Summers, her Muleshoe vet, said she was a tough little fighter who lived an incredible life. We were told at the puppy training that when you give them a treat to always say, Good Girl, and the words eventually become a treat in themselves. Bill would always tell her she was a good girl, and then amend it and say the best girl.
And she was. The Best Girl.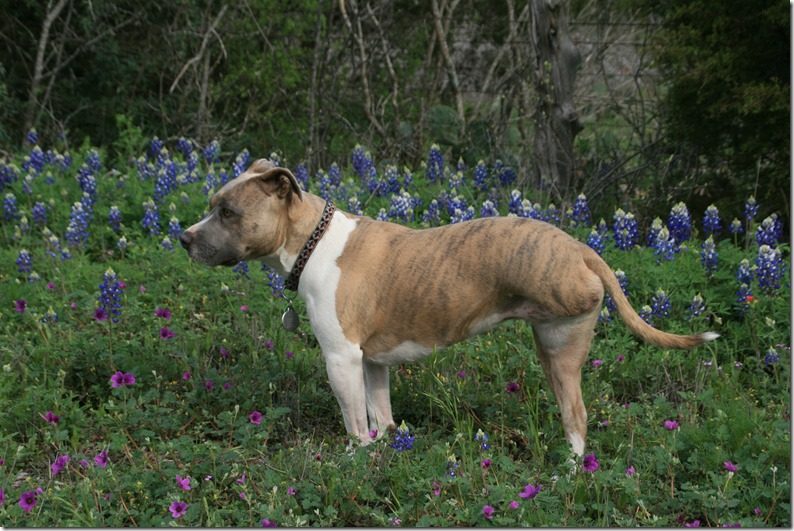 We love you, Mari. Godspeed.
Thank you, Colten, for bringing her home to be a part of the family.