Looking for a place to hold a wedding? A building with plenty of room, tables and chairs, a sound system? A kitchen? An informal yet organized, pleasant atmosphere? An unusual location for a wedding? How about the Oneita Wagnon Senior Center?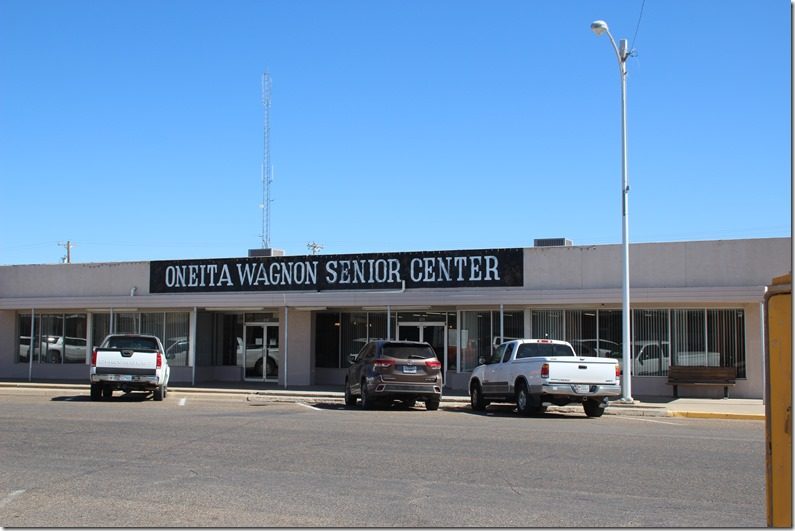 Carolyn Johnson and Royce Turner knew each other before each worked at the center, Carolyn as manager and Royce as board member and board president. Carolyn's husband Buck died in 2017; Royce's wife Sandy died in 2020, and both were cared for lovingly, for better or worse, in sickness and in health, by their spouses. The center became a place of refuge and healing for both of them, their involvement helping them cope with their losses.
Time passed, and as they worked together in the center for about four years and got to know each other more, a romantic bond developed, and at that point, the thought of getting married became an unspoken possibility for both of them.
When I visited with them before the wedding, I figured Royce was pretty traditional and was the one to propose, so I asked when he did propose. He laughed and teased by saying, "After she got down on her knees and begged me to!" This got a good laugh from Carolyn and me.
The rest of the story, however, went like this. Carolyn called him the Saturday before Father's Day and asked what he was doing for Father's Day. Nothing, he said, and she corrected him, saying tomorrow you aren't doing nothing, we are going early to Salt Grass [in Lubbock] and having a good meal. They strung out the meal for three hours and had such a good time that Sundays at the Salt Grass became their Sunday afternoon activity. They enjoyed being together, eating good meals, and having a good time, and both got to thinking about spending more time together, and at this point Carolyn said, "You know, if you get any ideas, remember I married a guy twenty years older; I don't want to do that again."
And Royce responded, "We're only fifteen years apart!"
Then after Carolyn's bout with COVID, Royce suggested that they needed to start making some plans, to which Carolyn responded, "Just ask me."
So he did. "Would you live with an old man?"
And of course, the answer was yes.
Which brings us to the first wedding to be held at the senior center. The The Oneita Wagnon Senior Center is home to a variety of activities, but this is the first time anyone recognized the facility as a good place for a wedding. Carolyn said quite a few people come to the center after losing a spouse to cope with the loss and fill in the lonesome spots, and sometimes new relationships formed there have led to marriage, just as it did with Carolyn and Royce. But no one thought about sealing the deal and getting married in the very building that brought them together.
Carolyn and Royce did. So the date was set for September 18, 2021, details were taken care of, invitations sent out, and the big day came with everything and everyone ready.
The center's decorating committee put up decorative screens to unify the area for the ceremony, set the tables with tablecloths, runners, and flower centerpieces, put up a lovely flowered arch as a backdrop to take the place of an altar, loaded down two tables with the bride's cake, the groom's cake, appetizers, fruit punch, and a champagne fountain, all in the bride's chosen color scheme of black and white with touches of yellow and white. Other tables were set up with a book for the registration of guests and a place for cards and mementoes brought by guests. The large area with a good dancing surface had been cleared of furniture and a DJ's table set up for music and a dance after the service. Faith Free was there with her harp to play the wedding march.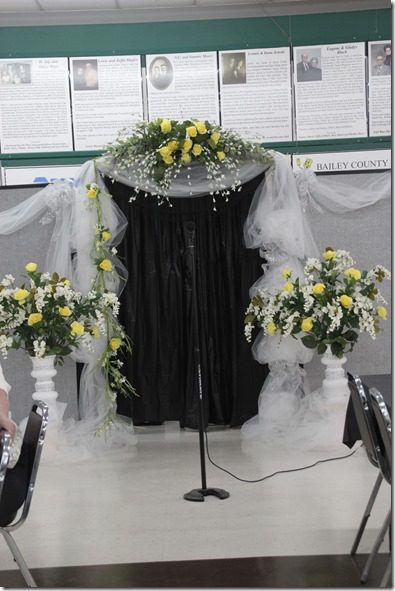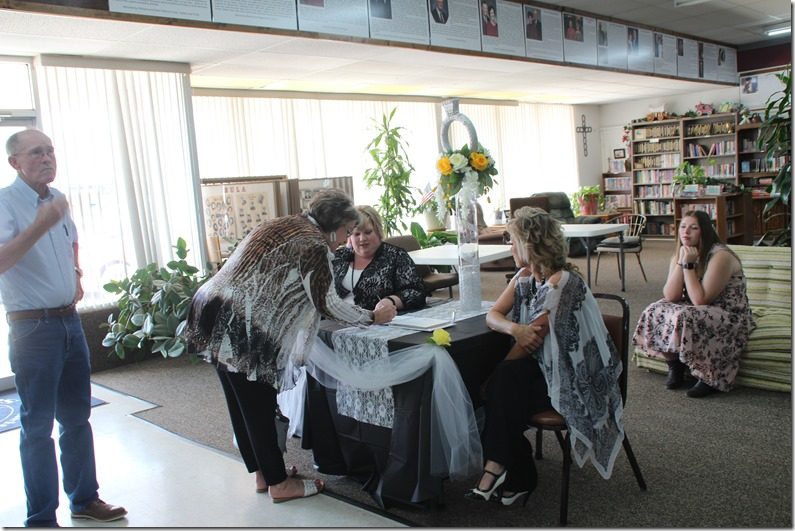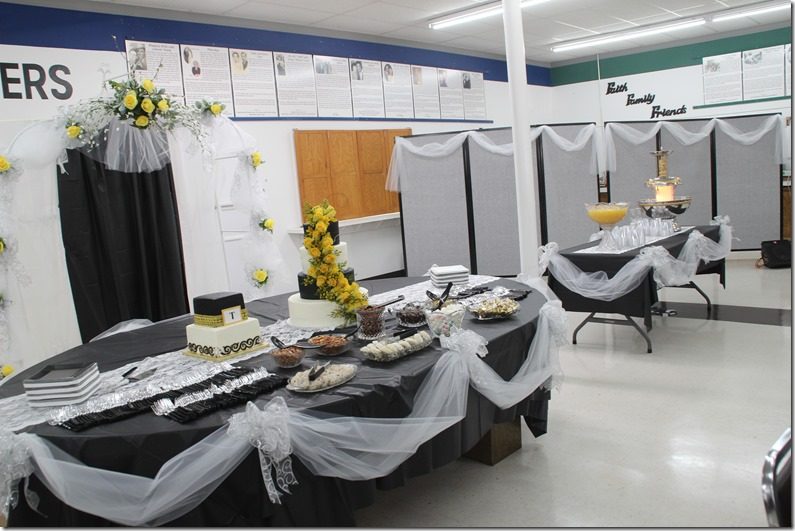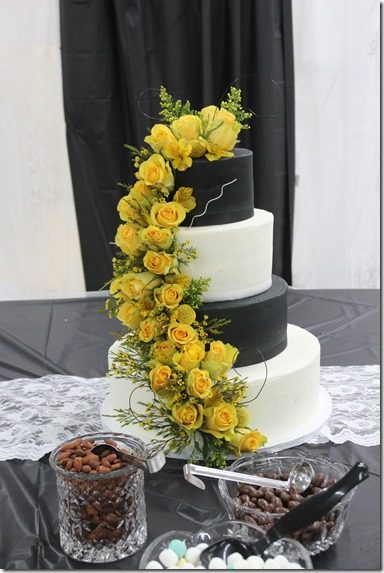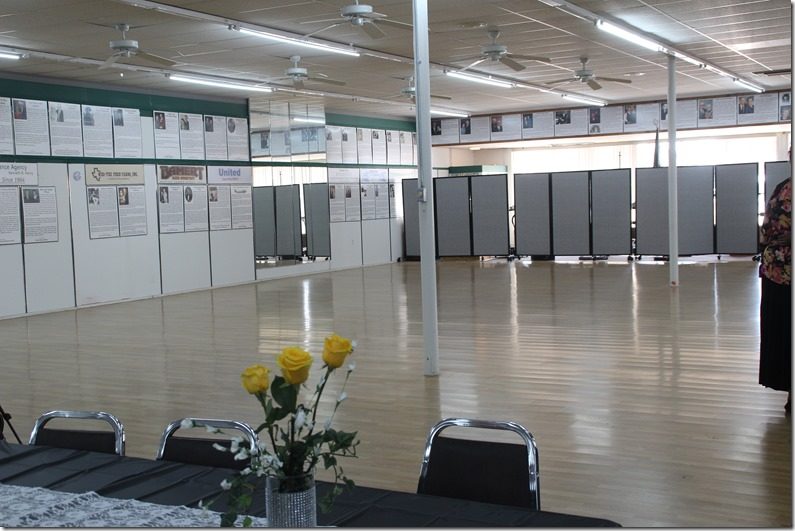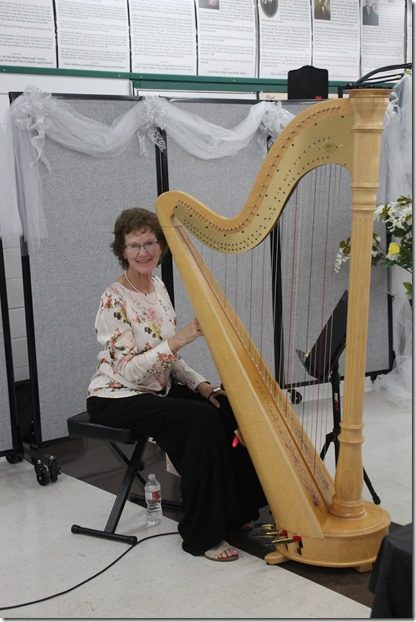 An aisle leading to the wedding arch had been left open between tables for Carolyn to be escorted down the aisle by Julius Briscoe, long-time good friend of Carolyn's and first husband Buck. Reverend Stacy Conner from First Baptist Church opened the lighthearted ceremony with some sincere thoughts and a joke about wondering how many pastors it takes to do a wedding, because there would be three of them taking part in this one! Reverend Curtis Shelburne from the 16th and D Church of Christ sang a couple of songs, and then Reverend Jeff Coffman from Calvary Baptist Church led the service and pronounced them husband and wife.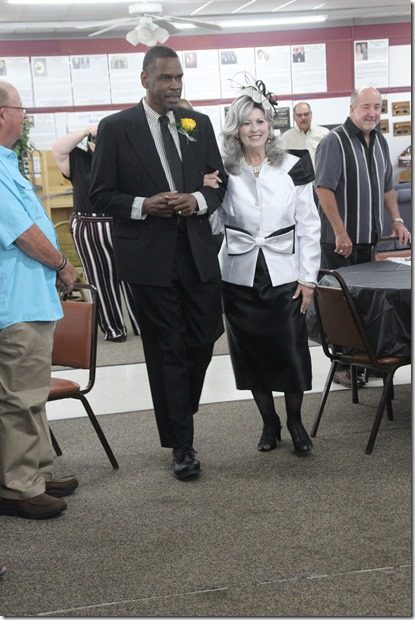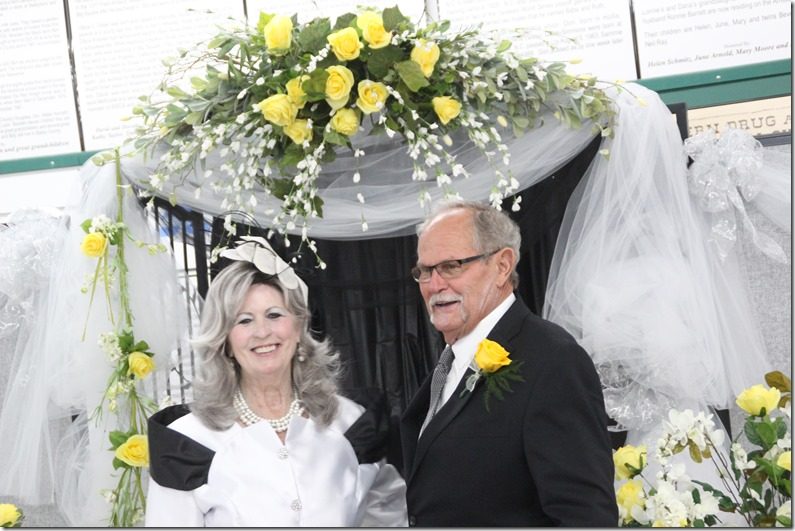 After the ceremony, Royce thanked everyone for coming and asked for patience as pictures would be taken and encouraged everyone to have a piece of cake. As you can see, the newlyweds were having a good time, and that spilled out into the crowd of guests as well.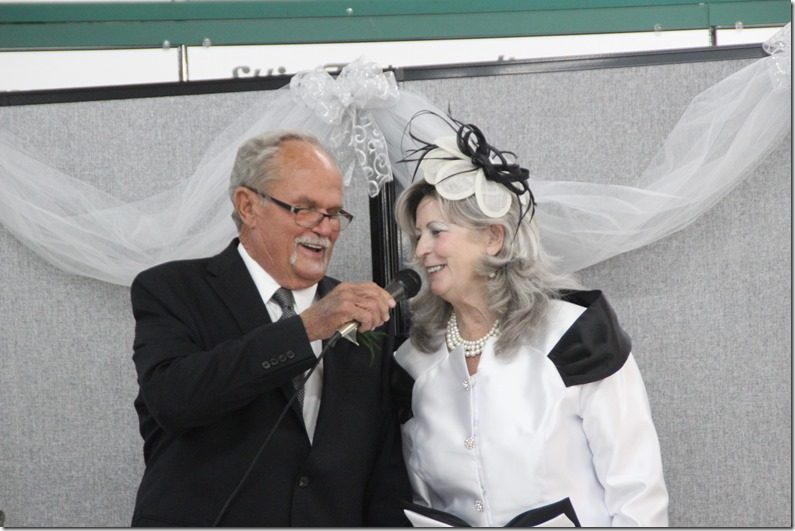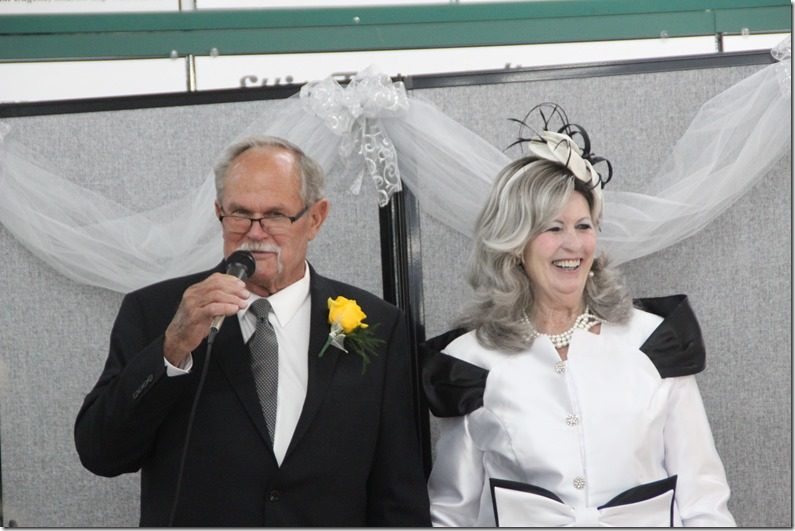 The reception continued until everyone was ready to go home and the newlyweds called it a night. After a trip to see friends and family in Glen Rose, Victoria, Kingsville, and Yantis where Carolyn plans to teach Royce how to fish (!), the honeymoon will then take them to Big Bend.
After returning to Muleshoe, the couple plan to eventually phase themselves out of their roles at the center and give others a chance to get involved, even though they will always be there to help when the need presents itself.
So there you have it. The senior center is certainly for seniors, but also for anyone with a desire to partake in their many activities and offerings – or just need a big facility for something like a wedding.
Thanks to Royce and Carolyn Turner and Helen Cook for their help with this article.
To learn more about the center, type "Need a Game of Dominoes? Try the Senior Center," in the Search line of this blog, and then click on the title when it comes up.
If you have not been to the center, I encourage you to go visit, have lunch there, play a game of dominos, take in the history of Muleshoe and Bailey County lining the walls, look at the Wall of Honor, take part in the exercise classes, art projects; just see what they have to offer. Donations are always accepted to help keep their doors open and provide their services. Donations, memorials, grant proposals, and the center's trust fund keep the center funded and running.