The trip to Schulenburg that Elaine and I took was specifically to visit the painted churches, which we did, and really enjoyed. I shared the churches with you in an earlier post. But we also had a great time shopping and touring Schulenburg, La Grange, and Round Top. Here's the rest of the story.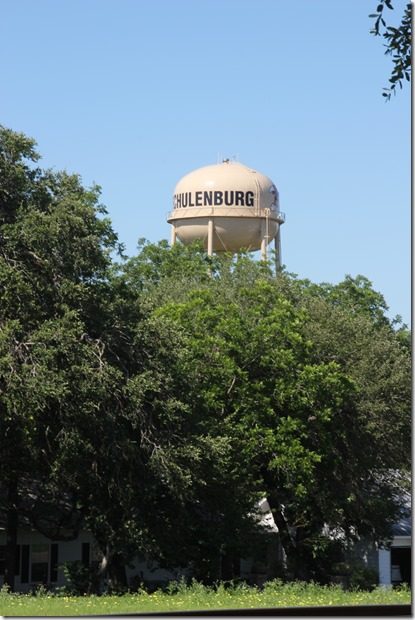 I arrived before Elaine, so I toured the city. Before I was done, I figured someone would alert the police to put out an APB on some woman in a white car casing the joint! I drove around slowly, got out of the car to take pictures, and made U-turns all over the place because traffic was minimal. And I found some beautiful old homes.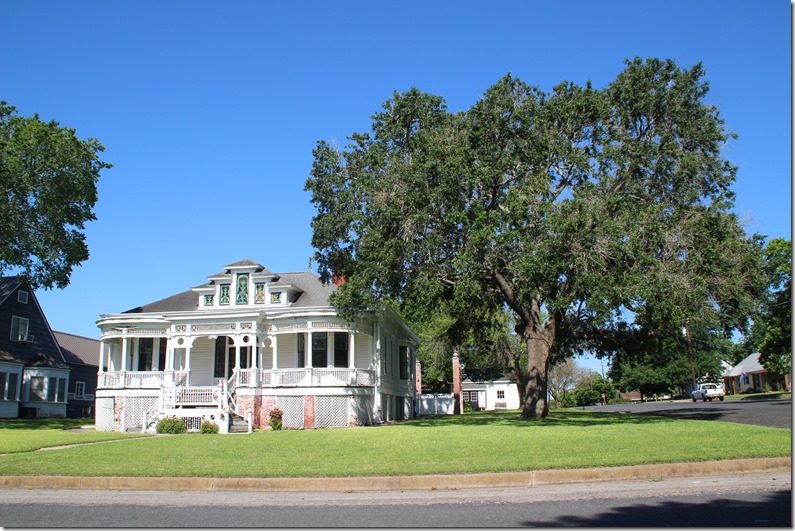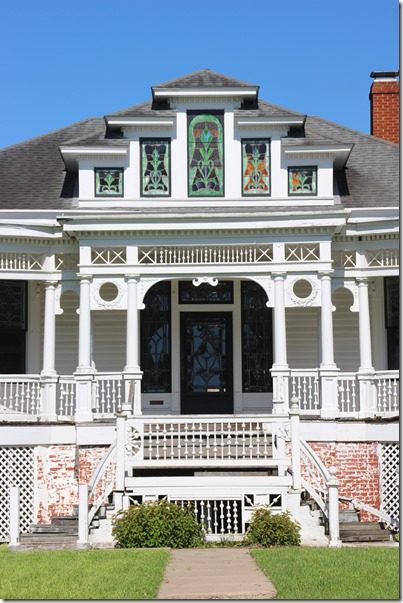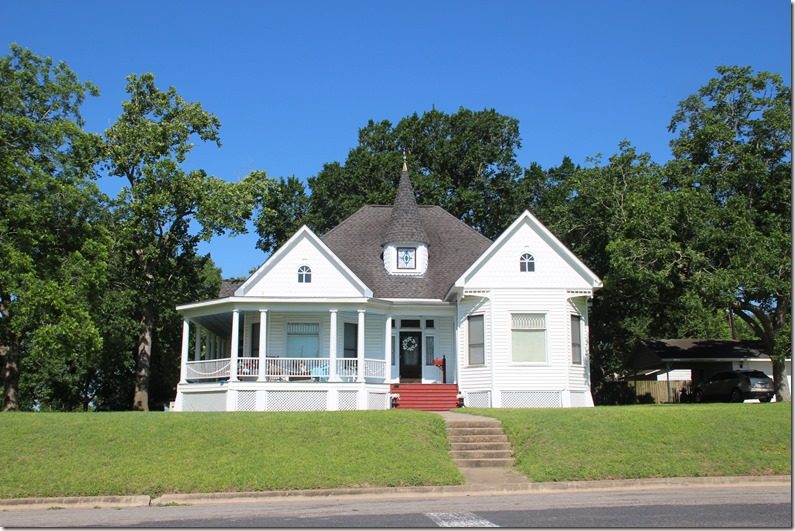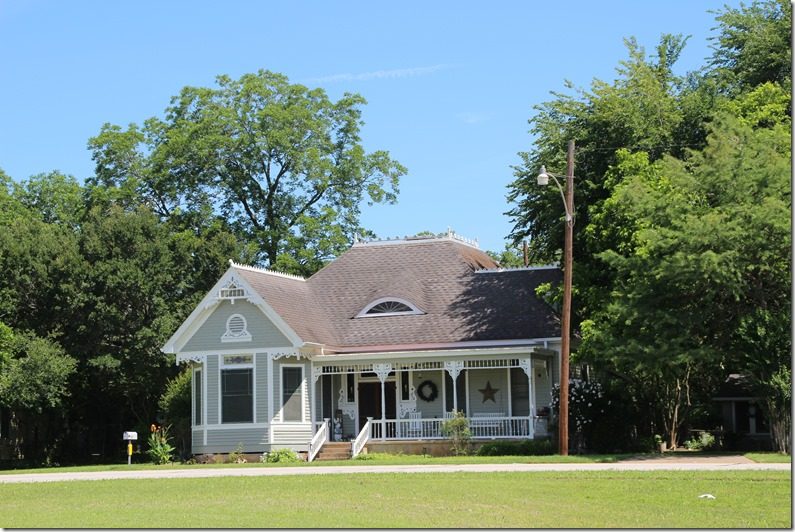 In 1831, the Mexican government granted 4,428 acres of land to Kesiah Crier, whose family, along with the James Lyons family, were the first white settlers in the area. The town of Schulenburg developed from the two nearby communities of Lyons and High Hill. In 1873, the Galveston, Harris and San Antonio Railroad bought land in the area and built a depot on land Louis Schulenburg had owned. The town was then named after him and incorporated on May 24, 1875. His house is still standing on South Main Street and in use behind the railroad track which runs parallel to it and North Main Street.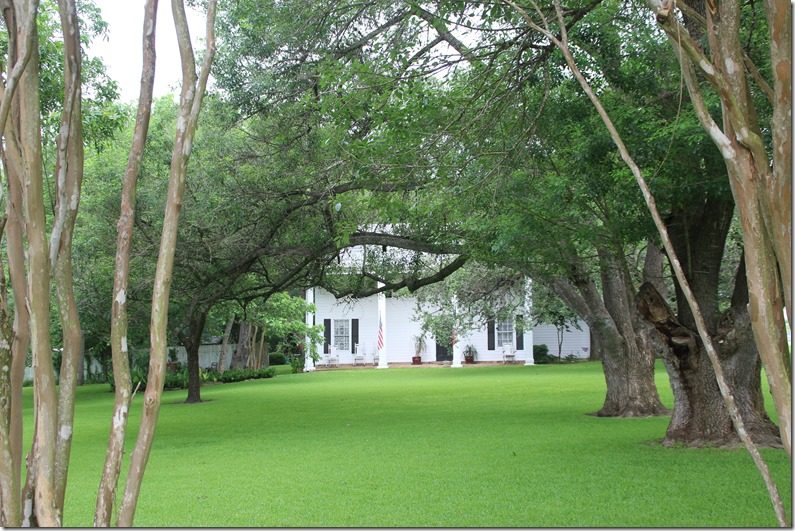 This is North Main Street on the north side of the railroad track. And that's pretty much downtown.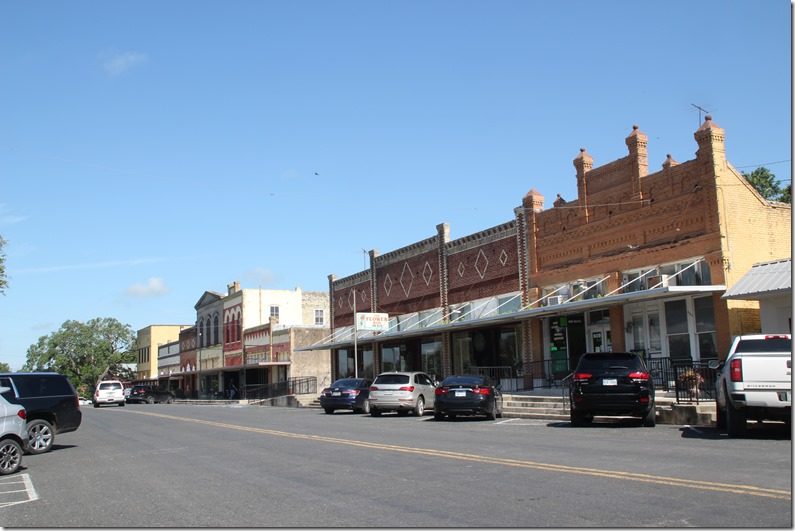 Down at the end of North Main Street was what I think had been a feed store. Next to it was what was obviously an old underpass still in use on Highway 77. Note the lack of traffic. It was early in the morning and things picked up as the day went on, but in a quiet way. North toward Highway 90/I-20 there was more activity, but still easy and low-key.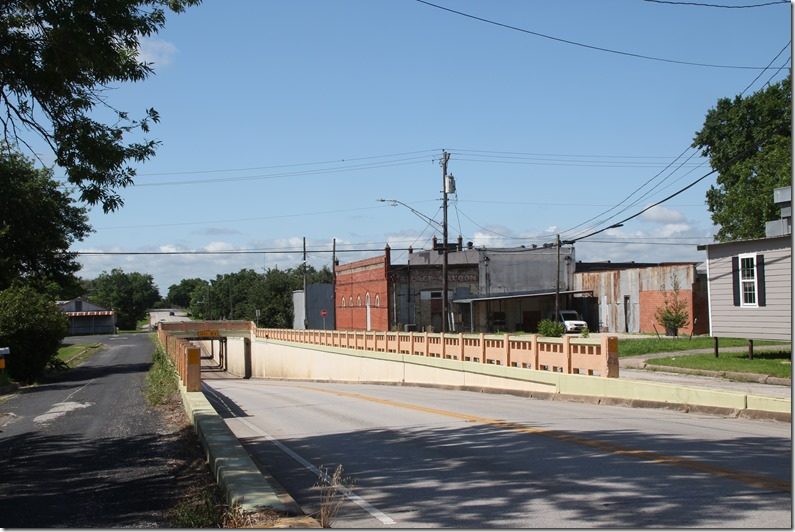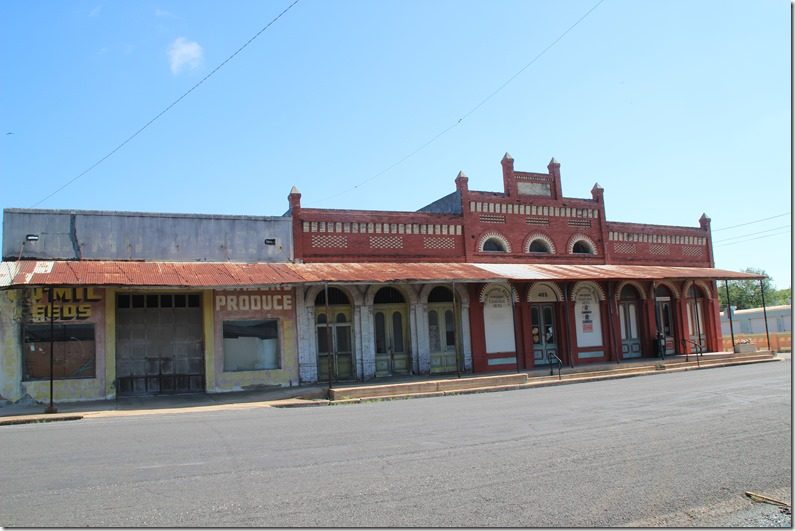 When I looked down where I was standing to take this picture, I was in a blanket of moss, or lichens, perhaps, on the wet ground. This area had just come off of a huge amount of rain, huge over a period of a few days even by their standards, and everything was wet and green and sometimes soggy. Their average yearly rainfall is about thirty-eight inches. No wonder they have green grass and big, old oak trees everywhere.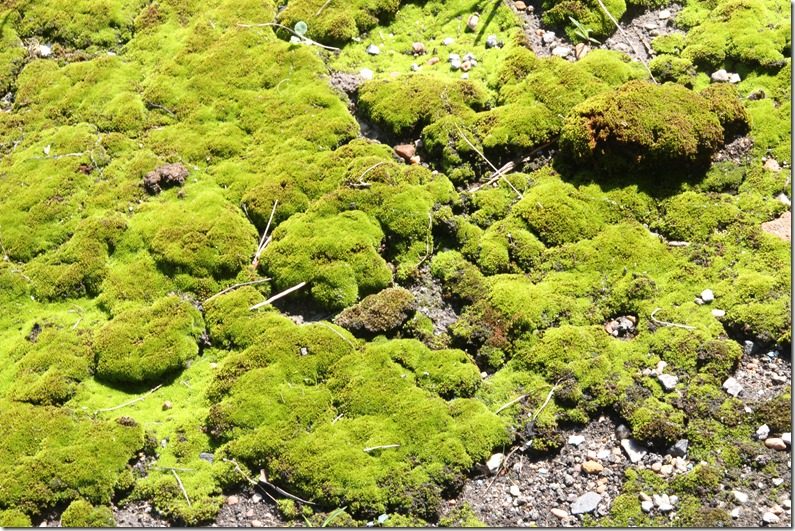 We stayed in an Airbnb, Vintage Texas Charmer, that dated from the early 1990s and was furnished with antiques and older furniture appropriate for that time period. We each had our own bed and bathroom along with the rest of the house, and we have found renting a house to be a pleasant alternative to a motel room.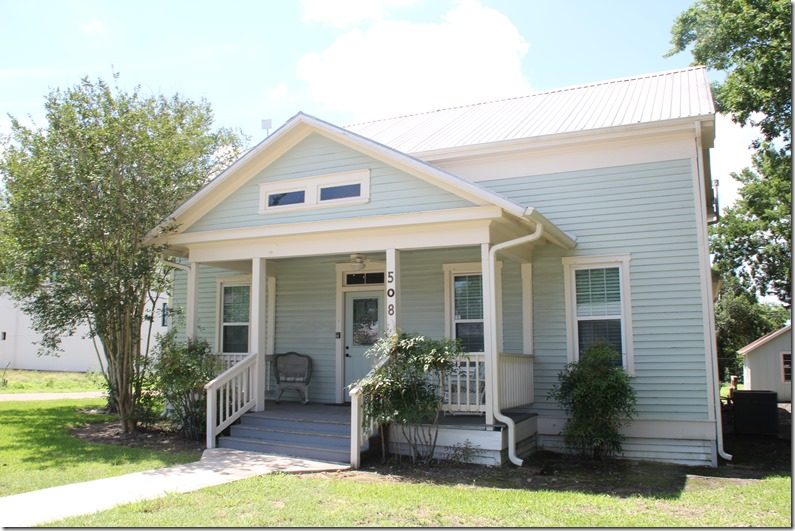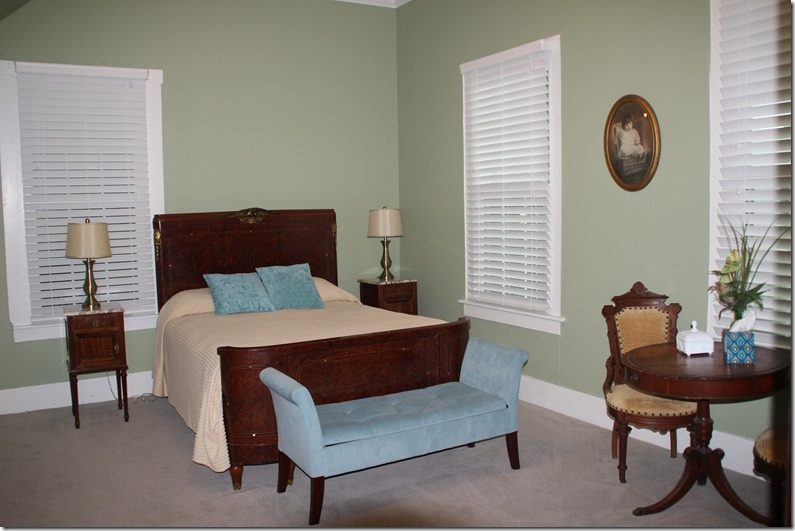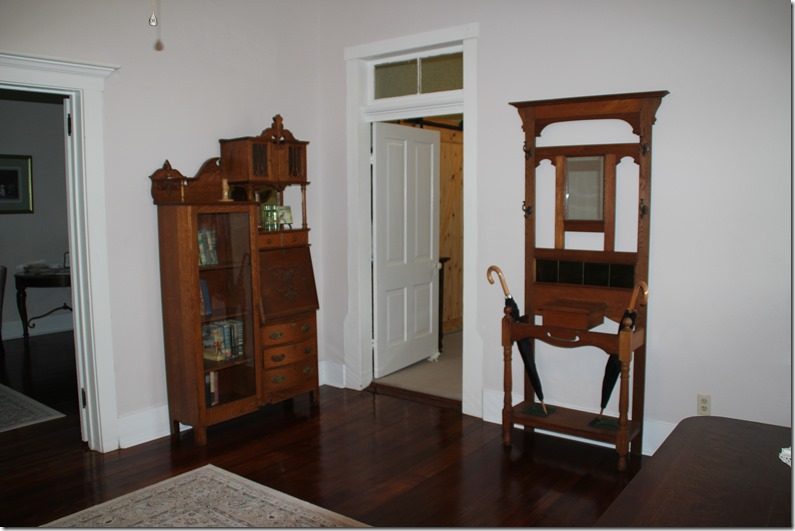 Our tour of the painted churches was not until the next day, so we decided to make the short drive to La Grange and see what they had to offer. It's a pleasant sixteen miles of rolling hills covered with green grass and beautiful trees.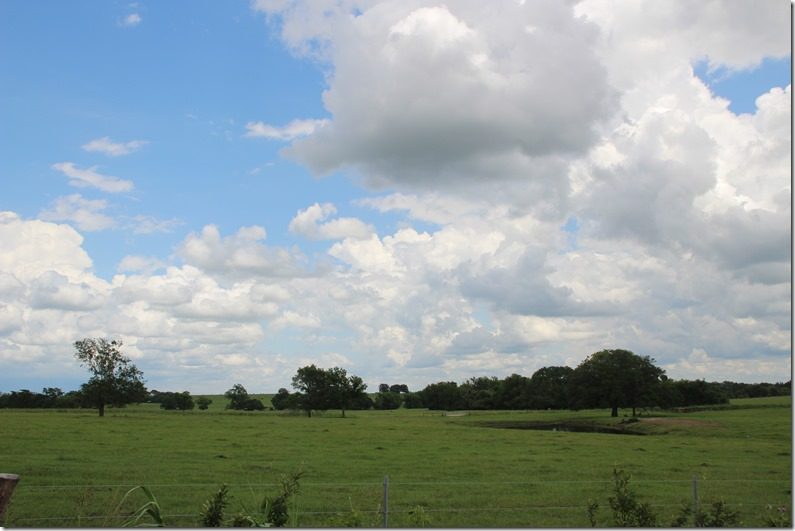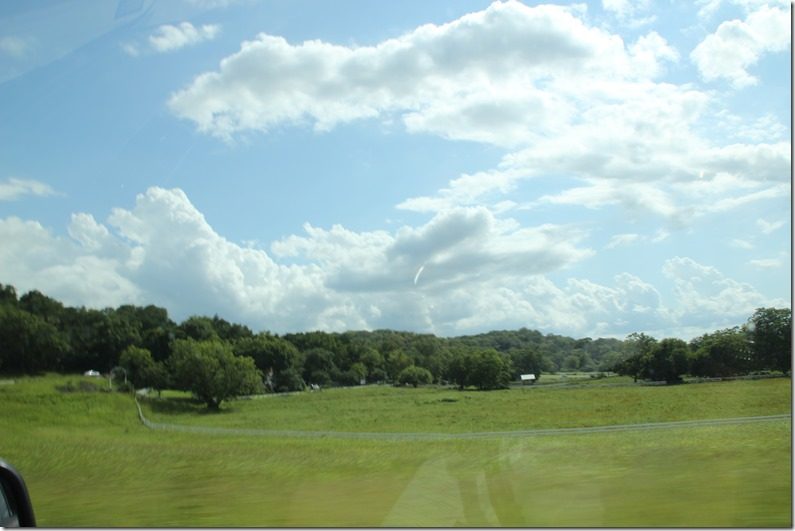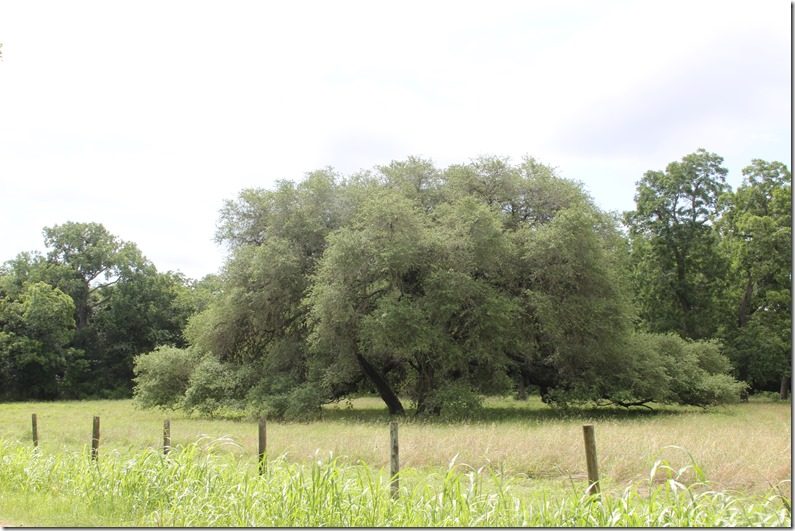 La Grange is the county seat of Fayette County and has a lovely courthouse with a busy courthouse square.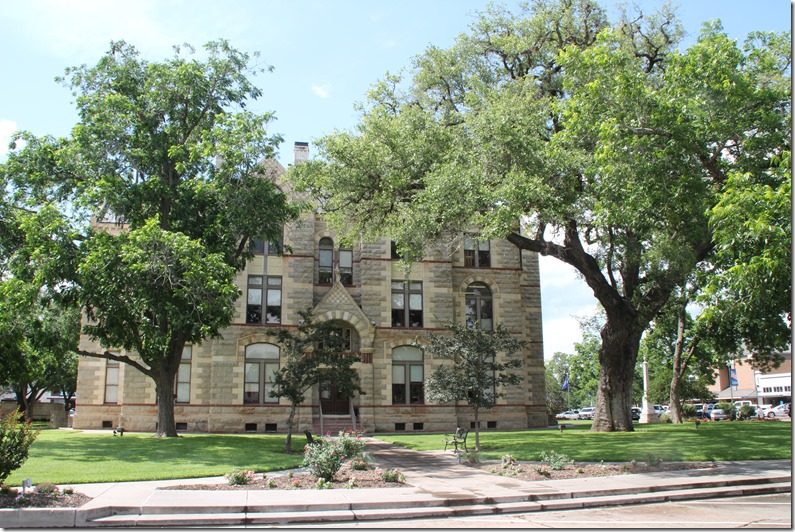 La Grange also had beautiful old houses.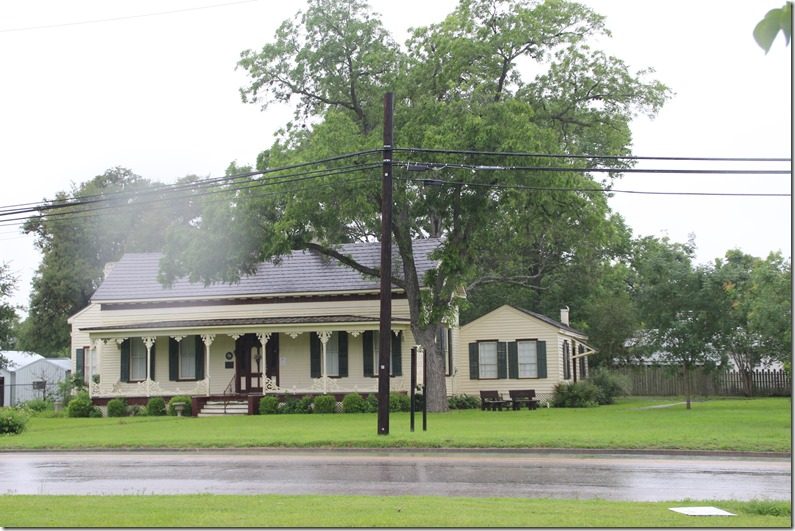 We did some shopping and drove back in a hard rain, but it stopped before Schulenburg came into view. After relaxing and visiting, it was time for supper, so we headed for Sengelmann Hall down town.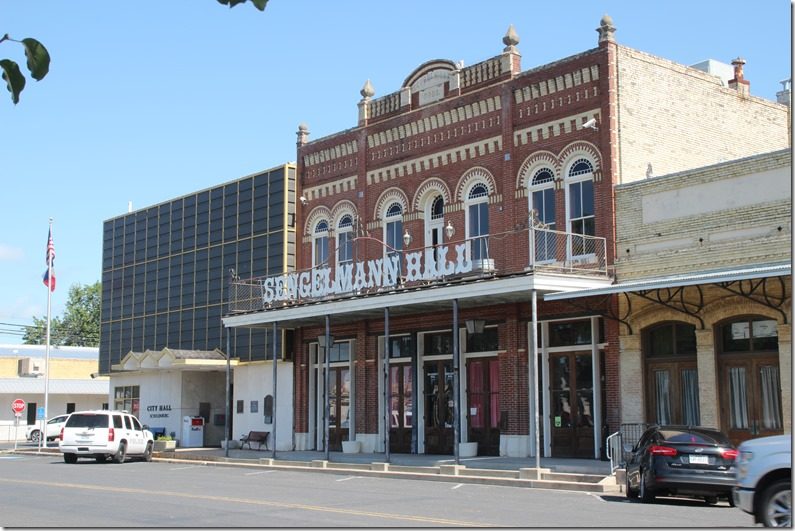 Sengelmann Hall is on North Main and has a history of its own, having been several businesses over the years. You definitely want to eat at Momma's Café inside the hall. Plan to do it on a Wednesday night, as that is when the Pettit Brothers provide good live music; we just happen to hit the right night. We ordered the schnitzel; I had the pork, and Elaine had chicken. It's kind of like a chicken-fried steak, but not really. I would like to learn how to make it, but I know it won't taste as good as theirs did. Won't have the good music to listen to, either!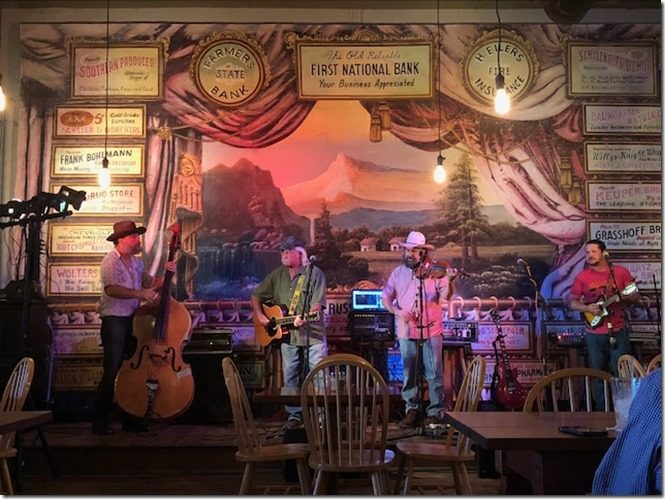 We awoke the next morning ready for our painted churches tour. Peach kolaches had been provided for breakfast by the house owners from a local bakery, so after enjoying that Czech pastry we both grew up eating, we made our way to the Chamber of Commerce office to meet our docents, Terri Wagner and Gigi Boman. And off we went. I shared the churches in the previous blog, "The Painted Churches of Schulenburg," June 18th, so I won't retell that part of the trip, but feel free to go back to that story to see the churches.
After the church tour, Terri showed us her family's country home, an old house and barn that they have refurbished with family antiques and use for family gatherings and parties.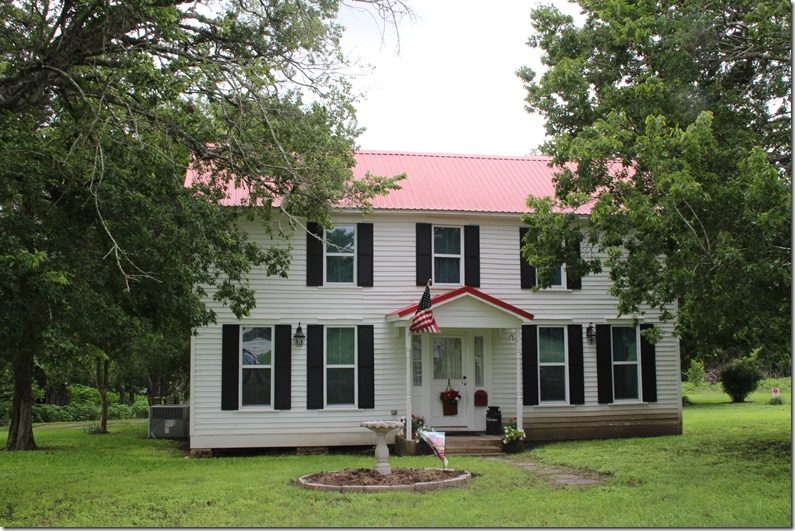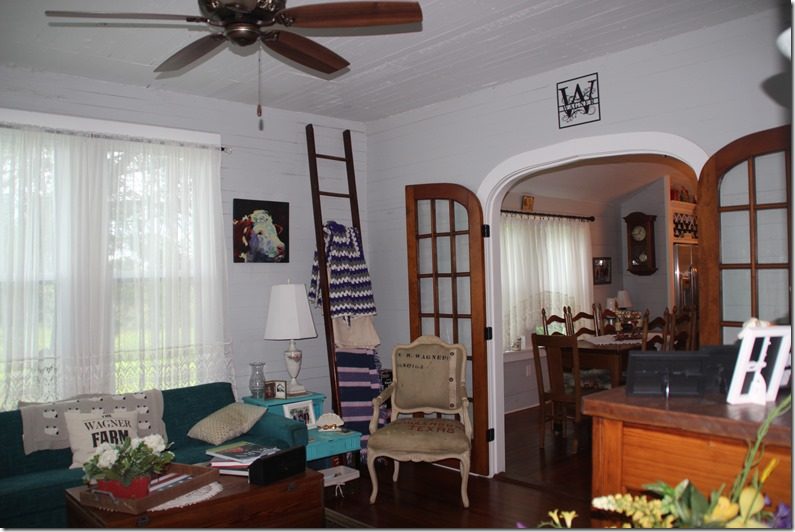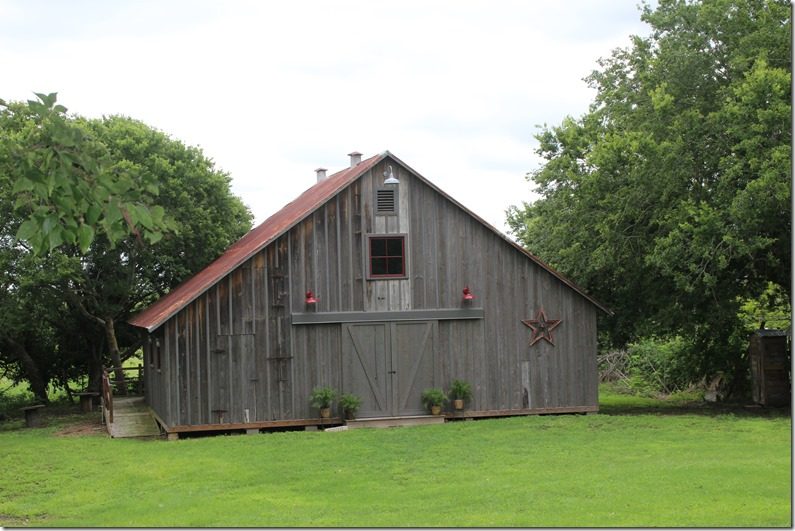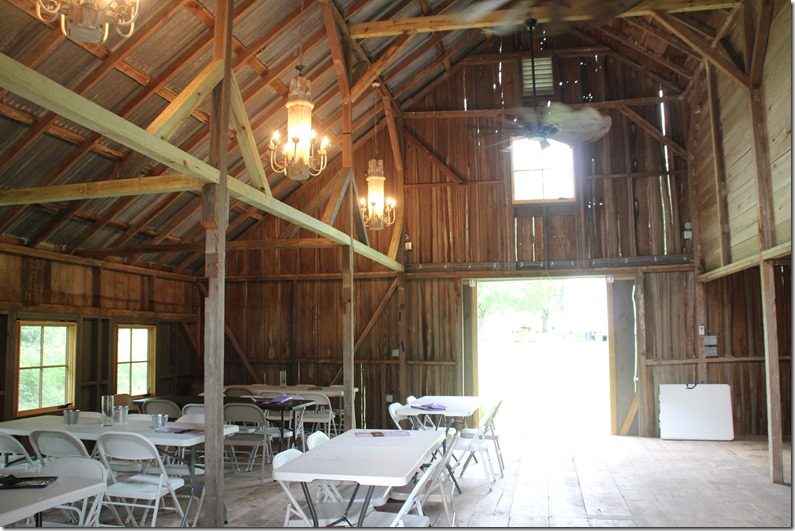 We bid goodbye to our new friends and drove back to Schulenburg for lunch at a sandwich shop. We then pretty much shopped all the stores we cared about there and went back to La Grange. I had fun taking pictures of the two trees we happened upon that were in the middle of the residential roads with reflectors on them to help people see them and go around! I was impressed that the trees were considered important enough to still be standing. I suspect there were more that we just didn't see.
What a deal!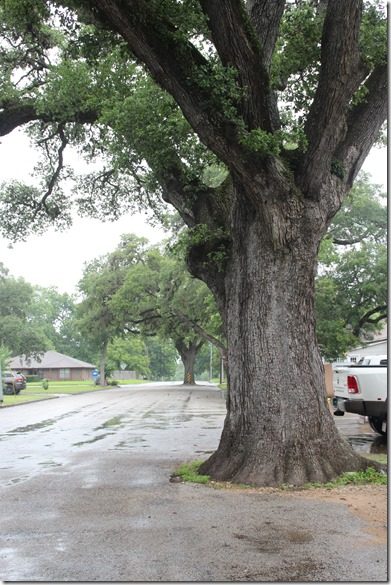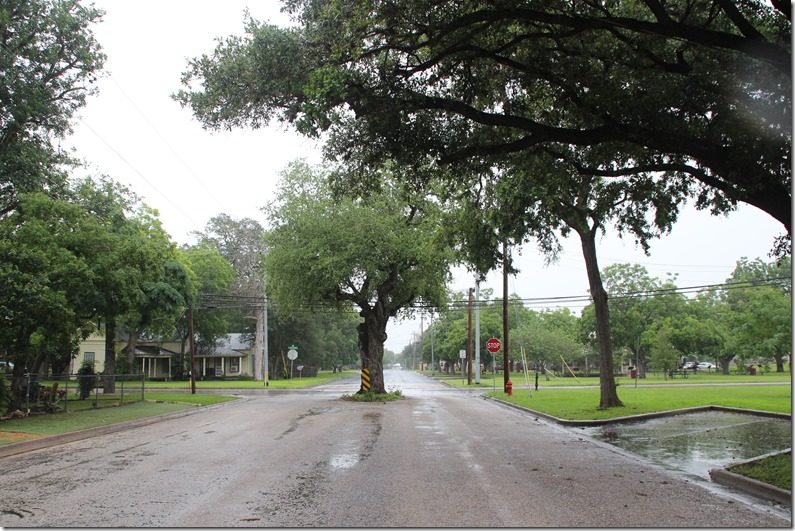 Then it was back to Schulenburg in the rain again, another good visit, and out to Vicenza's Italian restaurant for supper. We kept driving and had decided we had missed it somehow when we saw the sign in the distance. At that point the long drive to the outskirts of town made sense because it was right there connected to the livestock auction! We thought it was an odd combination; hamburgers or barbecue or even Mexican food would have seemed more appropriate. But the food was good, and it was an interesting evening out and a fun ending to the day.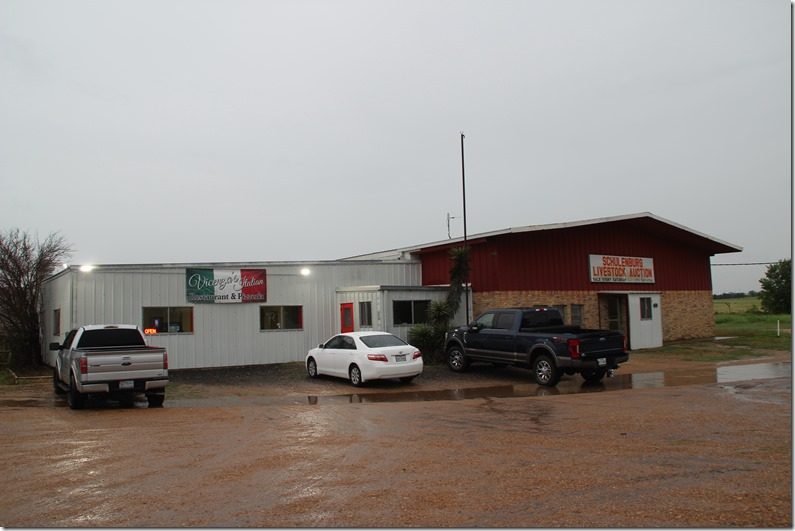 Round Top was our destination the next day. Round Top is a tiny little town of 90 residents, according to the 2010 census, whose claim to fame is a huge twice-a-year market for antiques and stuff. In past years, however, the town has added a variety of events to attract visitors and has many stores and some vendors who now stay open on weekends year-round. Those venues are the ones we visited.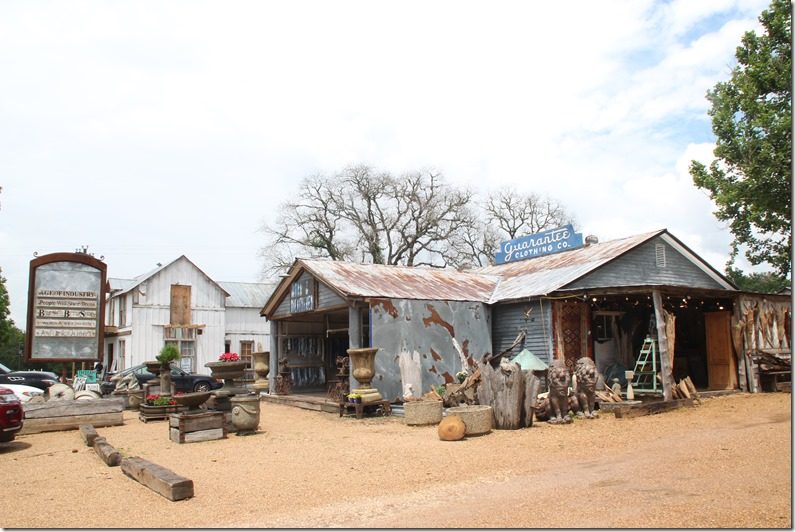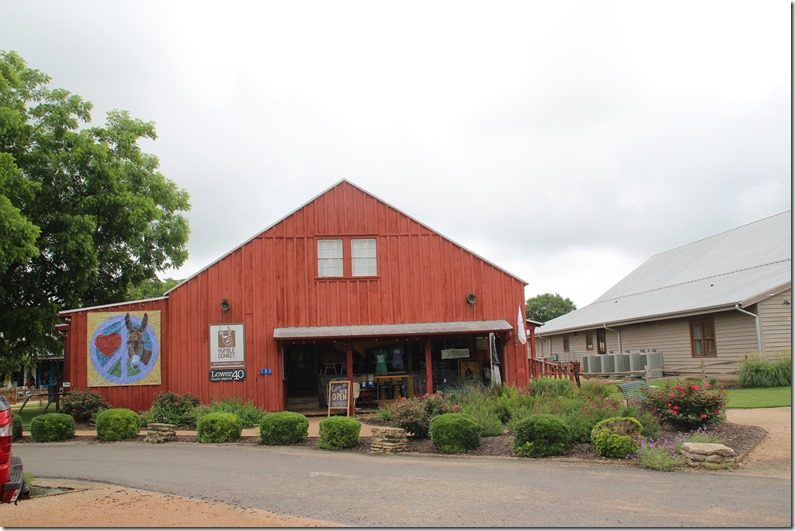 We could see evidence of the big events all over town, like this field still marked with flags for visitor parking or vendor booths; I not sure which. But it was obvious the whole town becomes one endless market for those two extravaganzas.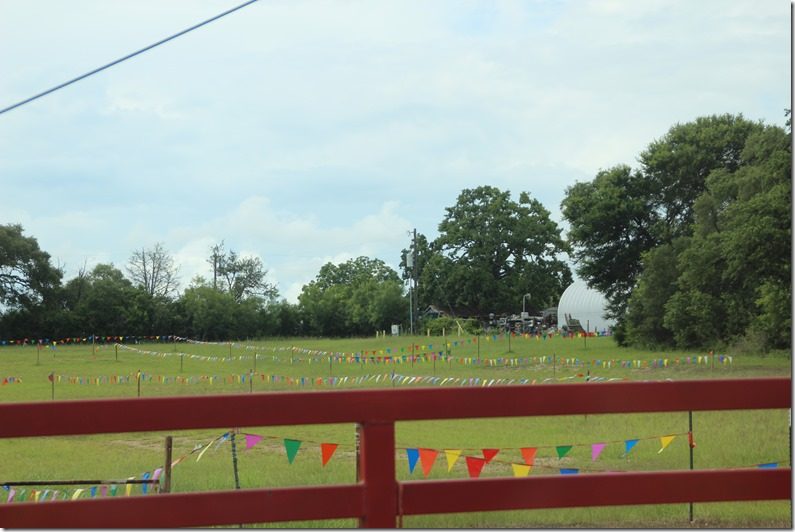 It rained on us again, but we braved the elements and shopped anyway before heading back to Schulenburg, where we managed to shop a bit more before calling it a day.
Our trip was over the next day, and after we said our goodbyes, on my way out of town I found yet more houses I thought were pretty.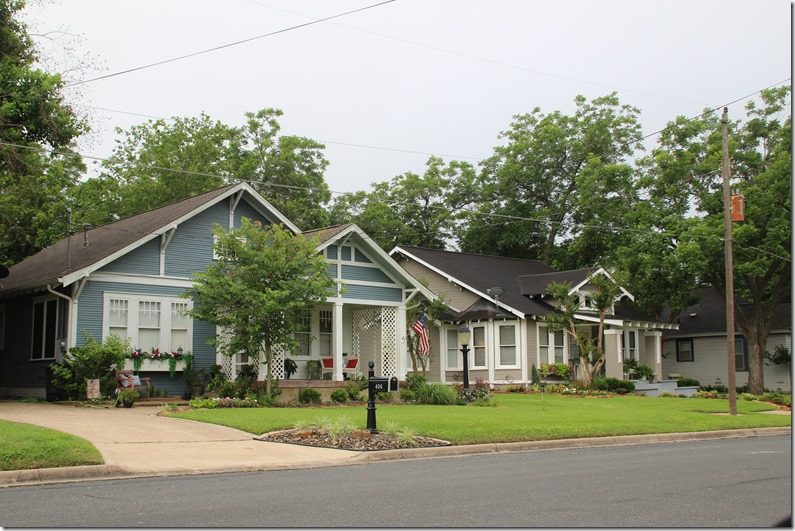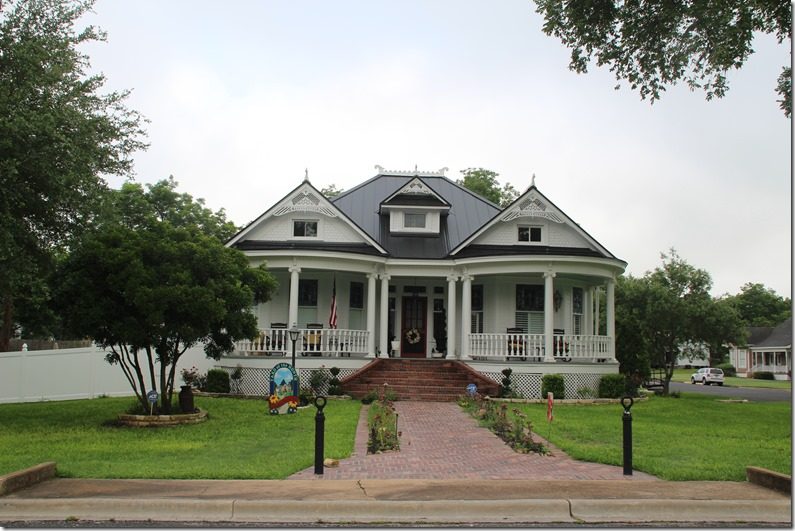 This was one of the larger buildings in town and had been a hotel with a movie theatre inside. You will notice it has all new windows as someone is renovating the building. And that's our green house in the lower right-hand corner of the picture.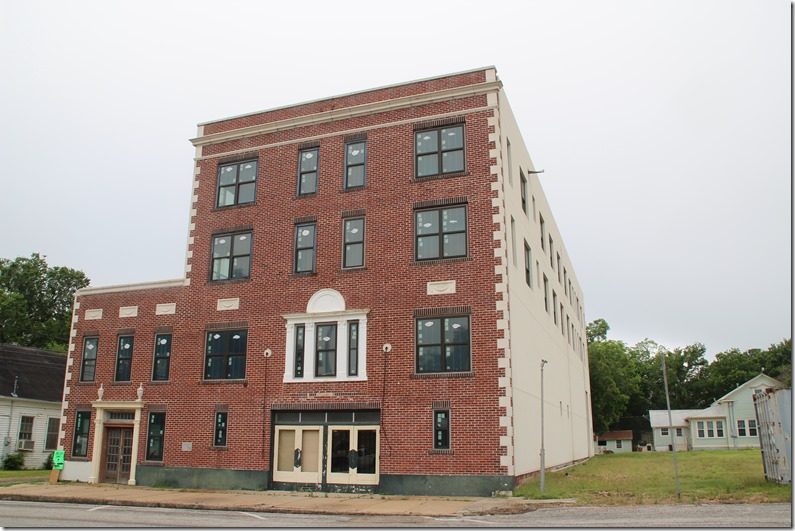 Every time we left Schulenburg I saw this big old tree; this time I had to stop and get a picture of it. Trees like this were all over the place down there.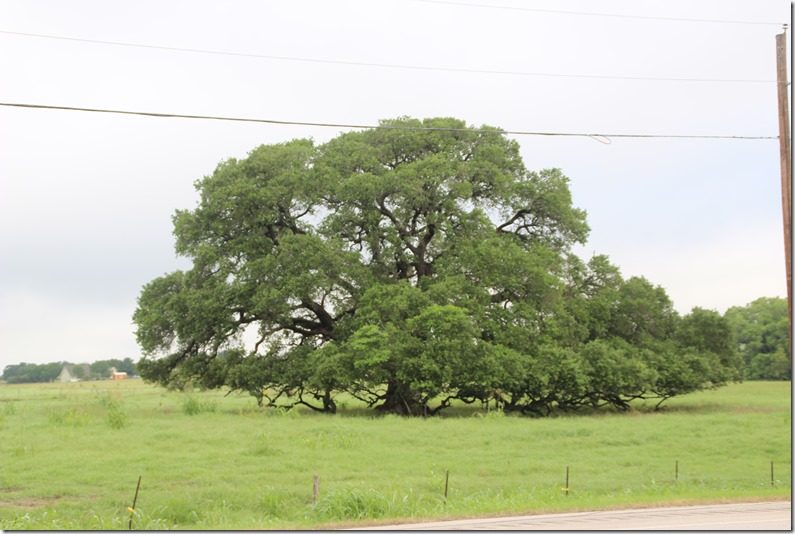 Coming into La Grange I crossed the Colorado River, way out of its banks from all the rain this area had experienced the last few days.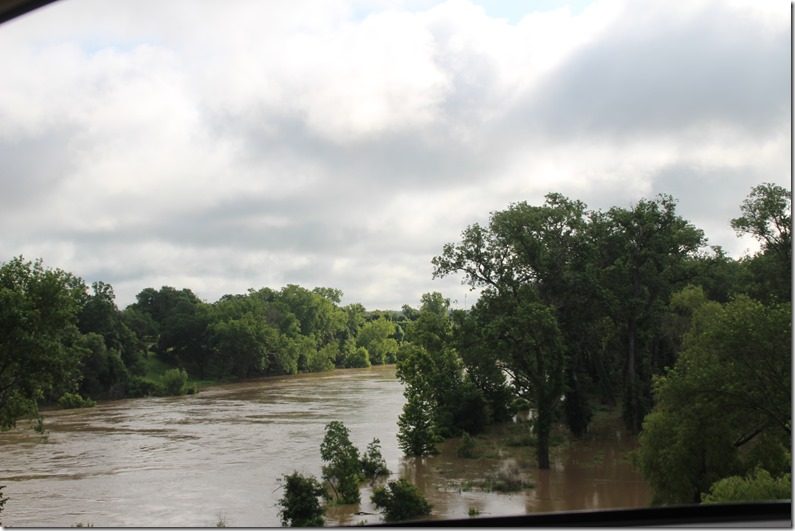 I had great clouds and pretty trees all the way back to Kingsland.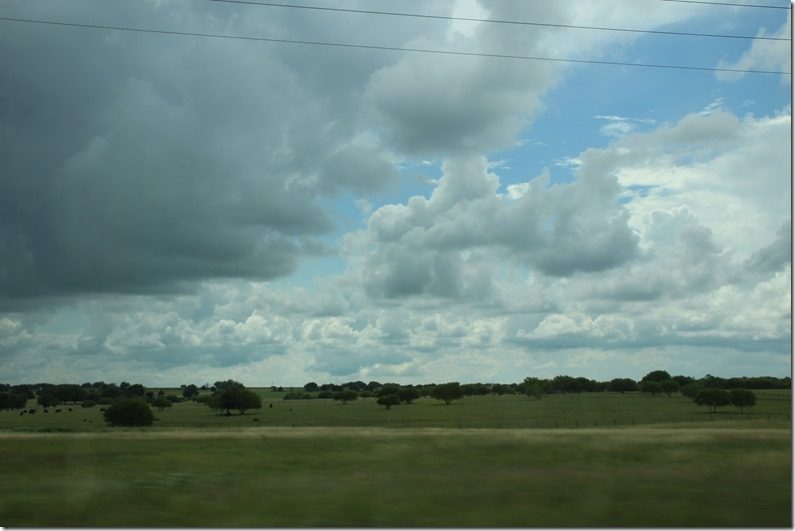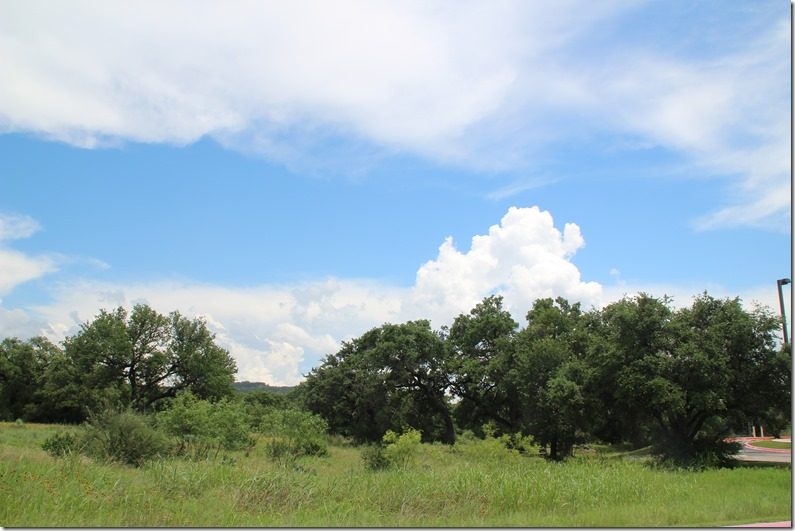 Painted churches, good food, fun shopping, beautiful trees, good companionship.
Heck of a trip, I must say.