The year was 1998; the football game the night of October 30th was in Muleshoe against rival Friona. It was a very rainy night in Muleshoe, and the game came to be known as the Mud Bowl. The officials finally gave in and halted the game a little before halftime, and It would be finished the next day with Sam Whalin and Ronnie Jones continuing as the announcers. Now keep in mind this game was to decide the district championship, and Muleshoe had not won that title since 1979, so emotions were running high for the Mules to be victorious. The game resumed the following morning. Sometime about the start of the 4th quarter Greg Pena scored a touchdown. But when Friona had the ball after that touchdown, they fumbled, Greg came up with it, and as he was making his way to the end zone for another quick touchdown, Sam's excitement got the best of him and he blurted out "Good God a-mighty, he's gonna score again!"
Later that afternoon when Channel 6 rebroadcast the game, which Muleshoe went on to win, 21-6, Magann Rennels stopped the film and cut in right before this outburst and quietly said, " I'll have to apologize for what Sam is fixin' to say."
Regardless of whatever else Sam Whalin has contributed to Muleshoe ISD, this story will always be lovingly inserted at the top of the list. And Sam has contributed much. As has his wife Lisa. And this is their story.
Sam graduated from Muleshoe High School in 1980 and made a name for himself playing football for the Mighty Mules. He is pictured below with number 11 Mike Northcutt and number 50 Dennis Watson. They played for Coach Mike Wartes in '78-'79 when the team won district and regionals. Sam played linebacker, tight end, and kicker, and  came out at number 31 in the Top 50 Muleshoe football players in the last 50 years list, a survey just for fun circulated by Bruce Barrett and B.J. Gonzales last year. He also played basketball and ran track, but football was his game.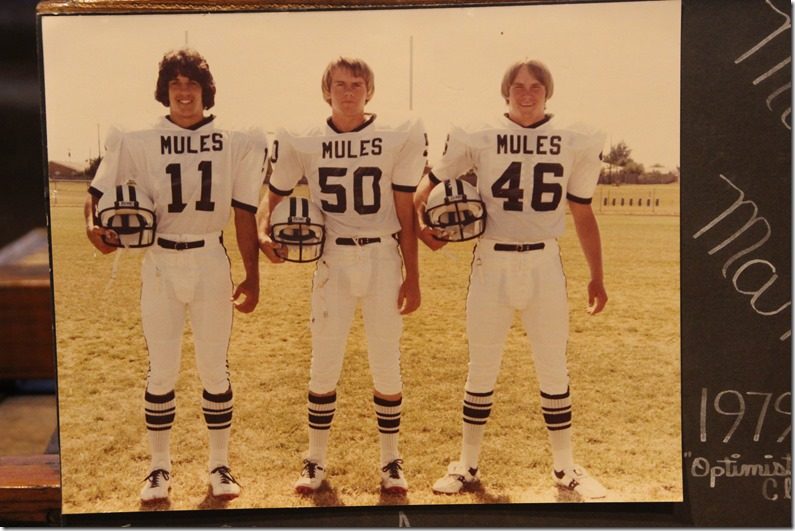 Photo courtesy of Sam and Lisa Whalin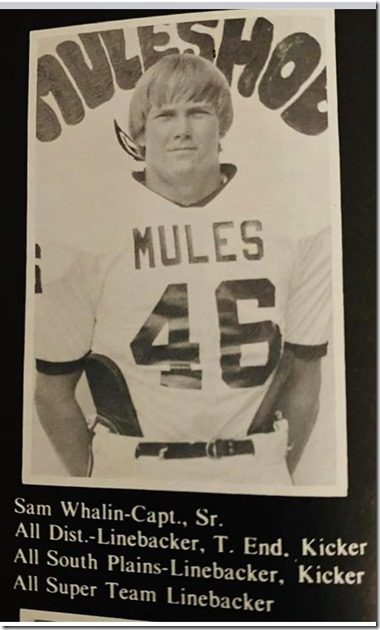 Photo courtesy of Lisa Whalin
Lisa graduated from Sudan High School in 1982. She also participated in athletics as a freshman and sophomore, but then focused on cheerleading her junior and senior years. She played saxophone in the band as well.
                                                     Photo courtesy of Lisa Whalin
The two met at dances in Sudan and Muleshoe. Sam went off to McMurry University on football scholarship and lettered, but by then they were dedicated to each other, and after a year, Sam came home, took a job at Lenau Lumber Yard, and during Lisa's spring break in 1982, they married.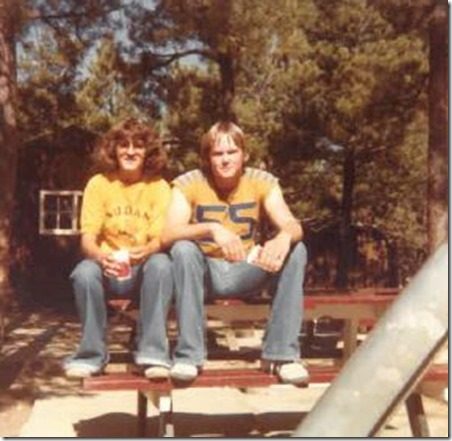 Photo courtesy of Lisa Whalin
Sam went on to work at the lumber yard and Lisa worked a variety of jobs during that time. She laughed that she took Pam Atwood's place frying chicken at Town and Country (now Stripes at the west end of American Boulevard), was a receptionist for Lonnie Adrian, and worked for Merlin Neel at the cable company. Then came a short move to Lubbock, thinking they might make more money. Sam sold cars at Gene Messer Ford, Lisa worked at Agri-Plex Computers, and they discovered they didn't like living in Lubbock, didn't like their jobs, and promptly moved back to Muleshoe. Sam went back to the lumber yard until Mr. Lenau closed in 1992, and he then did construction and remodeling on his own.
It was at this point that Sam and Lisa's connection to MISD began. Sam's mom Jean Whalin managed the school's cafeterias, and she was privy to an opening coming up as a receptionist at the administration building. So when Pauletta Crawford retired in 1993, Debra Jennings took her payroll job, Lisa took Debra's accounts payable position, and Dana Rasco took Lisa's receptionist's desk.
So this started Lisa's career with MISD. Things went well until about 1995 when the two decided they wanted to move to Silo, Oklahoma, to be closer to his parents who had  moved there.  Now by this time JoAddine Mayhugh, who was Business Manager, had gone through training three people in the accounts payable position before LIsa took the job, and Jo wasn't happy about having to train yet another person. Adrian Meador had been moved up to assistant superintendent of operations when Buck Johnson retired and Mr. Meador became more of a curriculum director, so that left a need for someone to be in charge of grounds, purchasing, custodians, maintenance, and new construction decisions as the facility director. Lisa delighted in telling me that Superintendent Bill Moore then offered Sam that position in order to keep her, and Sam just smiles as she tells this story After a few more people held the position of business manager through the years, Lisa became the  business manager in in the fall of 2014.
Sam spent many years calling the football games, even if he did get a bit over excited that one game. Over the years he called games broadcast over Channel 6, KMUL, and KTQM with Ronnie Jones, Bob Graves, Victor Leal, and Stanley Wilson, and most recently with junior high principal Melvin Nusser. This year Sam helped out calling some of the football games and district basketball games.  Both Sam and Lisa contributed to athletic activities outside of the school setting by coaching T-Ball, Little League, and Little Dribblers teams.
After Lisa's twenty-nine years with the district and Sam's twenty-six, they decided they were ready for some new adventures and turned in their resignations. A retirement reception was held May 17th at the MISD board room for both Sam and Lisa. Friends, family, and co-workers showed up to wish them well on their new adventures. Myles James will take over for Lisa as Business Manager, and Chad Beall will fill in for Sam as Facilities Director.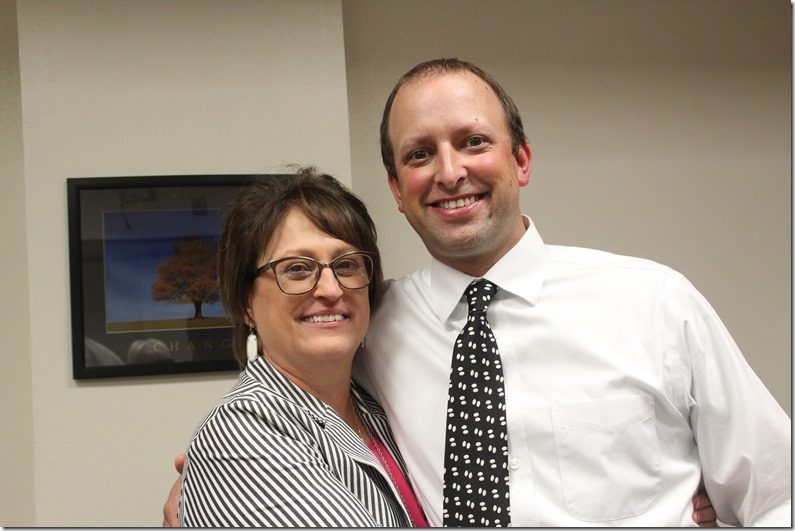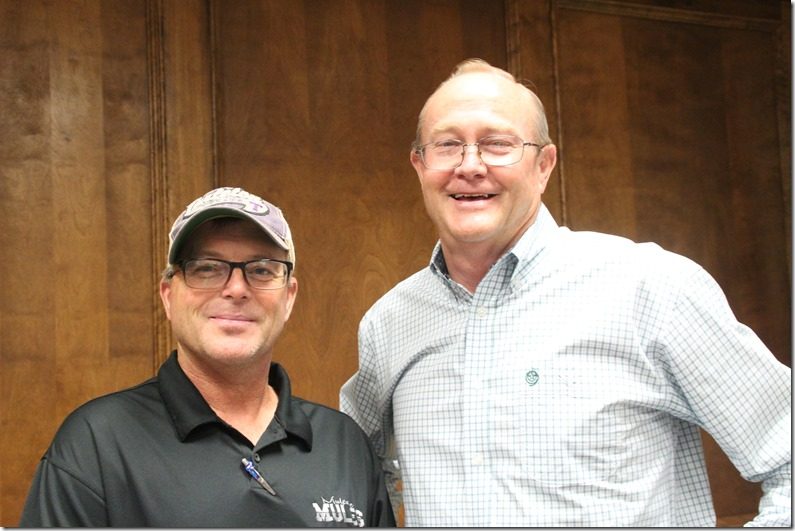 Good friends and traveling buddies Curtis and Lavon Hunt and Sam and Lisa's kids Brandi and Dal presented them with a parking sign to set up when they camp in their Fifth Wheeler to identify them to other campers. All kinds of gifts and cards were displayed on other tables along with the refreshments of mini Bundt cakes, tea, and water.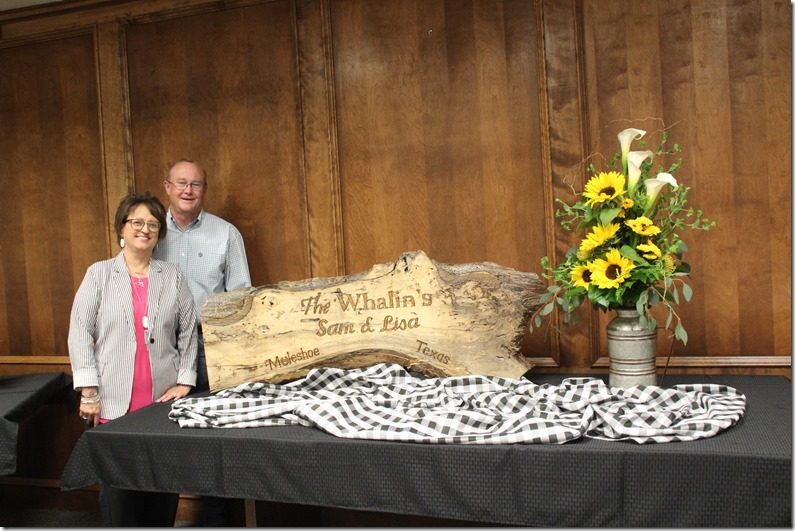 Coach Jason Richards was with Sam when they visited a gun shop, and Sam saw a 45-70 caliber rifle that he liked. So the rifle became Coach Richards, Curtis Preston, Curtis Hunt and Sam's son Dal's gift to Sam.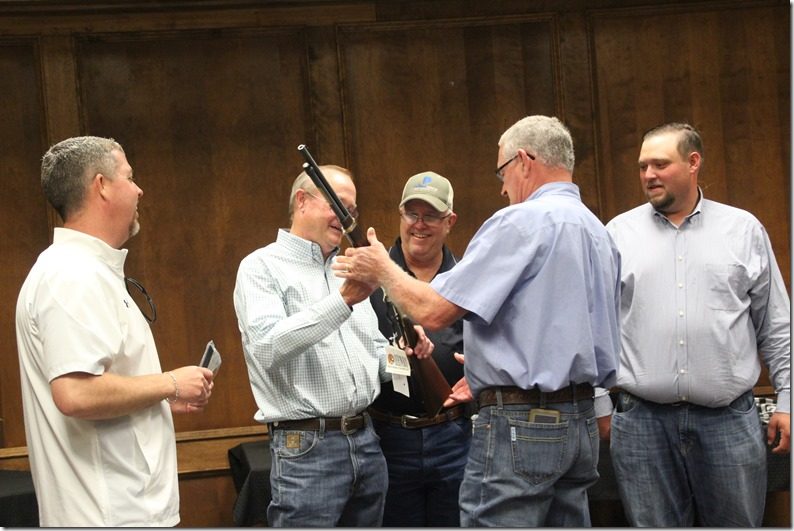 The Legend Award, begun by Coach Wood and given by the Muleshoe Athletic Department at the athletic banquet, was presented to Sam at the 2021 athletic banquet by Coach Richards and board member Sergio Leal. This award is given to thank and recognize loyal supporters of Muleshoe athletics and isn't given every year, but only when a deserving fan rises above the rest.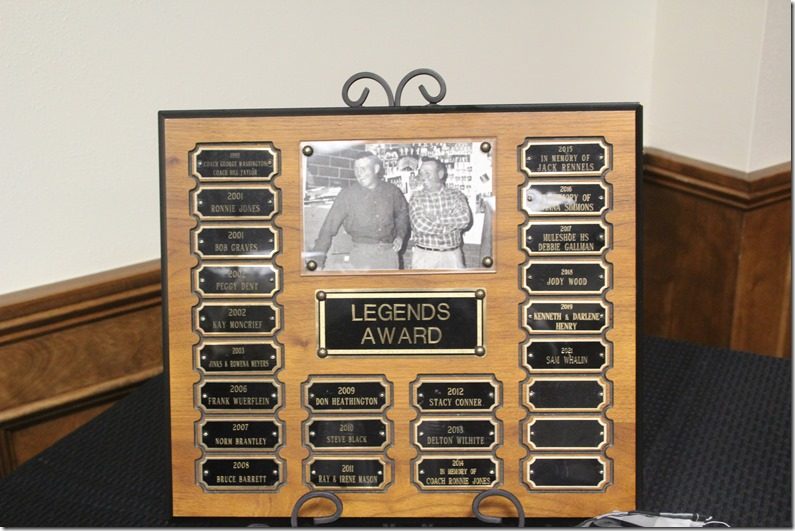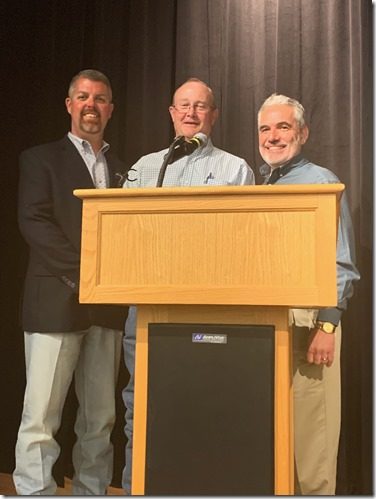 Photo courtesy of Dr. R.L.Richards
Dr. Gene Sheets, former MISD superintendent, came to wish the couple well and shared a story about Lisa that happened when he first came to Muleshoe and had only been on the job two weeks or so. He and Sam were on their way to the first out of town football game and the cell phone rang. When Sheets answered, Lisa's voice came out loud and clear and she said, "Are ya naked?", followed by complete silence. No one knew quite what to say, after which Lisa expressed an embarrassed apology. This, of course, got a big laugh from the crowd. Anyone who knows Lisa knows she is a bit outspoken, but Dr. Sheet barely knew her at this point. Sam interjected then that she thought she was calling Victor Leal, which also got a laugh, because she would have teased Victor that way. Dr. Sheets just laughed and said that was one of his first encounters with this person he would go on to work well with in the years to come.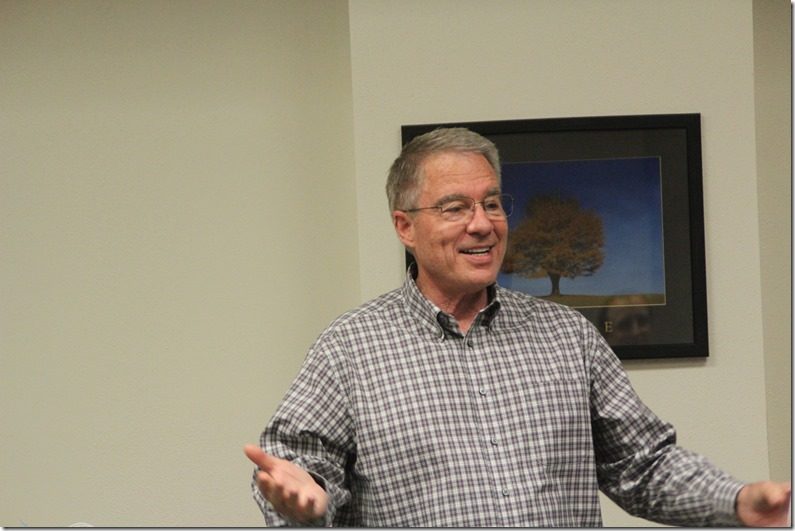 Victor Leal then told a story on Sam connected to the security system they had installed at the restaurant. One night it went off, and Sam got a call from the police department at 3 a.m. about it. Sam asked the police why he was called, and they said his name was first on the list. So then when Sam asked Victor why his name was first, Victor said, "Well, I didn't want to get up at 3 a.m. about it." Victor then went on to say how much he appreciated all that Sam and Lisa had contributed to the community over the years.
Curtis Preston told the story of once when he and Sam were on a trip to Clinton, Oklahoma, to buy Sam's kids' show pigs. This was before cell phones became common, and at about 2 in the morning the motel room phone rang. Kari Preston had called motel after motel to find them so she could tell Sam that Lisa had been rushed to the hospital for emergency gall bladder surgery. Sam answered the phone, said a few yeahs and uh huhs, hung up the phone and settled back down on the pillow. Curtis asked what was going on, Sam told him. Curtis hesitated a minute and  said, "Well, don't ya think we ought to go home?" Which, of course, they did, but Sam really hated to interrupt a pig buyin' trip.
Sam and Lisa had shared this next story with me before, but David Wood poked fun at himself and Sam when he told it again,  about Sam's journey into assistant coaching. It was in 2008 after the Crane pre-season game and the Mules were not yet ranked. They won the game, but Sam barged into the coaches' office and gave Coach Wood his thoughts. "The defense sucks," Sam told him without hesitation. "We won't win another game if you don't do something." This aggravated David a bit; that happened sometimes with Sam, but he may have taken this under consideration.  Son Wes Wood, who was playing at the time, said some adjustments were made, and the defense looked much improved.  Sam interjected that he almost lost his best friend over the talk, but maybe it made a difference, to which Coach Wood just laughed, shook his head, and said Sam would go to his grave convinced that their talk changed the rest of the season. But needless to say, the friendship has endured. And it's been a long one: Sam's job started in June of '95 and David came as coach the following March of '96, so they have seen the Wood/Muleshoe career through all the ups and downs together.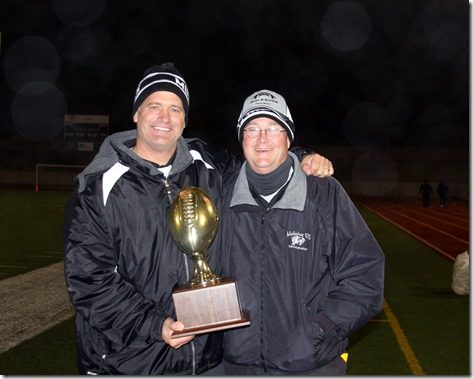 Photo courtesy of Jody Wood
The plan is to travel across the U.S. in their Fifth Wheel, visit family, shop at antique/junk stores, and see every state in the U.S. So far they have been to Arkansas, Kentucky, Tennessee, Iowa, Minnesota, Colorado, Oklahoma, Kansas, and South Dakota, Nevada, Alaska, and New York. Spending time with the grandkids will also be a favorite activity. Sam will enjoy hunting, woodworking, and repurposing old items they discover at those junk stores. If you visit their house, you will see many things that Sam has made useful and interesting again, like this commercial turkey feeder he turned into this neat hanging lamp, and the flour sifter from an old Hoosier cabinet also becoming a light fixture.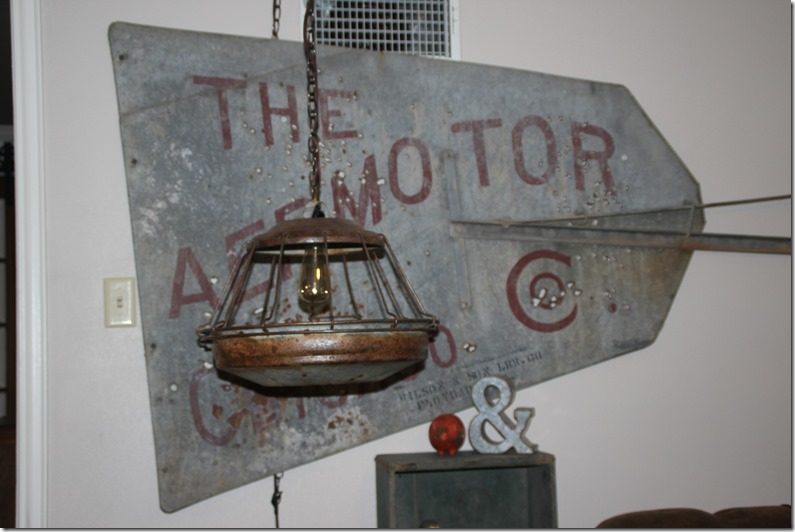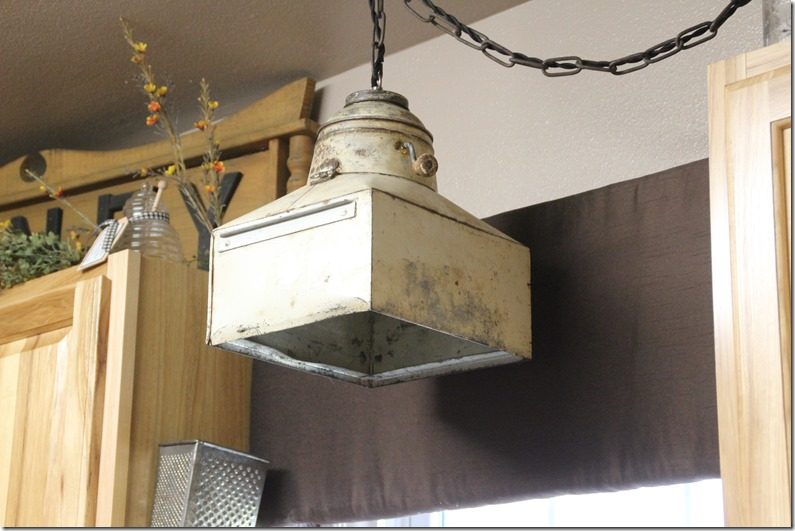 Lisa will spend time reading, collecting Pyrex casserole dishes on those shopping trips, and being with the grandkids. Whatever they are doing is what she enjoys doing, she said. One of her main pleasures she will continue is meeting once a month with her Proverbs group, the thirteen ladies there for each other for whatever is needed. She said they meet once a month for a meal, fellowship, and various activities.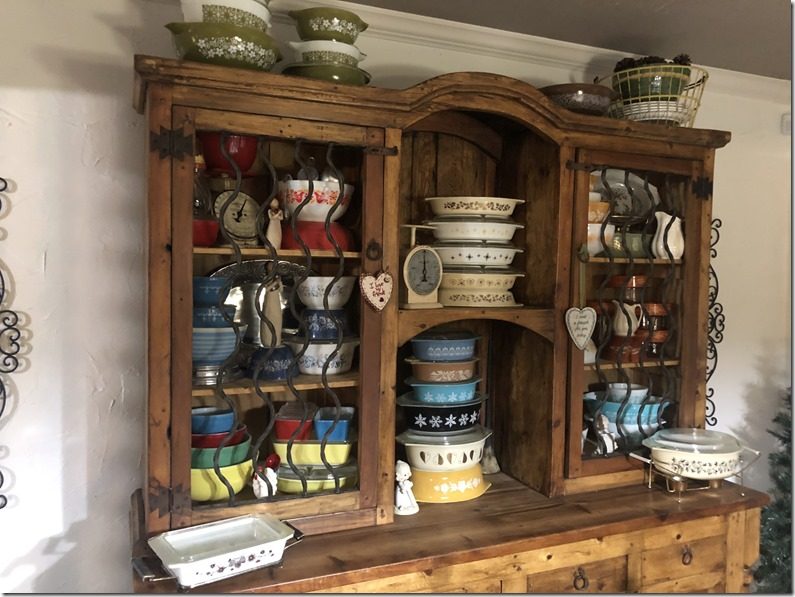 Photo courtesy of Lisa Whalin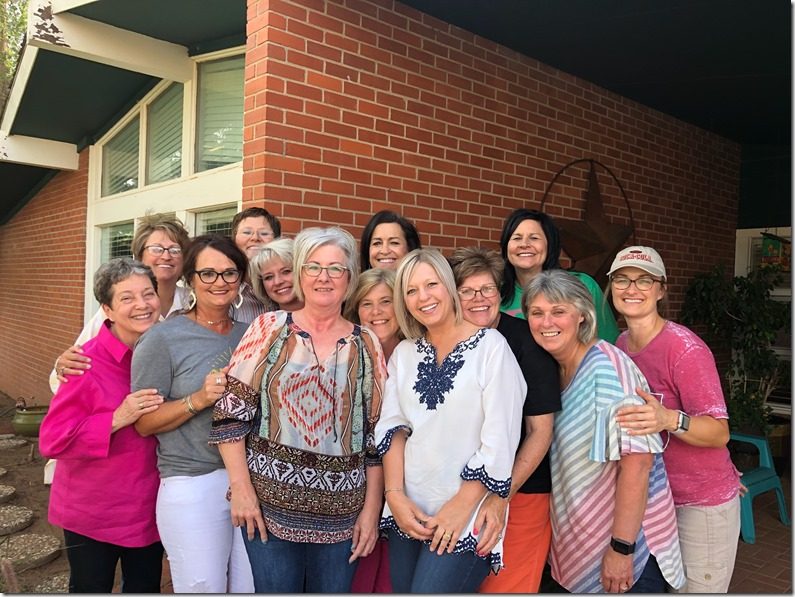 Photo courtesy of Lisa Whalin
The Grage family: Aubree, Brandi, Cody, and Rance live in South Dakota where daughter Brandi, who graduated from Muleshoe High School in 2004, is a registered nurse.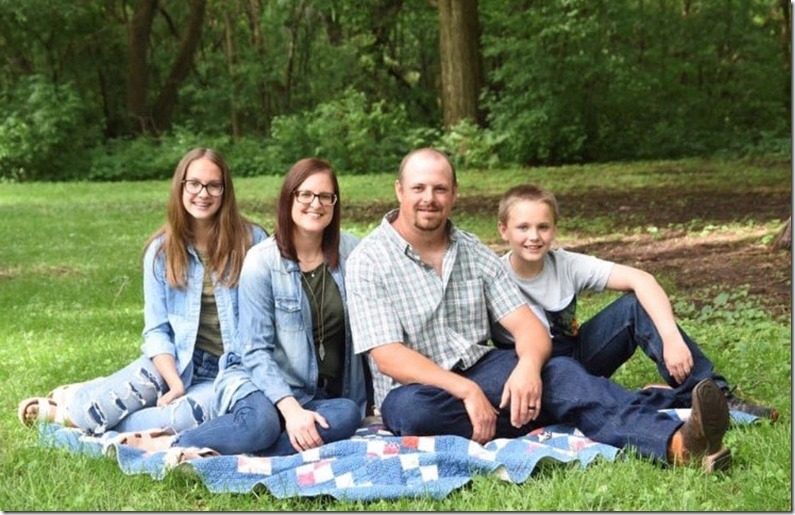 Photo courtesy of Lisa Whalin
The Whalin family: Sawyer, Ashley, Dal, Reid live in Midland where son Dal, who graduated from Muleshoe High School in 2008, contracts industrial equipment. I have to tell a story here on Dal. Lisa said when he got in a little trouble in kindergarten and was sent to Principal Grigsby's office, he confidently informed her "You know, my dad works for Bill Moore." Mrs. Grigsby was not impressed. But I'll bet she chuckled after he left the office.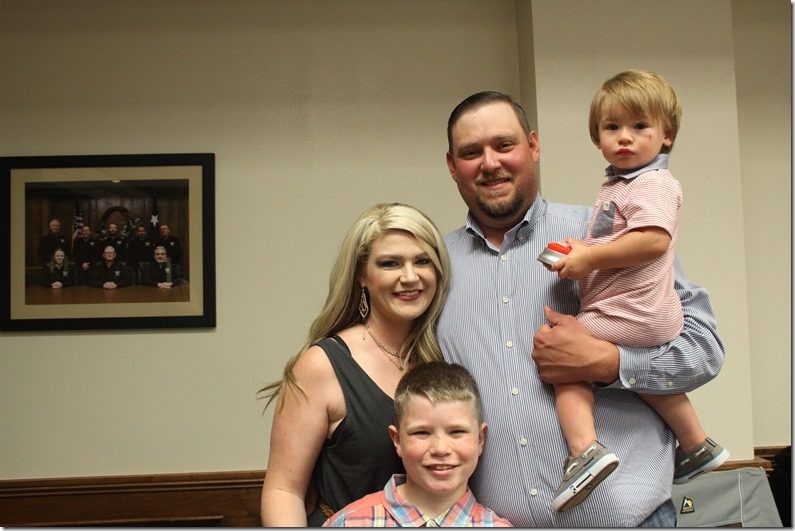 Sam and Lisa will also enjoy taking more trips and enjoying outdoor activities and football games with close friends; Curtis and Lavon Hunt, David and Jody Wood, Don and Tonda Wood. They also have fun gambling and friends have also accompanied them on trips to Las Vegas so Sam can play poker and Lisa throws dice.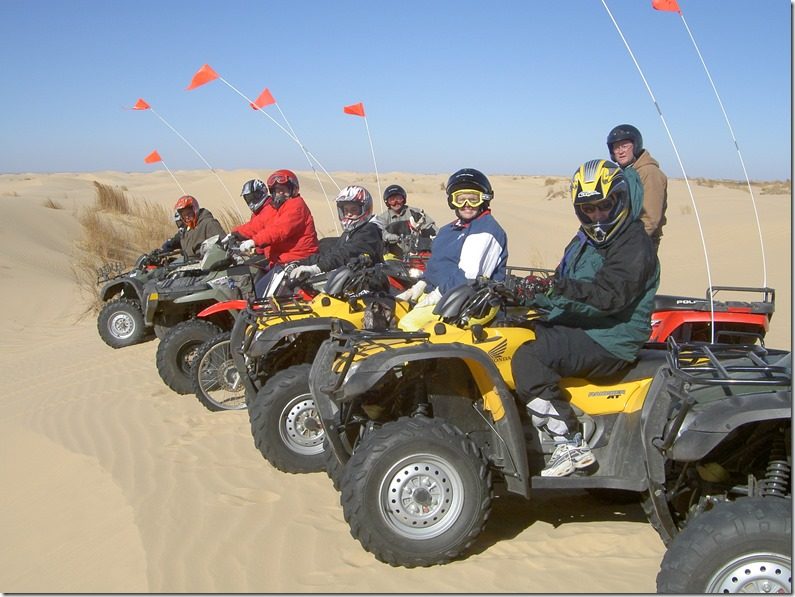 Photo courtesy of Jody Wood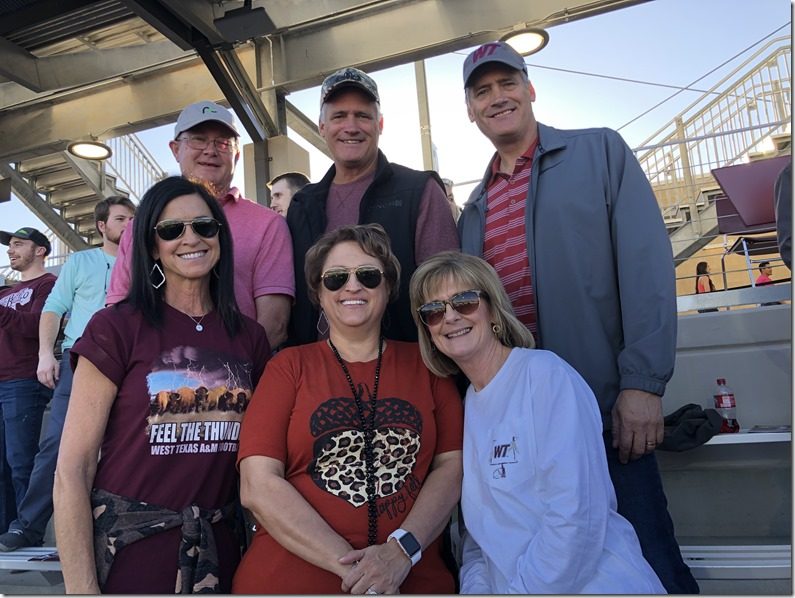 Photo courtesy of Jody Wood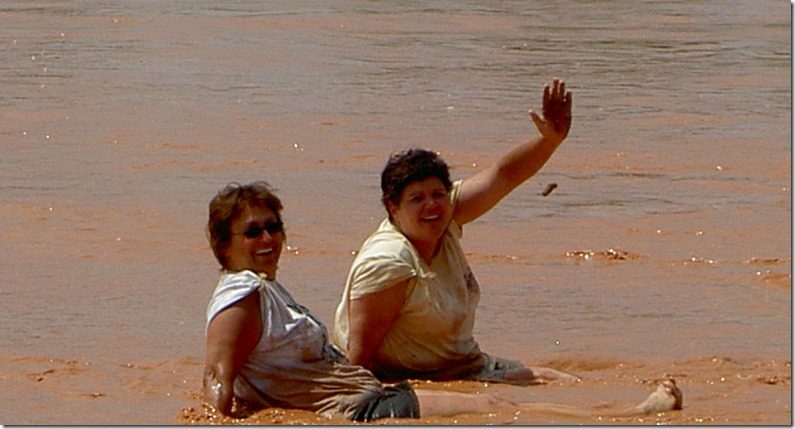 Photo courtesy of Jody Wood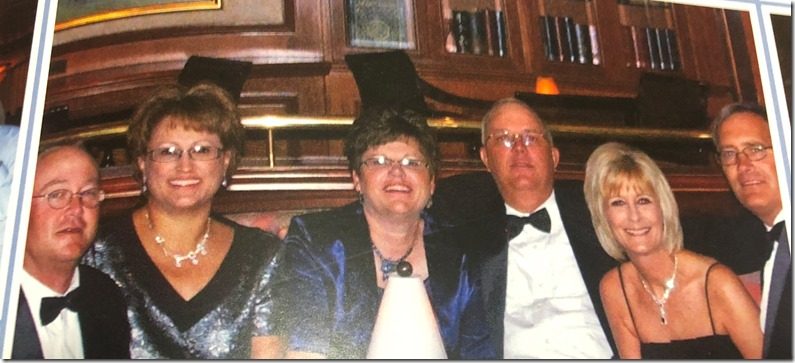 Photo courtesy of Lisa Whalin
About every five years Curtis and Lavon, and sometimes some of the Woods,  take  what they call a big trip which takes about ten to twelve days with Sam and Lisa. Previous trips were to  Alaska; then Boston/Canada/Niagara Falls; a train ride from Albuquerque to Los Angeles /San Francisco; then Oregon/Las Vegas. Next year the big trip will be a cruise and visit to all the Hawaiian islands.
Superintendent Richards said Sam has been like an assistant superintendent with his organizational skills and history with the school district. "He has been encouraging and supportive even when my decision might not have been good! Sam is brutally honest, and it helps all of us to grow. But he could also show empathy. I would never have survived my years at Muleshoe ISD without Sam Whalin."
Of Lisa, Dr. Richards also had great praise. "Lisa's twenty-nine years in the administration office are unbelievable. She could see a difficult time coming or she could see a need for the district and be able to provide. She saved money for four years just so we could have a chance to "re-turf" the football field. You have to admire Lisa for her knowledge of Texas school finance and her ability to say "no" politely. She has been a great asset to Muleshoe ISD." She was even named Employee of the Year by the Chamber of Commerce in 2011.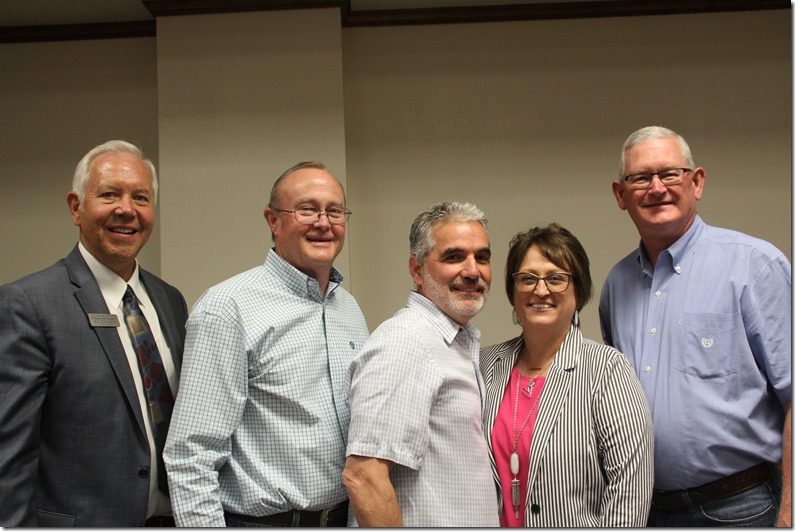 I will miss talking to Lisa at the administration office and seeing occasional notes from her with a signature that always looked like the name Sue to me, so that's who I would always ask for when I needed to speak with her. Sam has been an invaluable source for information on school-related blog posts I write. I will miss them both. The administration office will miss them. The football press box will miss Sam. Heck, the whole town will miss them.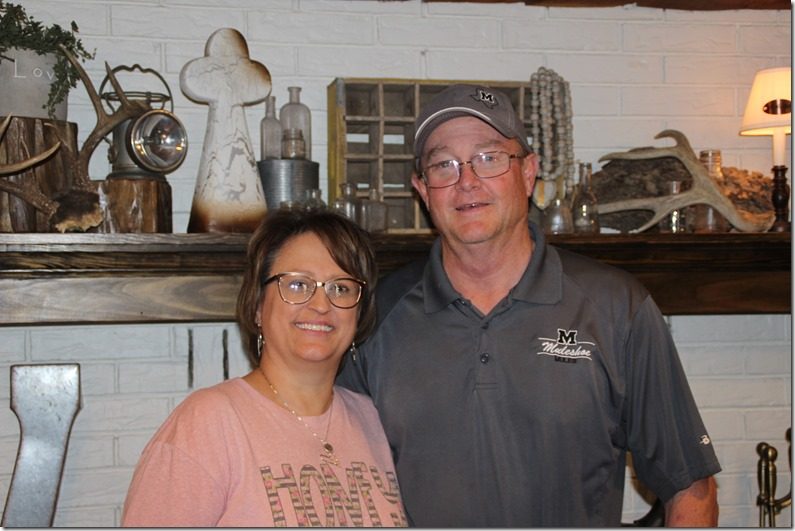 Don't wear out the Fifth Wheel, guys. But have fun!
Thanks to Dr. Richards, Jody Wood, Lisa and Sam for their help with this story.