Did you know Muleshoe has a disc golf course? I didn't, but I do now. In fact, I even played one hole the other day. I was introduced to the game by Larry Kirk, a happily self-appointed ambassador intent on promoting the sport and making the rounds for his fourth tour of playing disc golf in all fifty states.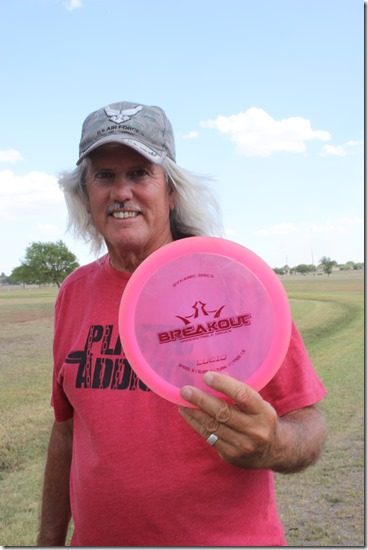 So who is this person who gets to see our varied United States, meets all kinds of people, introduces them to disc golf, and gets to play the game he loves at the same time?
Gabby Perez at the Muleshoe Journal called to tell me a man had called her offering to be interviewed about this game that is basically golf, but with different equipment, his goal being to spread the word and interest people in playing.  I know nothing about disc golf, certainly didn't know Muleshoe had a course, so I thought, why not? Maybe others here don't know about the game, either, and this would give them a new activity to try. I met Larry at the new city park where the course is located.
Larry Clifford Kirk started out life in Missouri and Kansas. As a teenager he took up golf when he was given a set of clubs and became addicted to that game.  Then when Larry wound up in California, a neighbor introduced  him to frisbee golf, and he had a new passion. That was in 1978 when he was sixteen years old.
In 1982 he joined the Air Force, and as it turned out, military bases always seem to have a disc golf course, so he continued to enjoy the game. At this time his job in the Air Force was as a fireman, and he was sent to Panama. While there he married, had two kids, and after that tour of duty was sent back to Atwood Air Force Base in California. The marriage ended in divorce, but he had the kids and continued to do special assignments with the Air Force and also attended college and became a military security cop as he raised those kids as a single parent.
Time passed and in 2011 when he introduced the kids to disc golf, he decided he wanted to play every course in California. Suddenly his golf game disappeared!
After thirty-seven years serving his country in the military, he decided to retire at the age of 58 in 2019. The kids were grown, on their own and doing well, there was no wife who needed his presence at home, so he thought why not travel all fifty states and enjoy disc golf along the way? And he did.
Which brought him to Muleshoe. I asked how in the world he even knew there was a disc golf course in our little town, and he whipped out his phone to show me the U Disc app he uses to locate courses as he travels the country. Yes, there really is an app for that! He found Muleshoe listed, along with Lubbock, Littlefield, and Levelland, just to name a few in our area that he had already played before coming here.
If a human voice could be on speed dial, Larry's was! It was all I could do to follow his passion for the game as he excitedly told me details as I frantically tried to write it all down. He never slowed down nor lost his enthusiasm for trying to convince me that this is the best sport in the world. I asked him to play a hole to show me how it works.
Eager to share the game with me, he talked about strategies to get around obstacles like trees, which used to be targets for the discs to hit instead of getting the disc in the basket, how the wind affects the game, different kinds of throws, and which disc to use. Golfers want a clear shot of the green and the hole, whereas disc golfers see obstacles as as part of the fun and challenge. Just like different golf clubs are used for different shots, discs come in drivers, mid-range, and putters. There is even a mini disc to mark where you shots land, just like in golf. He demonstrated on hole number 1. Look way down past the tree and you can make out the base of the basket stand.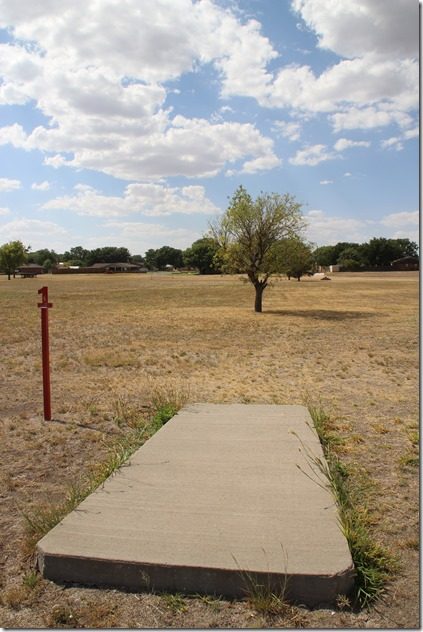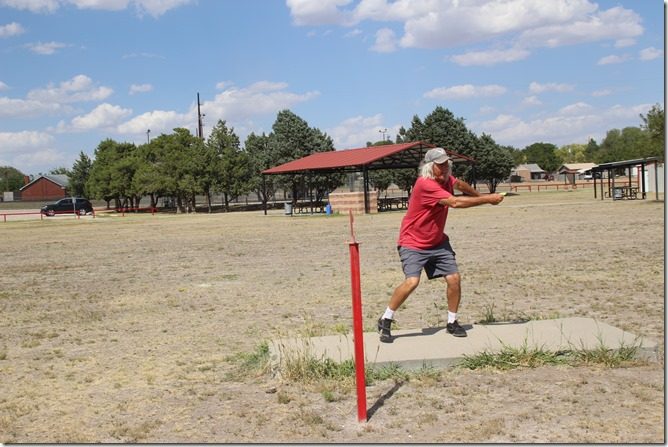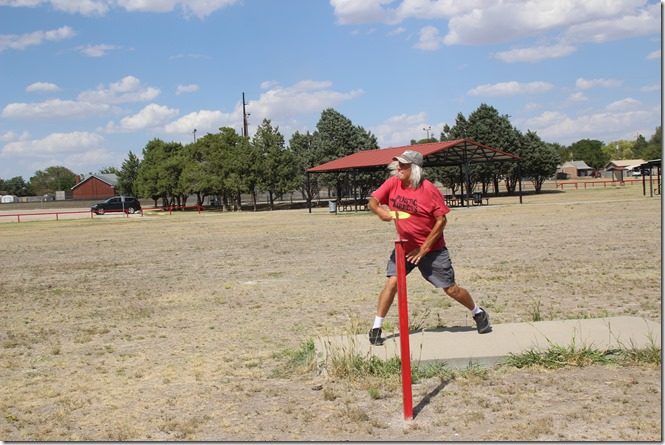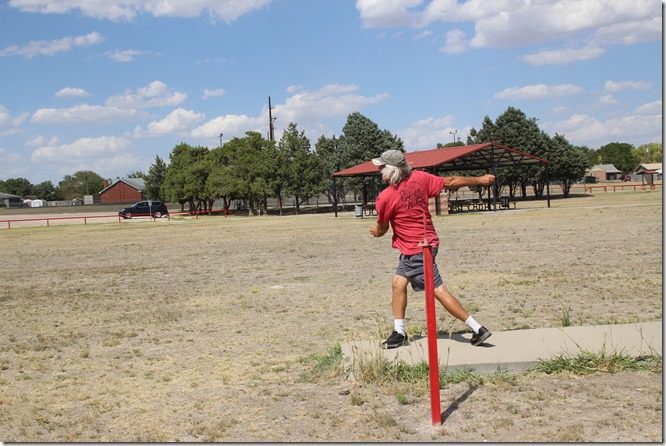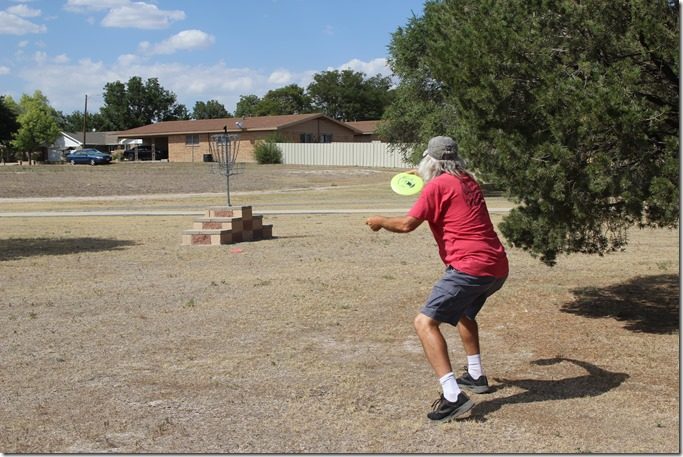 He carried two discs with him rather than, like a golf bag, lugging his disc bag around the whole course, and he wound up sinking the pink one in the basket.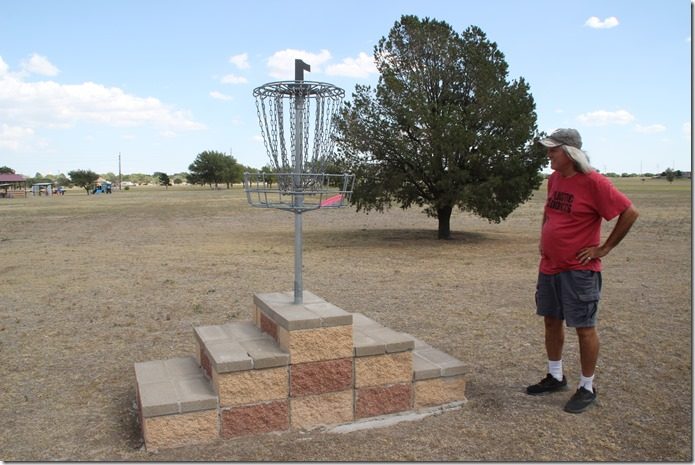 Then it was on to hole number 2.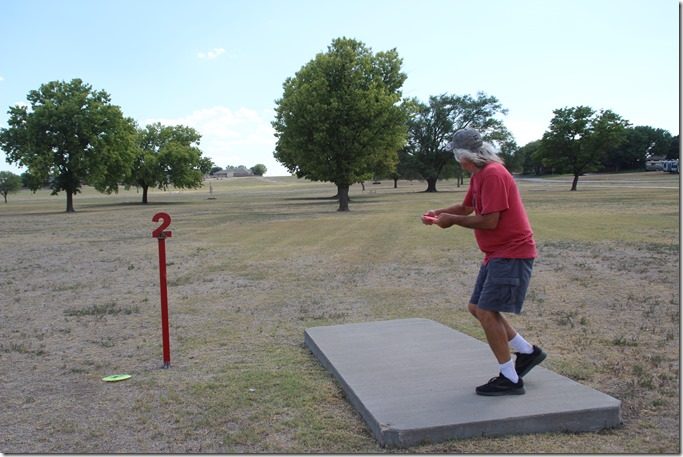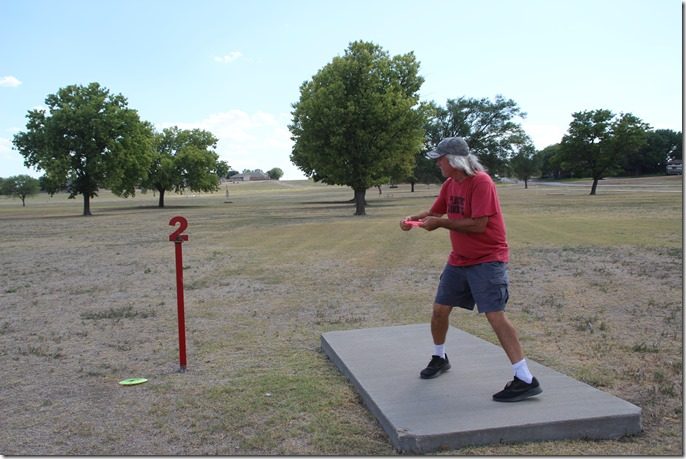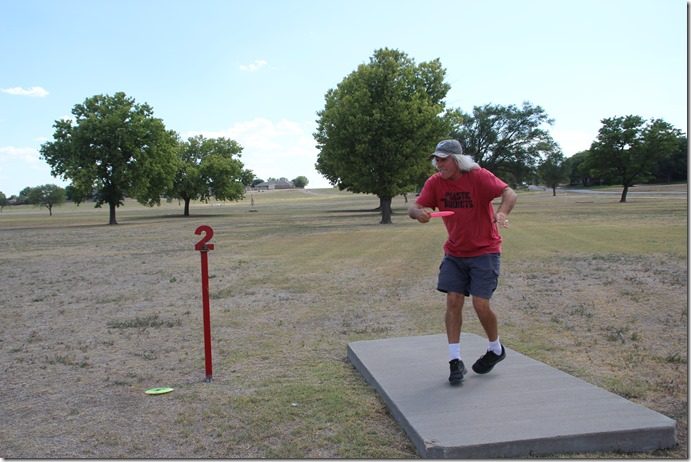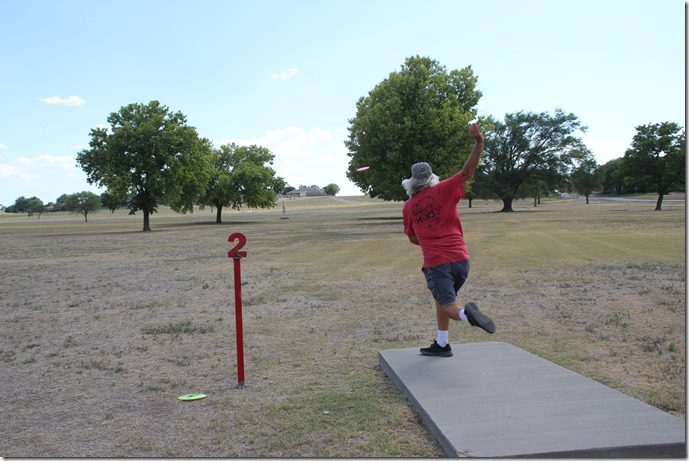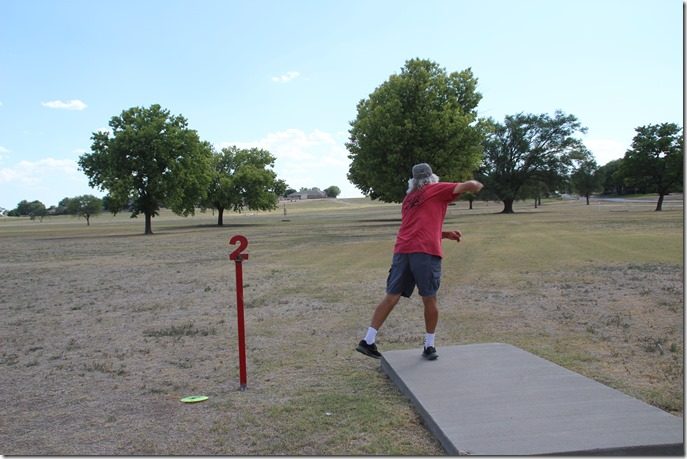 Then, of course, nothing would do but that I play a hole and fall under the game's spell. We moved over to hole number 8.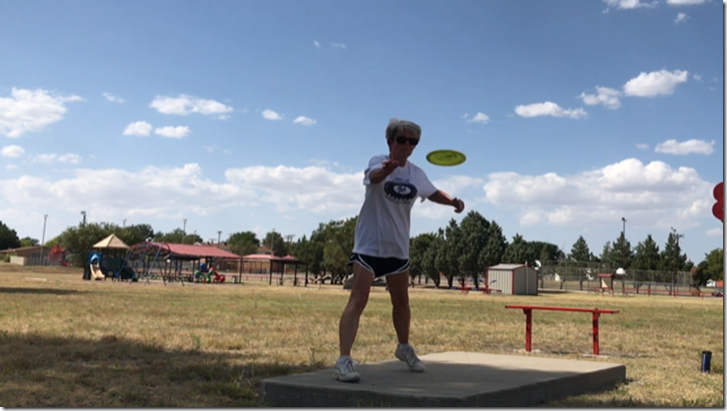 Photo courtesy of Larry Kirk
This is my left-handed shot trying to get around the tree.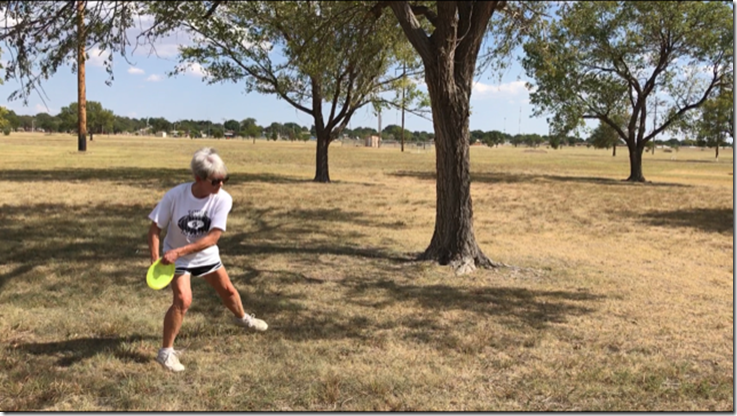 Photo courtesy of Larry Kirk
That shot went right over the basket, so I was now on the other side of the basket trying to make up for my bad throw.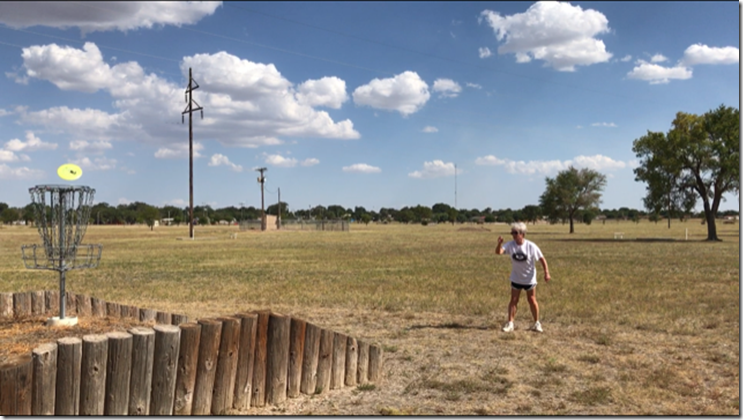 Photo courtesy of Larry Kirk
And finally it goes it. I shot a 7 on hole 8, and Larry just assured me that was great for my first outing.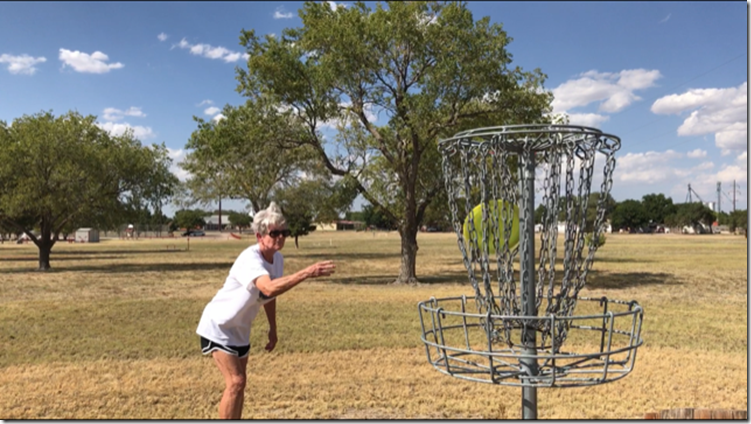 Photo courtesy of Larry Kirk
Larry was impressed with the course and said it was very well designed and a good course to play. I contacted David Brunson who was city manager when the course was built in 2011 to see who should get credit for the design and the idea to add it to the city park in the first place. Patrick Kitten from Lubbock just showed up one day in David's office and informed him that Muleshoe had a great place for a course. Adding a course had been on David's mind for a while, so he decided the city should follow through. Patrick laid it out, Ramon Sanchez contributed ideas for the basket designs, the city built it, and the course became a reality. Then they proceeded to put on a tournament. Hole number 4 is said the be the longest hole in the South Plains, and Larry verified that after playing it. Most courses are nine holes with different tee boxes to make it a nineteen hole course, which ours is. Turns out Patrick has designed several courses in the area and ours might be one of his best.
The English teacher in me reared her inquisitive head, and I couldn't help myself as I started writing this story. Where did this all start? What was the history? How long has it been around? Whose idea was it anyway? How did frisbees evolve into this more sophisticated game from simply throwing and catching a frisbee? So I did a little research. I will try to simplify, as this story is already way too long, but the game actually goes back to 1900 in Canada when kids were throwing tin can lids into circles drawn on the ground. In 1937 Walter Frederick Morrison and his future wife Lucille were tossing a popcorn can lid around, people noticed and wanted to buy their lid so they could play. Morrison saw a need to fill, and went on to develop and manufacture modern frisbees by 1958. The frisbee's success, however, came from Ed Headrick who started to redesigned the disc in 1960 and made it more aerodynamic, controllable, and more accurate by 1964. Headrick then came up with the sport of disc golf, and the rest is history. Now discs can be bought in most sporting goods stores and disc golf specialty shops. He also came up with the idea of the baskets in 1977 with the chains added in 1984. A Professional Disc Golf Association was formed in 1986. If you are interested in more in-depth facts, like Rice University in Houston holding a meet in 1960 and that chains are now arranged so that they have special musical sounds when hit by the disc, you might want to check out the sources I used listed at the end of the article.
I asked Larry if he was a professional, and he said he had played tournaments, but traveling and spreading the word was  more fun for him.
After the three holes we tried, it was time to bid him adieu, as he wanted to make it to Clovis to play the course at Cannon AFB before nightfall. He gave me a signed disc so I would be equipped to play and practice what he showed me, and we said our goodbyes.
But before heading out for Clovis, off he went to finish the round.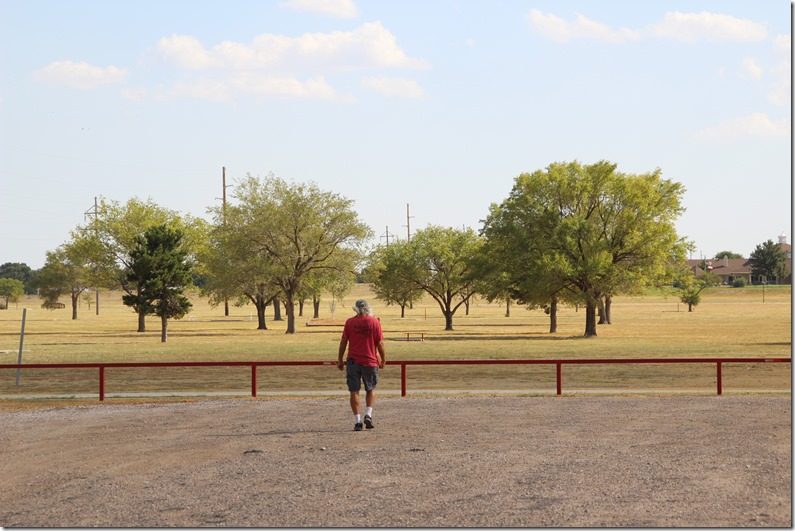 A sign is posted at the parking lot at the park with all the information you need to get started. If you don't have a disc, grab a frisbee to get started, and give it a try.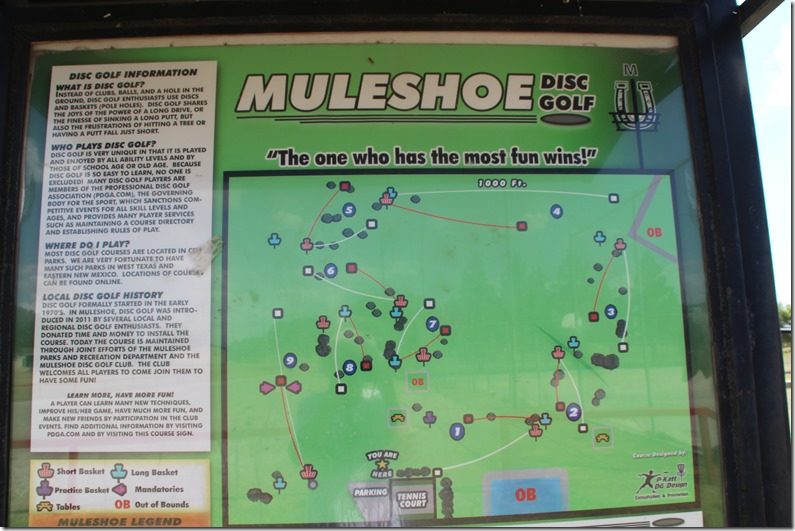 You might even catch me out there one day trying to master the game with my special frisbee.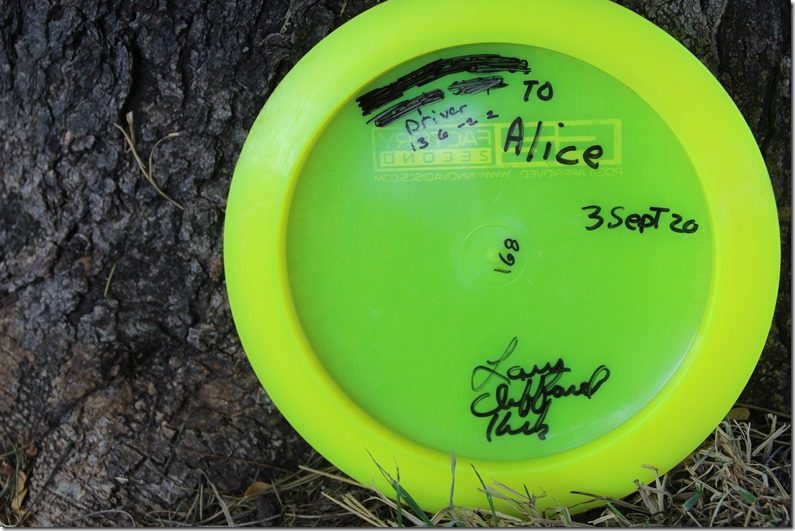 Thanks to Larry Kirk for introducing me to this game, and LeeAnn Gallman, David Brunson, and Gabby Perez for their help with this story.
https://www.city-of-muleshoe.com/DiscGolf
https://en.wikipedia.org/wiki/Disc_golf
https://en.wikipedia.org/wiki/Frisbee
https://discgolf.com/disc-golf-education-development/disc-golf-history/