The last time I had the pleasure of visiting the Vee Bar Ranch in Wyoming was in 2011 with Page Lambert's writing/riding retreat. This time it was with husband Bill so he could try fly fishing and I could ride horses again.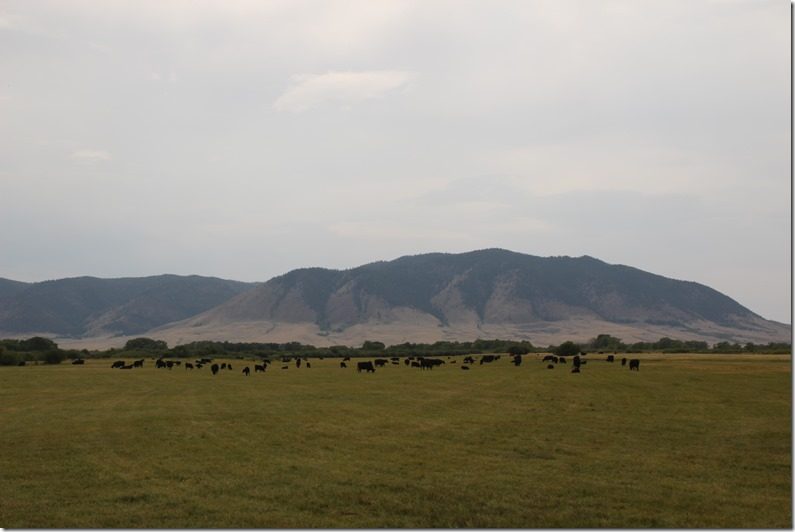 We chose a different scenic route this time through a tiny bit of Oklahoma, then Kansas and Nebraska before turning west for Laramie. Saw some interesting things along the way. Like the fact that the Great Plains looks very much the same in all three states, including this part of Texas: endless rolling or flat treeless plains, save for the occasional tree planted by humans; grain elevators barely visible in the distance: miles of row crops, hay fields, or endless pastures.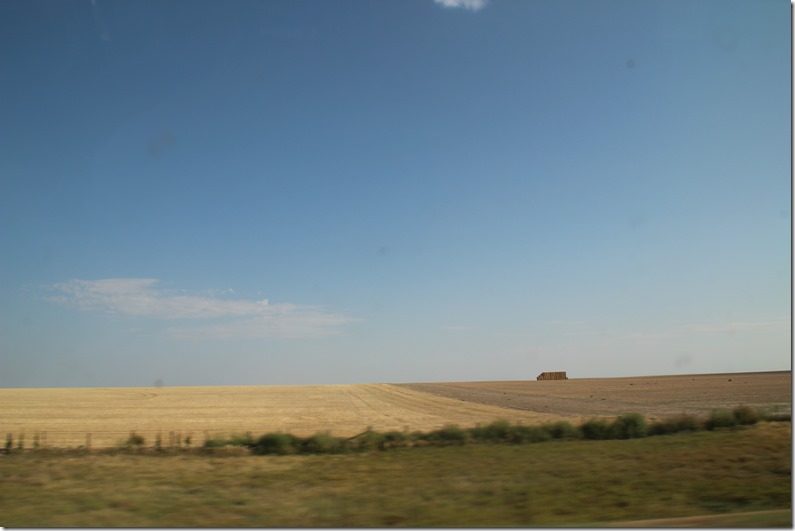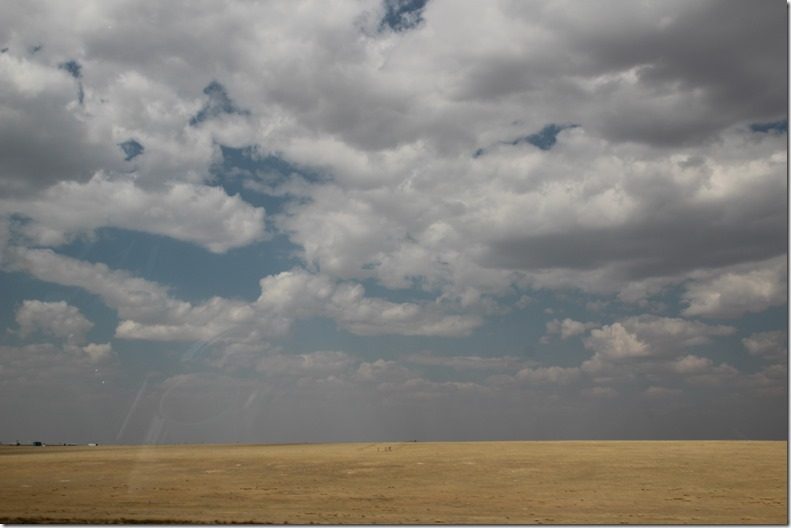 We spent the night in Ogallala, Nebraska, and on the second day took a side trip into Sidney, Nebraska, world headquarters of Cabela's, but a town also with a history from the early days. The geese decoys Bill's mother gave us one year which we try to remember to put out in the fall came from this very Cabela's store, so nothing would do but that I take a picture.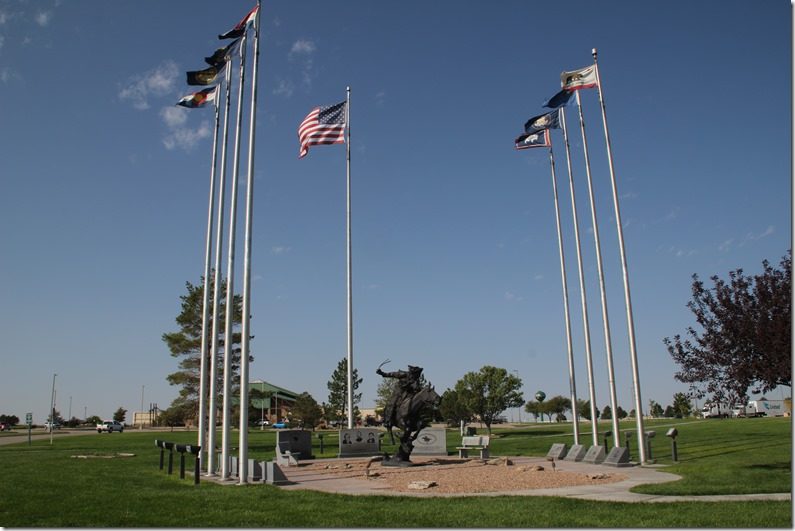 As we drove deeper into the Great Plains areas, billboards were practically non-existent and distance between towns and gas stations became farther and farther apart. As we were traveling merrily along we passed a man standing by his vehicle frantically waving a white handkerchief in distress, so we stopped. He had unexpectedly run out of gas and only had a water bottle to fill with gasoline. He had googled for a station and found nothing. As luck would have it, we were within sight of the tiny little town of Dix off the highway, so we drove Tom from Cincinnati, Ohio into town and found their one gas pump. "24 Hour Fueling" the sign said. Before futilely trying to fill the water bottle with gas, Bill noticed a man sitting on his front porch across the street watching this little scene unfold. They walked over and explained the situation, to which the man was not surprised. "Happens all the time," he said casually as they walked to his storeroom for a five-gallon gas can. Three gallons of gas later we took Tom back to the highway to walk a short distance to his stranded vehicle. He would then drive back to the 24 Hour Fueling pump, return the gas can, fill up the car and finally be on his way. Adventure in the Mid-West.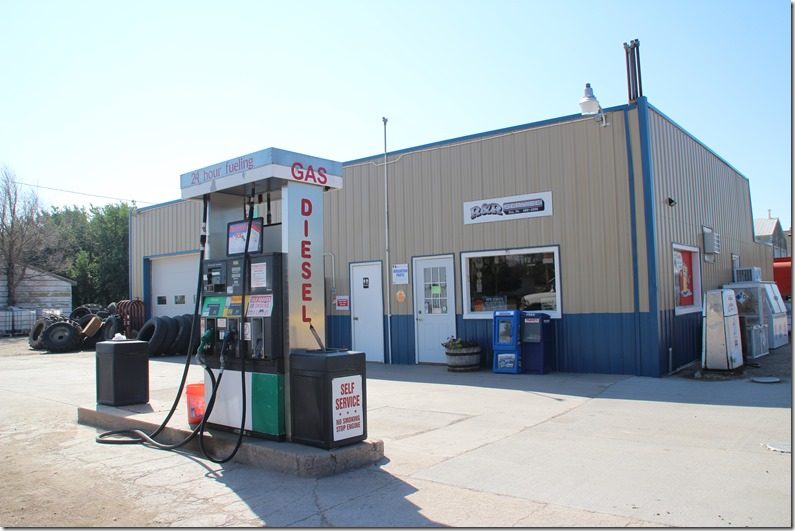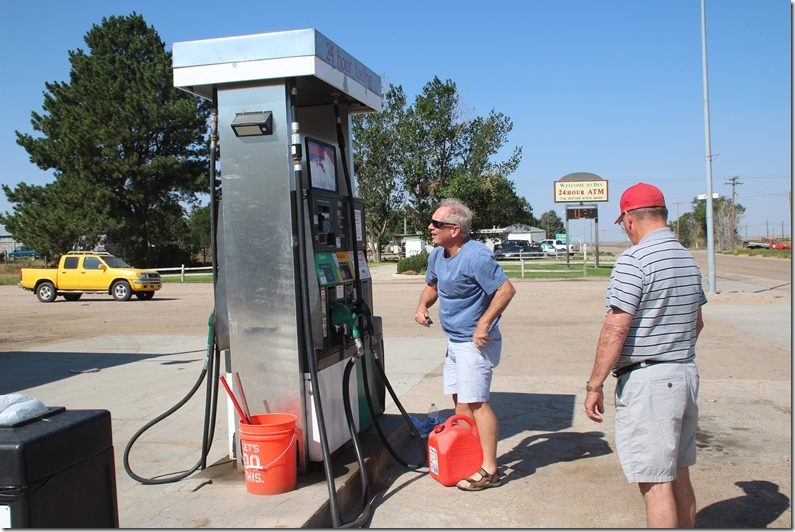 The landscape was still mostly flat and went on forever, but occasionally it would change a bit with a few trees and some small hills. But we knew we were finally in Wyoming because we passed this sign. Otherwise, it was more of the Great Plains.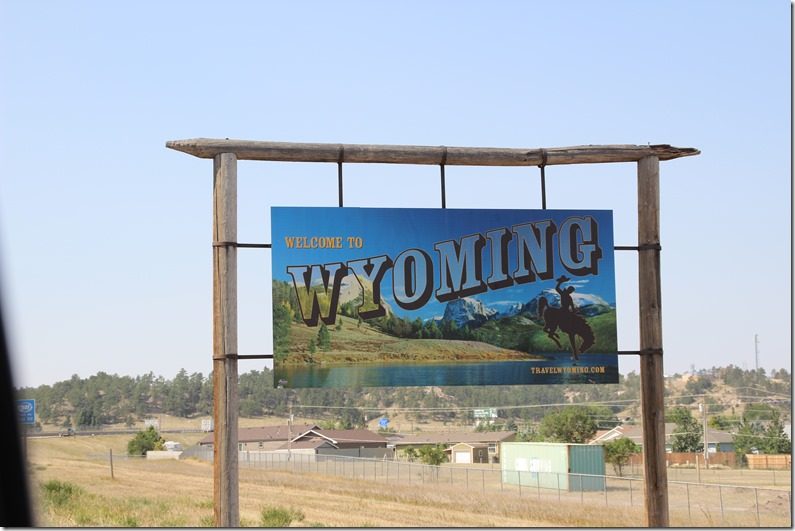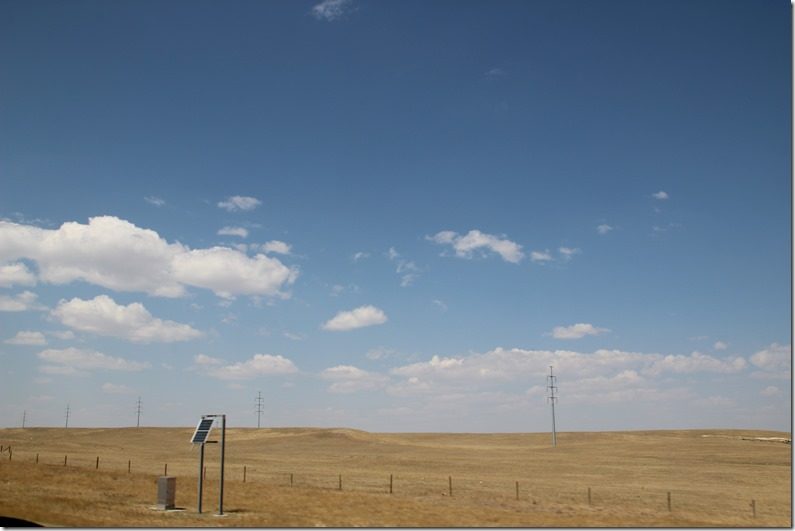 And then the scenery changed again as we neared Cheyenne and Laramie.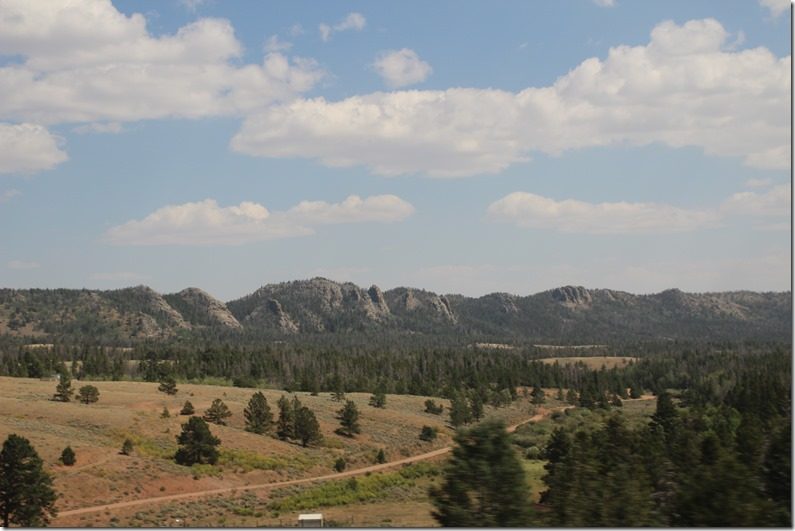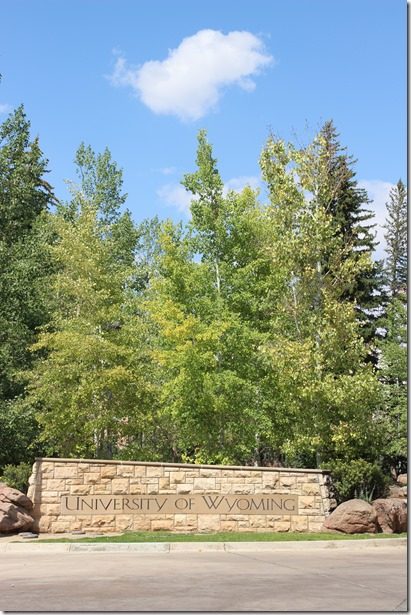 After a quick drive through Laramie past the University of Wyoming campus (Street signs proclaimed "The world needs more Cowboys," cowboys being their school logo.), we found the Vee Bar Ranch about twenty miles down the road. I took this picture after we had checked in and were walking around. Penny, the ranch's Corgi, joined up and took the walk with us.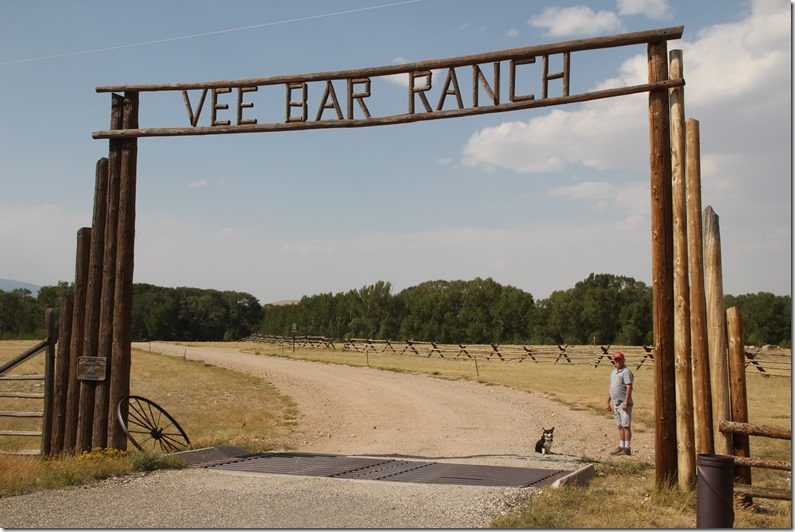 In the distance you see the mountain I will ride on the next day.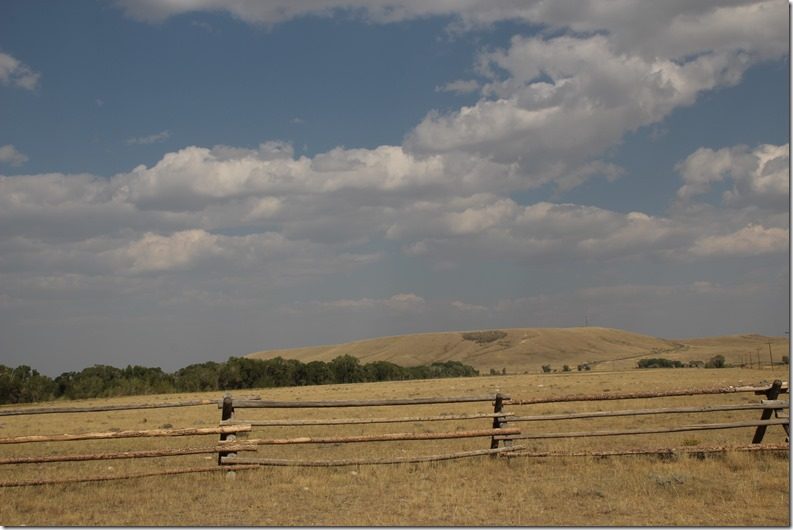 We also passed these little flowers which looked a whole lot like shorter stemmed Tahoka daisies to me.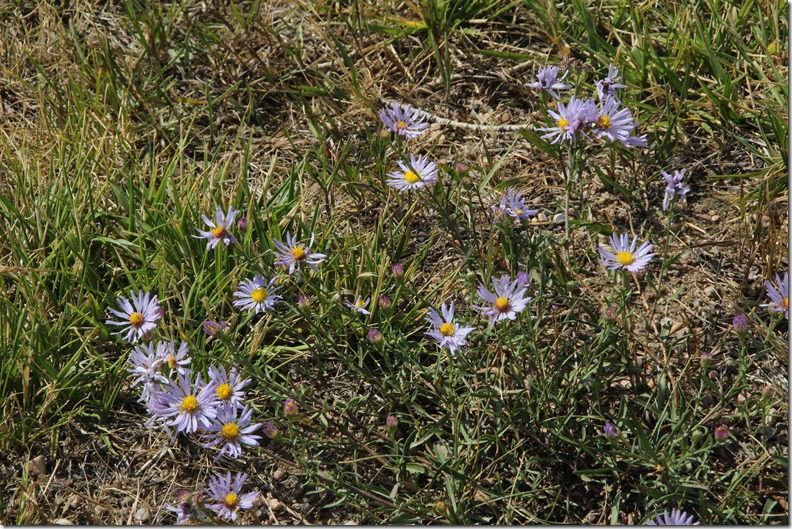 The Little Laramie River flowed past our cabin, which I just realized I failed to take a picture of!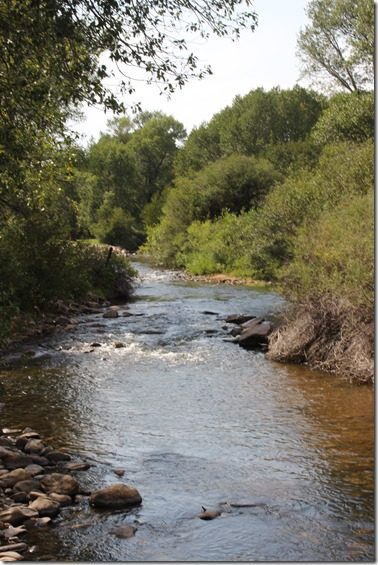 Later that day I did a little scouting for cactus to dig up and bring home and saw these pronghorns, which showed up several times during our stay.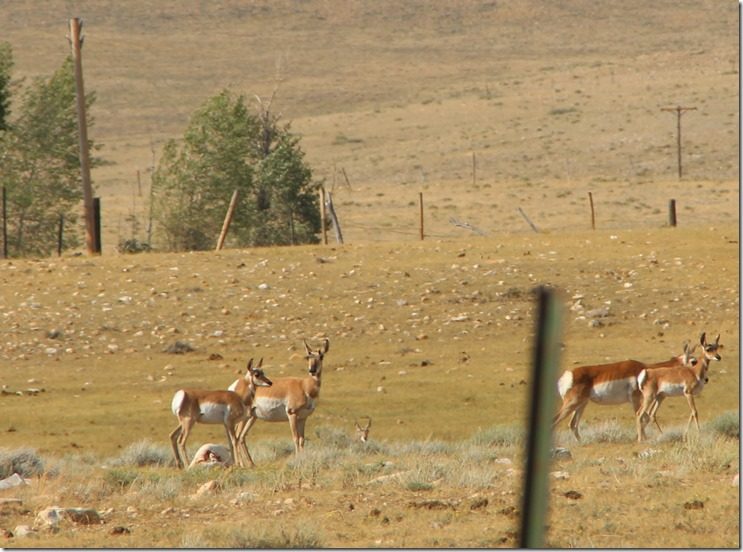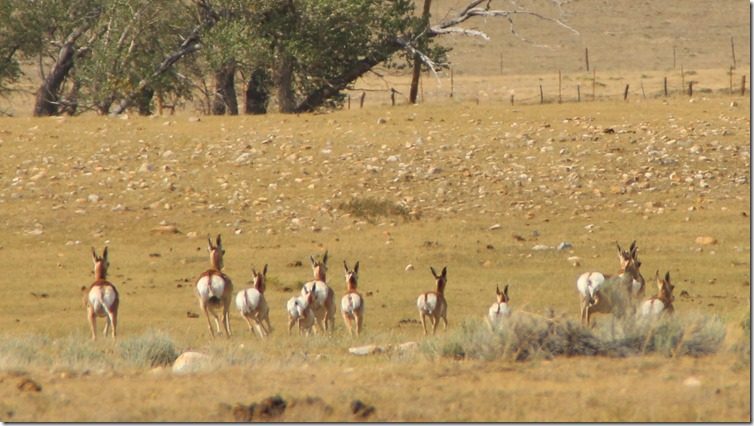 I went back after supper and dug up a reasonable number of cactus. Once you see one, then you start to spot them all around. I also located several rocks too good to pass up and made a couple of piles to come back and pick up later in the Yukon. As you can see from the picture of the pronghorns above, the ranch has rocks to spare and never misses the ones I take home with me.
And I would have dug up more plants and claimed more rocks, but the sun was setting, so I went in.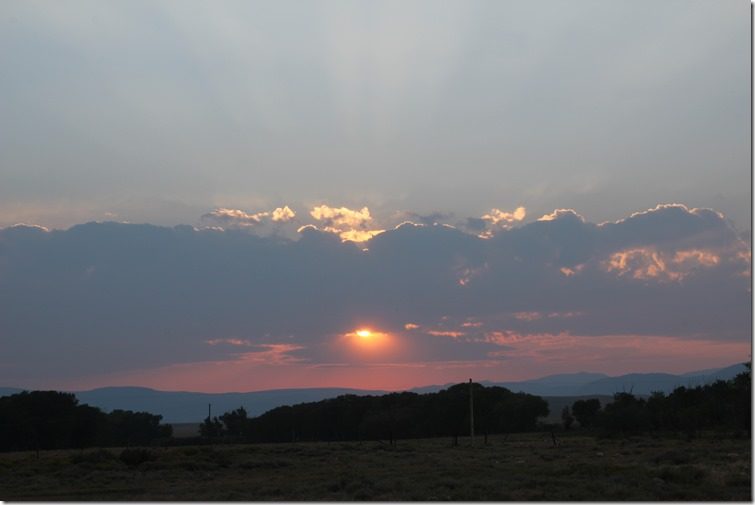 Tomorrow I get to ride and pretend to be a cowboy. Stay tuned.