Gabby Perez, Advertising Manager for the Muleshoe Journal, was recently notified that the newspaper won four awards in the Panhandle Press Association Better Newspaper contest. The winners were announced July 24th in Amarillo, and I got one of them. What a deal!
Gabby won first place for content submitted in the Advertising Initiative category in Division I Advertising Design.
The Journal itself was awarded a first place for Front Page Layout.
Gail Williams garnered a third place award for Headline Writing.
And I was given a third place award for Feature Writing! The two stories considered for this award were "Amazing Grace and Willie Mae Graves," and "Kay Graves."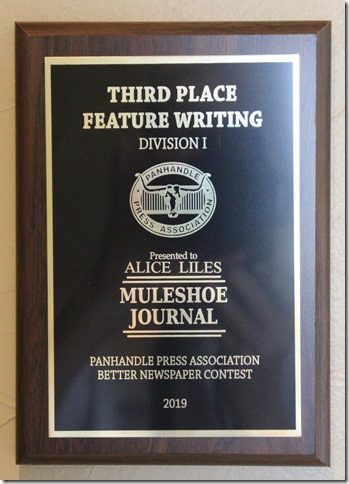 The Panhandle Press Association, based in Clarendon, Texas, is an educational, non-profit organization that strives to promote excellence in journalism. The association has fifty member newspapers in the Texas Panhandle and South Plains, the Oklahoma Panhandle, Southern Kansas, and Easter New Mexico. This year marked the one-hundred and tenth meeting of the organization.