When Family Consumer Health agent Kathy Carr and secretary LeeAnn Helton at the Bailey County Texas Agri Life Extension Service heard the Rejino brothers in Olton were taking meals to COVID patients there, they wanted to do something for virus patients in Muleshoe and Bailey County as well. So they came up with the idea of putting together a care package for those patients recovering at home or in the hospital here in Muleshoe. Kathy also saw this project as a good way to get local 4-H kids involved in community service since the virus had limited their club activities.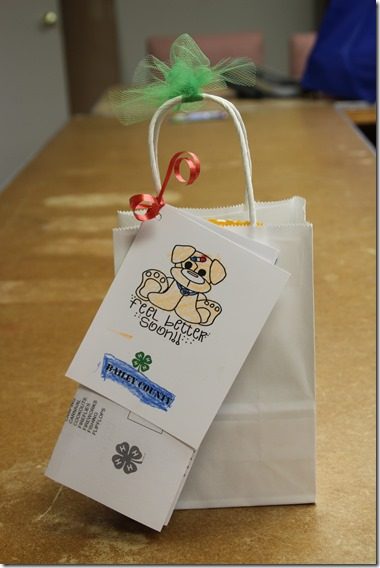 Kathy and LeeAnn gathered up items like bottled water and unused fundraiser packages of jerky at the office and invited families and local businesses to donate items they might have on hand and be willing to share. Soaps, lotions, nonperishable snacks, and bottled water started coming in. McDonald's owner Susan Credle and the Muleshoe Police Department donated McDonald's gift cards. Kathy also printed and included word searches, crossword puzzles, and things of that nature with entertainment value to help patients deal with time in quarantine. LeeAnn provided a page of educational information on the virus, sanitizing, and best practices to help stop the spread of the disease. Items in the bags change as different things are donated to put in them. The 4-H members decorate colorful get-well messages to add to each bag.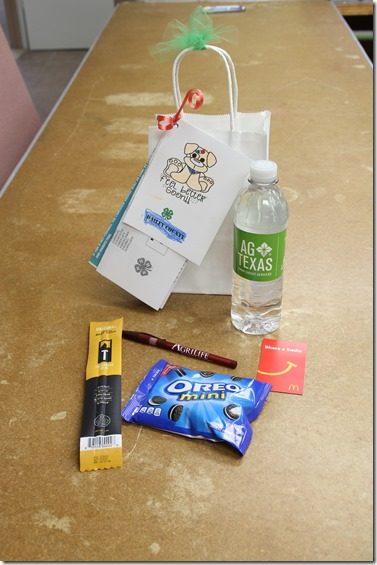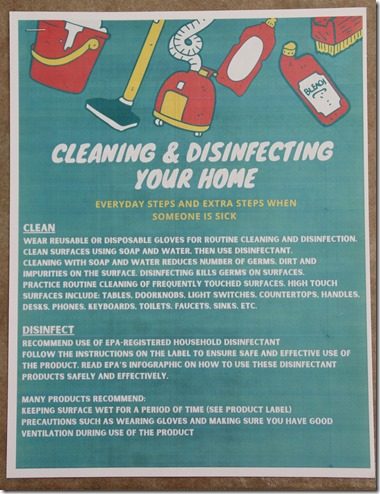 Bailey County EMS provide Kathy and LeeAnn with weekly updated lists of new patients' addresses and phone numbers only; no names are shared in the interest of privacy issues. The patients are called to see if they would like to receive a bag and are told not to come to the door when they hear the doorbell or knocking, but to wait until Kathy and LeeAnn drive away before retrieving their bag of goodies.
Kathy and LeeAnn put the bags together at the Agri Life office as they are needed. A tableful of bags were ready to go the day I visited, and they gathered up eleven to deliver that morning. I watched as they made a stop at a house whose occupant had given permission to photograph.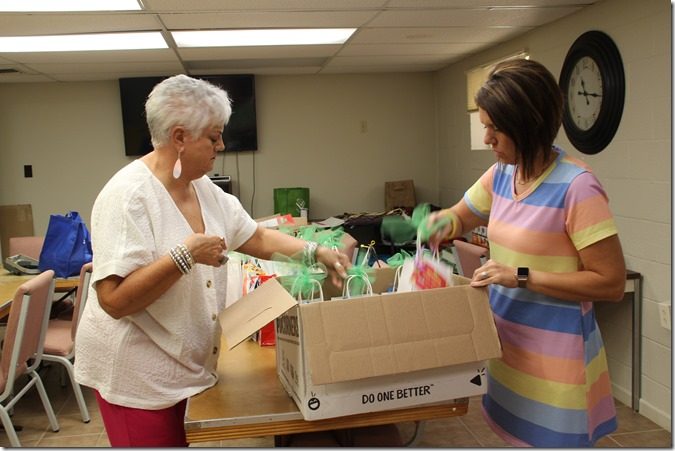 Both women wear masks and gloves for each delivery, changing gloves after each stop. Kathy says they take bags to all who want them, provided they can find the address, or aren't met by seven dogs like they were on a recent stop!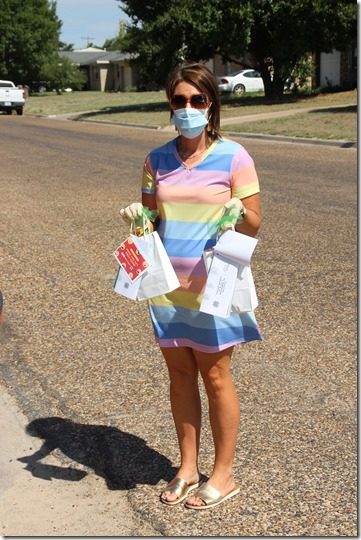 The care packages concept started on July 14th, and so far eighty-five bags have been delivered. Each ill person receives one bag during their recovery time. Grateful and happy phone calls and thank you notes have followed deliveries, which tell Kathy and LeeAnn the bags are making a difference, giving these patients a bright spot in their day and reminding them that people care about them and want them to get well.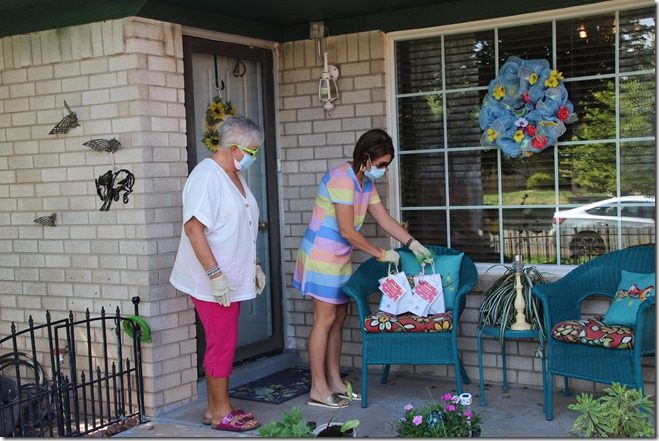 The care packages will continue as long as there is a need and items are available to put in them. Businesses, families, and individuals are encouraged to donate, and all donations are accepted and appreciated. Kathy said she would be glad to come pick up donations or donors could drop things off at the Agri Life office at 118 West Ave. C in Muleshoe, or call LeeAnn at 806-272-4583 for more information.
Thanks to Kathy Carr and LeeAnn Helton for their help with this story.