When we moved to Muleshoe in 1980, one of the prominent stores on Main Street was St. Clair's Department Store and we met many members of this extended family. As I have written stories about Muleshoe and the country club and golf course, that St. Clair name would come up again and again in one connection or another. So I decided it was time to write about that family. I talked to surviving family members, consulted Tales and Trails of Bailey County, and visited with friends and old-timers around town. This is what I learned.
It was 1930, the beginning of the Great Depression, when Irvin Lowell and Naomi St. Clair, originally from  Lipan, Texas, came to Muleshoe from Estelline, Texas, for a new life with their sons Lowell Irvin and Billy Jim. Despite the Depression, the Muleshoe area seemed to be busy and promising as water wells were being dug and farming was taking off.  They rented  a building on then unpaved Main Street, used the back for living quarters and opened St. Clair Variety and Clothing Store in the front.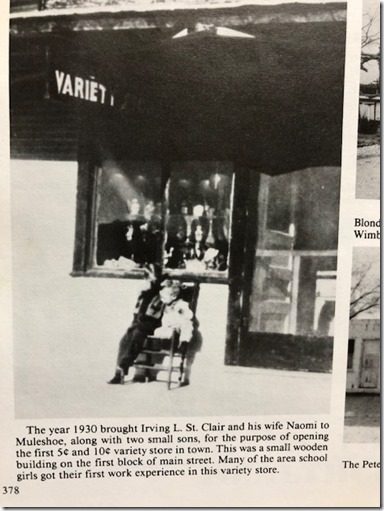 Photo courtesy of Tales and Trails of Bailey County
Back in those days, Saturday was always the big shopping day. If it was a good day, Irvin Lowell would work up an order and have it ready to mail to Butler Brothers in Dallas the next day. The family would wait at the depot for the passenger train that came through town at 2:00 pm every Sunday, and Lowell Irvin would hoist son Irvin Lowell up to the mail chute to drop in the order. The ordered merchandise would then come by train the following week, and they were ready for another busy Saturday. Because it was the Depression, bartering was an acceptable method for payment of goods, and many times on those busy Saturdays, Naomi would trade clothes for chickens, butter, and eggs.
Apparently this bartering and the actual money taken in made the store prosperous enough to enlarge in 1932, and Mr. St. Clair bought the building next door that used to be the Kennedy Bakery, doubling the size of the store and still allowing the family to live in the back. In 1937 two more lots were bought from the Fry and the Cox families. and then in 1942 a 13,000 square foot building was constructed for the store with a portion of it being leased to Cashway Grocery Store. In 1946 the grocery store moved to another location, so Mr. St. Clair remodeled the building, giving Muleshoe a new department store and a variety store.
During these years, the boys attended school, but Dad also saw to their education in other ways when he purchased a horse, a cow, a dog, and had the boys tend a garden and take care of those animals  and rode the horse all over town. Because they lived in the back of the store, they played in the alley and were sometimes referred to as alley rats, but eventually Dad built the family a real house on 7th Street, and they were no longer alley rats.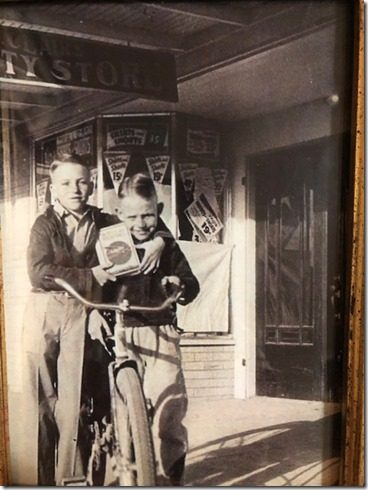 Photo courtesy of Johnny S. Clair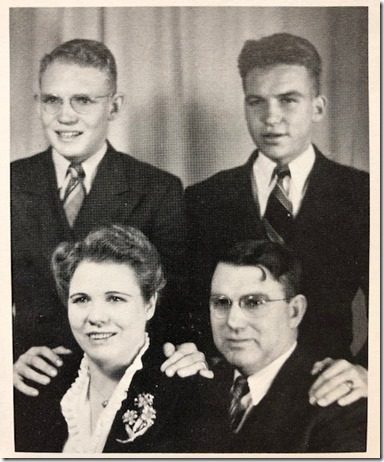 Photo courtesy of Johnny St. Clair
By 1948 Irvin Lowell decided to try something new and became interested in farming and investments. The retails stores had been expanded to Brownfield and Andrews, and it was decided that older son Lowell Irvin would manage the stores and younger son Billy Jim would do the farming.
Things were going well for the family. Mr. St. Clair became active in the community, serving as a city councilman, was a member of the Lions Club, the Chamber of Commerce, the I.O.O.F. Lodge, Boy Scouts, and the First Baptist Church. Then in 1950 Irvin Lowell was killed in a car accident.
Naomi then incorporated the stores and served as president with son Irvin managing the stores. Son Billy Jim was still in charge of the farming operations. In 1953 Naomi chose to remarry local postmaster Arnold Alcorn and continued to be active in the community as well. She was also active in the First Baptist Church, established Rainbow Girls, was president of the Muleshoe Study Club, and was an honorary member of the Lions Club. Her name came up many times when I was writing about the Ladies Golf Association at the country club because she was an avid golfer and was instrumental in forming the ladies' association as well as the building of the golf course.
But just like Irvin Lowell,  she died too soon as well, from complications during surgery for a brain tumor in 1955. This left the sons in charge to carry on the family business and farms.
Both boys were born in Estelline, Irvin in 1925 and Billy Jim in 1929. While both boys worked in the store and no doubt added to their general education from tending that garden and the animals their dad bought, Irvin leaned toward how to run a retail business and Billy Jim preferred the outdoors and farming.
Irvin graduated from Muleshoe High School in 1943 and entered Texas Technological College that fall, but then volunteered for the U.S, Army Air Corps later that year and served till 1945, returning to Tech in 1946. He met his future wife Dorothy Perry on a blind date, and after a whirlwind courtship married in 1947. They moved to Lubbock where Dorothy worked at Citizens National Bank and Irvin worked two part-time bookkeeping jobs to fund his college degree, graduating in 1948 with a BBA degree in  Management. Then it was back to Muleshoe to run the store; Dorothy serving as bookkeeper and Irvin as general manager.
Before Irvin's death in 2001 from complications of COPD, he had served Muleshoe in the volunteer fire department, the Loins Club, the Chamber of Commerce, American Legion, the Masonic Lodge, was a Shriner and a Jaycee. He was a charter member of the Muleshoe Golf Course in 1949, which he helped make a reality, and in 1955 helped organize Muleshoe's First National Bank and served as a director for more than twenty years. He was also a city councilman, pro-tem mayor and mayor, and served on the State of Texas  Panel of Municipal Leagues under Governor Preston Smith.
Dorothy was born in 1926 in Chillicothe, Texas, where she spent most of her childhood until the family moved to Littlefield in 1943. She graduated from Littlefield High School in 1944 and died in 2010 from just growing old. Dorothy's community involvement was connected to the children, Pamela, Johnny, and Kelly. She was active in school activities, Cub Scouts, Boy Scouts, Girl Scouts, the school band program, school booster clubs, and Little League, as well as civic groups, the Study Club, and the First Baptist Church.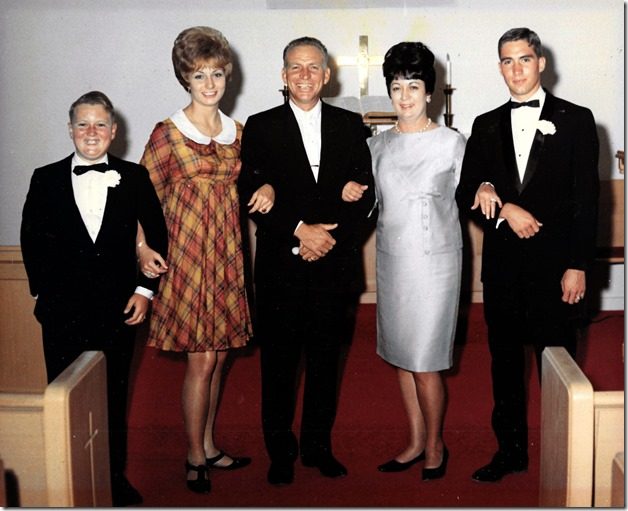 Photo courtesy of Johnny St. Clair
Billy Jim graduated Muleshoe High School and entered Texas Technological College in 1947 where he met future wife Marlene, who was born in 1931 in Roby, Texas. Her family moved around often as her dad was involved in the oil business, and she eventually graduated from Odessa High School. She and Billy Jim  were married in 1950 and lived in town in an apartment  before moving out to the farm in 1952 and starting their family, Karen, Janis, Brenda, and Tommy, who told me his birth certificate said his name was Billy Tom, but everyone called him Tommy.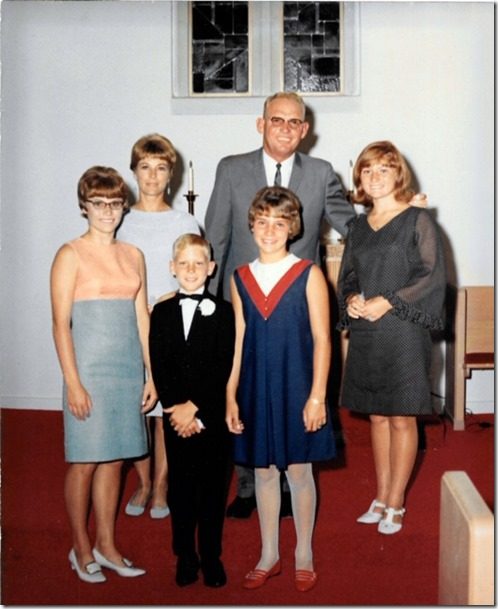 Photo courtesy of Tommy St. Clair
Billy Jim farmed until 1985 when he added a vegetable produce business, growing carrots, cabbage, and other produce along with the alfalfa and corn he farmed. He grew green beans for the Texas Prison System. He also built a small feed lot and traded horses, horses being one of his passions.
Billy Jim's other passion was golf, and I was told he was a good golfer, good enough to consider becoming a pro, and he almost did.  He, too, was instrumental in the creation of the Muleshoe golf course and served as a board member and president of the Muleshoe Country Club and president of Men's West Texas Golf Association, and along the way helped many young golfers with their careers.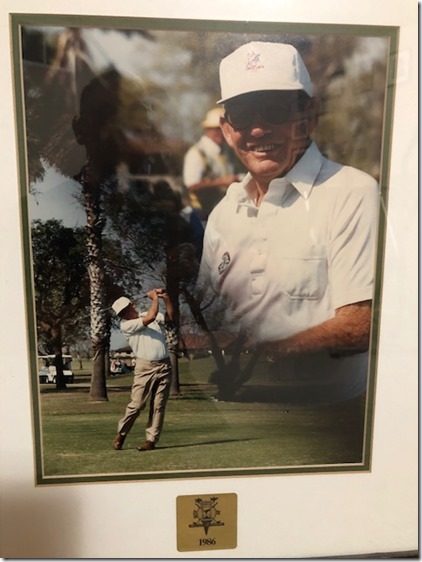 Photo courtesy of Tommy St. Clair
While Billy Jim's activities centered on golf and agriculture, Marlene was active with Girl Scouts, and cheerleading-having three girls put her in a position to be a sponsor for many years. In 1969 she even bought and provided a van known as the Cheerleading Van. Both Billy Jim and Marlene were also active in the First Baptist Church.
Like Billy Jim's parents, he and Marlene also met with untimely deaths when they died in a head-on collision in 1996 on their way to Odessa for a high school reunion.
Of Irvin and Dorothy's children, Johnny was left in charge of running the store. He and his wife Deborah moved back to Muleshoe in 1974 to manage the store, bought it in 1981, but closed it for good in 1983 after the agricultural economy was in decline and the effects of big box stores in Lubbock and Clovis hurt the business. Johnny and Deborah moved their family to Mesa, Arizona, for job opportunities there. Before selling the store, Johnny allowed the high school annual staff to climb up on the awning for this picture to go in the St. Clair ad in the yearbook. While you really can't identify the kids, it does make an interesting picture.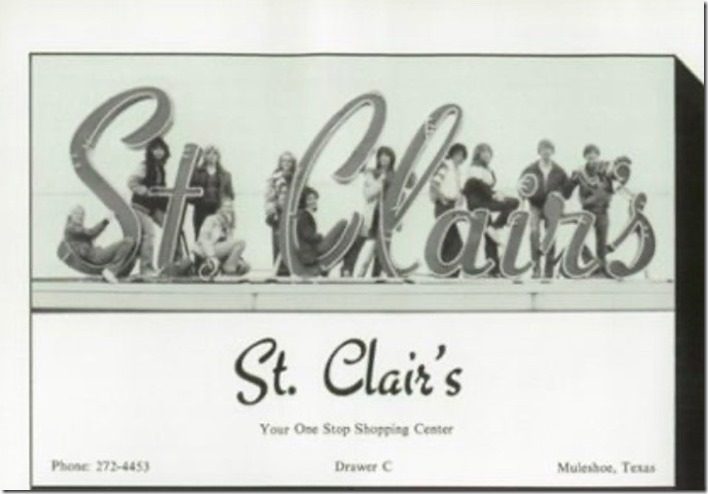 Photo courtesy of Johnny St. Clair
As a side note here, I asked about the St. Clair's store that was open in Morton when we moved here, thinking it was part of the Muleshoe St. Clair's store. I found out it was run and later owned by Irvin Lowell's brother, James St. Clair, and later managed by his son Jimmy. That store closed after the Muleshoe store did, but for much the same reasons, particularly after the Wal-Mart that opened in Levelland had a negative impact on their business.
When Billy Jim and Marlene died, Rex and Brenda had already bought the land with the white house that Billy Jim and Marlene had built and lived in,  but the four children liquidated the rest of the family property and then divided that equally. Rex and Brenda later acquired the brick house that Naomi had built on the highway.
Of Irvin's kids, Kelly died in 2012, Pamela died in 2016, and Johnny now lives in Lubbock with his wife Deborah. Billy Jim's four children are still with us, Brenda and Tommy living here in Muleshoe. Karen resides in Oklahoma, and Janis lives in Lubbock. With seven grandchildren between them, Irvin Lowell and Naomi now have forty-one great-great-grandchildren to carry on the St. Clair legacy, several of them still living in Muleshoe.
Researching this story, I learned something that most of the old-timers here already knew-that Billy Jim was responsible for all the Muleshoe people congregating at Lake LBJ for a getaway. Seems Billy Jim had his pilot's license and a twin-engine five-passenger airplane The extended St. Clair families also had a trailer at what used to be called Alamogordo Lake, now Lake Sumner near Fort Sumner, New Mexico, for fishing  and family trips. This lake would have water sometimes, but many times would not. This bugged Billy Jim because when it rained and he couldn't work, he liked to take the family to the lake, but there is not much point in going to a dry lake. A friend, T. Haley, talked up Lake LBJ, so Billy Jim flew down to take a look at this lake, the only constant level lake in the state. It looked a lot more inviting than that dry lake in New Mexico, so he took it upon himself to gather up the family trailer and move it to Woody's Fisherman's Haven in Kingsland on Lake LBJ, and then announced to Irvin what he had done. Over time other families from here heard about this lake and how much fun the St. Clairs were having, and eventually more families than I can count wound up down there, too. Most of them, or their kids, are still there, having made their own weekend homes on the lake, many at Woody's. And the St. Clairs are still there, too. We even have a place on LBJ now. Brenda said they would fly down and buzz Woody in the airplane, and he would come pick them up at a little grass air strip that I also didn't know existed.
Naomi's maiden name was Stell, and the Stell family put together a history book of their family. In that book an incident was reported that Tommy shared with me that I thought you might enjoy. Apparently Naomi spent some time in Fort Worth.  Naomi's Aunt Mary, who was going deaf and blind, was sent to live with her to make sure she was safe and things were in good order. It seems that Naomi and Irvin Lowell had married secretly at some point because there was discord between the families' lifestyles. so no one knew they were married. Now, in this living arrangement, Naomi slept on a screened-in back porch, and when Aunt Mary would go to sleep, Naomi would hang a light a certain way and Irvin Lowell would know the coast was clear for him to slip in and spent the night with her. At some point during this time, the family, including Naomi and her mom and dad, made a trip to Houston to see more of the family. Near the end of the visit, Naomi produced her marriage license and told her mother that Irvin Lowell was coming to Houston to get her. They all dreaded breaking the news to her dad who was out of the house at the time. The comment was made that Naomi was such a little girl to them, Irvin had no job or savings to start their marriage, and it was decided the family would just have to take them in. But at the end of the visit when it came time to go home and her dad told her to get in the car, she refused. Refusing Mr. Stell was just unheard of, but she did it anyway, saying that IrvinLowell would be there soon. So they drove off without her. Irvin Lowell did come, but couldn't find work in Houston, and an uncle in Estelline sent enough money for them to go to the "Golden Spread" where they lived for three years. This family history goes on to say they bought the picture show in Hadley, Texas, and lived there for six months, then lived in Memphis for nine months before moving to Muleshoe in 1930. The time spent in Hadley and Memphis was not included in the St. Clair history I came across, but it all still fits and is a fun look at Naomi and Irvin Lowell's early days.
And the Stell family's concern over no money or job for them  to start a new life?
Well, we know how that came out. I think they did just fine.
Thanks to Tommy St. Clair, Brenda Black, Johnny St. Clair, and the Tails and Trails of Bailey County history book for information and pictures for this story. More about the third generation of St. Clair families is also in the Bailey County history book.