Need something to do to chase away the coronavirus cabin fever? Wish you could do something to help people during this crisis? How about combining the two and making face masks? Bingo! That's just what Malina did, to the tune of a thousand masks and counting.
Fourteen year-old Malina Williams from Friona took sewing lessons a few months ago at Hobby Lobby. Her instructor, Chelsea Staebel, asked if she would like to help make some masks for the coronavirus pandemic, a positive way to practice her new sewing skills. So she did. When eighty masks were finished, Malina's mother, Stephanie, mailed all of them to Chelsea to deliver to appropriate health care providers in Clovis and Portales. Mom then mentioned her daughter's good deed on Facebook, and suddenly requests were coming in from people in Texas for the masks. Pretty soon a Facebook friend from Connecticut asked for some; then a request came in from Louisiana. The ripple effect on Facebook was working.
Malina is the younger, more reserved, introverted of the two Williams daughters  who does her own thing without the fanfare, the older Victoria being the more outgoing, social personality. So when Malina accepted the challenge of making these masks, parents Billy and Stephanie Williams saw a new side to her and encouraged her to continue the project.
The first masks were made from scraps Malina already had, but when that supply was gone, fabric was bought from Wal-Mart and the sewing continued. More fabric was bought, this time from Wal-Mart in Hereford, and a friend who is a tailor donated leftovers he had, some of which they could not use. The fabric needs to be 100% tightly woven cotton, and Stephanie chuckled that they have become pretty good experts at knowing the difference. Even the sewing machines can tell the difference as it goes through the process! Elastic and needles were purchased from Malouf's in Friona as well.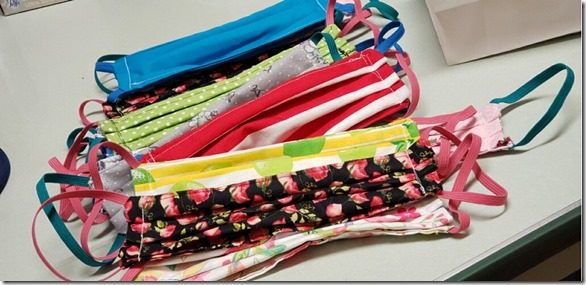 Photo courtesy of Gabby Perez
It was decided that health care workers, EMS, law enforcement, and those people on the front lines should be the ones to receive the masks. Nurses were reported to be using their issued N-95 masks multiple times, which is not the recommended procedure, and putting one of Malina's masks over them allows the nurses to use them longer.
Requests began to come in from the general public and friends, and Stephanie said it was very hard for her to turn them down. "I'd give one to everybody in West Texas, but we just can't. First responders and health care workers need them first."
And as those requests began to mushroom, Malina was a bit overwhelmed, so the family stepped in, and now it is pretty much a 24-7 Williams project. A neighbor offered the use of a second sewing machine, and an assembly line for more efficient production magically appeared. It goes something like this:
Victoria cuts the fabric and elastic.The mask requires two layers of fabric, and  Stephanie sews elastic across one set of corners of the two pieces, flips it over and does the other side. It then goes to Malina to crease the piece. She is a whiz at pleats, so she sews the pleats on both sides, trims threads and edges, and the mask is complete. Then the process continues.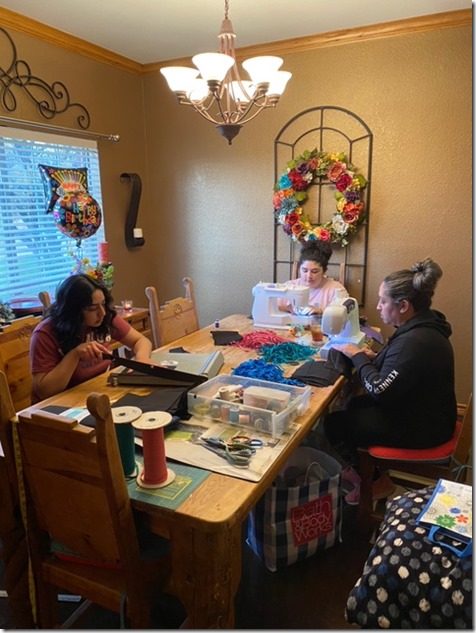 Photo courtesy of Stephanie Williams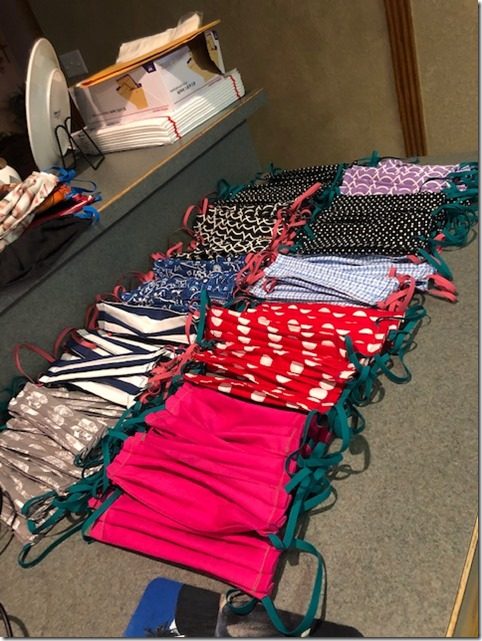 Photo courtesy of Stephanie Williams
Stephanie's work is in direct sales from home, so that has taken a back seat for now as she does her part on the assembly line in what everyone lovingly refers to as Malina's little sweat shop. Billy still goes to work at his job at Lone Star Ag in Friona, cooks dinner when he gets home, and after doing the dishes, helps Victoria with the cutting of the fabric and elastic.
If this sounds like sewing these masks dominates their life, it does. Their day starts around 7 A.M. After breakfast, Malina cleans her room, takes care of online school homework, then the assembly line forms, and the work begins. They work till lunch, then resume work and take a break around 3:30  to package and take masks to the post office, and start again. A snack may tide them over till Dad can get dinner ready, which is enjoyed before the work starts again and lasts till bedtime around 10:30. And the next morning it starts all over again.
Many days pajamas and pulled-back hair are the uniform of the day. Sitting at the dining room table all day doesn't require a lot of fancy dressing, you know.
That's a ton of intensive work, so I asked what they might do from time to time to relieve the tension. Breaks are taken to walk the adopted dogs from the animal shelter where Malina has volunteered her time. They all relax with a movie now and then and even stopped long enough to celebrate Stephanie's birthday. Victoria also fits in online work from Clovis Community College for her nursing degree.
Malina has also considered a career in health care and apparently this virus crisis has not deterred those plans. Nor has it dampened her enjoyment of sewing. I asked her if this was going to burn her out after sitting at the sewing machine so constantly, and she assured me it would not. She enjoys sewing and has made shirts, pillows, stuffed animals, and other little things. If she ever gets to stop making masks, I suspect other clothes and items will follow. She also likes the volunteering at the animal shelter, coloring designs, just about anything. I asked her what she found to be the most rewarding thing about doing this from morning till night. "Knowing that this helps someone, even if it is just a little bit, helps me in my heart to do something. They might not use it [the mask] at first, but they will be ready and prepared. It might even be a memento of this event."
Mom and Dad think it is important that their children appreciate the value of service to others; I think their daughters as well as their son who is in the Marines have taken that lesson to heart.
Here is Malina wearing one of the masks they made.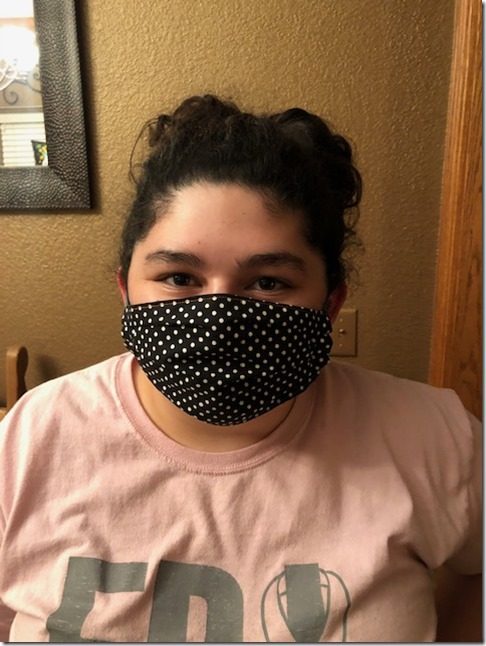 Photo courtesy of Stephanie Williams
In the beginning of all this Stephanie said she was concerned, but didn't take the virus that seriously. Then she lost a friend to the virus and the whole thing quickly became real to her. When Malina wanted to make the masks, Stephanie was ready. Some unsolicited donations have come in and a few volunteers have helped, but the masks are a labor of love and the family is not expecting anything in return  for their time and effort. This is a way for them to fill their time constructively during the shelter at home mandate.
Their masks follow an approved pattern, and no filter is added to the masks. I asked Stephanie about this, and she was adamant that they are following accepted guidelines and don't want to use a coffee filter or trimmed air conditioning filter because people are breathing through those filters, things which aren't made for that purpose and could harm the wearer. More importantly, their masks are washable and reusable; a filter inside would not allow that. She also said one of the main advantages of wearing a mask is that it keeps your saliva in your mouth, away from others, and wearing a mask has also been shown to drastically cut down on the temptation of touching one's face, something we have been continually told not to do.
Masks have been sent to health care facilities, first responders, law enforcement, nurses and doctors in Dimmitt, Littlefield, Lubbock, Amarillo, Wheeler, Plainview, Dalhart, Aspermont, Hereford, Cleburne, Burleson, Friona, Bovina, Muleshoe, and recently California and Kansas as well as the others out of state already mentioned.
How long will you keep this up, I asked? Stephanie said that as long as there is a need- and that's not going away anytime soon- and as long as Malina keeps this happy little sweat shop open, they will just keep on keeping on.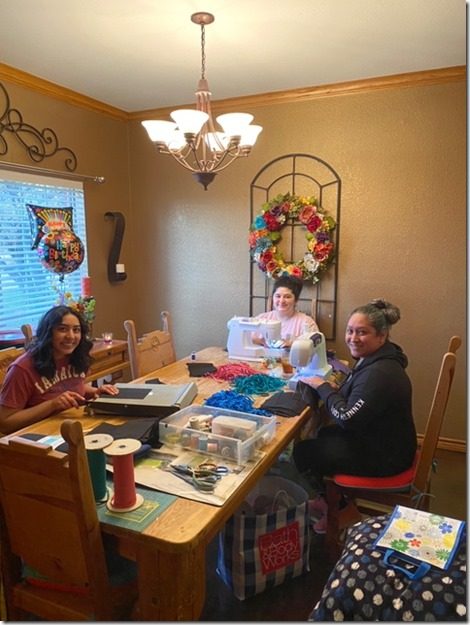 Photo courtesy of Stephanie Williams
I applaud this family who is giving of their time and resources to take a positive stand in the midst of the chaos and uncertainty and doing something about it. I congratulate this young woman who wants to do her part to help.
And if she can run her little sweat shop this smoothly, I suspect she will be successful at whatever she decides to do in her adult life.
Well done, Malina.
If you would like to try your hand at making your own masks, the pattern the Williams family is using can be found at the link below:
https://www.deaconess.com/How-to-make-a-Face-Mask?fbclid=IwAR1ASOPXaiTwGkuM8m71iEcY3na-34Te3vglxKH6vkBtscifkojuHe6KIV4
Thanks to Stephanie Williams, Malina Williams, and Gabby Perez for their help with this article.
P.S.- I discovered after writing and publishing the story that Malina is the daughter of Billy Williams, a former student of mine at Muleshoe High School, where I taught him English. What a fun co-incidence to have written a story about a former student!