I enjoyed the CTE Power Lunch so much last year, visiting with the students and seeing what they are studying and how they are preparing for life after high school, I looked forward to going again this year. And I was not disappointed.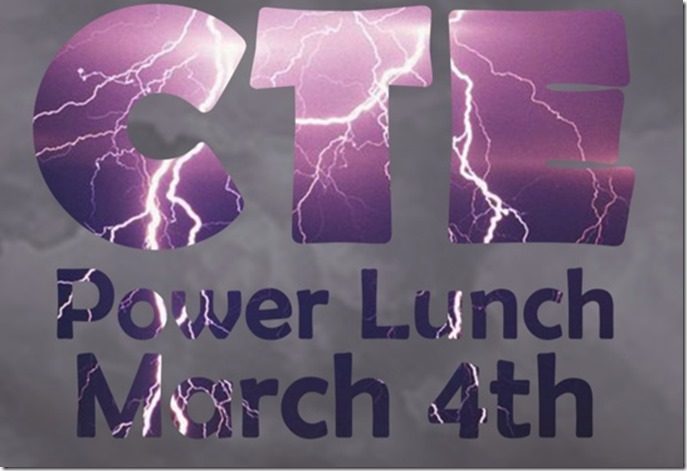 CTE logo courtesy of Suzanne King
The first group of students I visited with were at the first Agriculture, Food, and Natural Resources table: Kimberley Orozco and Ariel Gardea. This section of the Ag department works on beginning and advanced floral design. Right now these students are working on learning the business details of starting their own floral shop and designing the building itself. They were doing some floral arrangements as we talked. Kamry Cribbs is their teacher.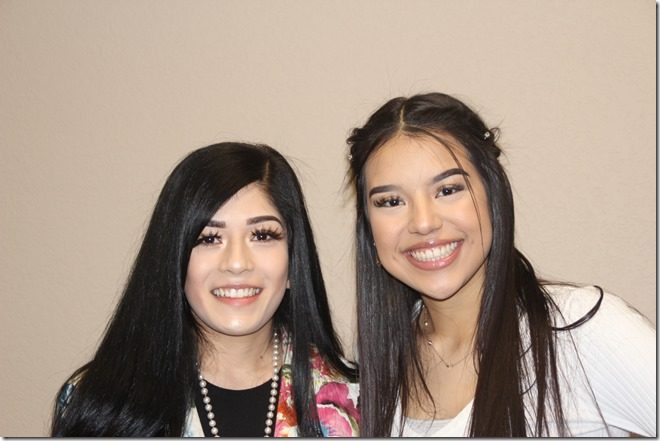 I then visited the Robotics team of Valerie Toscano, Kynton Haseloff, Keenan Puckett, and teacher Cody Johnson.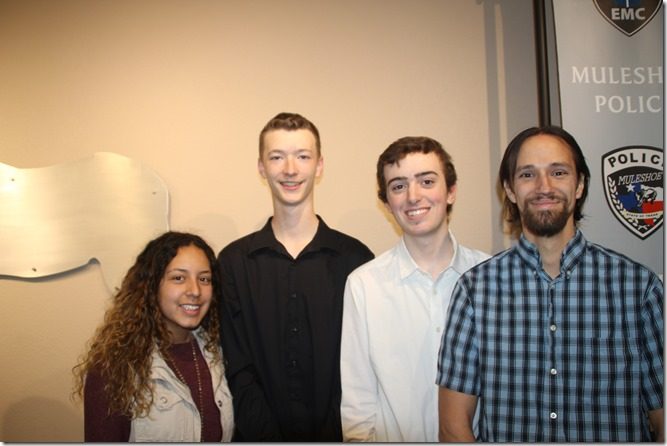 The program is only two years old, and they have made it to state competition both years and had the trophies to prove it. Not only do they have to build the robot and do lots of problem solving along the way, but they also have to write the computer program that makes the robot work.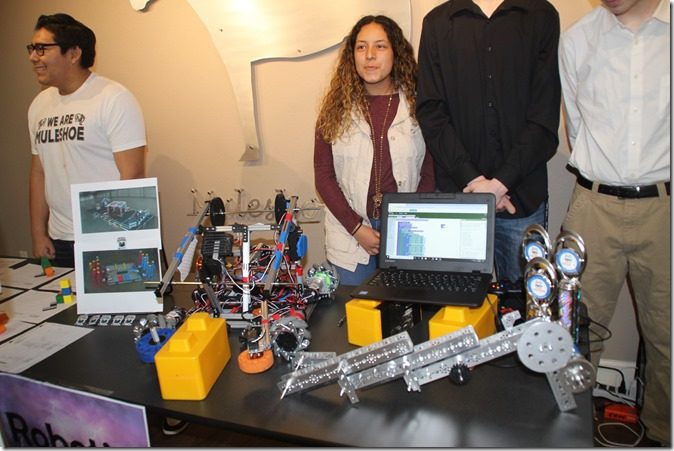 Next to the Robotics team was the Engineering Math group: Fernando Rivas, Maria Campos, and Nathan Cabrera. They were studying math as it relates to engineering and what looked like drafting to me, skills that would allow them to work in just about any field of engineering they chose. Their current project is to create the plans for their dream house. Cody Johnson also teaches this class.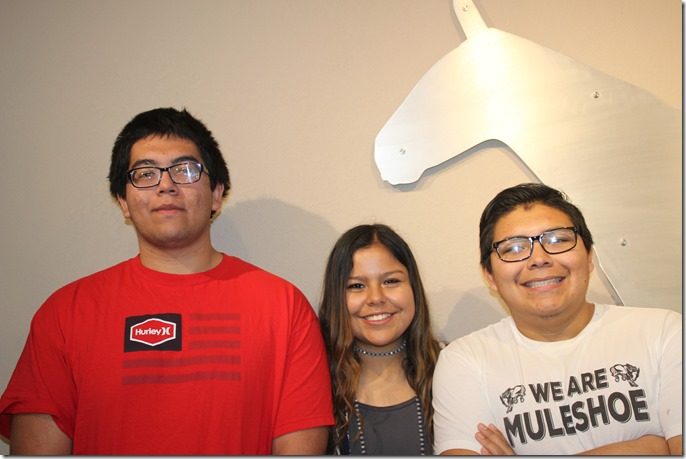 Next was another group studying under the Agriculture, Food, and Natural Resources department. Manuel Fernandez, Arturo Benavides, and Esteban Lozano were in the Ag shop class taught by Brandon Thomason, usually referred to as Mr. T, I believe. These young men were showing off their welding skills and building a trailer for competition that had a very strong wench component. At least I think that 's what I understood! They had examples of their work on display.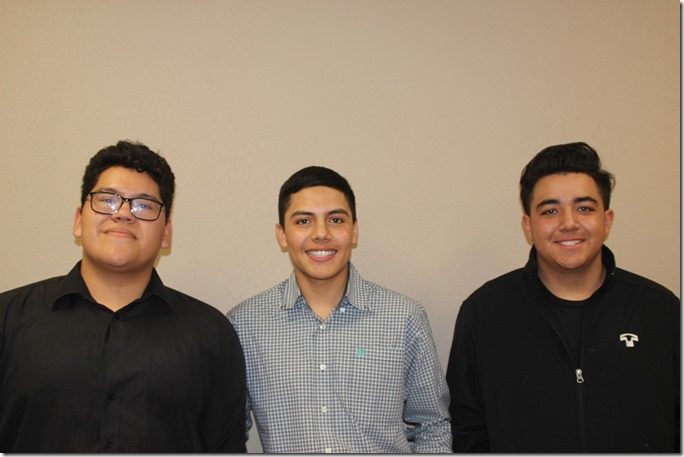 Another group under the Agriculture, Food, and Natural Resources umbrella were Katelyn Kelley and Amador Castillo who were studying for veterinary assistant certification which would also prepare them for entry into vet school if they wanted to go that route. They had just completed lab work dissecting the female bovine reproductive system and found it most interesting. They had also dissected cats and dogs, which I didn't get to do until college when I took comparative anatomy, so I was impressed. Kelsea Jones is their instructor.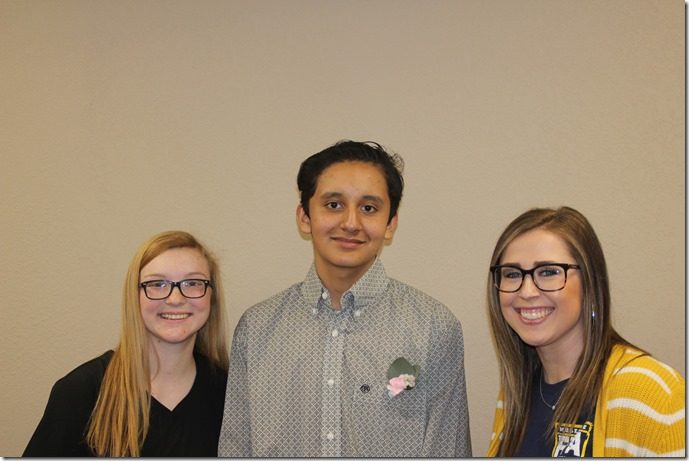 Arts, Audio-Visual, Technology and Communication was a large group that included two sub-groups which I suspect overlapped a little. LaeTitia Johnson is the teacher who is the yearbook sponsor and works with Jacob Barron, Jailyn Regalado, and Cristian Bustillos putting the book together, and Eddie Vasquez, Jacob Alfaro, and Jeremiah Barron who focus on the visual and communication components. They had some fun posters they had designed playing with teacher images in promotional displays, Mr. Gulley being prominently featured in one based on Game of Thrones. I think this entire group really had fun with their assignments!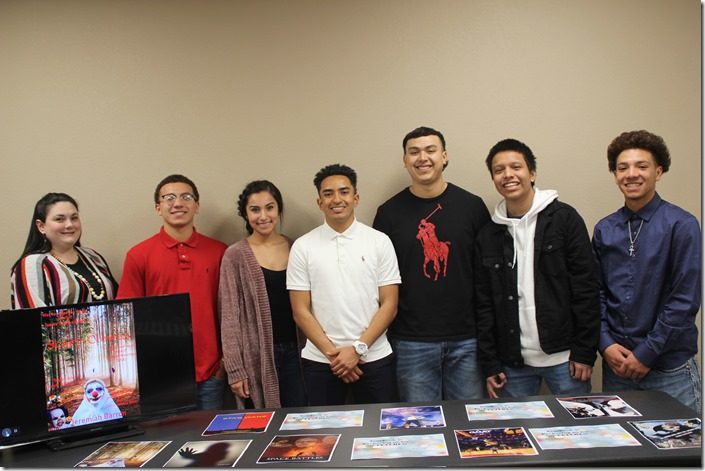 Business, Marketing, and Finance was next, taught by April Smith. Danielle Moran and Mercy Manzanales were very professional and explained all the examples they had created, things like spread sheets and Power Points that were impressive. I can barely do a Power Point! The business skills they possess make them marketable in a long list of positions in the business world.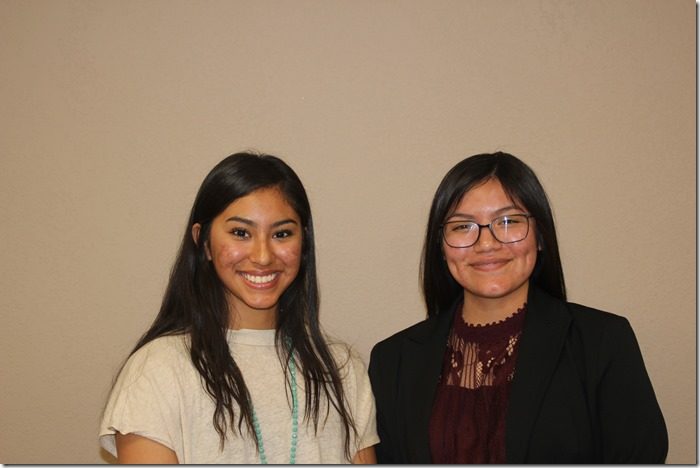 I met Leonel Belmonte, Jose Cardenas, teacher Sharon Johnson, Emili Mora, and Jillian Rojas at the Health Science table. Two courses are taught in this subject: the first year being a preparatory class getting ready for the higher level class which actually allows them to earn Health Science Certification, which leads to certification as a Certified Nursing Assistant, or CNA. Part of their study involves clocking forty hours of clinicals, putting into practice what they have learned,  at the nursing home, and they enjoy visiting with the residents when they go.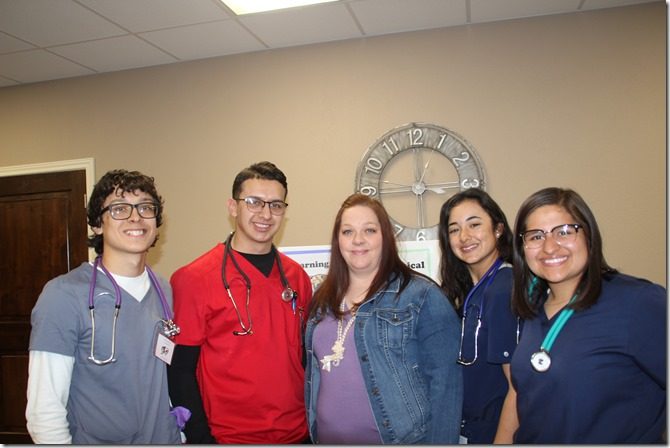 The other Heath Science component deals with medical terminology, which is crucial to success as they pursue the CNA certification. Matthew Alacron and Valeria Carreaza were working on that with teacher Lucy Garcia. This class focuses on prefix, root, and suffix mastery and other book work that prepares them for the hands-on work in the CNA class. Both Health Sciences classes help prepare students to pursue other medical careers besides nursing if they choose to do so.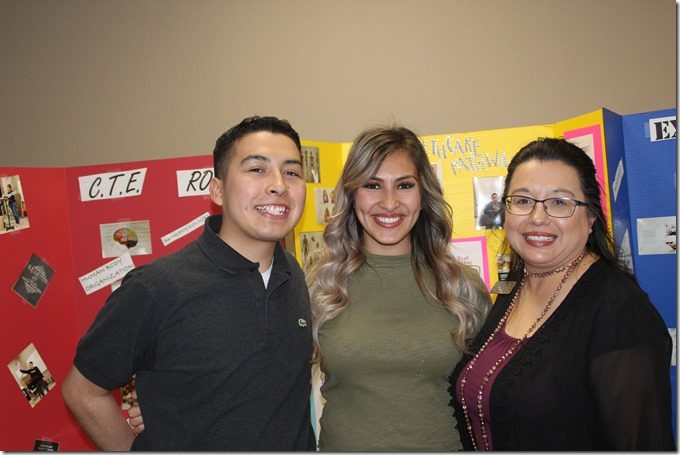 Next was Education and Training, which prepares future teachers and is tied to the Grow Your Own grant awarded to MHS by TEA (Texas Education Agency) to encourage local students to enter the teaching field and perhaps come back to be teachers in the MISD system. Makayla Toscano, Brayan Hernandez, and Jordan Zapata have already served as teachers' aides at all MISD campuses so they can get a feel for working with students of various ages to help them decide what grade level they would like to work with, a big boost in planning the area they want to major in when pursuing certification. Val McCamish is their teacher.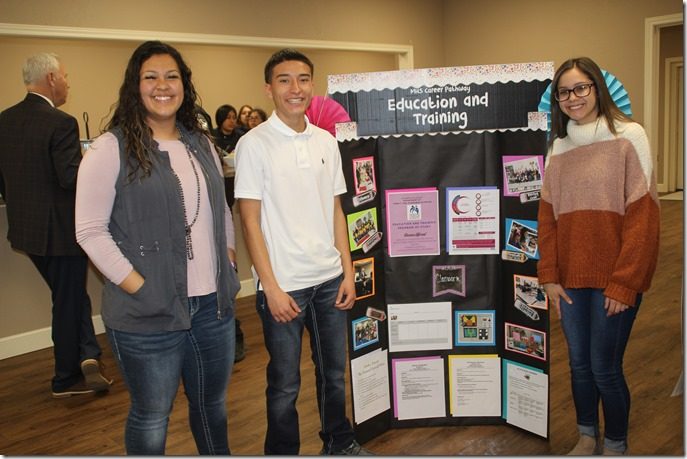 Family and Community Services Class is also taught by Val McCamish and focuses on community volunteerism. Ivette Avila, Mario Melendez, and Yismeray Sanchez are involved with community projects like Meals on Wheels, SnakPak4Kids, Food Pantry, and preparing food for events like the Chamber of Commerce banquet. Their classwork is a branch of FCCLA-Family, Career and Community Leaders of America-and they qualified to go to state in Dallas later this year for their work in that class. LifeSmart is another branch and that group is headed for Washington D.C.They told me delivering for Meals on Wheels is the most gratifying thing they do, but they like it all.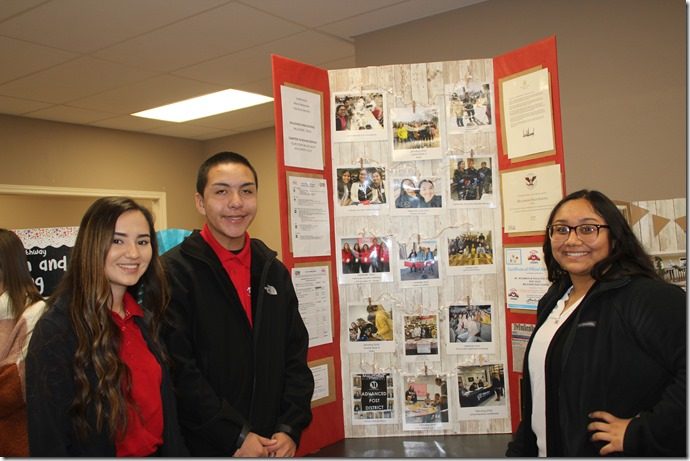 Principles of Human Services was next.  Nevaeh Herrera, Ashlyn Anguiano, Delaila Hernandez, and Desmon Garcia said their focus is to give back to the community under the heading of Community Services, like when they provided snacks and meals for MISD staff, including bus barn employees and also helping with Meals on Wheels and other community endeavors. Under Principles of Human Services they learn infant care and taking care of themselves, life skills, if  you will. I wonder if some of their studies would have come under home economics when I was in school. Val McCamish also teaches this class.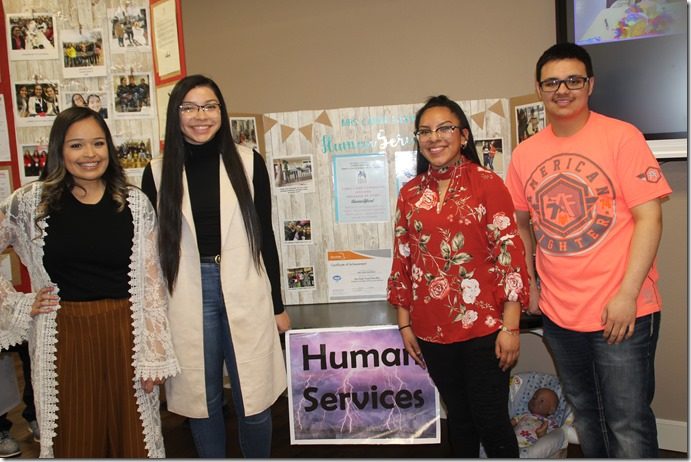 The idea that started the Power Lunch was to turn the tables on the students. Along with career day where careers and opportunities are presented to the kids, let the kids showcase skills they are learning so the businesses in town can see what they will have to offer after graduation. Students who manned the tables today were only a representative sample of students taking these classes; the rest were at school studying in the classrooms. Next year others will get a turn presenting to the public.
Career and Technical Education is, to me, anyway, a technical upgrade on what we used to know as vocational education and is one component of recently revised graduation requirements in the state of Texas that took effect in the 2014-15 school year.  CTE provides academic and technical skills to students in five endorsement areas which in turn qualify and prepare them to attend a four-year college or a two-year junior college. Research shows that students who complete CTE courses during their junior and senior high school years are more likely to graduate on time and less likely to drop out of college than students who do not take CTE courses.
I was greeted by smiling, enthusiastic, articulate students who were eager and prepared to share what they were learning. And I enjoyed talking to them so much that by the time I made it to the end of the displays, I almost didn't get to eat! Some of Mrs. McCamish's classes had prepared lovely food for the occasion. Students from the floral design classes had made pretty centerpieces for the tables set out where the visitors could sit and eat, and by the time I sat down, the food was getting low, and they were just about ready to put things away and get back to school.
A rotating advisory committee oversees the program. This year's group includes these school, community, and business leaders: Abby Manes- First Baptist Church; Amy Melendez- Bailey County Electric Cooperative; Andrea Alfaro- Muleshoe Chamber of Commerce; Jeff King- Bamert Seed; Ashley Turnbow- Eevolve; Joel Hettinga- North Muleshoe Dairy; Carina Reyes- Muleshoe Economic Development, and MHS CTE Department members: April Smith, Valerie McCamish, Brandon Thomason, Kamry Cribbs, Kelsea Jones, LaeTitia Johnson, Sharon Johnson, Lucy Garcia, and Suzanne King.
Things have changed considerably since I was in the classroom at the high school, but I was impressed with those changes and what opportunities the kids have now in addition to the good old reading, writing, and arithmetic. The future looks good for these kids. The circle of life does indeed continue.
It's a great day to be a Mule.
Thanks to April Smith and Suzanne King  for their help with this story.
For more information about Career  and Technical Education, endorsements, and graduation requirements, contact Suzanne King at 806-272-7302.