I was given the opportunity to ring in 2020 in a personal and creative way last night by not only ushering in the new year but also celebrating the beginning of a new life with the marriage of Caleb Wood and Chandler Barnes as the clock struck 12.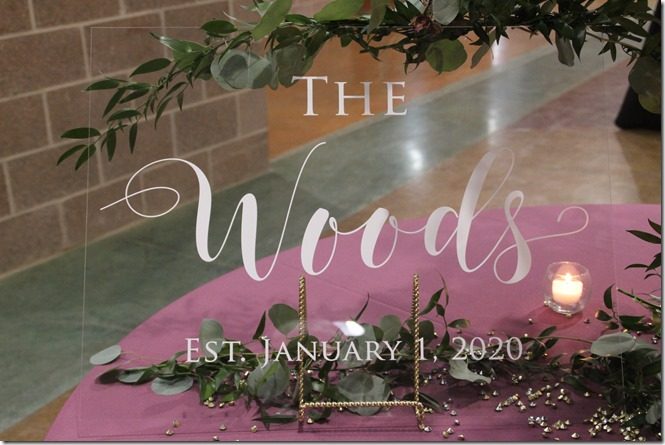 Photographer Kennedy Kinder took this official picture before the guest arrived.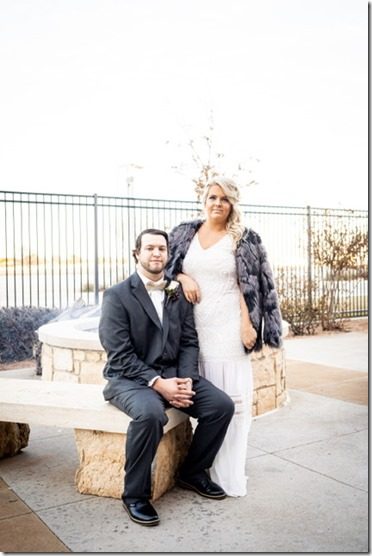 Photo courtesy of Van Voris Media
The party was to begin at 7:30 on December 31st at the Mallet Event Center in Levelland with dinner and dancing, followed by the late night ceremony which would end with the final vows at the stroke of twelve, perhaps a long night for those of us who have seen our share of New Year's celebrations over time. But it sounded like a fun experience and a fitting way to begin the New Year, so Eileen Morton and I braved the cold and drove to Levelland to cheer Caleb and Chandler on for this beginning of their marriage.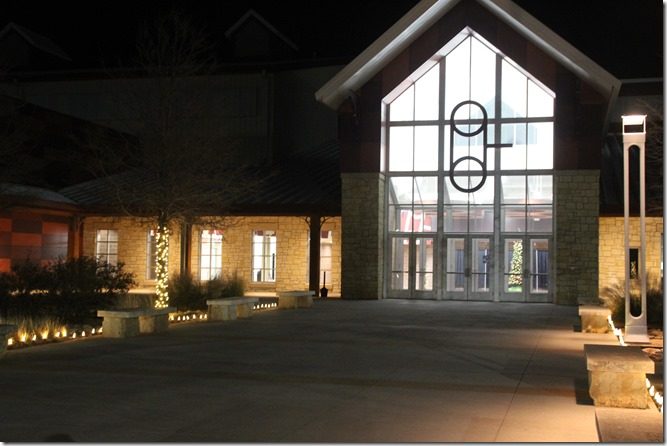 When we arrived, guests were visiting and gathering in the main banquet hall, which was decorated appropriately in a mix of wedding and New Year's Eve by Andrew Tucker of Tucker Floral in Lubbock.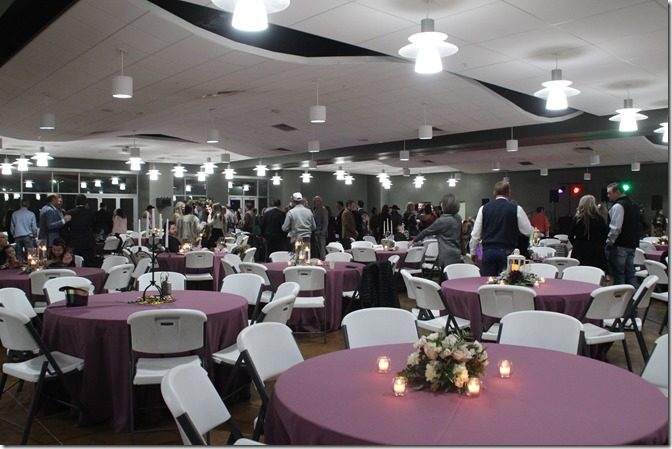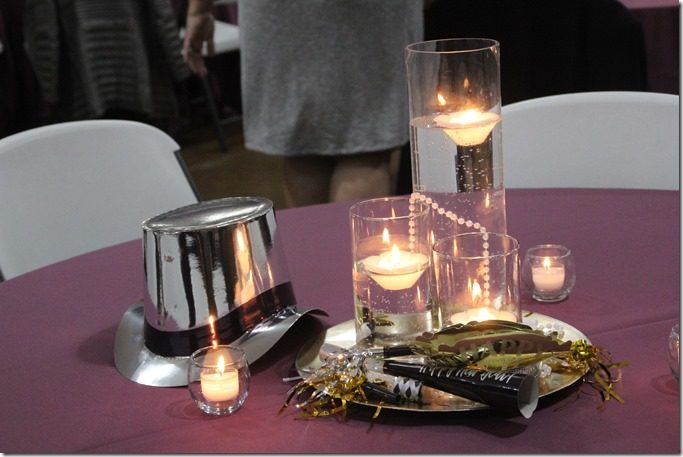 The meal of tossed green salad, grilled steak, lemon chicken, scalloped potatoes, green beans, and rolls was catered by River Smith in Lubbock.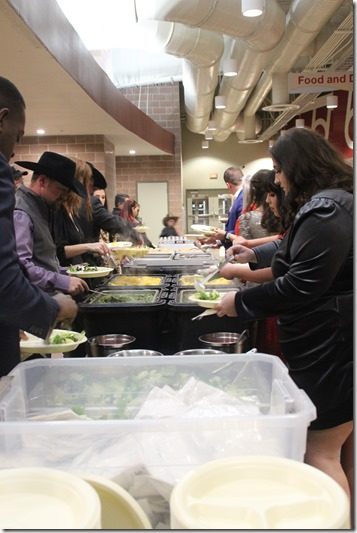 At most weddings, the ceremony comes first followed by the meal and other traditional wedding activities. Well, this was not your traditional wedding! So starting with the meal being first, which was blessed by Pastor Russ Ponder from Farwell, everything following it was backwards to what you might expect. As people were finishing their meal, both of Chandler's sisters spoke. Then best man Chris Cage and brother Wes Wood delivered a message. And then they cut the cake! Mixed nuts, various flavors of cupcakes and great punch were also served. It all happened so fast, I wasn't ready and didn't manage to get exactly the cake-cutting picture I wanted, but you get the idea.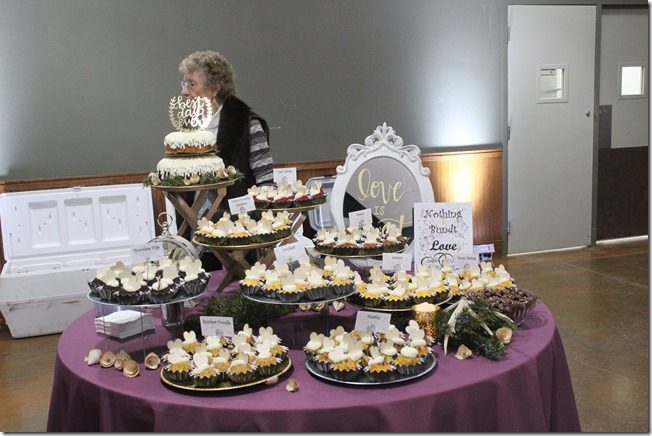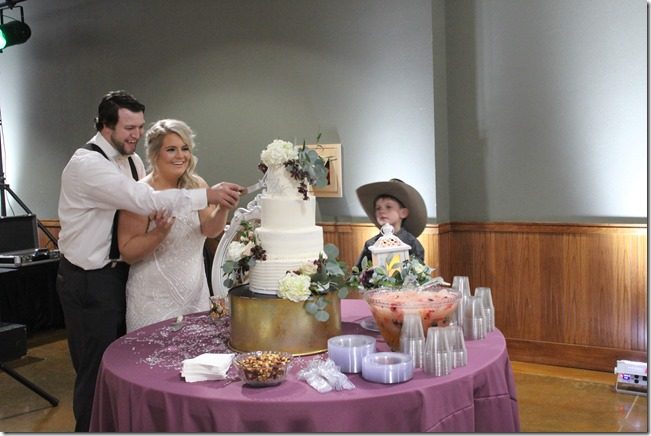 I caught the groom's mom and dad as they enjoyed watching the first bite of cake the couple shared.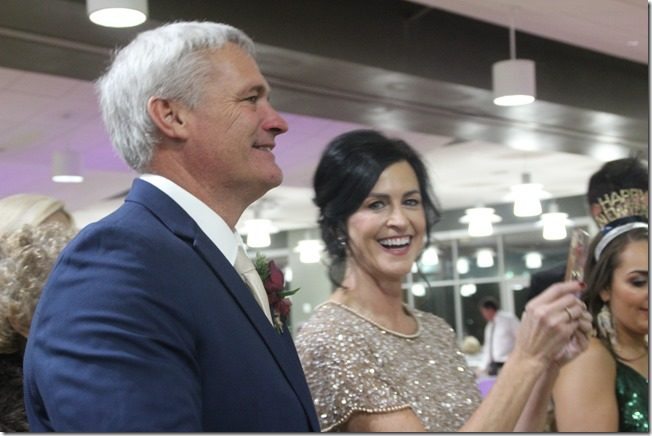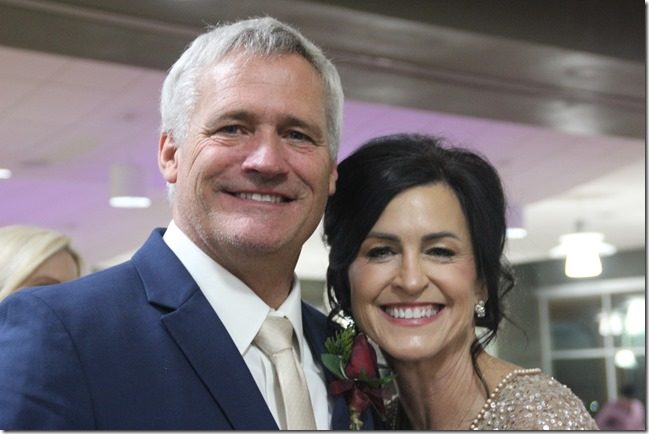 While we lapped up the cake, Caleb and Chandler had their unofficial first dance. I say unofficial because they weren't actually husband and wife just yet, but as I said, everything was backwards, so there you go!
I believe this is when there was a break in the backwards schedule of events, and while several line dances and country dances followed, I went looking for names and details of how this midnight adventure all came about. I was told to ask Chandler's mom for the information, and she wound up suggesting I just talk to Chandler herself about all that. So Mom went for Chandler who graciously left her own party to talk to me, and then she realized it would just be easier for her to write it all down. And bless her heart, she dove right in.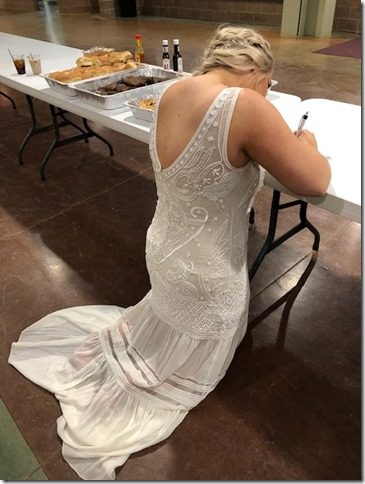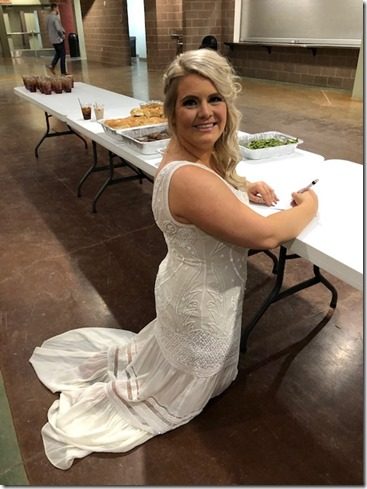 When she finished her list, I asked how they came up with the idea to have their midnight wedding. She said she had wanted to marry this coming summer, but Caleb didn't want to wait that long and suggested they start their new life with the new year, all fresh and fun. They picked the Mallet Center because it was a good halfway location between Lubbock, Muleshoe, and Farwell for friends who would be coming. It didn't hurt that her grandparents who live nearby in Sundown were familiar with the place and recommended it. People are always looking for a party to celebrate the New Year coming in, so here was a ready-made party with an ulterior motive-a wedding!
I also cornered her mom and dad, Doug and Amy Barnes, while we were talking and got this nice shot of them.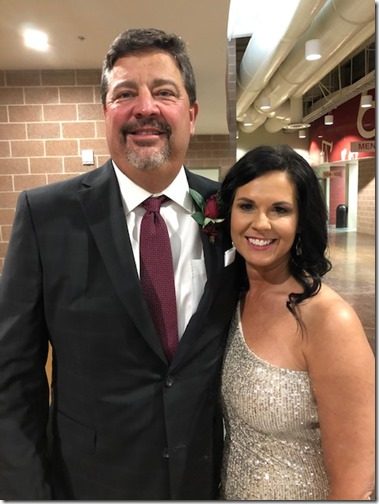 More dancing followed and the next tradition they enjoyed was the throwing of the bouquet, which I wasn't expecting and missed a good shot, followed by the tossing of the garter, and I didn't do well on that, either. Caleb's oldest brother Tyler caught the garter and Chandler's younger sister Karson came up with the bouquet.
DJs Bo Garza and Gage Brockman supplied a variety of music for the dancers, and while Eileen and I didn't dance, we did sing along to the music and got a kick out of the kids dancing, particularly when they got fired up with that old classic, "You make me wanna Shout, come on now, Shout!" which of course Eileen and I knew from our younger days. But I just had a good time watching that one; no picture was taken.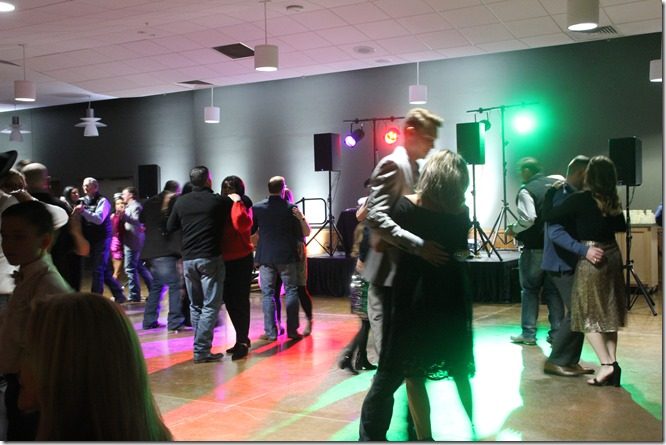 Around 11:30 the music stopped, chairs were casually  rearranged, a flowered arch was moved to the center of the room, Chandler added her veil and gathered up the real bouquet from a vase on a front table, and the main event was about to begin. The groomsmen, Chris Cage, Colten Harris, Wes Wood, Tyler Wood, Troy Holdman, Logan Harrison, Ray Martinez, Logan Caddell, Nathan Stanford, Land Wood, Ky Caddell, Jaxton Wood, all entered from the right of the arch.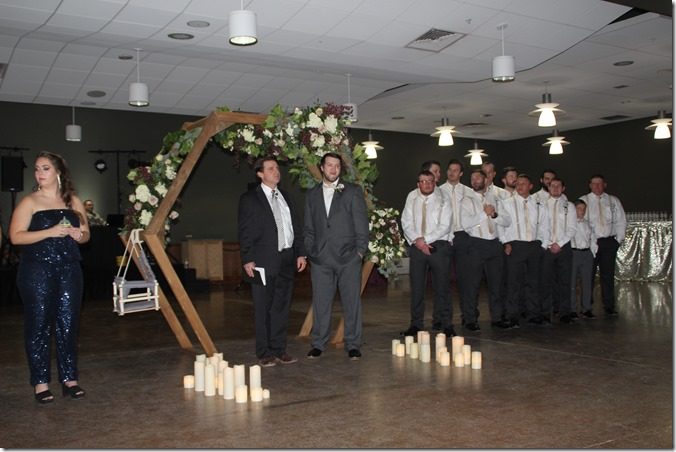 The bridesmaids, Kenlea Barnes, Karson Barnes, Emily Dalton, Kaitlyn Fields, Laney Furgeson, Lacey Hutchins, Brandi Woods Caddell, Mika Wood, Whitney Stanford, Destiny Dennison, Cierra Armes, Miranda Dennison, entered from the left.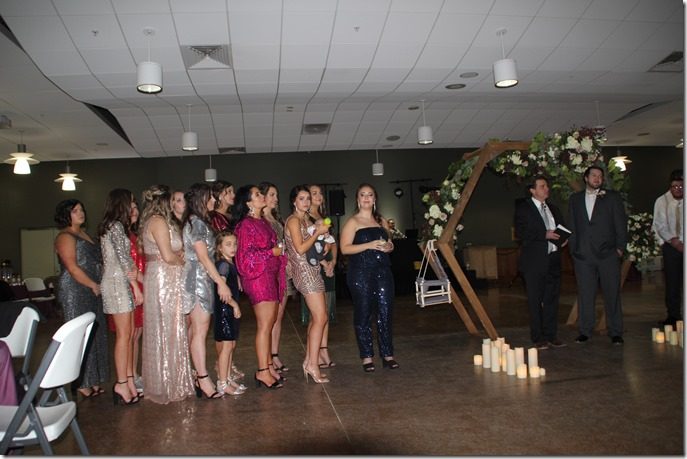 The stage was set and Chandler and her dad came down the middle aisle that had opened up.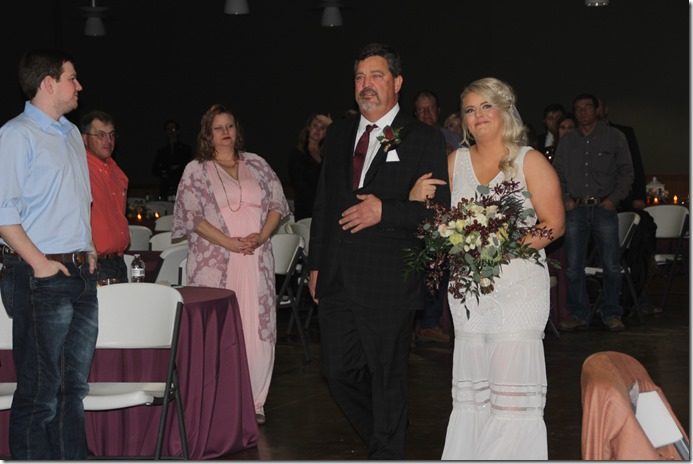 Ryan Williams, a friend who had watched Chandler "Bing," as he delighted in calling her, grow up, officiated. He said a few words, read some scripture, and the kids read the vows they had written, Caleb getting emotional with his heartfelt vows, and Chandler using apropos football analogies in her vows. After a few more comments, the clock finally ran down, and they were pronounced husband and wife at the almost strike of twelve. The anniversary will be easy to remember: January first every year.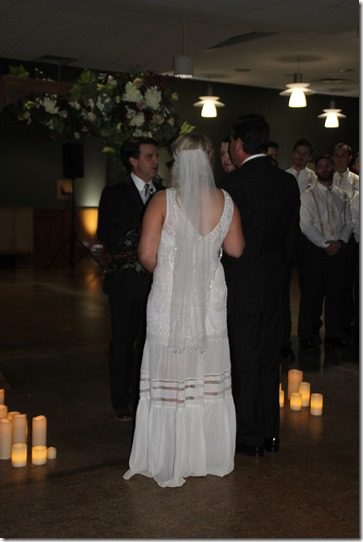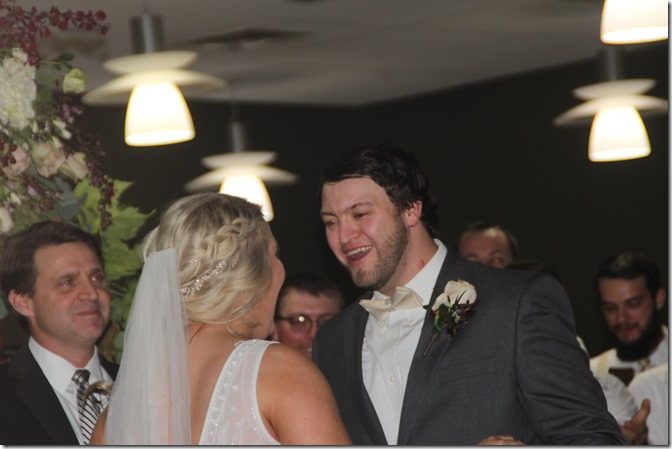 All the wedding party followed the new husband and wife down the aisle. It was a happy occasion.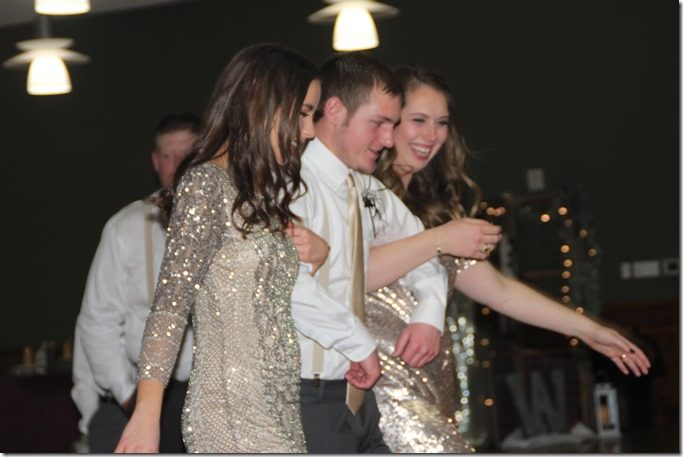 Tiny champagne bottles marked with the couple's name and wedding date filled with bubble liquid and sparklers were handed out, and everyone gathered outside to see the couple off. It was the dead of dark night and New Year's Eve; what could be more fitting than sparklers to mark the way.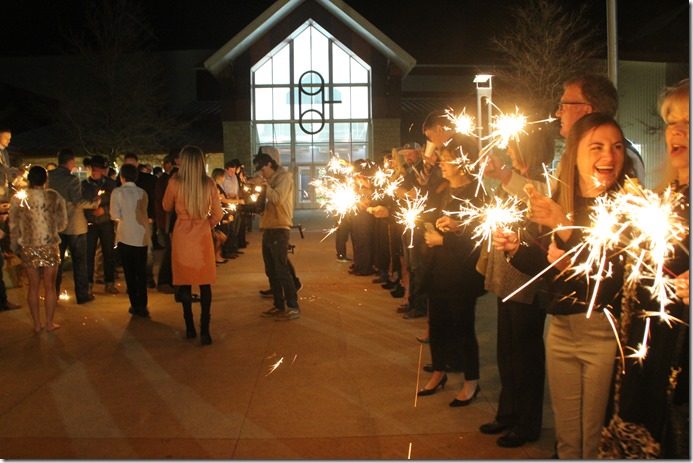 Alas, I wasn't quite ready for this shot, either, but again, you get the idea.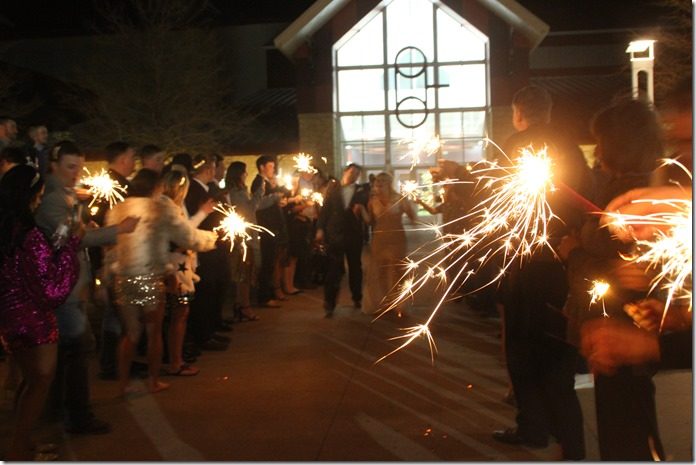 This was pretty much the end of the party. It was cold as gee-whiz golly, so Eileen and I bolted for the car and headed for Muleshoe. I dropped her off by 1:10 am and pulled into my driveway by 1:20 am, not a bad bedtime for these two old women. We had a good time and were glad we were there to witness this innovative approach to a wedding.
Despite the late bedtime, I was even able to get up at 7 later that morning and make breakfast of black-eyed peas, ham, and biscuits to guarantee good luck for the coming year for my husband and me.
New Year's Eve wedding, black-eyed peas: a positive way to start the New Year, I  must say.
Thanks to David and Jody Wood, Doug and Amy Barnes, Chandler Barnes Wood, and Kennedy Kinder for their help with this story. And thank you, Caleb, for putting us on the guest list!