In 1984 Shelley Sain, Alan Finney, Barb Seaton, Jeff Hagis, Chris Hernandez, band director Anthony Gibson, and the rest of the Muleshoe High School band competed for honors and the right to go to the UIL state marching contest. The Mighty Mule band placed third; only first and second place got to go to state.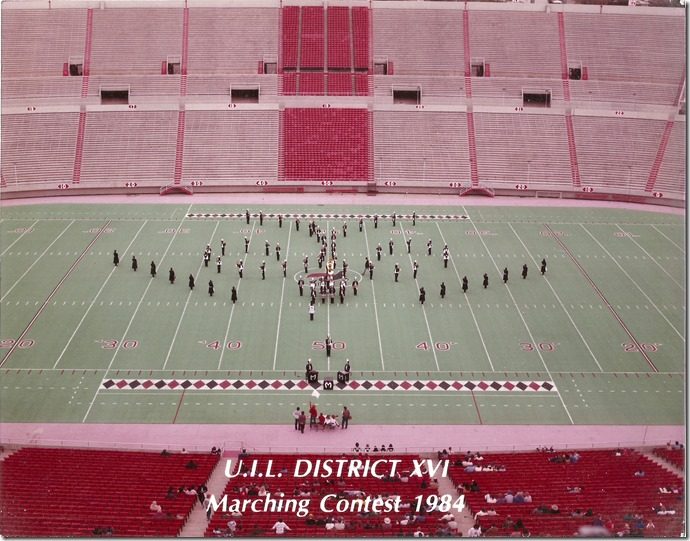 Photo courtesy of Shelley Thornton
But this year, 2019, on November 5th, Shelley Sain Thornton led the Claude High School marching band to the Alamo Bowl in San Antonio to compete with nineteen other class 1A schools for the state title. They garnered a 4th place designation, but for a marching band that competed against larger band programs in the past and had to deal with six-man versus eleven-man football playing field markings, this was as good as first any day. Alan Finney, Jeff Hagins, Barb Seaton Meyers, Chris Hernandez, Anthony Gibson- they were all there in spirit, and, as Shelley laughed and said, "It only took 35 years to get there!"
Shelley Sain played flute for Anthony Gibson back in the day. She was also the drum major her senior year when the Muleshoe band competed at that state competition 35 years ago. She said Mr. Gibson always made band fun. He even had a sign in the band hall that reminded everyone, "Band is Fun!" And it must have been, because she went on to graduate with a degree in music education from Texas Tech University.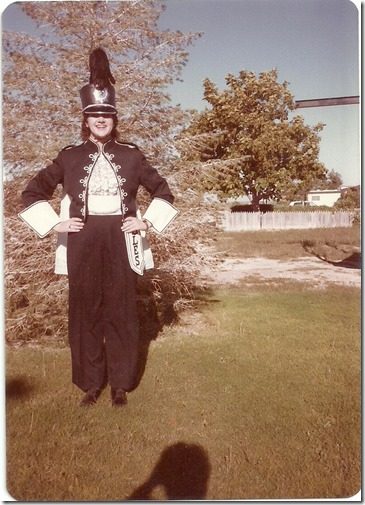 Photo courtesy of Shelley Thornton
After college graduation, she served as assistant band director in Borger for two years and decided to take a few years off, moving to Amarillo where she worked for Wal-Mart as district manager of the jewelry and shoe departments. Then she married husband Les and children Cole and Callie came along, as well as a move to Claude where she went back to teaching music. She now teaches elementary music pre-K through 5, the beginner band at junior high, and serves as the high school band director. "I am the music department in Claude!" she laughed. And this means that these kids have been in Shelley's classroom or band hall since kindergarten, so they love band and their teacher, an advantage on both sides.
Up until two years ago, Claude ISD played eleven-man football. Enrollment dropped, and the school found itself playing other small schools that also played six-man football. This also meant that the band would be competing against smaller band programs as well, which meant the playing field, well, in this case, the marching band playing field, now put Claude on more equal footing with their competition. When the school was still big enough to field an eleven-man team, their rival schools tended to be bigger and the band programs were also bigger. With the change in their UIL classification, Claude was the no longer the David in the David and Goliath band contests, according to Shelley.
The football change meant the football field had to be marked differently, creating a problem because state band contestants must march on a field marked for eleven-man regulation football: 100 yards-long vs. 80 yards; 53 and a third-yards wide vs. 40 yards, with different hash marks. It could get confusing. So with the football field downsized, the band practiced on an appropriately-marked parking lot. Shelley would then gather them up and haul them to practice on the fields at Amarillo, Bushland, and Panhandle. Mr. Gibson was miles away in Allen, Texas, where he had served as band director for many years before retiring, so he helped by critiquing practice videos and talking to Shelley on Facetime. Friend and fellow band director Cody Meyers, who also served as director of Fine Arts for Amarillo ISD for twenty-one years before retiring, came over and worked with the band.
Cody certainly had faith in what miracles Shelley could pull off and was most complimentary of Shelley when I talked to him. He mentioned her dedication to her students and her passion to do the best job for them. He said she was the kind of band director every parent would want for their child. What has impressed him this last year is her continued work to learn how to be a better teacher and director and the faith she has in her students.
All the hard work paid off. The band marched in the preliminaries against the other nineteen qualifiers and advanced to the finals. Shelley's family was there to share the excitement with her: son Cole; husband Les; daughter Callie; and Shelley's sister Debbie. Shelley's mom and dad, Walt and Rose Sain, who have passed on, were there in spirit cheering her on just like her old classmates were.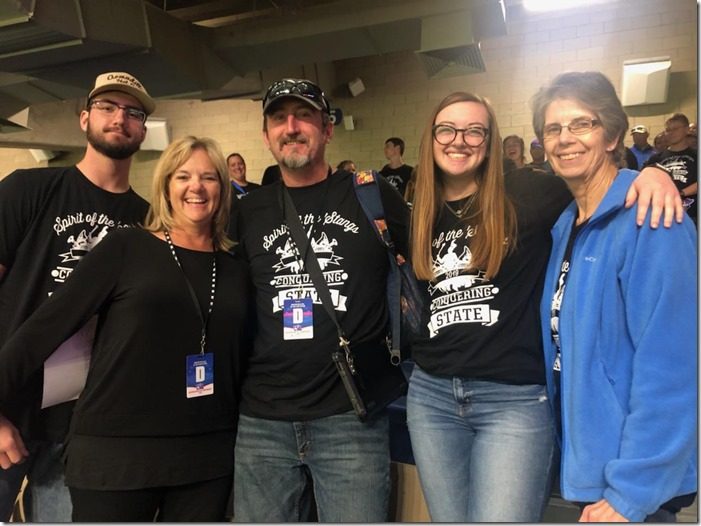 Photo courtesy of Shelley Thornton
Conquest, music written by Luke McMillan, was the name of their winning show for contest, and was befitting of their motto for the year, We are the Conquerors. Shelley said this music selection would show off their brass section, but it also highlighted their resolve to fight for what they wanted.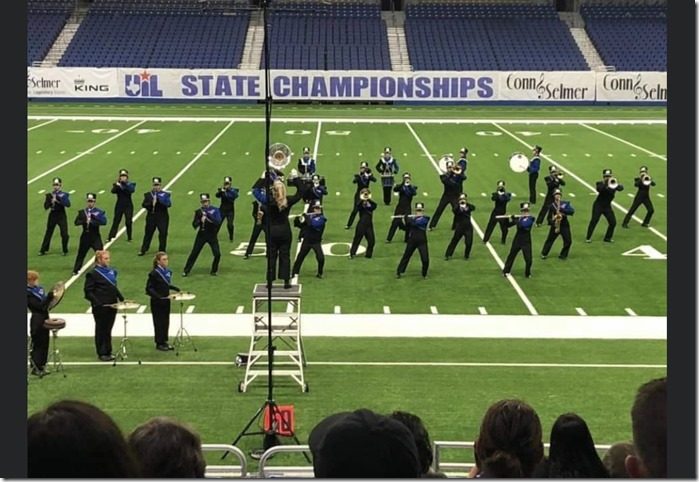 Photo courtesy of Shelley Thornton
The band marched, the results were in, and fourth place was the result.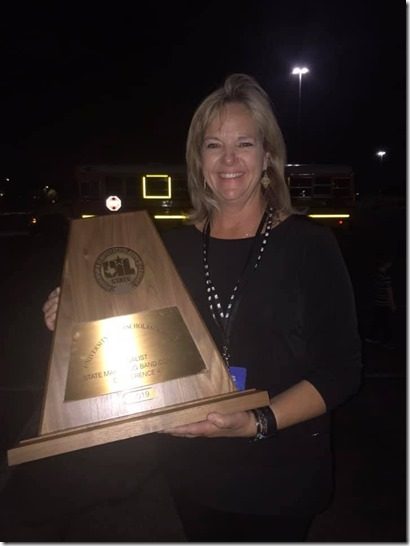 Photo courtesy of Shelley Thornton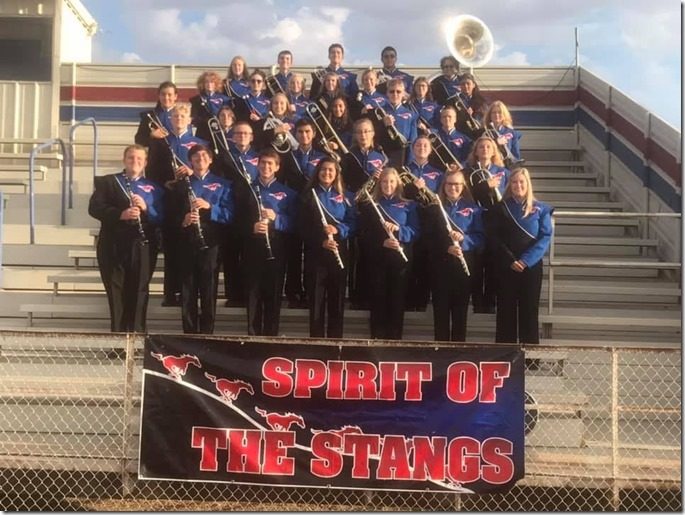 Photo courtesy of Shelley Thornton
Just like in most small schools, students are involved in multiple activities. These band members are no different. Trombone player Luke Stockett qualified to go to Indianapolis, Indiana, for FFA National Finals. He went, his Farm Business Management team won 5th, and then he drove home all night to march the next day. Snare drummer Alyssa Higgs marched in the contest and then drove to Round Rock to compete in state cross-country, where she placed 20th, no small feat in itself. The point is, these kids are dedicated and want to do the very best they can.
So, next year perhaps the motto could be:Today, Claude; Tomorrow, the World!
Good job, Shelley. You and your band have much to be proud of.
Thanks to Anthony Gibson and Cody Meyers for their help with this story. And thank you, Shelley, for sharing your life with me.