In 2015 Foodways Texas honored Irma Leal with a Lifetime Achievement Award for her contributions in preserving and celebrating the culture of Mexican food in Texas.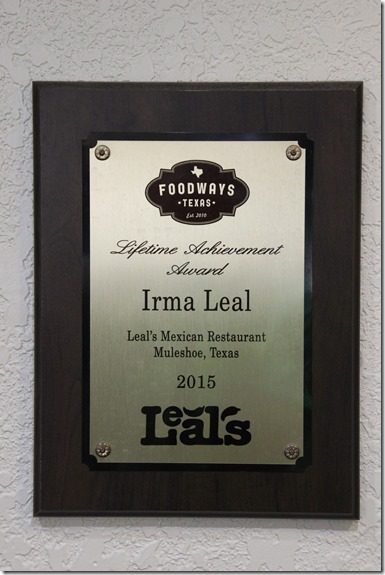 And when you enter Leal's Mexican Food Restaurant in Muleshoe, you are greeted by a picture of her preparing Mexican food in the early days. Jesse may have been the businessman and face of the restaurant, but Irma was the one crafting the dishes that brought hungry people in to eat in the first place.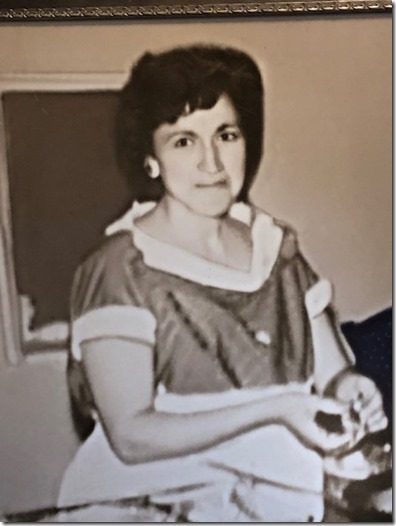 Photo courtesy of Leal's Restaurant, Muleshoe, Texas
Irma and Jesse were both born in Mercedes, Texas, and grew up across the street from each other. Irma said they felt like they were brother and sister as kids, and then she laughed and said when Jesse came back from serving in Korea in 1053, they fell in love! They married on Thanksgiving Day in 1955.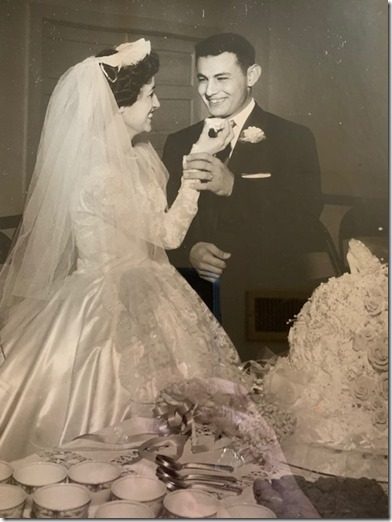 Photo courtesy of Laura Leal
Jesse had been working in Muleshoe for his Uncle Abel at Barrett Produce during potato season, so after the wedding, they moved to Muleshoe. While working with the Bracero Program, a man named Mr. Barber asked Jesse to work with the railroad as the telegraph operator because his Spanish language skills were helpful in that position. After six months he was promoted from apprentice to operator, a nice promotion. But the new job title required a move to Slaton, and they didn't want to do that. Irma got a little homesick, but liked living in Muleshoe, and they both wanted to raise their family here.
So they stayed. And Mexican food now entered the picture. When Jesse worked at the Bracero Center, Irma saw that the braceros were eating tortillas that were delivered only once a week, not daily, and she didn't like that. Irma was used to making fresh tortillas three times a day, as taught by her mother, and old tortillas just weren't acceptable.
They had save some money, and It was at this point that Jesse made Irma an offer she couldn't refuse. He said with that money they could buy a house or open a tortilla factory, and he let her choose. She chose the tortillas, and the rest, as we know, is history.
Irma then wrote to her daddy in Mercedes and asked him to ask Mr. Santos Garcia in Harlingen to make a tortilla machine for her like he had made for him, which Mr. Garcia did, and the tortillas started rolling out on May 4th, 1957.
In the beginning they didn't advertise because available money went into the tortilla business and family needs, but word of mouth took care of that. They would take a basket lined with a dish cloth full of fresh, warm tortillas to homes and businesses and the Bracero Center and sell them for a dime a piece. Jesse gave many tortillas away, but he could get Cokes to go with the tortillas for a nickel and sell them for a dime. The business began to make a profit.
Jesse continued to work with the Bracero program, Irma worked at C.R. Anthony's, and as they sold to the Braceros, word got around and many local families started asking for tortillas, too. Pretty soon it was suggested Irma use those tortillas to make enchiladas. The Gil Lamb family was instrumental in pushing for the creation of more dishes; Magann and her mother would bring avocados and ask that Irma make guacamole, which was a big hit. T.R. White at Cashway Grocery made sure he had grocery ingredients that were needed; James Roy Jones delivered fresh meat from his meat market every morning, the tortilla machine dutifully rolled them out, and demand for tortillas and the Mexican dishes grew. And the business grew.
So three more locations and six children later, Irma's tortillas live on and continue the tradition of good food made daily with fresh ingredients, two requirements that have always been non-negotiable with Irma. Jesse passed on in 2009, and Irma doesn't spend time in the restaurant kitchen anymore, but the kids keep the Leal's legacy alive. Hector helps his daughter Heather with her new Leal's inspired-Mexican Restaurant, Picoso's, in Lubbock; Alma runs the Leal's tamale factory in Lubbock; Victor has the Leal's Restaurant in Amarillo and has help from Hector's daughter Natalie; Laura oversees two Leal's Restaurants in Clovis, New Mexico; Sergio runs the Leal's tortilla factory here in Muleshoe; Abel is broker for the retail marketing of chips and hot sauce from his home in Dallas, and Hector's daughter Libby helps manager Kika Toscano with the flagship restaurant in Muleshoe.
These three offspring stopped by the house on their way to a business meeting the day Irma and I were visiting: Alma, Laura, Irma, Victor.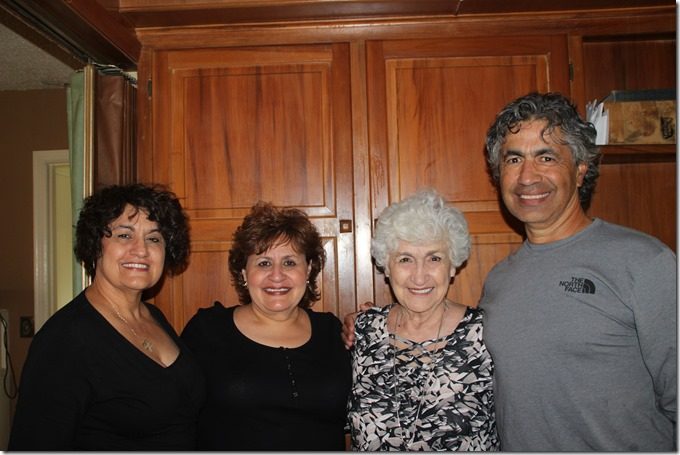 I asked the six kids how they would describe their mom. Compassion with a dry wit and fun sense of humor came up more than once. Brave, strong, and risk-taker were mentioned, which made me think of the choice of tortilla factory over a house all those years ago. All the family mentioned in some way her understanding, tolerant, gentle heart that had time for the outcast. She always tries to do and say the right thing, and spreads hospitality, grace, and love wherever she goes.
Now that she is out of the restaurant kitchen, she still does some cooking at home in her own kitchen and enjoys lots of time with her adult children and her twenty grandkids, twenty-eight great-grandkids, and three great-great-grandkids!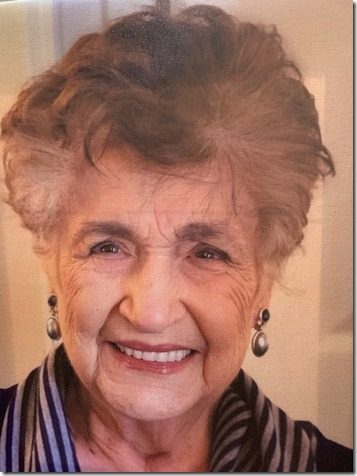 Photo courtesy of Laura Leal
This 87 year-old woman who encouraged and faithfully supported the man who was the face of Leal's legacy never cared to be in the limelight, but, as Victor noted, she relished the role she played helping and watching him accomplish great things. Her Foodways Texas Lifetime Achievement Award is testament to just one of her own many achievements.
Rock on, Irma.
My thanks to Sergio, Laura, Victor, Alma, Hector, and Abel for their help and input with this story. And thank you, Irma, for sharing an afternoon with me laughing and talking about your life.
For more history of the Leal family and restaurant, and to see a nice family portrait, go to page 368 of Tales and Trails of Bailey County, …the first 70 years, which can be found in the Muleshoe Public Library if you don't have your own copy.