A few months ago I had a call from Diana Gandara, a former student of mine who is now a Texas Farm Bureau Insurance agent here in Muleshoe. She was developing a plan to organize a women's business group and asked if I would be willing to speak at the first meeting about my experiences publishing my book The Bright Lights of Muleshoe and getting out of one's comfort zone to try new things. Diana told me of a friend, Sharla Fisher, a Farm Bureau agent who had encouraged her to start a networking support group for local women like she had in Dalhart. Sharla's first gathering had ten women show up. The group's goal was to support, encourage, and inspire women to accomplish goals and believe in themselves. That number has now grown to fifty participants. Clearly, the network is meeting the needs of women who want to connect with others who might be experiencing the same doubts and difficulties in balancing home, parenting, work, and share strategies to get it all done and meet some personal or career goals along the way. And perhaps just take a break, relax, and have fun with like-minded women. Diana wanted women in Muleshoe to have an opportunity like that, too.
Time passed, and life got in the way. But four weeks ago, Diana called again. She was now able to create that same opportunity for women in the Muleshoe area. The first meeting would be held July 30th at the Bailey County Electric meeting room; a meal would be served, and I would be the speaker. Diana spread the word on social media, in the newspaper, and by personal invitation.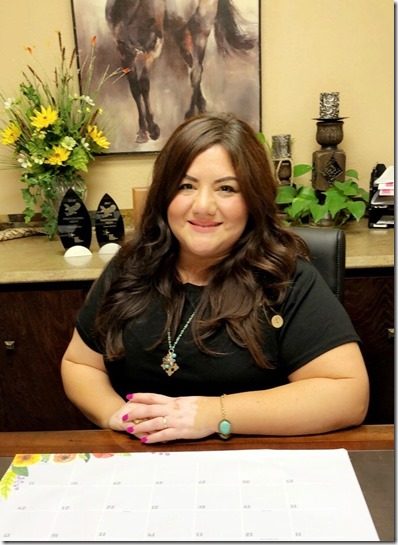 Photo courtesy of Carla Estrada
On the appointed Tuesday, twenty-five women enjoyed a lovely meal of braised steak in tomato sauce, stir-fry vegetables, green salad, sliced avocadoes, dips and dressings, chips, chocolate sheet cake and pineapple upside-down cake, all prepared, with the exception of the pan of chicken fajita meat and vegetables from Leal's, by Diana with help from her sister Belen, her mother Albesa, and invaluable friend and co-worker, Insurance Service Representative Carla Estrada.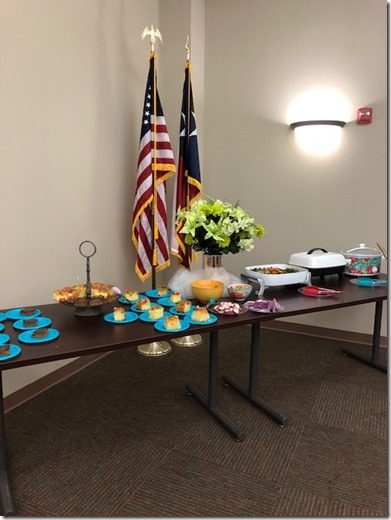 Since this was the first installment of the new group, after dinner was enjoyed, Diana asked that everyone introduce themselves and share a little background on their family and their work. She emphasized that owning their own business was not required; work was the key. For example, caregivers, housekeepers, foster parents may not own a traditional business, but they certainly work and juggle career, family, and personal goals. I had the pleasure of seeing many former students, all grown up and contributing to the community in a positive way. That's one of the fun perks of being a high school teacher-I get to see who they become as adults.
After the introductions, it was my turn. I think I fell into old habits and used my teacher voice as I shared with them how the book became a reality, traveling to Tanzania and summiting Mount Kilimanjaro, and driving in unfamiliar territory in Dallas as examples of tackling new experiences and venturing out of my comfort zone.  I then shared two other real-life examples of dealing with obstacles in the business world that required seeking further training or education and standing up to the status quo that involved bucking gender bias to be successful.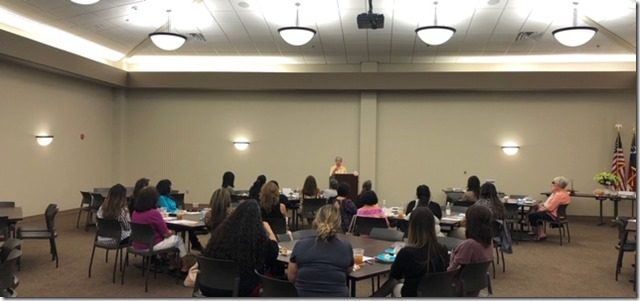 Photo courtesy of Diana Gandara
I encouraged them to be willing to get out of their comfort zones, follow their dreams, and not be afraid to try new things. One goal might not work out, but could help steer them to something else that turns out to be equally satisfying. After all, nothing ventured, nothing gained.
I left them with the suggestion to do something for their mental health, something as simple as talking a walk for quiet time to think. Questions followed which were thoughtful and important to answer. And some questions were just for fun!
Diana then talked about her motivation for organizing the group, shared some of her experiences, and what she hoped we would take away from the evening. One thing that is important to her is giving back to the community, and she suggested that we consider simple projects throughout the year that would be helpful to others.
Diana emphasized more than once that not owning a business should not keep you away, and not living in Muleshoe should not stop you from making the drive to enjoy the meetings. She has a variety of programs in the works that should be helpful and entertaining.
The next meeting will be at 6 p.m., August 26th, in the Santa Fe Depot at the Muleshoe Heritage Center. Another meal will be served and the guest speaker will be Adriana Woods who owns Creative Chaos Boutique in Friona. Her program will be choosing appropriate clothes for a variety of situations using clothing for women of all sizes and ages.
Put it on your calendar and plan to attend.You will enjoy a good meal, make friends, and learn that escaping that comfort zone really isn't as scary  as you might think. Hope to see you there.
For more information, contact Diana Gandara at 806-566-5007.
Thanks to Diana for her help with this story.