There was absolutely no excuse for being bored this past July 4th weekend. Plenty of activities were going on to help you celebrate our independence, do lots of visiting and eating, and have a good time.
My day started early when I arrived at the courthouse to set up to sell succulents and my book. I was not alone, as a steady stream of the other twenty-eight vendors/food trucks started showing up to get ready for the day. Flags lined the front of the courthouse lawn and looked very festive.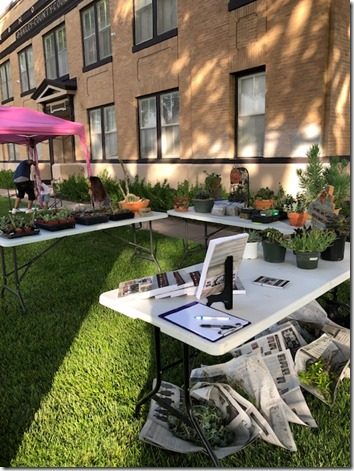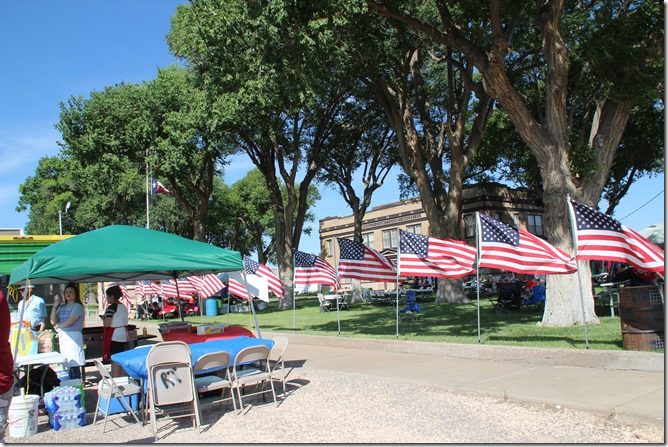 The parade started at 10:00, and I realized after I started taking some pictures that I was not on the best side of the street for picture-taking this time, but finally figured out if I stood just right behind the STOP sign, I could do reasonably well. Sixty-one entries signed up before the parade, but a lot of the classic cars, motorcycles, horses, and kids with their vehicles just showed up, so it was quite a parade. I didn't try to take pictures of all of them, but I will share a few that caught my eye.
This color guard led the parade and were the beginning of lovely stream of red, white, and blue on float after float.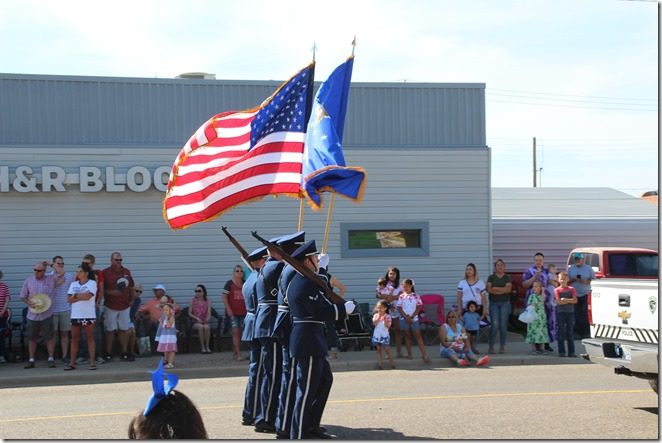 Muleshoe's fire trucks were on display, as well as trucks from Earth, Sudan, and this one from Lazbuddie. Can't have a parade without a fire truck or two, right?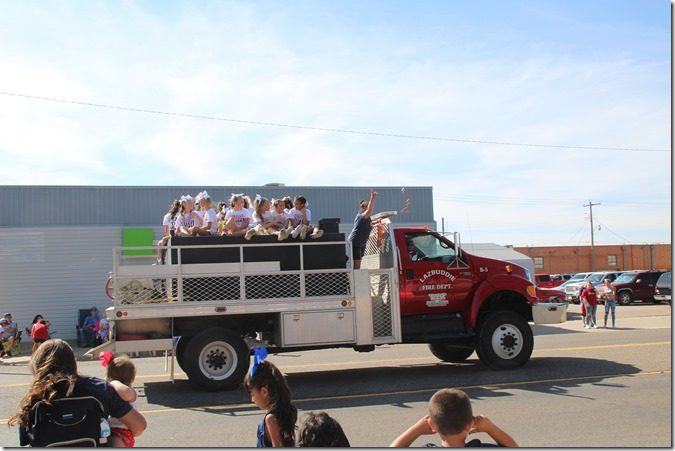 Veterans who frequent the Oneida Wagnon Senior Center were honored with a float. The Senior Center also had a noon barbecue lunch, silent auction, and a drawing for three lawn mowers after the parade. All veterans were recognized by Basil  Nash and his first prize-winning float, A Day of Honor MIA-POW, at the beginning of the parade before turning the corner off Main Street.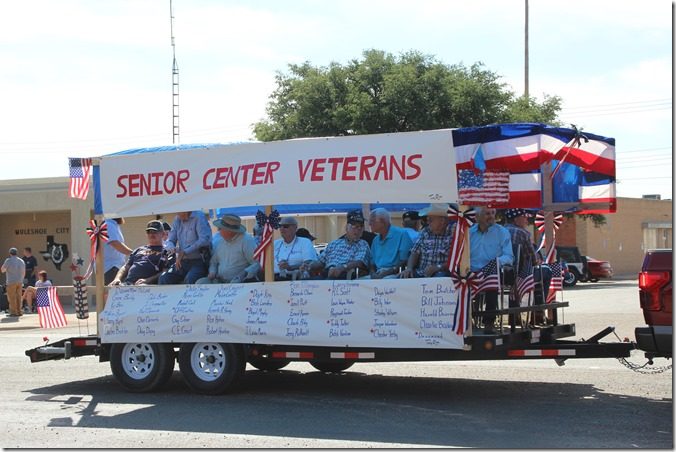 A large number of kids took part in the parade this year, like the Muleshoe High School cheerleaders and mascot.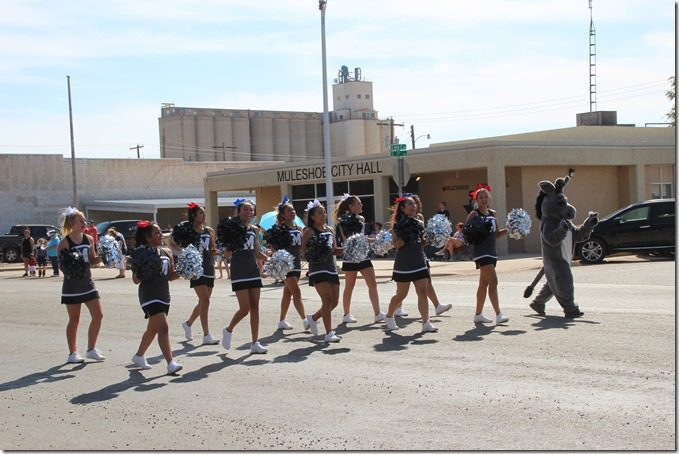 Ramon Martinez from Muleshoe was carrying the flag and Marching for Freedom. I am sorry the flag got in the way blocking his face!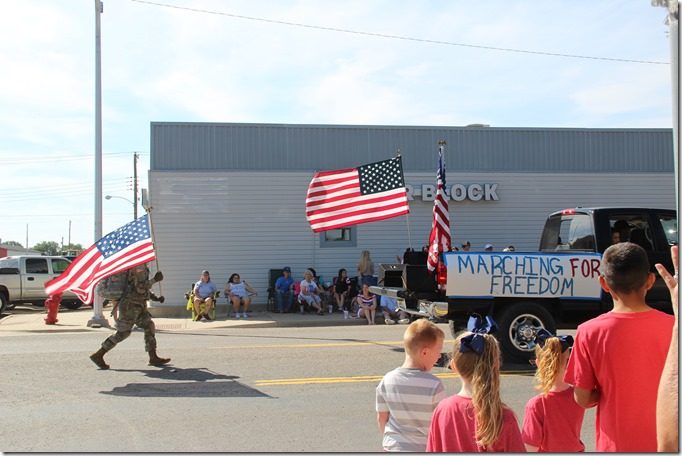 Muleshoe's parades always have several giant tractors; this year was no exception. This is not one of the biggest ones, but a good example of the farm equipment we saw.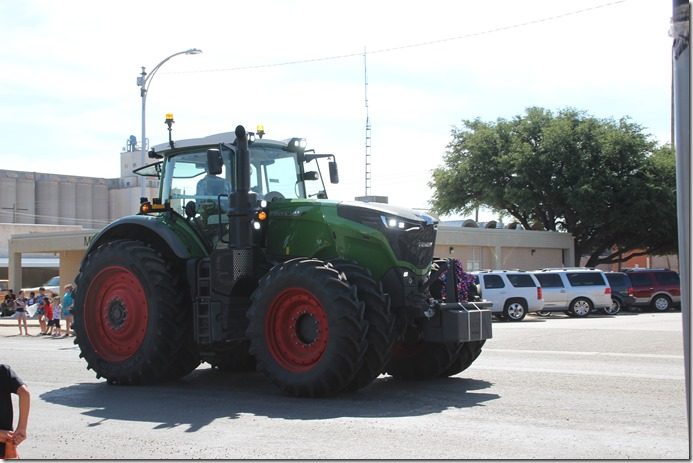 More kids in the parade included this float with the Muleshoe 8 and under All-Star softball team who were headed to Levelland right after the parade for a play-off game. And what a great idea-a boat served as the float for the Muleshoe Rookies All-Stars, ages 7 and 8.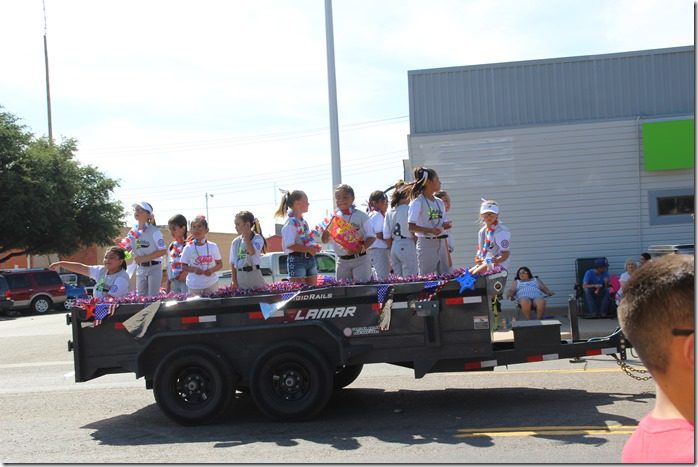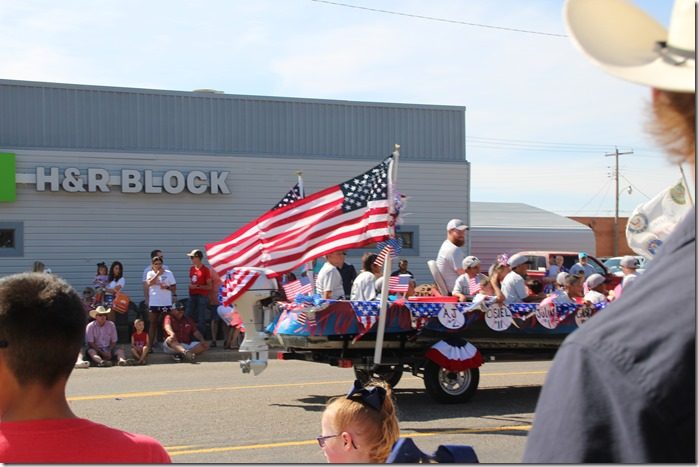 This red, white, and blue mini-chuck wagon from the La Carreta bakery won second place float in the parade.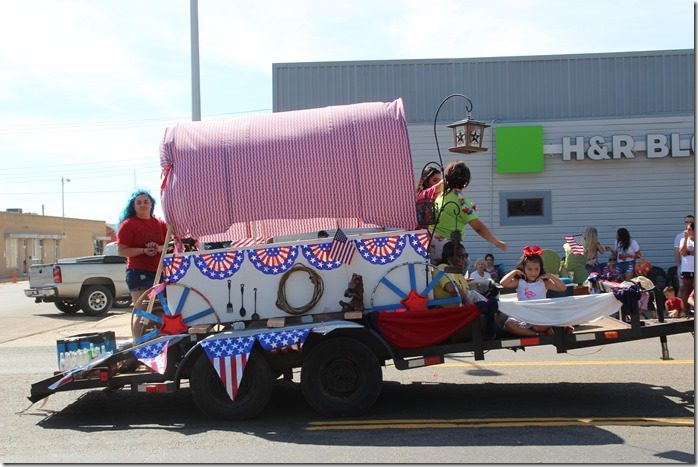 These two girls and other kids showed their patriotic colors on the various vehicles they rode in the parade.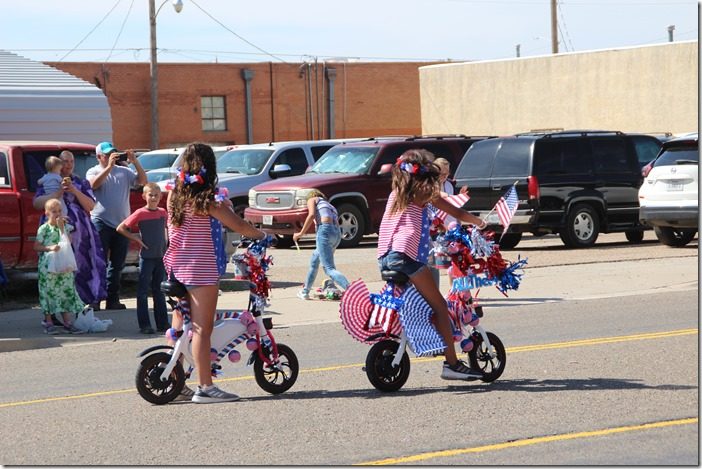 For me, a parade's just not a parade without horses, and finally, at the end of this 50 minute extravaganza, I finally got my horses! Krista Wilson, who now lives in Amarillo, brought James and John back to Muleshoe to pull this pretty carriage, and several riders and horses rode behind them. I didn't manage to get a picture of it from my vantage point behind the STOP sign, but one horse had a blue rump full of white stars and another one had one big star on its side.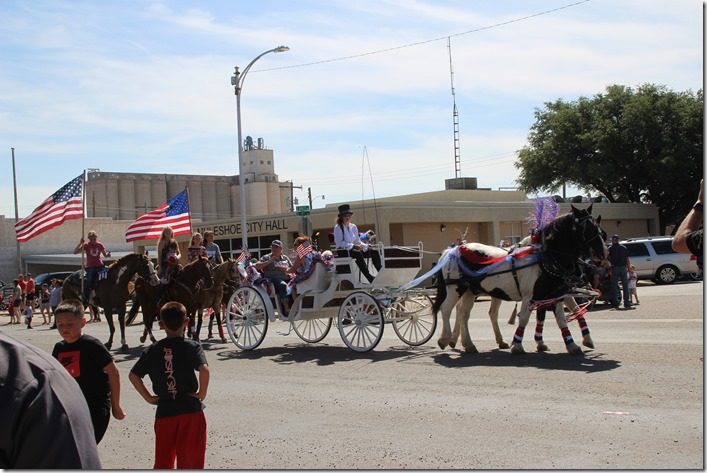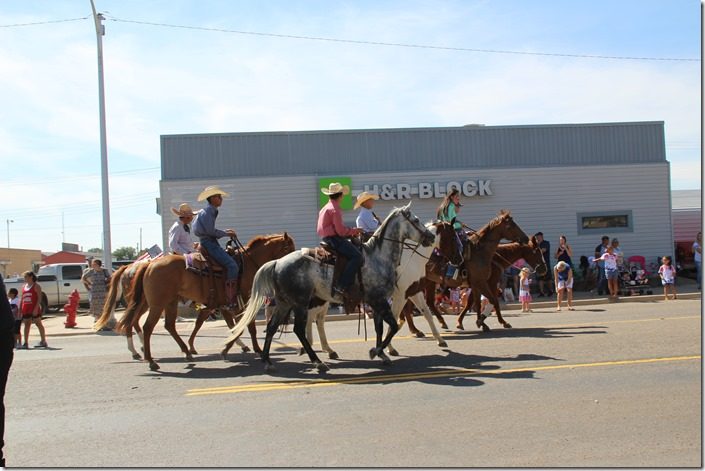 After the parade, the courthouse lawn became crowded while visitors shopped, ate, and watched the many events taking place throughout the afternoon. Some families clustered together in the shade for casual family reunions.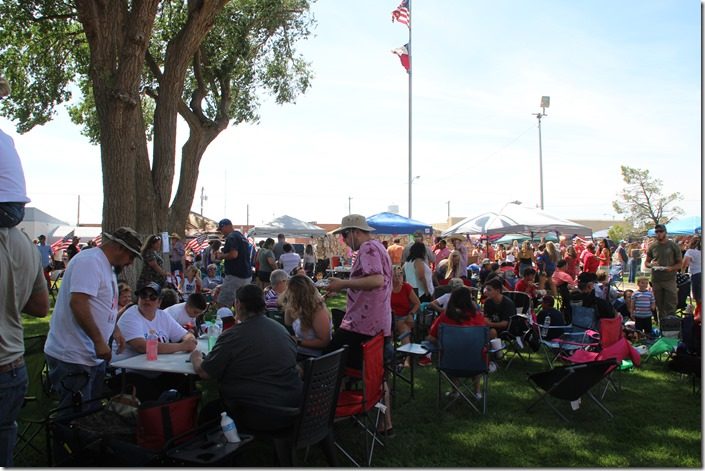 Classic custom cars were parked across the street at the First Bank parking lot, and spectators voted on which car they like best. The yellow pick-up owned by Jesus Tovar of Muleshoe received the most votes, and the blue Volkswagen Beetle painted with the Stars and Stripes was the runner-up.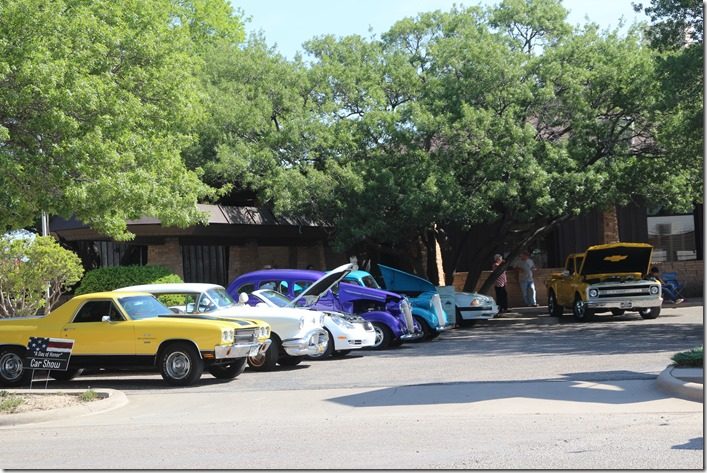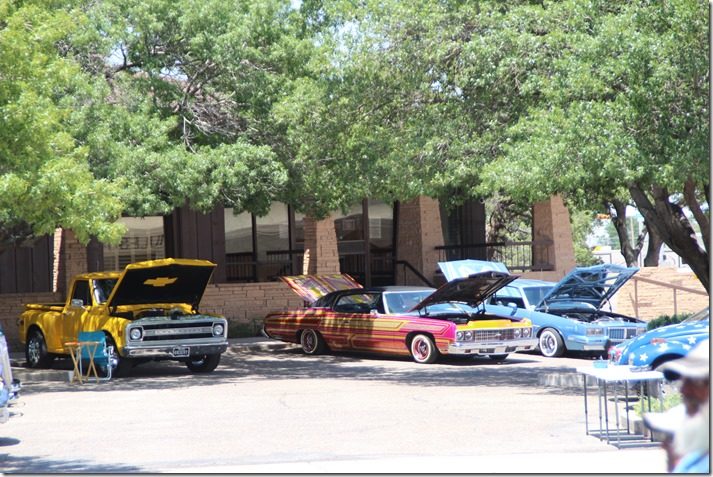 The volleyball tournament is very popular every year, draws a big crowd, and is very competitive.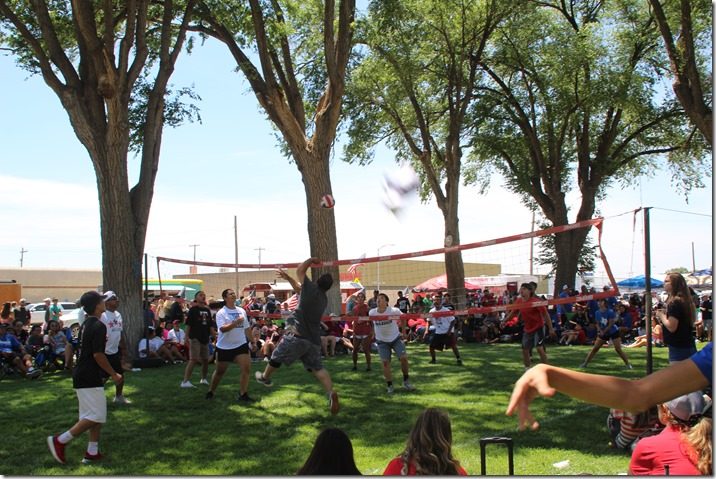 A corn hole tournament was a new event this year and was won by the Barron brothers, Derek and Jacob. Twenty-nine teams entered.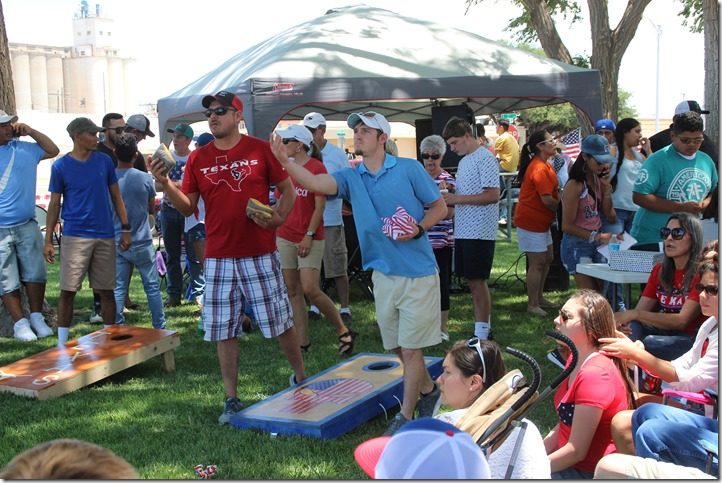 The Watson Junior High cheerleaders performed a cheer dance routine they learned at cheer camp this year, but I missed that as I was manning my succulent booth. Curtis Shelburne from Muleshoe and Mo Perry from Portales provided informal background music throughout the afternoon, but I didn't get a picture of them, either. I also missed the pie-eating contest won by Adrian Salas. The pies were donated by United and the new store manager Eric Steinfath.
I took a quick peak at the Little Mr. and MIss Firecracker pageant, and saw these three entrants strutting their stuff for the judges. Contestants were judged on their patriotic outfits and personality. In the girls' division, the under one year-old division winner was Lynnden Mitchell; the one to three year-old winner was Noel Ramirez, and in the four to six division, the winner was Penelope Strader. No boys entered the under one year-old division, but Kye Martinez won in the one to three year-old division, and Adriel Arras was the four to six  year-old winner.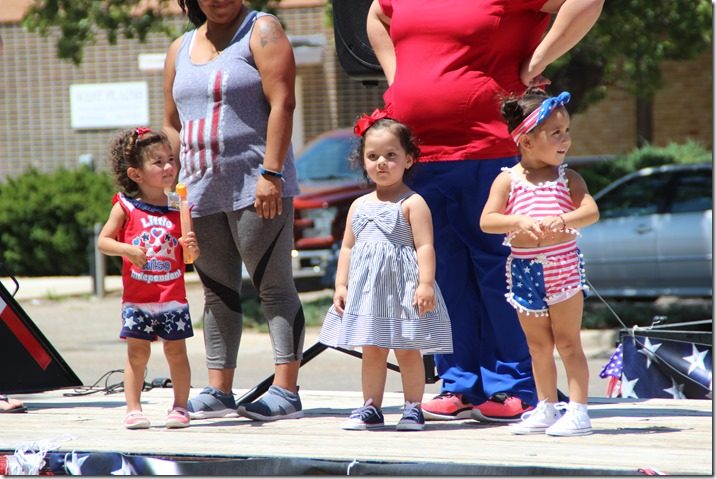 Everything was over at 4 that afternoon, and as I packed up to leave, I realized the young man who bought a cactus early in the day and asked me to hold it for him so he wouldn't have to carry it around had not returned for his purchase. I hope he will check with Carina at the Chamber office or find me to pick up his plant.
Carina Reyes, the new Chamber of Commerce manager, was hired three weeks before July 4th, and jumped right in pulling together the activities we all expect to happen for this holiday. The daughter of Hector and Angela Reyes, she just graduated from the University of Texas San Antonio this May with a degree in Public Administration and had her work cut out for her to make the deadline, but make it she did, and she has vowed it will run even smoother next year.
The day always ends with a nice fireworks display at the new city park. I did not go this year, opting to stay at home with Mari Dog to help her deal with her fear of fireworks. But I watched from our front door and enjoyed it from a distance.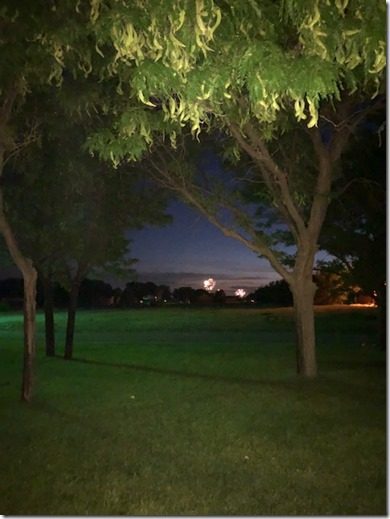 Now, for many people, that ended the Fourth of July celebrations. For four Muleshoe High School graduating classes, the weekend was just getting started. And I was a guest at all four of their class reunions.
The Class of '89 had a float in the parade, gathered at Honey Do Barbecue on the court house lawn, owned by classmate Michael Dunham, and ended up at Muleshoe Country Club where they were entertained by stories told by Chris Young. Then they all gathered informally to enjoy the fireworks. Friday they had breakfast at the Dinner Bell followed by a tour of the high school led by Sam Whalin. Krystal Angeley Bennett, who was more or less the reunion organizer, said they were all pretty disoriented since the school no longer looks like or is arranged like the building where they spent four years! That night they dined at Leal's and then met at the Desert Rose, also owned by Michael and his sisters. That is where I joined them. Happy chatter greeted me when I walked in, and I enjoyed seeing them all grown up, as I had taught them in junior high and watched them as the grew up through their high school days. Theirs was a pretty laid back affair, at least while I was there; no program as such, just good visiting.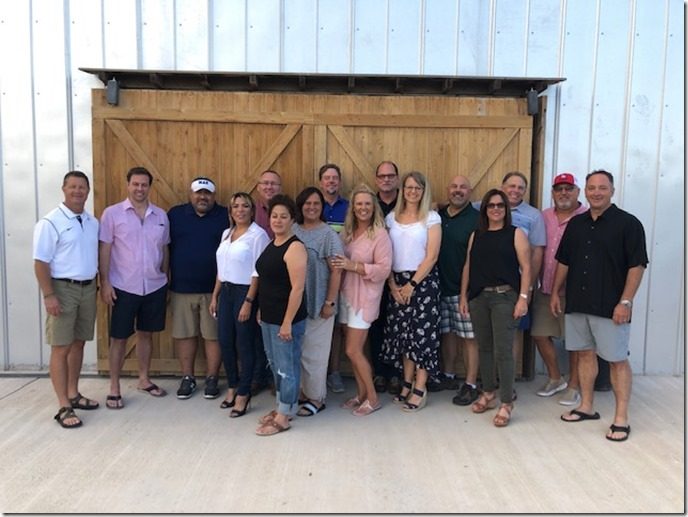 Photo courtesy of Krystal Bennett
Then I drove to Muleshoe Country Club to share a copy of my book with the Class of '79. Rosa Davis had asked if I would donate a book for one of the prizes they would be giving away and perhaps sell some, so I did. As I walked up to the clubhouse, I watched as a group of the classmates standing outside turned around and stared. I knew what they were all thinking: Who's that? I don't remember her. I had to laugh! Likewise, I didn't know many of them, either-unless I had taught their child. This group had a float in the parade on the 4th, watched the fireworks together, and then Friday toured the Heritage Center and had dinner at Leal's before coming to the Country Club for the rest of the party. Sheila Black was in charge of this group, and they had an invocation, remembered those who had passed on, mentioned cancer survivors, recognized their veterans, and then gave prizes based on things like who traveled the farthest, who had been married the longest- to the same person!- and several others. But the one that was the most popular was who had changed the most since high school, and the winner was unanimously agreed to be Terry Shafer. Then they asked who had changed the least, and that took a little time until they finally agreed it was Treena Bass. When she accepted her prize, she said, "Well, I guess this means I had gray hair and wrinkles in high school," and that brought the house down! Jerry Wheat won my book because this was the first reunion he had attended. By the time I left at 11:30 that night, the party was just getting started.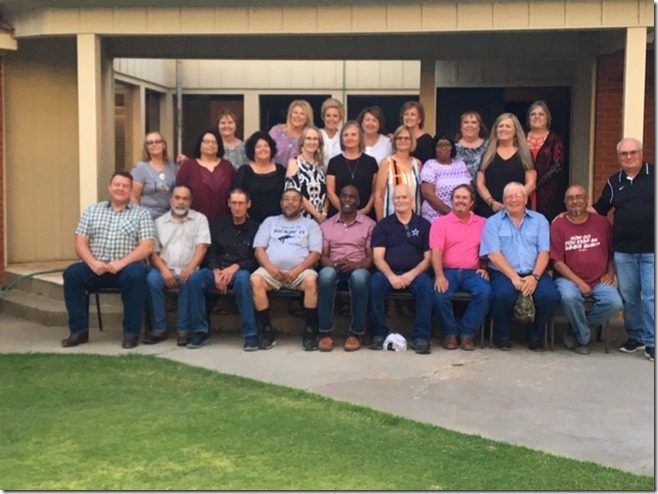 Photo courtesy of Linda Flores and Norman Brantley
The Class of '59 held their 60th reunion activities on Saturday, although I think many of them had been in town for some of the events on the 4th. They met at Ol' Pete to meet and greet and take a group picture, and then Dani Heathington gave them a tour of the remodeled high school. Saturday evening they had dinner in the pleasant back yard of Bob and Billie Graves, Billie being from the Class of '59. Their son Jerry Bob and his wife Alisa did the cooking. I was graciously invited to share the meal with them so I could report on their reunion activities, and perhaps sell a few books. I really enjoyed the evening, and I sold a few books.  Sandy Allison Cox, who now lives in Amarillo, had been senior class president and she said she didn't realize that would be a lifetime job as everyone looked to her to organize the reunion! But she has help from Bonnie Wood on the financial end, so all is well. Sandy opened their program by calling out the names of their deceased classmates  and announced that a donation to the Heritage Foundation would be made in honor of Bob and Billie for hosting the dinner. I could tell everyone enjoyed seeing their classmates, but this party was breaking up as I left to go to the last reunion of the weekend.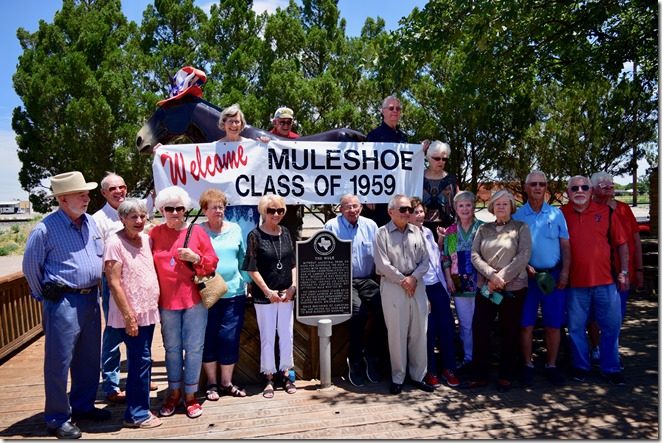 Photo courtesy of Jan Goodwin
My fourth and final reunion that Saturday night was for the Class of '99, and it was also at the Desert Rose. Krystal Heathington Martin was in charge of this one, and she laughed that they just sort of threw it together, they being Blair Saylor Oscarsson and her. Matt Turney also contacted classmates on Facebook. This class met earlier in the evening for a meal at Leal's, and then congregated here for the rest of their visiting and swapping stories. They had not yet taken a group picture, so Krystal gathered them up, and then I was to take the picture with Krystal's phone. These kids had all been my students, and not that long ago, a mere twenty years. And bless their hearts, they let me be a teacher again and tell them what to do when I arranged them for the picture-taking! B.J. Gonzales was wearing an Aggie cap, and after a few shots it dawned on me the cap was covering his face. So I said, "B.J., I love the cap, but we can't see your face."
"Yes ma'am," he grinned as he took off the cap and everyone laughed. For a  moment, we were all back in high school.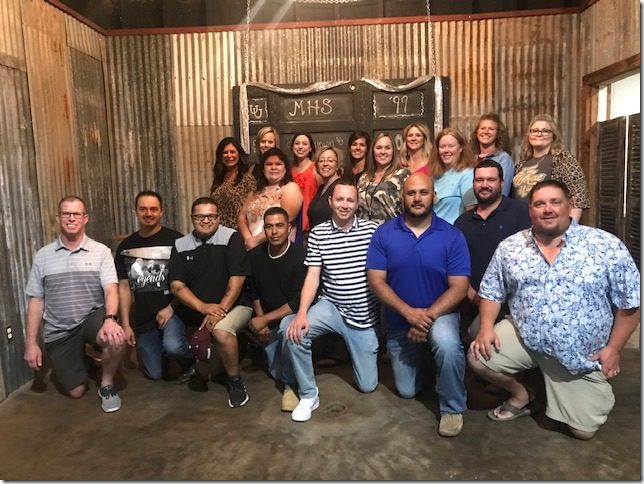 Photo courtesy of Krystal Martin
So if you sat at home this holiday weekend, you missed out! I had a great time.