I shared with you my visit to Churchill Downs before the Kentucky Derby ran back in May. But we had two other days filled with trips to see more events and locations specific to Kentucky. The first day of my trip with friend Elaine to Kentucky was visiting a bourbon distillery and a breeding horse farm, two specialties Lexington is known for. We signed up for the Bourbon and Blue Grass tour that took us to the Woodford Distillery and then Spendthrift Farm, which focuses on producing race horses rather than training race horses.
The tour bus ride to our first stop, the distillery, passed green pasture after green pasture lined with brown wooden fences and horse barns that put most houses to shame. Later we also saw white fences. The color of the fences really didn't matter; it all looked like a fairy tale to me.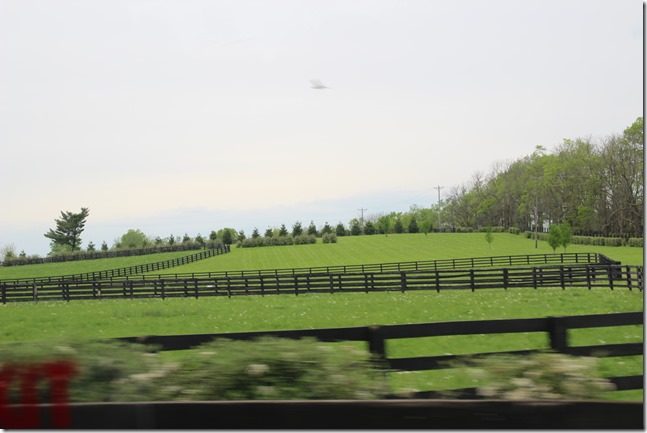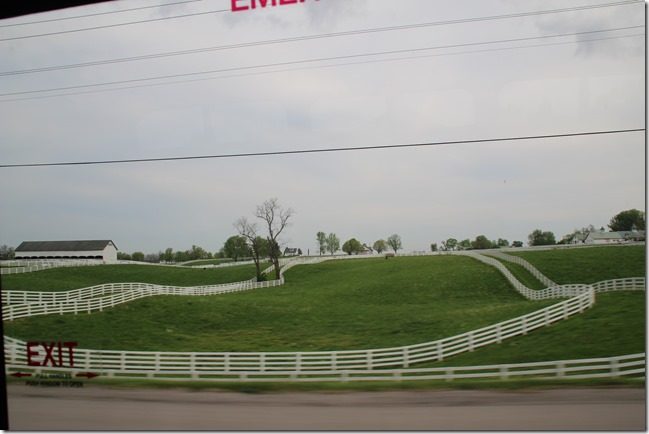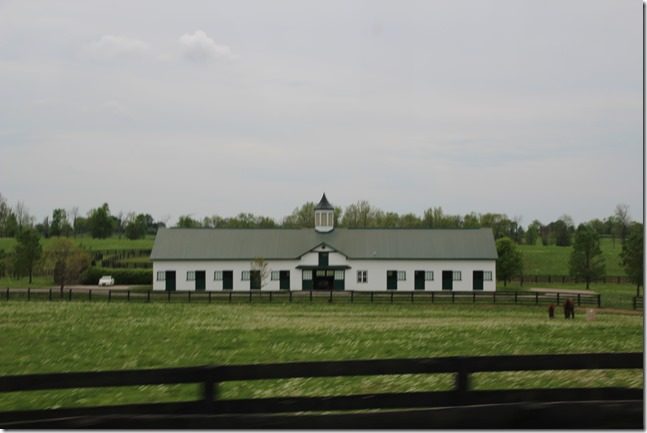 Woodford Distillery had beautiful old buildings and lovely grounds. This building wasn't old, but all the warehouses and barns used for the making of the bourbon were. In fact, they date back to 1812 and the site on the National Register of Historic Places and designated as a National Historic Landmark.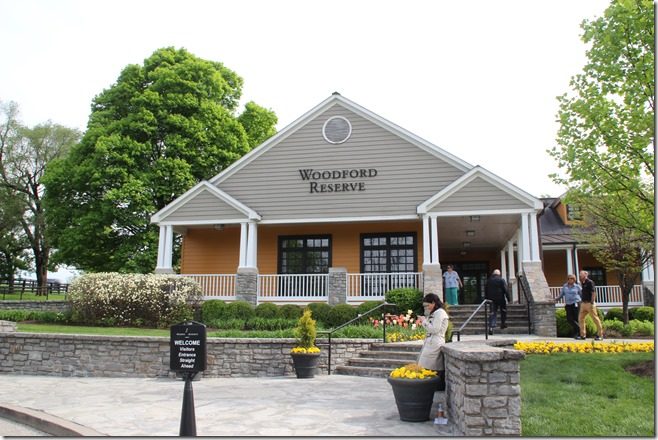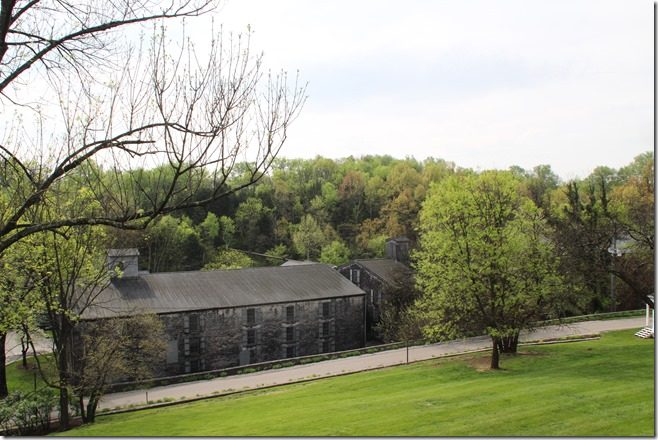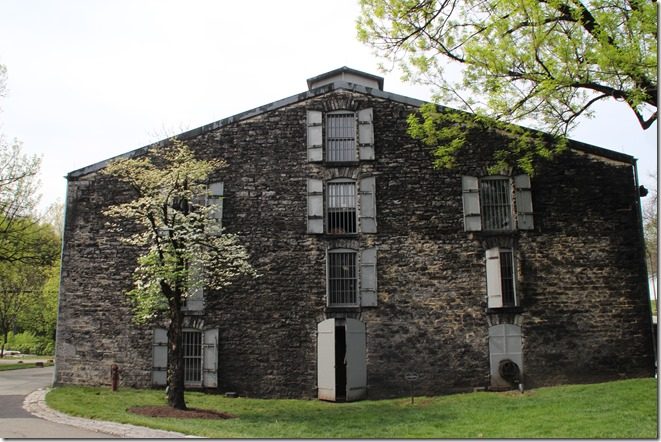 Just as all cactus are succulents, but not all succulents are cactus, we were told that all bourbon is whiskey, but not all whiskey is bourbon. Bourbon has to meet very specific criteria: the mash has to be made of at least 51% corn, has to be a product of the USA, must be distilled at less than 160 proof (80% alcohol), must be aged in new charred American white oak barrels, must be entered into those barrels at no greater than 125 proof (62.5% alcohol), must be aged at least two years, and must have unadulterated flavor-meaning that other flavors cannot be added. Now, where all those rules came from, I can't say. We may have been told at the start of the tour, but I wasn't taking notes, so we will leave it at that. I do remember being told that one reason Kentucky is an ideal place to make bourbon is because of their limestone-filtered water. In fact, about 95 percent of all bourbon is made in Kentucky, so there you have it.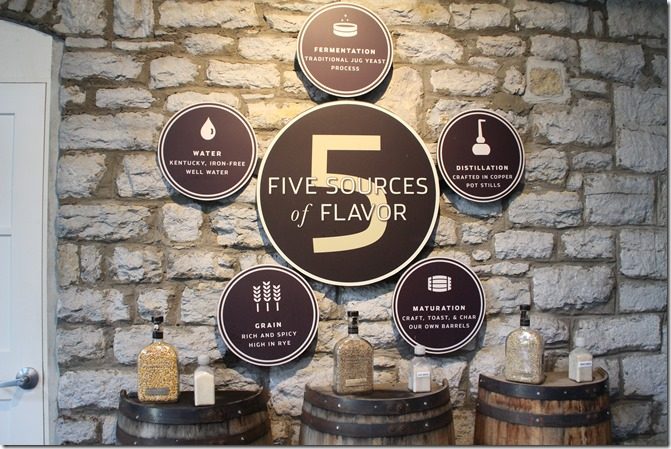 The ingredients are combined and made into the mash, which is then allowed to cook, or ferment, and it becomes something called wort. When the bubbles stop, the fermentation process is done. We were given a taste of the fermented mash, but I don't remember what it was, exactly, we were supposed to identify by tasting it!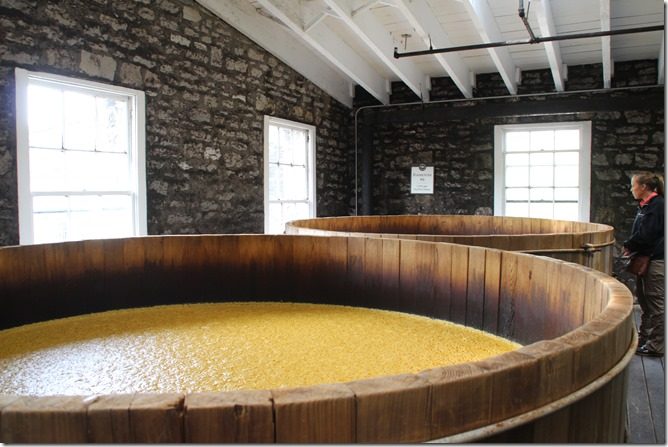 The next step is the distillation, separating the alcohol from the fermented mash, or wort, so it was on to see the copper stills. The discarded wort, by the way, goes to local hog farmers who then have very happy pigs!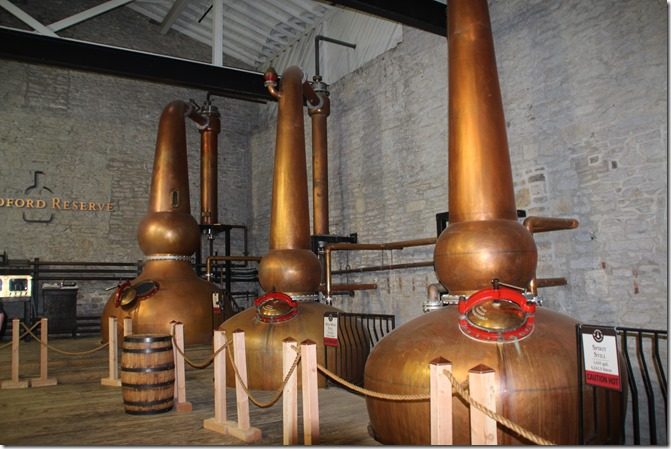 The liquid that results from the distilling goes here and is tasted to see if it is ready to be put in the barrels.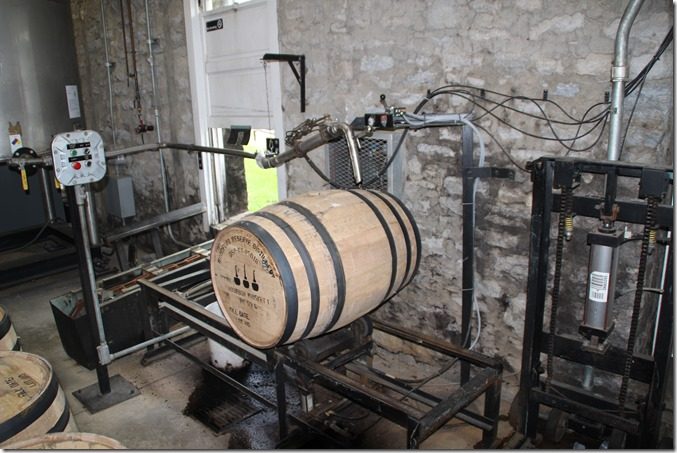 The filled barrels are then stacked and stored for the aging process in another old stone building. Woodford chars their own barrels for quality control. Only new barrels can be used for making bourbon, but then those barrels can be used by other companies when making other alcoholic beverages. I believe our guide said that Woodford Reserve's finest bourbon is aged longer than the required minimum of two years.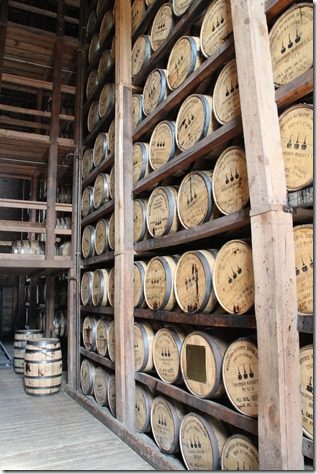 When the aging is deemed well-done, the final step is bottling the beverage.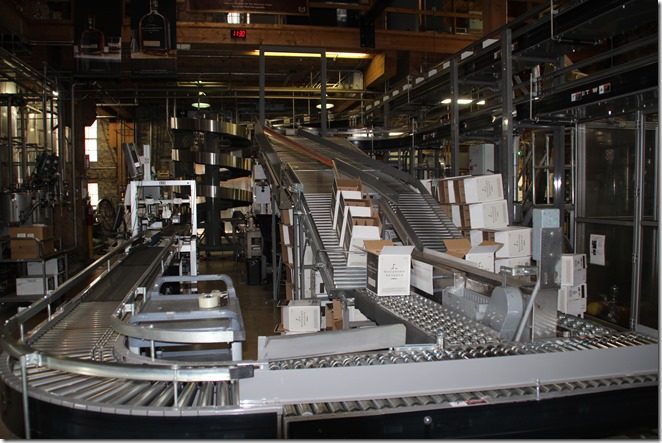 Woodford has been the Official Bourbon and Presenting Sponsor of the Kentucky Derby for many years and always has a commemorative label for the bottle,  this year done by Kentuckian Keith Anderson. So, of course, nothing would do but that I come home with one of those bottles of bourbon. As you can see, we have already sipped a taste in the manner we were instructed at the end of our tour that day.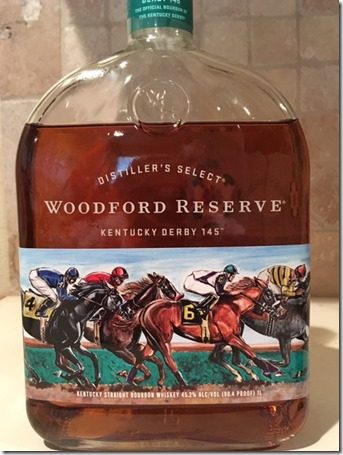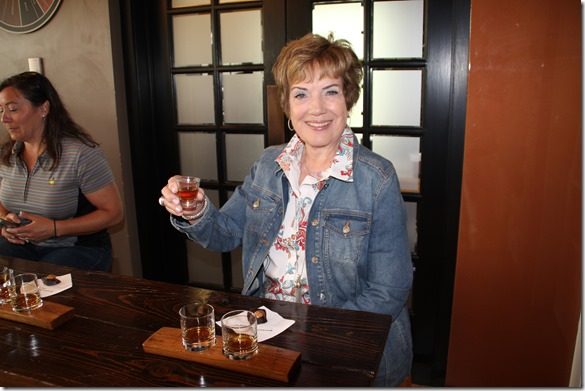 We left the distillery to eat lunch at the new livestock sale barn, the old one having burned down in the last year. We had not seen any livestock, cattle or horses, for that matter, in those lovely pastures, so I wondered what livestock they sold there, certainly not the high-priced racing stock that sells at other, fancy sale arenas. Perhaps those happy mash-eating pigs are sold here along with the predictable livestock that we just didn't happen to see.  Biscuits seemed to be a big thing in Kentucky, but the ones we had at the livestock café were not particularly impressive. But they were filling, and on to the horse farm we went.
We passed more beautiful pastures, fences, and barns. The tour guide also took us on a quick backside tour of Keeneland Race Course since it is the track close to Lexington.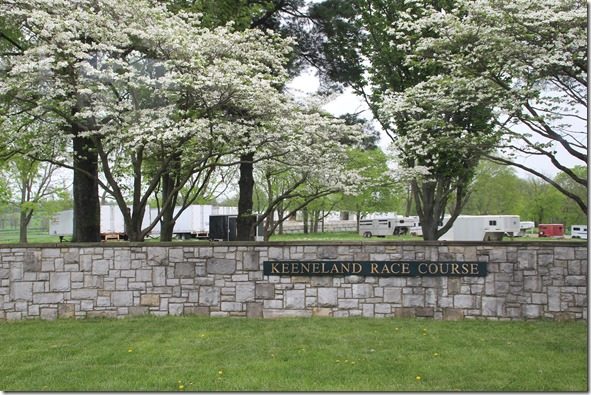 And then we made our way to Spendthrift Farms, one of the stud farms that focuses only on breeding mares. In the thoroughbred world, no AI (artificial insemination) is allowed, and mares must be impregnated by live cover with the stallion for the foal to be registered. Needless to say, these people have that process down to a science involving so many details: making sure the mare is in heat, breeding at just the right time, teasing the mare, what the mare is fed during her heat cycle, and the list goes on. We were taken into the breeding barn where the mares' tails would be wrapped and cleaned, she would be teased by a stallion used for just that purpose, and then the live cover by the chosen stallion, which we were not allowed to observe! This was a noisy barn; the mares were ready for their romantic encounter. This barn was antiseptically clean.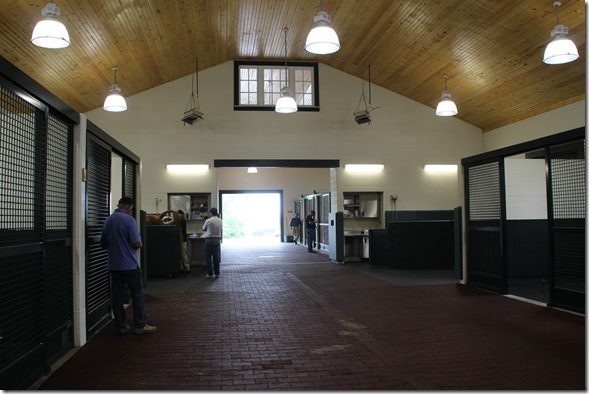 What we did see was the teaser stallion who was outfitted with a device to keep him from accidentally getting to do the deed, followed by several stallions who were the ones expected to impregnate the mares. The guide said most stallions can service up to four mares a day.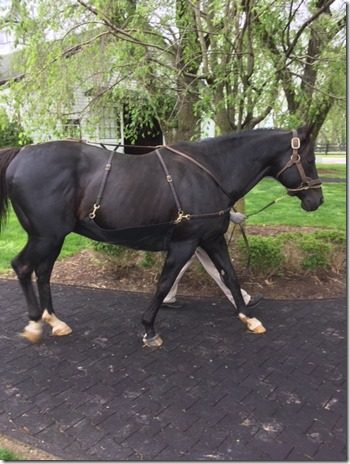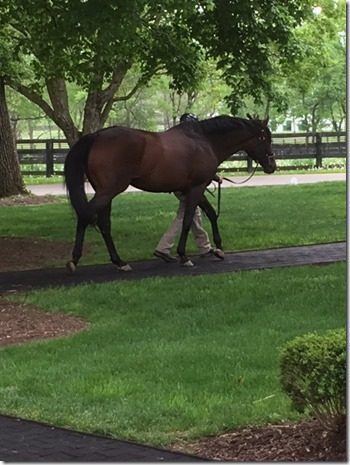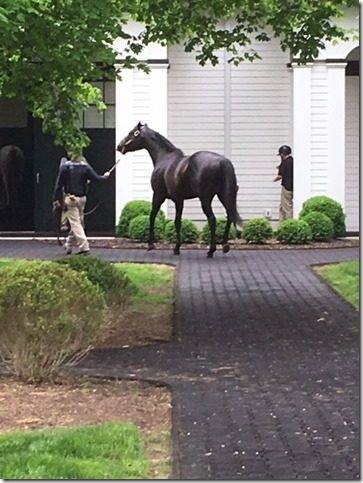 After that session was over, we were invited to see the horses in their stalls.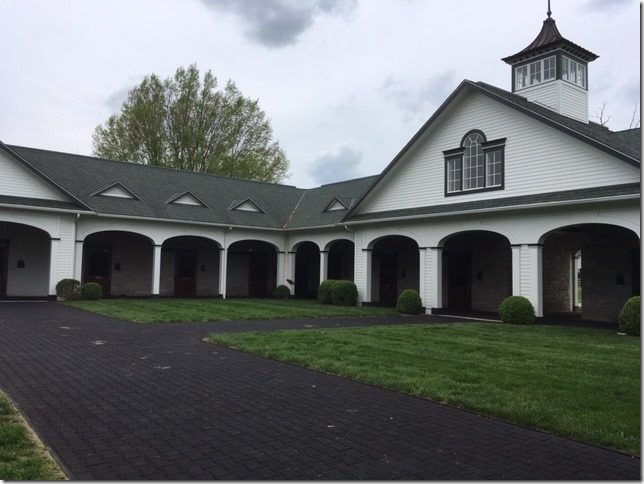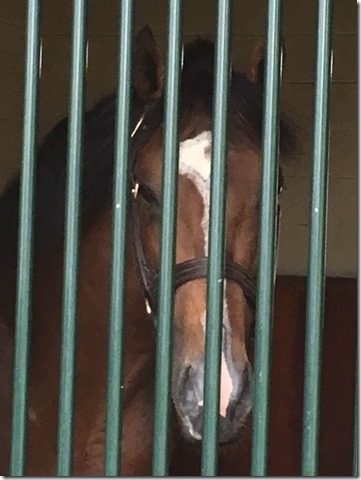 Several horses important to Spendthrift Farms were buried there. I asked if the whole body was buried like I buried Samba, my mare, and the tour guide said it is customary to bury the head, heart, and hooves, the most important parts of a horse. I had read that Secretariat's heart and head were in his grave, but didn't know about the hooves. A fitting tribute to a horse, I thought. I had the room in our pasture for the whole horse, but I can understand these farms, even as large as they are, choosing to honor their dead in a different manner.
I could have looked at the horses all day, but it was time to head back to the hotel. I took this parting shot of our fellow tour members before departing the bus. We  enjoyed the company of, left to right, Megan Gillenwater, Samantha Pembrook, and Barbara Layman while we all learned about bourbon and horse breeding.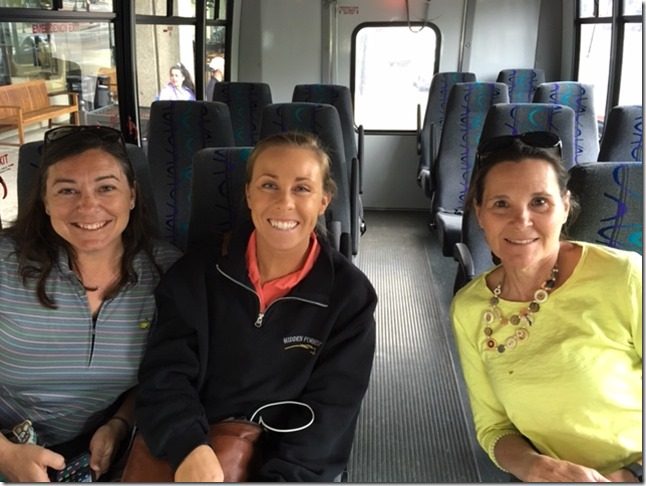 We saw lots of Kentucky on this day, and in my next story I will share what we saw at the Kentucky Horse Park during the Three Day Event.