If you missed the Muleshoe Chamber of Commerce 2019 Banquet last Saturday night, May, 4th, you missed a golden opportunity to enjoy a wonderful meal, visit with friends and make new ones, honor Muleshoe citizens who were recognized for their commitment to our community, and be entertained with an evening of Western Swing country music by a well-known Texas band.
The meal was served in the Muleshoe High School Commons Area where the tables were decorated with slices of wood cut by Cam Dockery of Bearly Makin' It out of Wolfforth and topped with votive candles and natural foliage arrangements from Sarah Santos and Lasting Impressions from Muleshoe.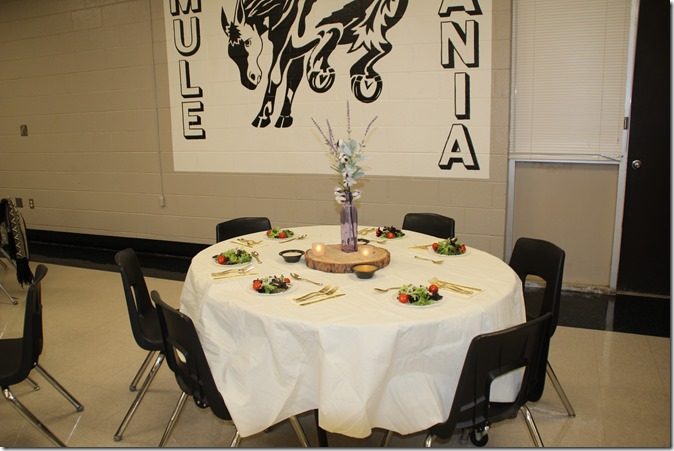 The meal of salad, prime rib, green beans, scalloped potatoes, and rolls was catered by Craig and Balee Black of Muleshoe.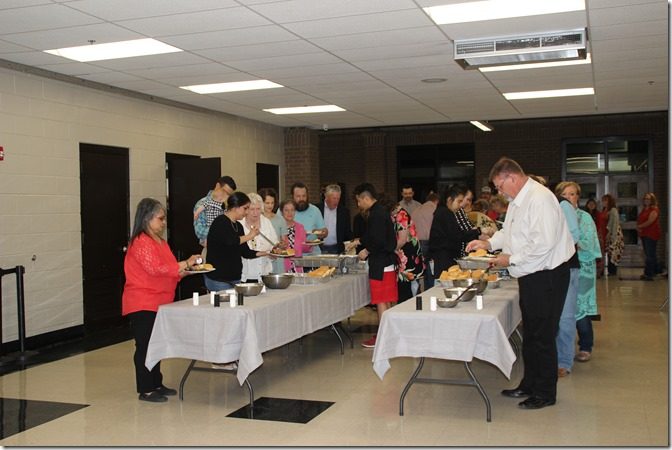 Desserts of fruit cheesecake parfait and chocolate cheesecake parfait were made by students enrolled in Muleshoe High School's Family and Consumer Science program taught by Val McCamish. I caught Mario Melendez, Kylee Vela, and Lyly Castro having a fun time dancing between serving the desserts from their station in the cafeteria, but shyness set in when I asked to take their picture!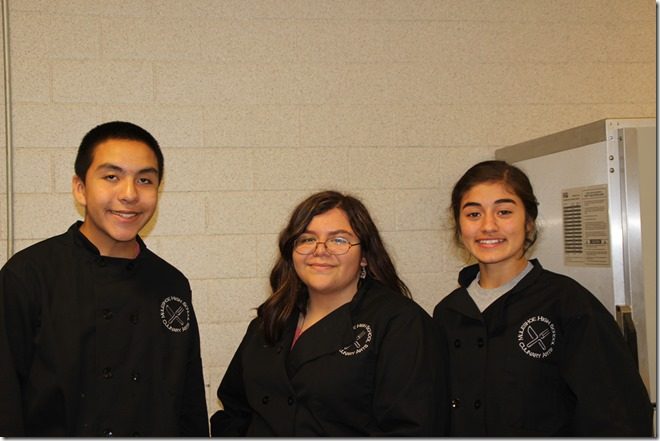 Students Kurt Rodriquez and Ariel Gardea helped in the buffet line with the main course.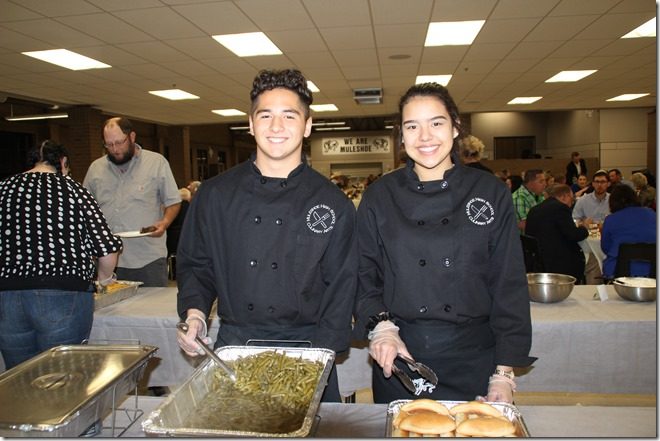 A good crowd showed up for the night. I happened to catch the C.L. Myers family as they were enjoying their meal: C.L., Jamie, Mandy, and Jackson were at this table. Mandy rearranged the centerpiece just for the picture, and then it went back in place.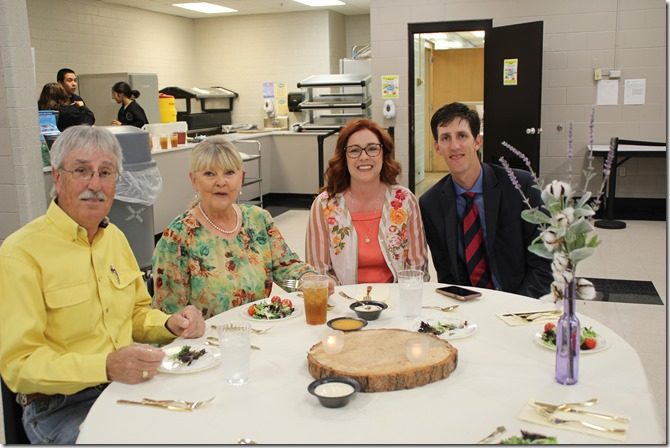 As everyone enjoyed the meal, Devin Sisk of Devin Sisk Photography was on hand to take group portraits as families finished eating if they so desired a memento of the evening. Devin is an accomplished photographer relatively new to Muleshoe, and many people took advantage of the photo opportunity.
After the meal, everyone moseyed over to Kerry Moore Auditorium for the program.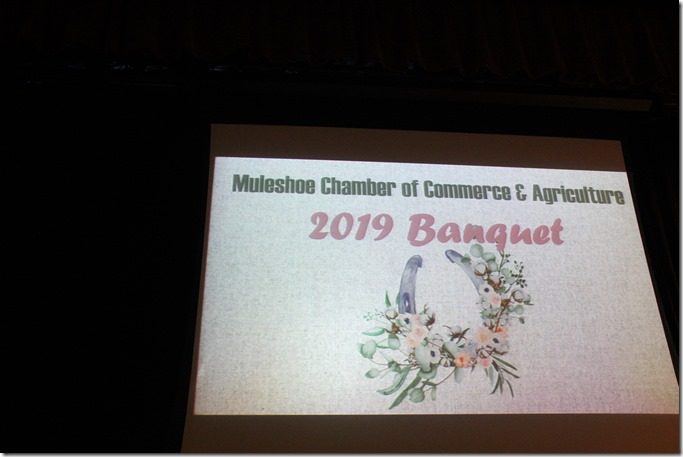 But you know it is spring in West Texas when chamber president Trevor Turnbow makes an impromptu announcement that Muleshoe is under a tornado alert and Superintendent R.L. Rogers assured him a plan was in order in the event we had to take cover. We were in a school, remember? You have to be ready for anything!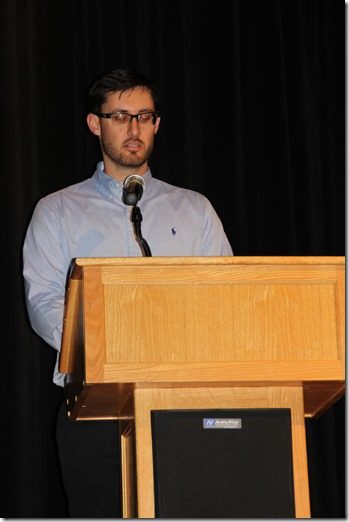 Superintendent Rogers then opened the meeting with a prayer and outgoing chamber manager Jill Sisk thanked the table sponsors and introduced the Chamber of Commerce board.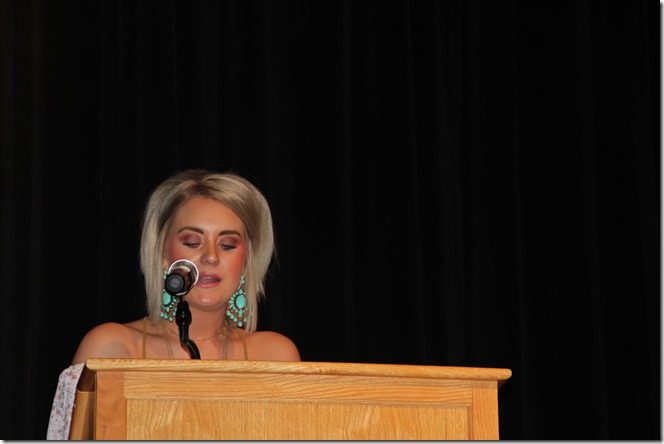 PIctured left to right: Jesus Tovar, Suzie Brown, Scott Miller; Dusty Stone, who serves as Secretary/Treasurer; Vice-President Basil Nash. Member Sarah Santos was unable to attend, and President Trevor Turnbow is pictured earlier. Outgoing chamber board president Kacey Coker was then recognized and thanked for her service to the chamber.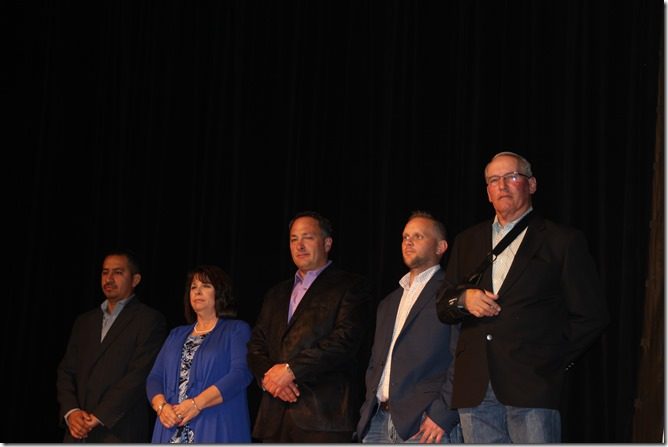 Muleshoe Fine Arts teacher Louie Pacheco did the honors announcing the awards, starting with Youth of the Year, Haili Gardner, presented by Dusty Stone.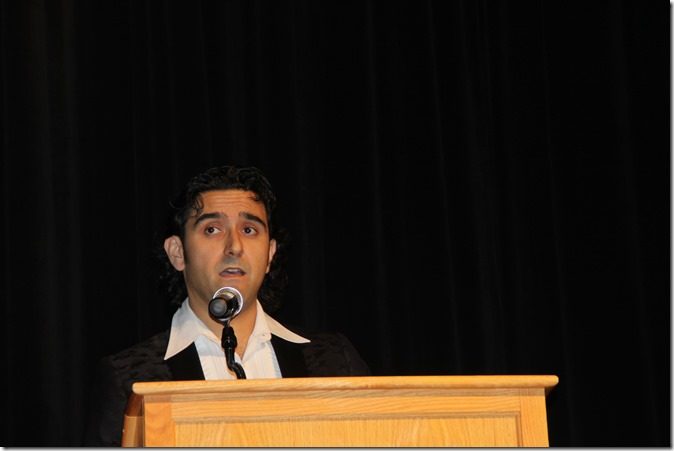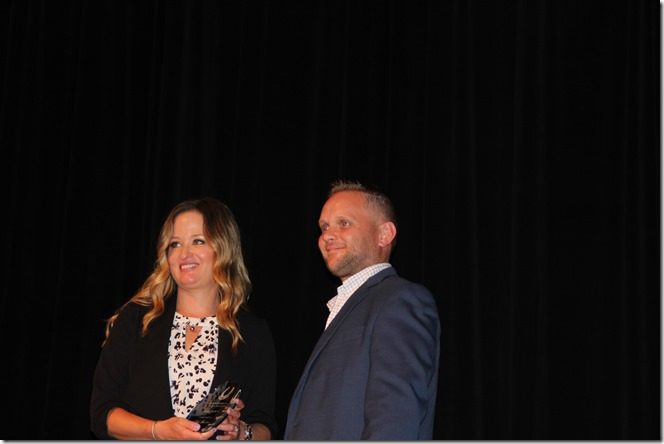 Leticia Mendoza from Mohawk Auto was named Employee of the Year, Her award was presented by Basil Nash.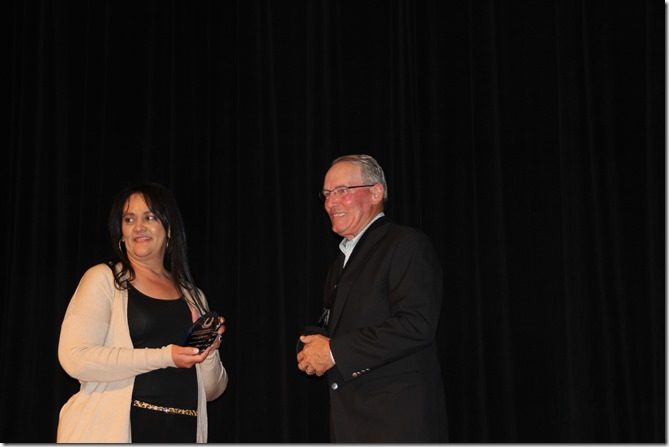 For her community involvement, Noemi Mora was named Woman of the Year and was presented her award by Jesus Tovar.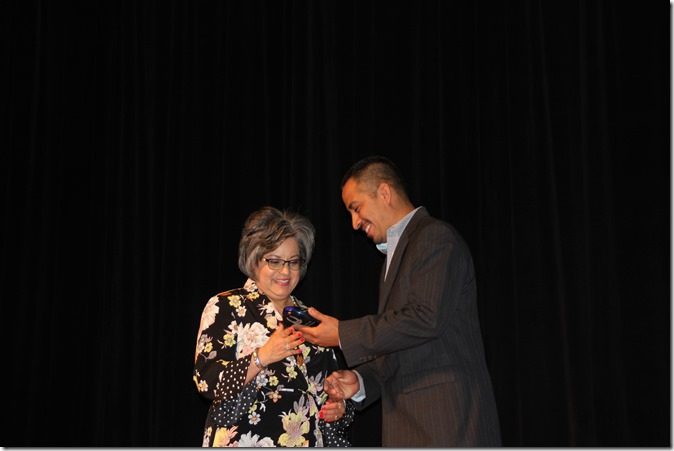 Reverend Stacy Conner, First Baptist Church pastor, was honored as Man of the Year by Scott Miller.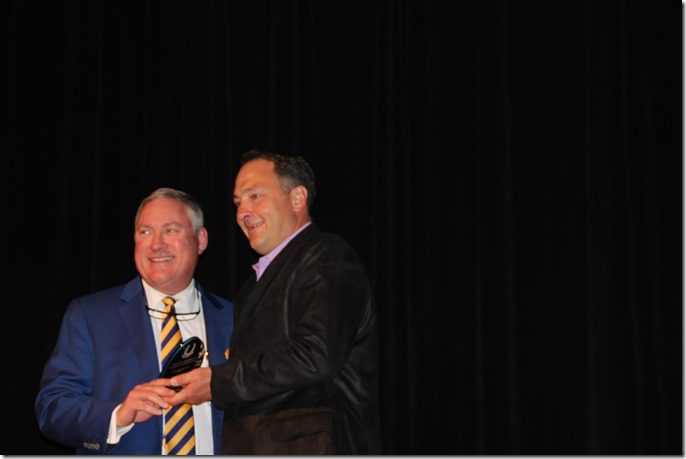 Muleshoe Vet Clinic and Muleshoe Animal Supply combined for the Business of the Year. Accepting the award from Suzie Brown were partners Dr. Steve Kennedy, Scott Kline, Dr. Barry Cowart, Dr.Mark Summers, Dr. Dustin Urbantke,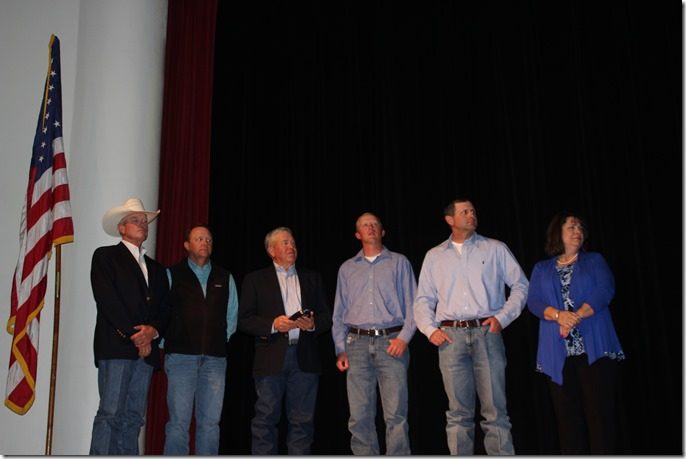 The final recognition of the evening was the Ag Family of the Year, and that went to the entire Myers family for their work at the Muleshoe Livestock Auction and contributions as a family to Muleshoe. Left to right, the family includes Clay and his wife Jocelynn, C.L. and Jamie, Mandy, Jackson, Thurman and Rhonda, and grandson Cooper. Presenting the award was chamber president Trevor Turnbow.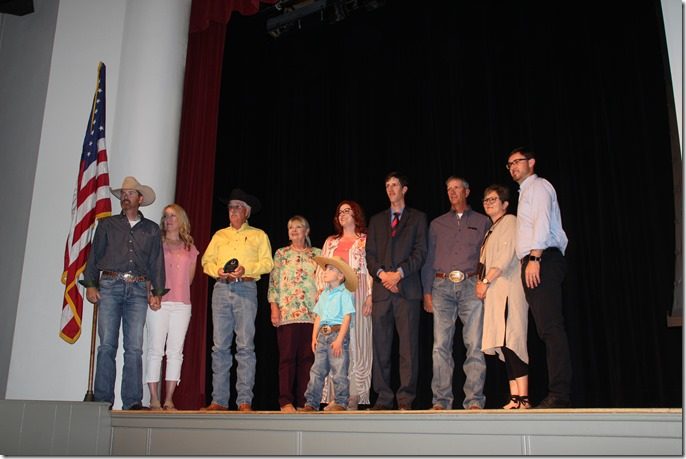 After a brief intermission so the band could set up, we were treated to a most enjoyable hour and a half or so of Western Swing and Western-flavored gospel music from popular Texas band Jake Hooker and the Outsiders. I suspect the only thing the audience objected to was the fact that we were all seated and had no dance floor when the music started.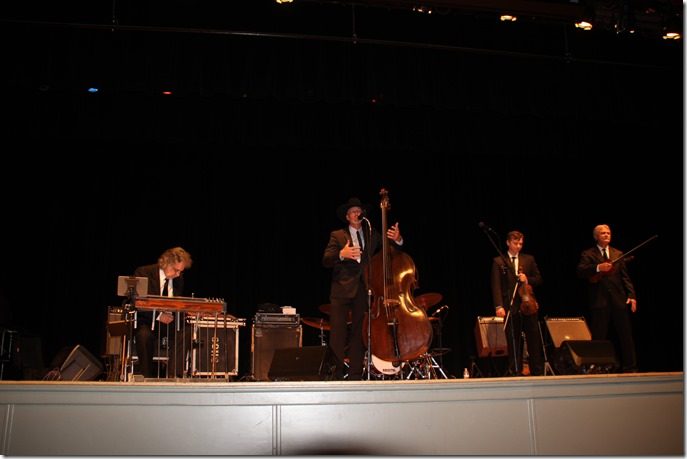 Unlike many musical groups today, this band consisted of leader Jake on upright bass, or what in Texas is sometimes called a bass fiddle, a steel guitar, drums-hidden behind Jake and the bass- and two violins, which I guess in a country band would be called fiddles, too. A mandolin was also used. Not an electric or acoustic guitar in the bunch. "Miles and Miles of Texas" was one of the opening songs, followed by a variety of upbeat numbers, including some gospel songs off their newly released gospel album, including "Tell Me Lord," written by Hooker. When the audience was asked for requests, I suggested "San Antonio Rose," which was then followed by several Bob Wills Western Swing numbers and other selections. With two fiddles, it's only fitting to showcase them, which they did several times, especially with "The Devil Went Down to Georgia."
Near the end of the show, without being asked to, the audience automatically stood when Jake recited "The Ragged Old Flag" to the background music of "America the Beautiful," after which he recognized all the veterans in the audience, a pretty emotional moment. The band ended the show with "Amazing Grace."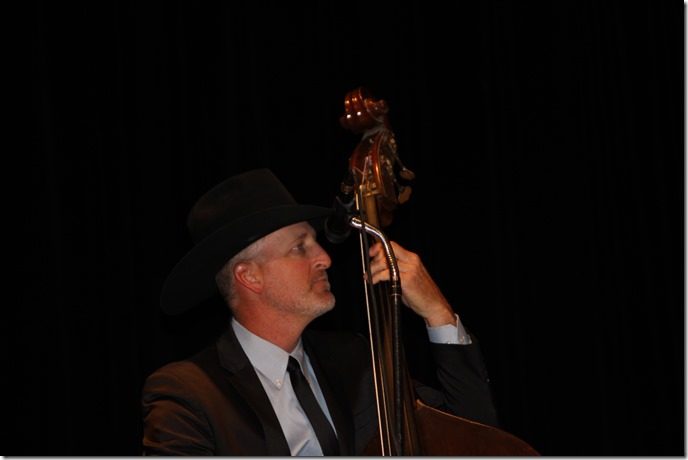 So, no excitement from tornadoes, but an entertaining evening with good food, good company, and good music. If you missed it this year, do yourself a favor and plan to attend next year. You won't be disappointed.
Thanks to Jill Sisk, Kacey Coker Val McCamish, and Balee Black for help with this article.
For information on upcoming performances by Jake Hooker and the Outsiders, go to http://jakehookermusic.com/dates.html
For information about Devin Sisk, go to https://devinsiskphotography.com/#/page/home/