The 123rd running of the Boston Marathon took place Monday, April 15th, 2019. Tara Carr completed the 26.2 miles in 2 hours, 58 minutes, 35 seconds, a personal best for her. She placed 128th in her women's 18-39 age group division, 144th in the women's division,  and 2285th in the race overall, an impressive finish.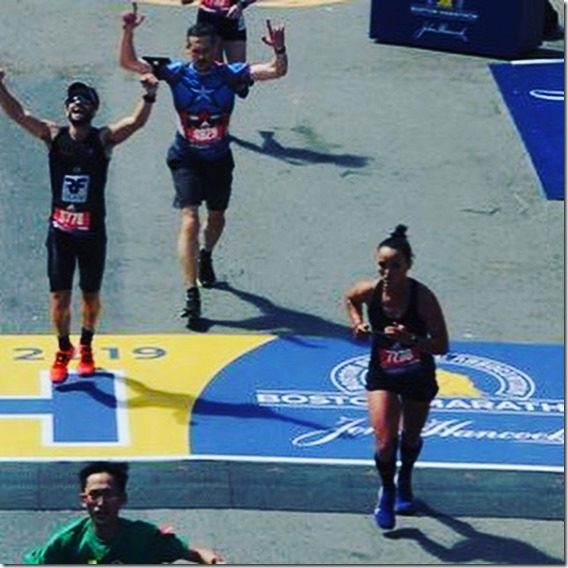 Photo courtesy of Tara Carr and the Boston Marathon
But why even enter a marathon in the first place? For every person who chooses to do it, there are  different reasons, different goals. I completed two Houston Tenneco marathons in my younger days, and for me it was taking in the whole experience, the challenge of the discipline of training and the goal of running the whole race and being able to say I did it  I was just tickled that I made it to the end before they stopped looking for the last person to totter past the finish line! I came away with the realization that if I could finish a marathon, I could tackle any problem life handed me.
Tara might have connected to those reasons as well, but Tara's goals for the race were more complicated and much more spiritual. For her it was a leap of faith. Tara had run as a kid growing up in Oklahoma in the tiny town of Leedey. In 2008, her junior year at the high school, she qualified for state in the mile (or 1600 meters; I'm not sure what they run in Oklahoma) and won. The school had no real track coach, but an aunt took her under her wing and helped out.  I asked if she competed in any other track and field events, and she laughed happily when she remembered,  "No, I was the whole track team! The school wanted me to run other events, but I just wanted to do my very best at the one race I knew I was good at."
Tara didn't run her senior year when the stress of letting people down, the fear of failing, of losing, took over. Because of this and other issues she was dealing with, she went through a dark time for a few years, but as time passed she felt the presence of grace in her life.  She felt like God must have been watching out for her because later she felt like He had become her coach; He was the reason she was running at all.
Tara continued to run for pleasure-and I know there are those of you out there that think pleasure run is an oxymoron-when she had time. Eventually she wound up in Sudan, Texas, married her husband Jay in 2013, had her first child, Statyn on March 15, 2017, and at that point she had an epiphany; something just clicked. God had given her this ability to run, and she should do something with it.
"We put so many limits on ourselves, and we are capable of a lot more," she told me. And she didn't want to be that person, to live with regrets of not knowing just how far she could go with her God-given talent to run. So the training began.
In 2015 Tara bought and remodeled the old Herman Morrison Texaco oil and gas distribution building in Muleshoe and turned it into Beni au Dela Salon and Spa, and Stone Grace Boutique. After the decision was made to run marathons,  she continued to style hair, was an involved mom to that new baby, trained barrel horses with Bunt Kitchens and competed in barrel racing competitions, and trained for the marathons she planned to enter to qualify for Boston. By December of last year she realized she really couldn't do it all, and while she maintained ownership and oversight of the business, she realized being a hair dresser was the easiest of her activities to give up for more time to do the things that were more important to her.As she put it, the running was in her heart; cutting hair was not.
Speed training was done sometimes at a high school track; but most of the  time she ran out in the country on an undisclosed dirt road so she could run flat ground as well as hills. Early morning and late afternoon runs were the best times for practice. I asked if she ever ran in pastures for a change of surface or a change of visuals. I was told with another laugh that rattlesnakes were a good reason to stay out of the pastures. Her longest practice run before Boston was 20 miles, almost a marathon in itself.
Tara set her own training program  as she prepared for qualifying races in Austin in February 2018 and the California International Marathon in November 2018. She qualified in both races, but improved from 3:15 to 3:05. And while ten minutes may not sound like much, when you are covering 26.2 miles, every minute, every second counts. Two weeks before Boston she realized she could improve and benefit more with a professional trainer. So she hired Brandon Birdsong from Lubbock, an Olympic trial qualifier who worked with her on speed and tapering off the mileage workouts before the race, dropping from 95 miles a week to 70 and finally 60 the week of the race.
As she continued to train, friends and family became aware of her goals and  wanted to sponsor her to help with expenses to make the dream a reality. Tara posted about her quest on Facebook.  As the pledges came in,Tara had a banner made as a way to saying thanks to those interested in seeing her succeed. The banner listed all who contributed, save two who missed the deadline when the banner was made: Eric and Marissa Drager with 1Eleven Cattle Company  from Bridgeport, Texas,  and Cabernet Vineyards from Acuff, Texas, owned by Ryan and Ashleigh Mimms.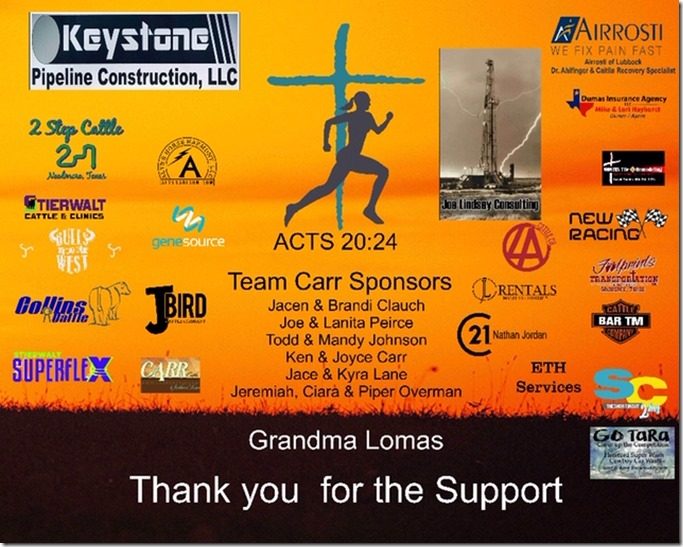 Photo courtesy of Joni Lindsey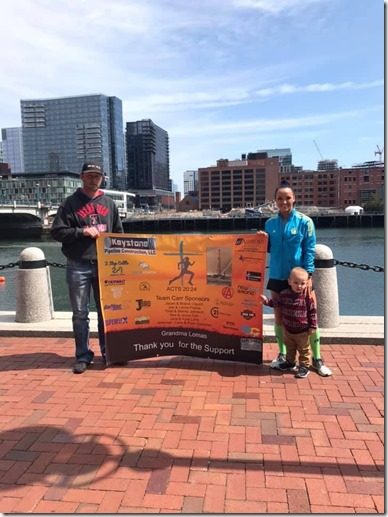 Photo courtesy of Joni Lindsey
And then it was time. Tara, Jay, Statyn, and mom Jonie Lindsey and her two stepsons Jaxon and Travis flew to Boston on Saturday before the race on Monday. She ran a two-mile shake out run to loosen up, three miles with strides, and then finished with another shake out run.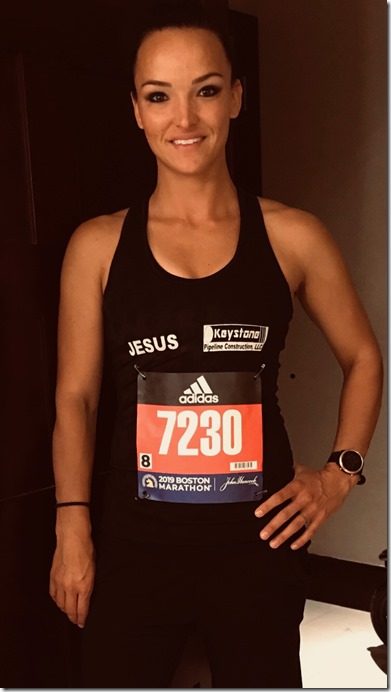 Photo courtesy of Joni Lindsey
I remembered that carbo loading was a big thing when I ran my marathons, so I asked her what she ate the night before and the morning of the race to pack in the carbohydrates for sustained energy: fettuccine and spaghetti for supper and two bagels for breakfast. And just for the record, it was real Italian pizza after the race to replenish used fuel.
Elite runners are lined up at the front of the race with what are called waves of runners based on their qualifying times grouped behind them. Tara was in the first wave with 7,000 runners in front of her. "I had a lot of people to pass! she laughed. She was also in better shape than when she ran her qualifying time, so that helped. She also said 80% of the runners had to qualify and the rest were allowed in if they were running for a charity.
Water stations are set up every mile, and it's important to re-hydrate at every station. You learn to drink while you run.Tara carried gel packs with  her, which she pretty much just swallowed without eating every four and a half miles. Sort of a Jell-O type thing, she said. Bananas were usually offered at the water stations, too, but they require actual eating, and the water stations were crowded, which slowed her down, so it was quicker to stop for water but not wait around for a banana.
It is also not uncommon for runners, especially rank amateurs like me, to hit what is known as 'The Wall' toward the end of the race when you are just not sure you can make it to the end. Energy is gone, legs are beginning to feel like heavy logs, you question why you are doing this in the first place, and you really have to make yourself push through it. Mind over matter and all that. For me, the wall hit at mile 20. Tara said it was mile 17 when she ran in California, but she was so focused and in better shape for Boston that she hit no wall this time. She  averaged 6:49 per mile.
Everyone who finishes the race receives a medal. Not all of the 36,000 runners, 14,000 of whom were women, actually finish. Tara got her medal.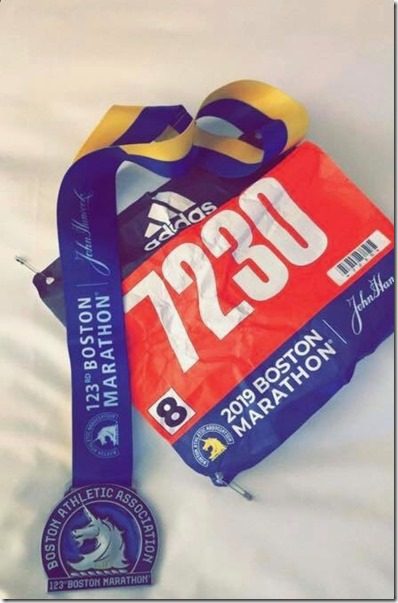 Photo courtesy of Jonie Lindsey
Boston is one of the six big marathons that are known as the World Marathon Majors-Tokyo, Boston, London, Berlin, Chicago, New York. Runners have to qualify for these contests. To entice quality runners to enter their contests, most other marathons today structure their races to meet the standards of the majors so that runners can use smaller marathons to qualify for these major races.  And the major marathons lead to the Olympic trials.
Not surprisingly, that's Tara's next goal: the Olympic trials in Atlanta, Georgia, in February 2020. Grandma's Marathon in Duluth, Minnesota on June 22 of this year is where she plans to hit that faster qualifying time needed for the Olympic trials.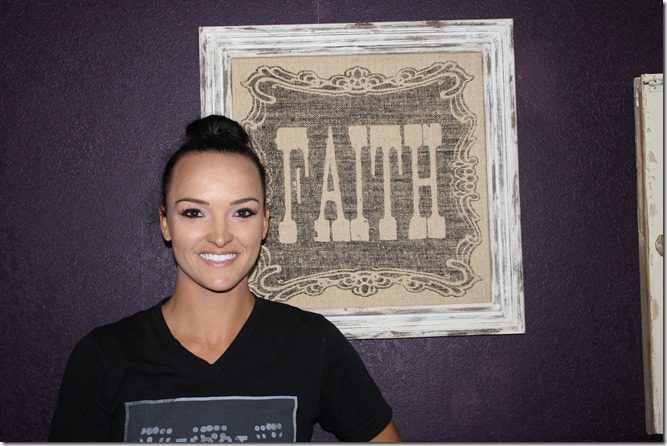 I asked Tara if she said a little prayer when she crossed that finish line in Boston. She laughed gleefully and said, " I prayed the whole race!"
Tara also told me how much the support of family and friends has meant to her and how blessed she has been to be injury free during her  training and competing, and blessed with expert earthly coaching and heavenly guidance.
In the end, when this dedicated twenty-eight year-old becomes the elite runner from a small town in Texas going to the Olympics, or if something else is in God's plan for her, she will be confident and content that she has done her best. It's her way of saying thank you.
Tara will have no regrets, and for this and all the other things she will do to the best of her ability, one day God will greet her with,  "Well done, good and faithful servant."