Zeta Rho and Xi Omicron Xi chapters of Beta Sigma Phi service sorority celebrated their annual Founder's Day on Tuesday, April 23,  2019, at the Bailey County Electric meeting room
The evening was opened with Beta Sigma Phi Grace given by Sheila Stevenson. Members and guests then enjoyed a delicious dinner catered by Café 21 of barbecued brisket, sausage, potato salad, pinto beans, onion, jalapeños, pickles, and bread. Dessert of strawberry tort and peach pie was provided by co-hostesses Sandi Chitwood and Shelia Stevenson.
The Founder's Day Pledge was read by Brenna Birch, and a message from Laura Ross Wingfield, President of the Executive Council of Beta Sigma Phi International was shared by Alice Liles.
The sorority named Carolyn Johnson Woman of the Year, and Linda Wood gave a summary of her accomplishments and contributions to the community through the years, beginning with her marriage to Buck Johnson and moving to Muleshoe. She served as Chamber of Commerce Manager, was owner and manager of Carolyn's Christmas Creations, which also included style shows in conjunction with Red Hat Day. After closing the store, Carolyn's time was devoted to taking care of Buck during his lengthy illness. During that time First United Methodist Church of Muleshoe provided them with a "soul stew" supper one night, and remembering that kindness gave Carolyn the desire to share that meal with others, so for the last two years she has been instrumental in carrying on that program. She is now the director of the Oneita Wagnon Senior Center in Muleshoe and is bringing new activities and events to the center. Her latest endeavor is the development of a children's puppet ministry at the Methodist Church.
After chapter highlights and perfect attendance were given by Vicki Black and Brenna Birch, Donna Glover and Val McCamish announced new officers for the two chapters. Zeta Rho's new officers included Pat Angeley as President, Sandi Chitwood as Vice-President, Vicki Black as Secretary, Pat Young as Treasurer. City Council representative will be named at a later date. Xi Omicron Xi's new officers are Char Phillips, President; Linda Wood, Vice-President; Brenna Birch, Secretary; Treasurer, Judy Davenport; and City Council Representatives, Brenna Birch and Val McCamish.
Val McCamish announced Judy Davenport was the Member of the Year for Xi Omicron Xi. Donna Glover announced Vicki Black was voted the Member of the Year for Zeta Rho.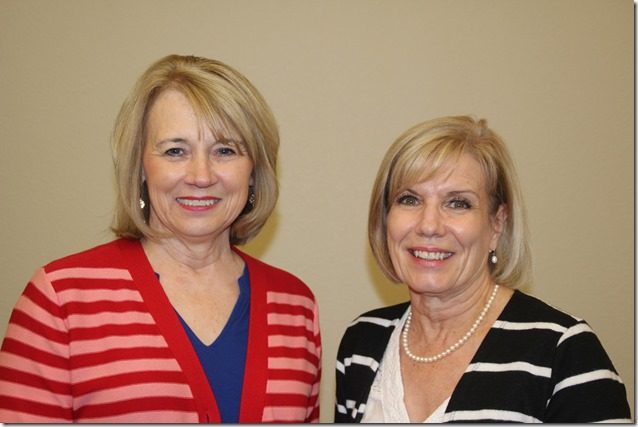 Pat Young gave a report on the Pennies from Heaven fund, a local fund the sorority set up for the purpose of providing back-up in the event a member needs extra help in a time of need.
After door prizes of pink geraniums were won by members whose programs were decorated with a heart,  Pat Angeley led the group in the Closing Ritual and Mizpah.
Pictured below are co-hostesses Brenna Birch, Sheila Stevenson, Woman of the Year Carolyn Johnson,  co-hostesses Val McCamish and Sandi Chitwood, and guest Janis Morrison.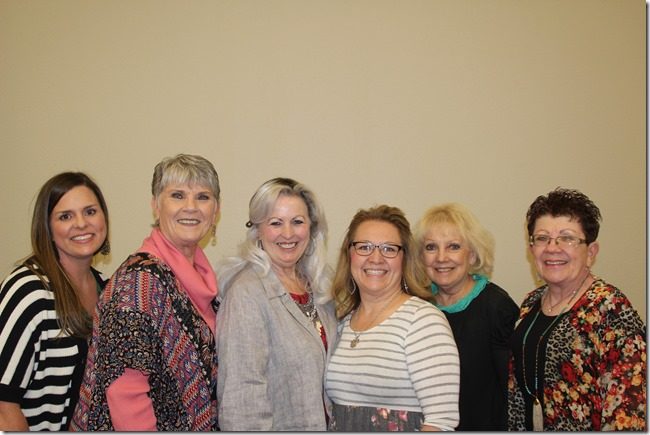 Members and guests of the Founder's Day evening included, left to right, standing: Sharon Agee, Val McCamish, Vicki Black, Sheila Stevenson, Martha Hunnicutt, Judy Davenport, Linda Wood, Sandi Chitwood, Brenna Birch, Janis Morrison, Carolyn Johnson; seated: Pat Angeley, Cindy Barrett, Pat Young, Cindy Purdy, Donna Glover, Sherri Shipman. Not pictured, Alice Liles.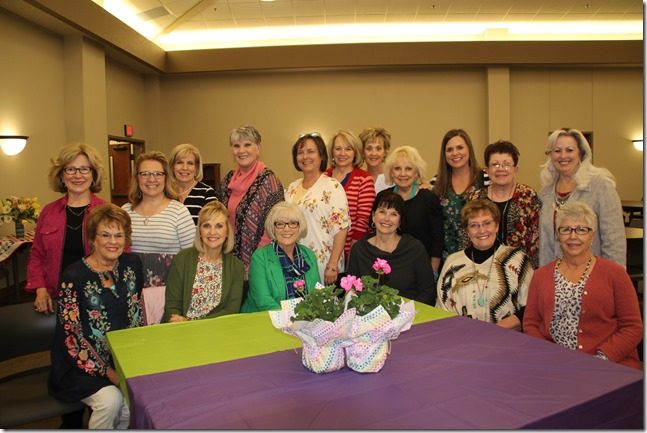 Thanks to Linda Wood for helping with this article.