Ellis Funeral Home is celebrating sixty years of service this year. As a way of honoring Muleshoe and the surrounding community they have come to know for those sixty years, they hosted the Remember Our Fallen Heroes from Texas exhibit this past Presidents Day and the following Tuesday, February 18 and 19, 2019.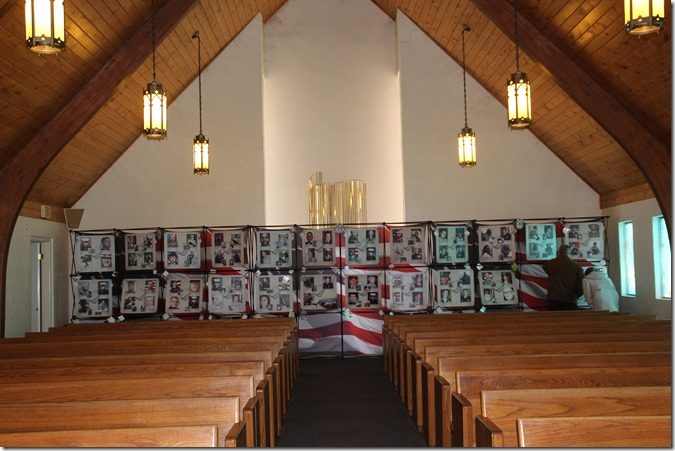 A Gold Star family is one that has lost a family member actively serving in the armed forces of the United States during a time or war or armed conflict. The tradition dates back to World War I when families were given flags with a blue star for every immediate family member serving in the military when the United States was engaged in hostilities. If the loved one died during the course of the hostilities or war, the blue star was replaced with a gold one in respect for the price the family and their loved one had paid in service to America. But in spite of that honor, any Gold Star family's greatest concern is that the sacrifice of their fallen loved one will be forgotten.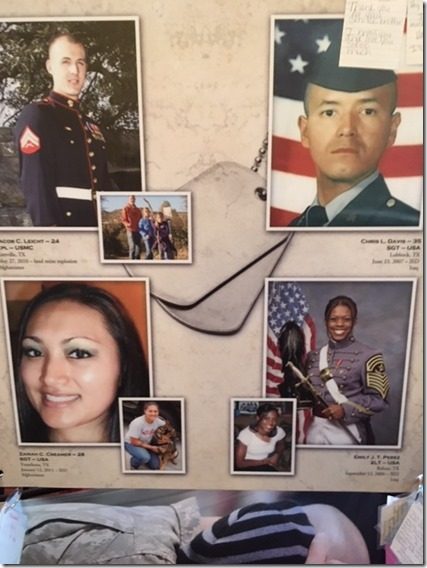 In response to that concern, a Gold Star family in Nebraska initiated the idea and Bellevue University in Bellevue, Nebraska, became a founding sponsor of the Remembering Our Fallen traveling display that recognizes fallen soldiers from 9/11/2001 to the present, with memorials being added as more soldiers pay the ultimate price for our freedom. In the beginning, the exhibit focused on Nebraska's fallen heroes. After a time the impact the display had on people who saw it became obvious, and exhibits were completed for the soldiers of other states, such as this one honoring all fallen heroes from Texas.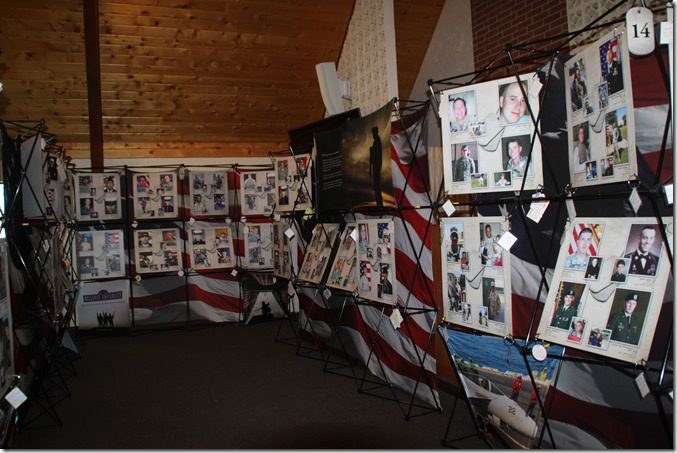 This memorial is different from more common brick and mortar monuments and bronze statues in that it is mobile, therefore allowing it to travel from town to town for viewing. It also has the distinction of including both military and personal photos of the soldier. These personal family photographs have been shared by the fallen soldier's family with permission to be used in the display.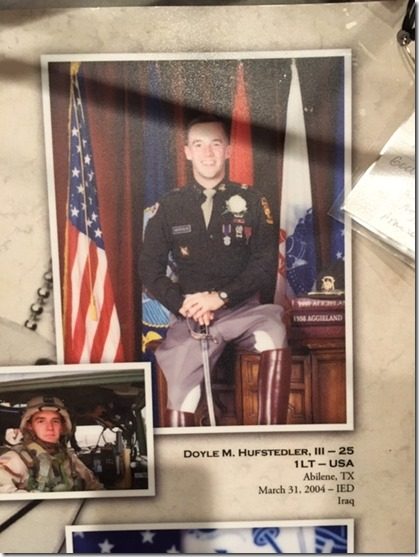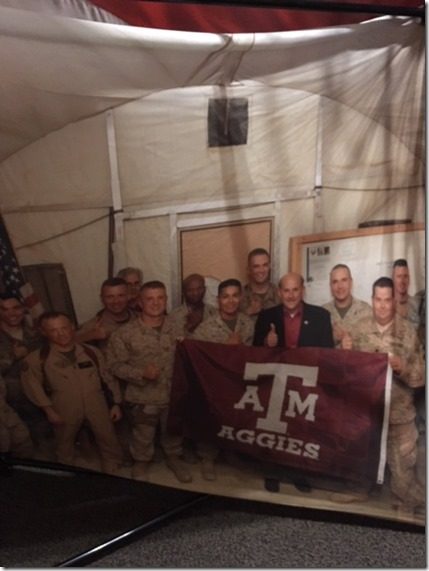 Attached to each portrait of the fallen hero is a shiny metal ring that holds notes, pictures, and mementoes left by people wishing to pay their respect and give their thanks to the fallen hero. These notes are laminated for protection and travel with the soldier's poster. When family members read the notes, it is a source of comfort and healing to help them deal with the loss of their loved one.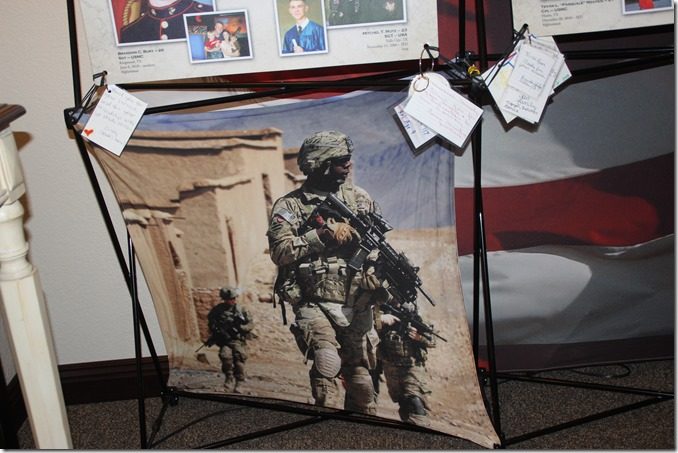 At this time, 619 soldiers are memorialized in the display, all from Texas. A total of sixteen states now have their own state exhibits actively traveling, and other states are working on theirs.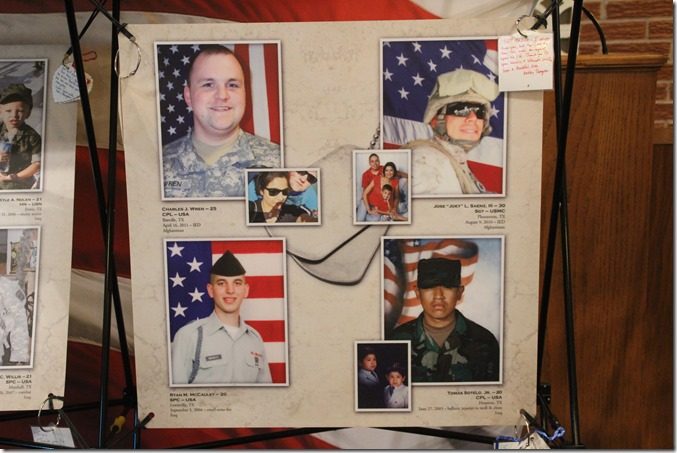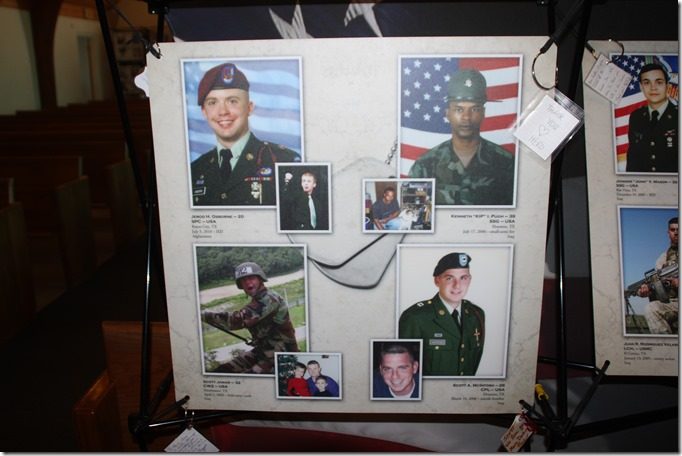 Bobby Withrow, a veteran of twelve years service in the US Navy and five years in the Texas State Guard, has been the person who has traveled with the display all over the state for the last five years. It is his job to take the precious cargo to its display destinations, set it up and take it down, and then either travel to the next assignment or go home to Leander, Texas, and wait until the display is requested by someone else. Having his own business allows him to take off and share the memorial when he is needed. For him, sharing this vital part of American and Texas history is a labor of love, and he is honored to do it. The exhibit was headed for Perryton after he loaded up here. And after that, he has some down time before going to Victoria on April 4th and Odessa in April 20th and then to other towns as requests are submitted.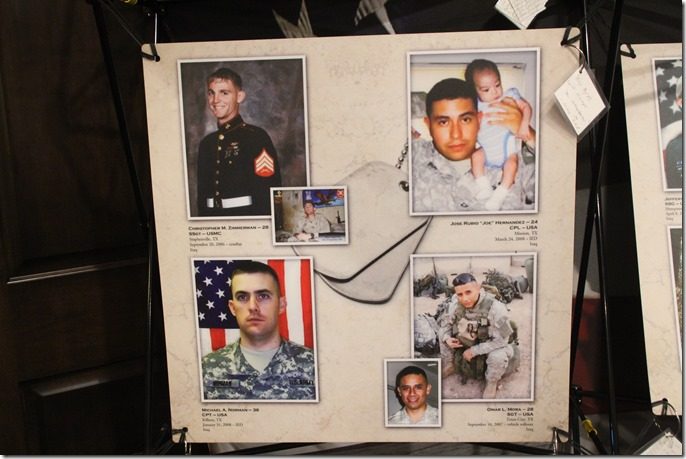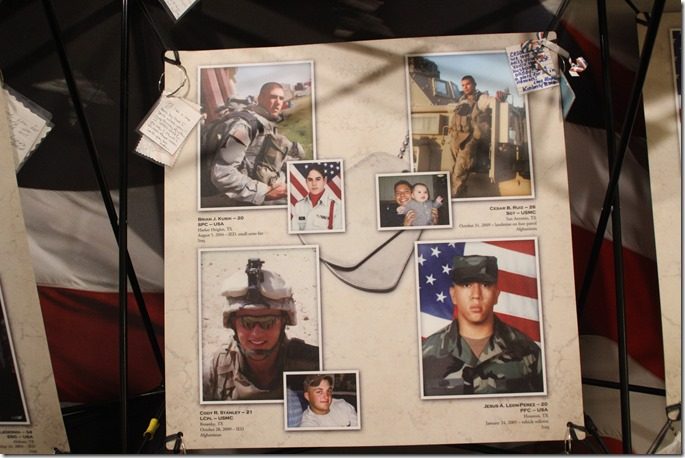 The display was especially poignant for Muleshoe, as we had a fallen hero honored on a poster; Chad Bales, son of Kem and Lori Bales, also son of Ginger Metcalf and grandson of Ike and Gail Wilcox. I taught Chad in my English class at Muleshoe High School and to me, he will always be the fun teenager dressed in full cowboy regalia strutting his stuff when we had a dress-up day during Homecoming week one year. Godspeed, Chad.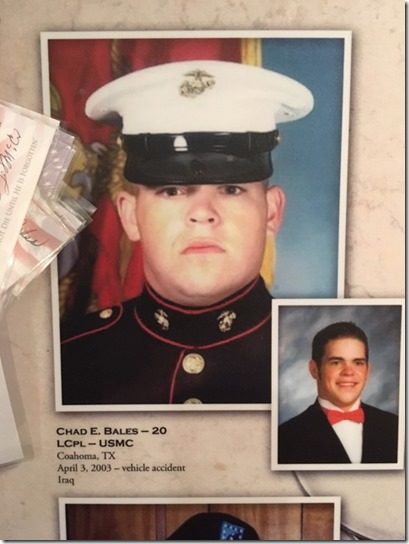 The legacy of the lives remembered in the pictures and those handwritten notes will be that these men and women will be remembered and their names will be spoken and their sacrifices not forgotten.
And those of us who view those pictures will be grateful, but more than that, humbled by their sacrifice.
God bless them, every one.
Thanks to Ellis Funeral Home for bringing the exhibit to Muleshoe, and to Lori Bales and Bobby Withrow for their help with the story.
Watch Magann Rennels and Gil Lamb Advertising interview Bobby Withrow about Remember Our Fallen at this weblink:
https://www.youtube.com/watch?v=yZAPOPlRJ4Y
For more information about Gold Star Families and Remember Our Fallen, go to these websites:
https://www.patrioticproductions.org/rememberingourfallen