The Muleshoe Chamber of Commerce kicked off the Christmas season Saturday with a small business promotional contest and the lighting of the Christmas tree at the Muleshoe Visitor's Center and Chamber Office. The wind had finally died down, and it was a pleasant night for the outing.  A nice crowd gathered, shopped Muleshoe-related items at the chamber office, bought a few copies of The Bright Lights of Muleshoe from me, and had a nice visit while getting into the Christmas spirit.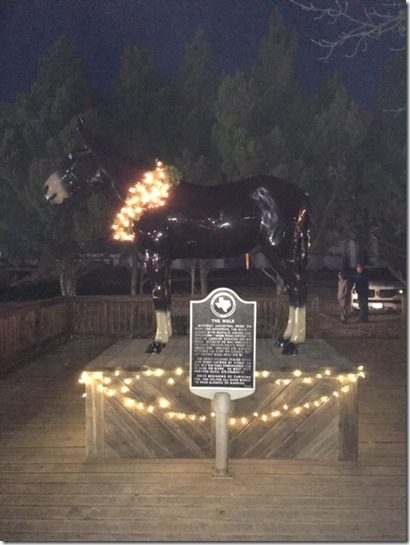 Basil Nash blessed the evening with a nice invocation and led the countdown to the lighting of the tree. A group from the Trinity Church choir led everyone in Christmas songs and carols.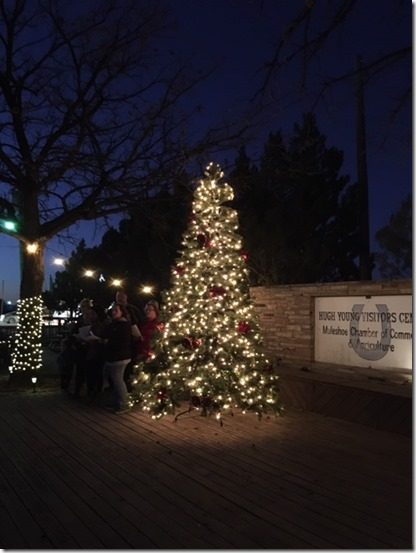 November 24th was Small Business Saturday and to encourage everyone to shop Muleshoe, chamber manager Jill Sisk and economic development person Kacey Coker made sure everyone knew about the shop small business promotional program starting on the 24th and running through December 15th. When you shop the participating businesses listed below, save your receipts and take them to the chamber office where you will be given a punch card with your name on it which will be punched for every $10 you spend at local businesses. When the card is filled with ten punches, it will be added to the raffle barrel from which a winning card will be drawn and the lucky winner will receive a gift basket full of goodies donated by the participating businesses. What a deal!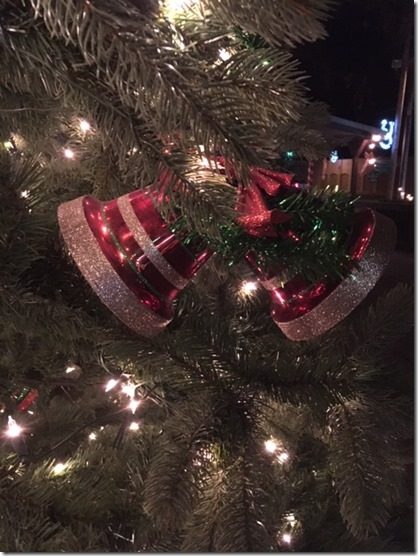 Participating businesses include: Joe-Ed's, Antojitos Locos, Bi-Wise, StoneGrace Boutique, Fry and Cox, Mohawk Auto Parts, Higginbothams, Devin Sisk Photography, Muleshoe Vet Supply, Muleshoe Vet Clinic, Nails by Tonya, Lasting Impressions, Tattered Tumbleweeds,  Sparkle Cleaners, and Muleshoe Chamber of Commerce.
The drawing will be held the night of December 15th at the Muleshoe Heritage Center after the Christmas parade. You don't have to be present to win, but since you will be out enjoying the parade, be there for the drawing, too.
Good luck and happy shopping at home where you don't have to fight the crowds!
Thank you Jill Sisk and Kacey Coker for helping me with this story and including me in the festivities.