For forty-five years, Bob Graves has graced the halls, gyms, and football fields of Muleshoe Independent School District. He served under eight superintendents, did the play-by-play for many a football game, coached and taught enough students to populate a small town, and served at the junior high and high school as assistant principal and principal, all in the same small town where he first started his teaching career in the fall of 1958.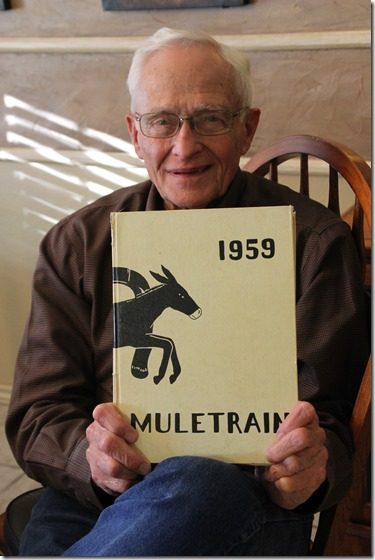 That small town, Muleshoe, was a bit different in 1958 from today when Bob arrived from Hollis, Oklahoma, where he was born in 1936, which might explain his loyalty to the Sooners at OU. Bob grew up in Hollis, attended school in nearby Arnett, and graduated from Arnett High School in 1954. He earned is bachelor's degree from Southwestern Oklahoma State College, now Southwestern Oklahoma State University, in 1958.
So how does someone wind up in Muleshoe from Hollis, Oklahoma? That happens when friends in Hollis, the Andy Mayhugh family,  happen to be related to the Charles Mayhugh family in Muleshoe, and the Muleshoe school superintendent, in this case Jerry Kirk. Andy Mayhugh suggested to Bob and his friend Jackie Lewis that they drive down and apply for teaching jobs with Mr. Kirk. The story goes that both young men looked more like high school kids-which they almost were, being fresh out of college-to Superintendent Kirk, but he agreed to give them a chance and see what they could do. And they did just fine. Jackie Lewis stayed one year and then moved to Amarillo to follow a girl friend; Bob wound up finding a girl friend here, continued to do his job just fine, and the rest, as we all know, is history.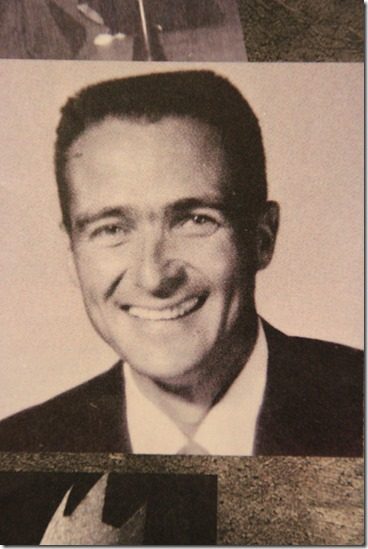 Photo courtesy of Bob and Billie Graves
Bob's first teaching assignment was at the junior high teaching Texas history, science, physical education, and geography. It just so happened that a student by the name of Billie Jean King-not the tennis player!-was a senior that year at the high school. She and Polly Briscoe (Oliver) and Sandy Weeks filled in as office workers during the day at the junior high. It didn't take long for the girls to discover there was a cute new teacher working at the junior high that year, and it also didn't take long for that cute new teacher to become smitten with Billie Jean. She graduated that following spring, and after about a year, Bob eventually asked her out. They married in 1964.
Coaching came around after about three years of teaching at the junior high. Bob went back to Hollis in the summers to work, and high school coach Bill Taylor contacted Bob with the offer to coach at the junior high and help him and Lewis Powers with coaching football and basketball at the high school, Bob said he had more background in basketball, but learned about football from these two coaches, bending their ears constantly with questions they gladly answered.
So for the next thirty-six years Bob Graves was a presence at both the junior high and high school campuses as teacher, coach, and administrator. He earned his M.E. degree from Eastern New Mexico University in 1970 and his educational administration degree from Texas Tech University in 1980. In that time period he taught history, science. geography, physical education, government and economics, coached boys and girls at the junior high and high school levels in the sports of basketball, football, and track,  served as principal at the junior high and assistant principal at the high school. He retired in 1994 but went on to teach half-day at the high school for another nine years, officially ending his career in 2003, spanning forty-five years with the same school district.
When I interviewed Bob, time and time again he would come back to the way things have changed since he wandered into West Texas in 1958, sixty years ago, way back last century! The first thing that popped into my mind about how things have changed is that these days people don't tend to stay with the same job in the same place for forty-five years like he did. Ten or twenty, maybe, but this long? Elizabeth Watson and Kerry Moore do come to mind, but you get the idea. Innocently falling for Billie when she was a senior and he was a first year teacher in the same school district would carry all kinds of dire consequences today! Never mind that nothing illegal, immoral, or unprofessional went on, the romance would have made headlines. Yes, things have changed.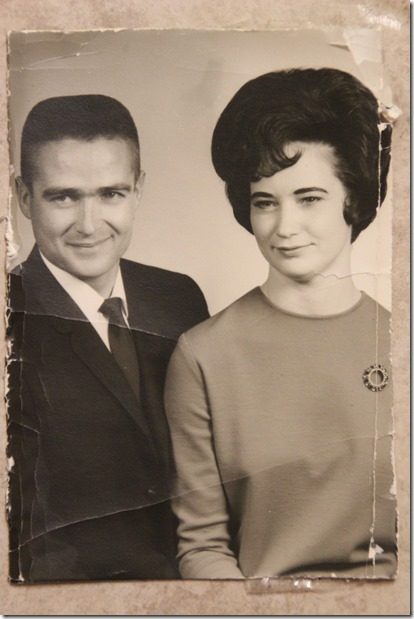 Photo courtesy of Bob and Billie Graves
Back then the Clovis highway was a two-lane disaster area referred to as Killer 84 because of the many wrecks and deaths that routinely occurred on it. Muleshoe High School was then classified what would be a 4A high school today and participated in UIL events, particularly football against the likes of Hereford, Canyon, Dumas, Perryton; they even faced Clovis, New Mexico in football. Business was booming back then at Cobbs and St. Clair's Department stores, Cashway Grocery, Damron Drug, Harvey Bass Appliance, Dari Delite, Spudnut Shop, and so many other businesses that are now a distant memory with no store fronts left as a reminder they ever existed.
Eight superintendents have come and gone during Bob's time with Muleshoe ISD: Jerry Kirk, Neil Dillman, Harold Horn, John Fuller, Lawrence Ward, Bill Moore, David Hutton, and Gene Sheets. Bob remembered strict dress codes that required measuring skirt lengths, concerns over boys' hair cuts, and pick-up trucks driven to school with rifles in the gun racks that no one said a thing about. He also remembers that first year salary-$3,250!
Bob also left his mark on Muleshoe as one half of the voice of the Muleshoe Mules on Friday nights. The other half was his nephew Ronnie Jones, son of his sister Johnnie Faye Graves Jones ("Ronnie Jones 1941-2014," February 13, 2014). In 1965 Bob recommended Ronnie to Muleshoe coach Willie McAlpin, and Ronnie moved from Snyder, Oklahoma, where he had been coaching and teaching and worked with Bob first at the junior high and then later at high school. But what they were well-known for was their play-by-play of the football games. Bob started calling the games for KMUL with Stanley Wilson in the late 60s and later for Channel 6 and Gil Lamb Advertising with Ronnie until Ronnie's death in 2014. After he and Kenneth Henry did the play-by-play the next year, Bob said it just felt like it was time to pass that position on to someone else, closing the last chapter of Bob and Muleshoe ISD.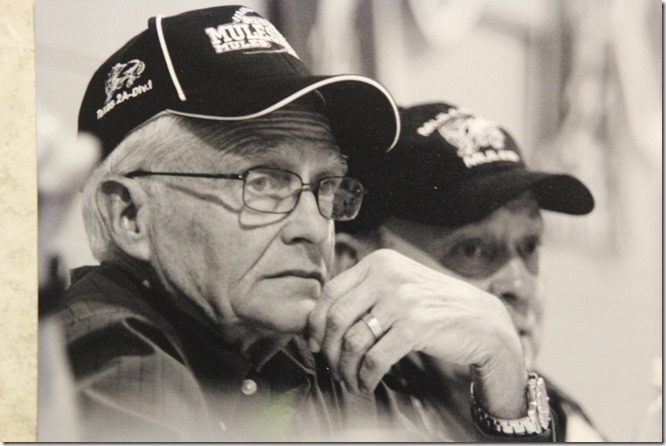 Photo courtesy of Bob Graves and Stacy Conner
Bob still has fond memories of Muleshoe football, though, and shared a few of what he considers some memorable games, like the 1963 game with Denver City which the Mules won 15-7, the state semi-finalist game in 2000 played at the original Dallas Cowboys Stadium in Arlington when the Mules had a great 14-1 season but lost to Forney, the 2011 final four loss to Melissa, and then of course, the 2008 perfect season when the Mules were the state 2A champions. Littlefield games, many times settling the district championship, have always been intense, the 2011 playoff game, for example, when the Mules won by a touchdown, 38-31 in 30 degree weather.  Bob and Ronnie were honored together for their dedication to Muleshoe sports with the Legends Award in 2001. When Bob was coaching girls' basketball, the 1973 season was memorable too, because that year Muleshoe played Canyon, and Muleshoe beat them in their first district game, and to beat Canyon, who made it to the state finals that year, well, that was a game worth remembering.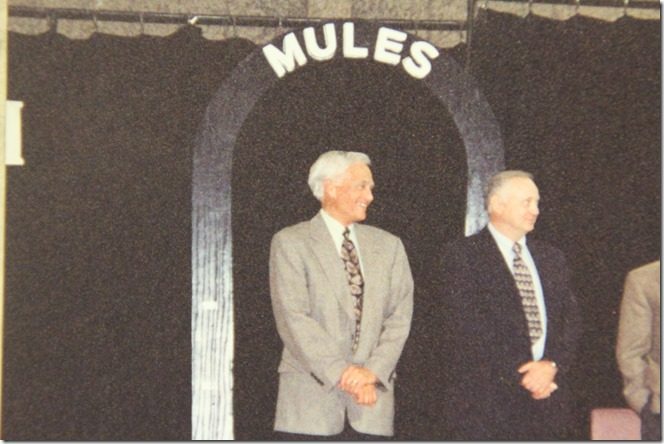 Photo courtesy  of Bob and Billie Graves
Always busy even in retirement, Bob served as president on the boards for the Oneita Wagnon Senior Center and the Muleshoe Memorial Park for six years, and is a deacon at the First Baptist Church in Muleshoe where he also teaches a men's Sunday School class and sings in the choir. He and Billie enjoy working in their yard which is always neat and full of flowers in the spring and summer. Domino games are played most afternoons after lunch at the senior center, too. Bob and Billie also enjoy time spent with sons Jerry Bob and his family who live in Wink and Terry and his family who live in Mesa, Arizona, and their five grandchildren.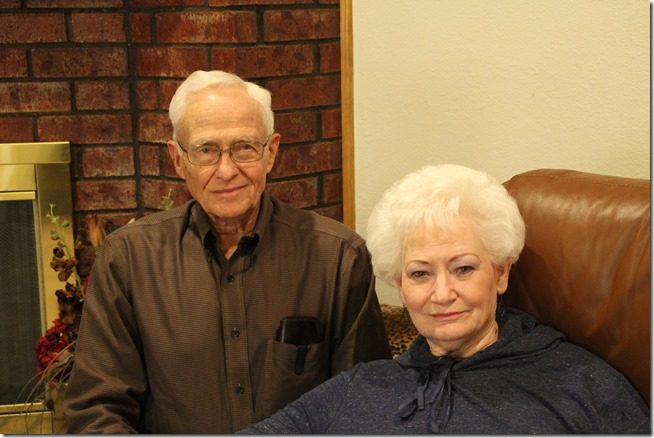 I also keep Bob busy off and on when I have questions researching topics for some of my stories, so I'm happy that he has been around all this time. We're glad he wandered down to Muleshoe, even if he does still root for Oklahoma!
Thanks for sharing your story with me, Bob.
My thanks to Bob and Billie, Sam Whalin, David Wood, Dana Rasco, and Cindy Purdy for help with this story.