Joe Adams, MHS Class of '66, was here the other day to revisit his hometown and plant a seed that he hopes will perhaps inspire young people to dare to follow their heart's desire and fulfill their own wanderlust calling them to far-off lands, adventure, and achievement.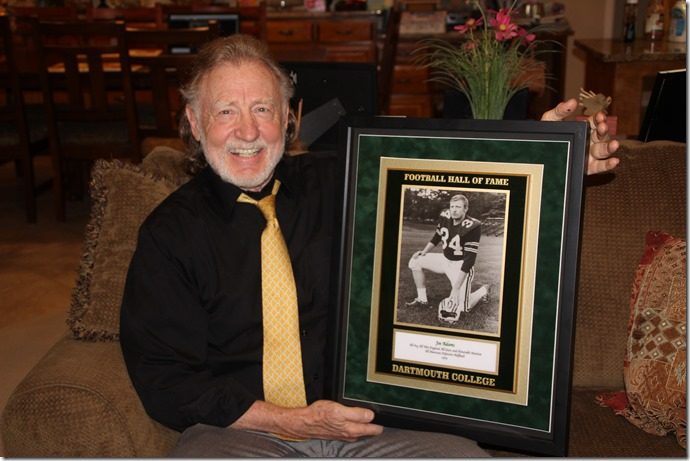 Joe's father and mother, J.K. and Margaret Adams, planted that very seed in his mind when the family took trips all over the United States and other countries when he and his sister Joyce were growing up in Muleshoe. So when Joe was offered an academic scholarship to Dartmouth College upon graduation from Muleshoe High School as the class valedictorian, the idea of traveling all the way to New Hampshire to complete his education didn't sound like such a bad idea. And while the scholarship being offered was based on his academic record, he would also be given the chance to play football at the university, so it was a win-win proposal.
Except that not everyone else thought it was such a good idea. He would be far from home with no friends or family close by, and the culture shock of going from a small West Texas town to an Ivy League society seemed fraught with problems. He and his art teacher/mentor, Elizabeth Black, whom Joe fondly referred to as the town Bohemian, had many a philosophical discussion over originality versus authenticity that played into making the decision of accepting or rejecting the scholarship. Eric and Lucy Faye Smith were the only high school teachers who thought he should accept the challenge. Amid the controversy, Dad, who still wasn't sure he wanted his son taking off to the other side of the United States, just gathered Joe up and packed him off by himself to Hanover, figuring that Joe should at least see the place to help him decide if he would like to spend the next four years there.
And I suspect that is definitely when the wanderlust took over. Joe said he was captivated by the place. He loved the trees, the scenery, and the picture post-card campus atmosphere he encountered.
Now keep in mind the scholarship offered was based on academic achievement, but athletics and football also played a role in the scholarship even coming Joe's way. A Dartmouth alumnus from Midland brought Joe's name to the attention of the coaches and other alumni, focusing on the fact that Joe was smart but also played a good game of football. Here was a place to play for the love of the sport while pursuing his liberal education. Joe liked the idea of the two interests complimenting each other, so the decision was made: Dartmouth it would be.
Culture shock did rear its confusing head. Joe said he pretty much stood out on campus since he was the only one wearing boots, jeans, and a hat and who didn't sound much like the other students with his Texas drawl and unfamiliar colloquialisms. He said many of the kids tended to overlook his given name and preferred instead to refer to him as "Hey, Muleshoe!" And while Muleshoe can have harsh, cold winters, in New Hampshire his freshman year the temperature dropped to 15 degrees below zero, and he was introduced to crystallized mucus in his nose!
But Joe managed the cold and the culture shock and was happy in Hanover, except for the fact that he did not get to play in the football games as much as he had anticipated. So during the summer between his freshman and sophomore year he came home and took a job working with a pipeline crew to get in shape, and I might add, encountered another case of culture shock working with these career pipeline workers, an education in itself!
He also worked out with the Muleshoe football team during that time. Willie McAlpine was head coach then and agreed to let him participate in two-a-day practices. Coach Darrel Oliver had come back home from the University of Texas with new hitting and tackling techniques typical of what was then the Southwest Conference that made quite an impression when Joe used them on unsuspecting teams upon his return to Ivy League play. Ironically, there was one other Texas boy on the team, Murry Bowden from Snyder, so between the two of them, these Texas boys brought a new way of playing football to the East Coast.
But I am getting ahead of myself. Putting in the time and effort to be physically as well as mentally prepared when he returned that fall paid off. Joe started as a sophomore that year and went on to make a name for himself as an outstanding defensive halfback. He was named All Ivy League, All New England, All East and Honorable Mention All American Defensive Halfback 1969.This plaque now hangs in the new Dartmouth field house Hall of Fame.
Photo courtesy of Joe Adams
Keep in mind that Joe's scholarship was based on his academic acumen, and he continued to complete that part of his far-flung adventure, graduating from Dartmouth in 1970 with a liberal arts degree, then earning a master's degree in architecture from the University of Pennsylvania. Wanderlust set in again during this time when he and a friend slipped in an extended summer tour in Europe, bicycling past monuments, cathedrals, and other phenomenal structures that spoke to his love of art and architecture, which he sees as intertwined because they both deal with people's lives. The trip also gave him a chance to meet people in a personal way, such as in Italy when they had a tire blowout and two locals helped get them to the next town, fixed the flat and even stayed around to eat a meal and visit afterward.
Attending this university also allowed him to meet his future wife, Gail Hood from Princeton, New Jersey, who was taken with those jeans and the cowboy look that was appealing to her. She was studying architecture, too, so they were a good fit.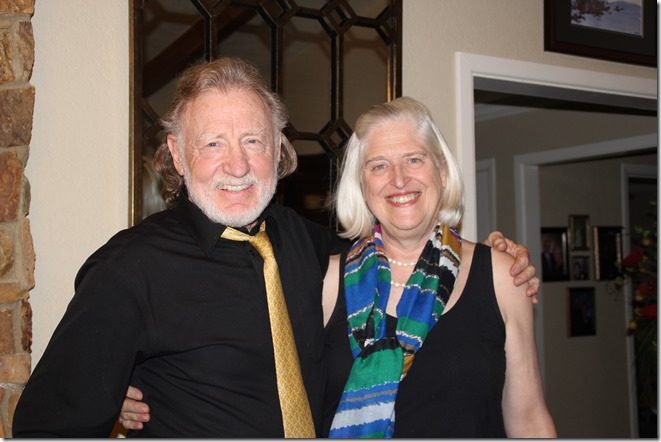 Now I may have some of this out of order-my notes are a mess as I was frantically trying to keep up as Joe talked-but as I understand it, they were married and traveled to London on the British Isles Scholarship Joe applied for and chose to use at the University of London so they could enjoy the city while studying for the next three and a half years.
Upon returning to the states, they wound up in Houston and established the architectural firm of Adams Architects, Inc. I asked Joe why they picked Houston, and he smiled. It was the oil boom, he reminded me; the streets were paved with gold! They accepted all forms of architectural work, but focused on residential designs, including the house they built near the downtown area of Houston. This project allowed them to build a structure that combined home and business space which they saw as ideal because the commute to work was an eight-second walk from the home door to the office door, which meant they were more available to their three daughters Kate, Anna, and Jessica. And this all sounds good, but he told me the girls sometimes thought it was too close a connection, what with work sometimes coming through the home door with Mom and Dad! And these girls, by the way, were also introduced to wanderlust with family trips, just like Dad was when he was a kid. The home and office sections of the house are clearly delineated and for the most part didn't infringe one on the other. Note the downtown Houston skyscraper in the background.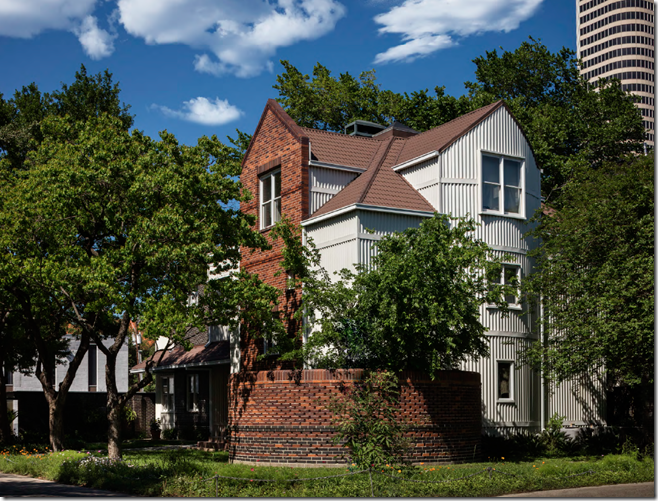 Photo courtesy of Joe Adams
Joe said he sees God's hand at work in many situations, and his life must surely have been one of them. Being introduced to the world on family trips and learning about art and authenticity from Elizabeth Black led him to venture forth to Dartmouth which set in motion all the events of the rest of his life, which have come full circle, bringing him back to Muleshoe with a plaque honoring the football chapter of his achievements.
And that brings us to why Joe was in town the other day. He has two duplicates of the football plaque on display at Dartmouth, one for himself and one for him to share with Muleshoe. He offered the plaque to Muleshoe school superintendent R.L. Richards and athletic director/head coach Lee Walker to display in the high school in the hopes that it could serve as a reminder to students that there is a world out there to be discovered and explored and conquered, even for a person from a small town like Muleshoe. Don't be afraid to venture forth when the opportunity presents itself.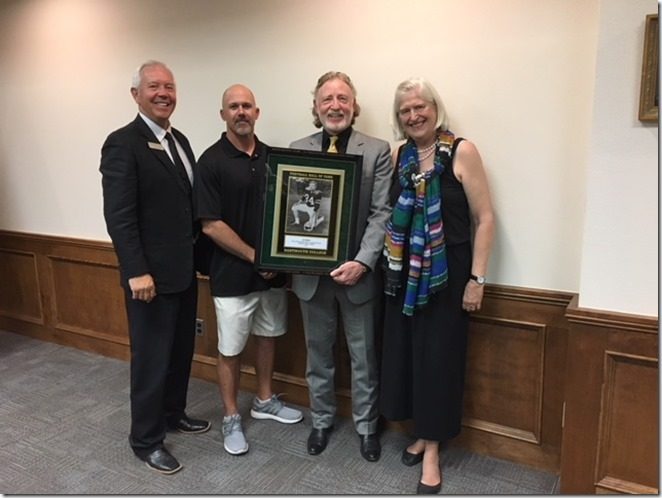 Photo courtesy of R.L. Richards
Because you can always come back for a visit. Right, Joe?
Thanks to Joe and Gail Adams, Bruce Purdy, Dianne Brown, and R.L. Richards for their help with this story.