Every week day afternoon, and maybe some mornings, dominoes is the game of choice at the senior citizens center at the corner of Main and Avenue D in Muleshoe. Bob Graves, Butch Vandiver, Buddy Embry, Cyrus Dale, Kenneth Henry, Ray Precure, Gene Paul Jarman, Richard Cunningham, Frank McCamish, Gerald Pruitt, Charlie Bailey, James Mason, occasionally Jeanetta Precure, and no doubt others whose names have escaped me, gather in varying combinations of partners to get serious about  matching those dots up around the table.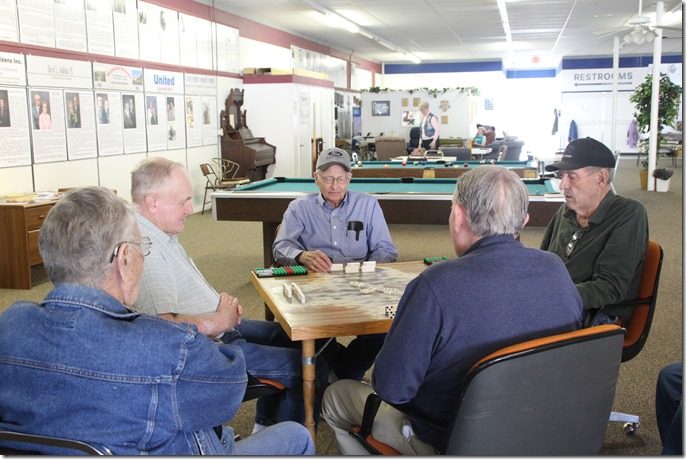 Dominoes has been a mainstay of many seniors for years around here, but it was only after 2002 that they actually had a place to call their own where they could leave the dominoes and table set up and ready for players to gather, pick partners, and get with it. Before then they met in a variety of places, moving around when options changed. I was told that at one time they met in the Bailey County Coliseum meeting room, had a meal, and enjoyed various activities afterward. Even without a permanent meeting place, the group officially organized and achieved 501 C (3) charity status in 1979.
Then in 2002  Dr. Charles Pummill, who owned the building which had housed several businesses, the last being Anthony's and Beall's, decided, along with his wife Rhonda, to donate the building to this group known then as the Bailey County Senior Citizens. The only stipulation was that the building be named in honor of Rhonda's mother, Oneita Wagnon, who had recently passed on. And the Oneita Wagnon Senior Center was born.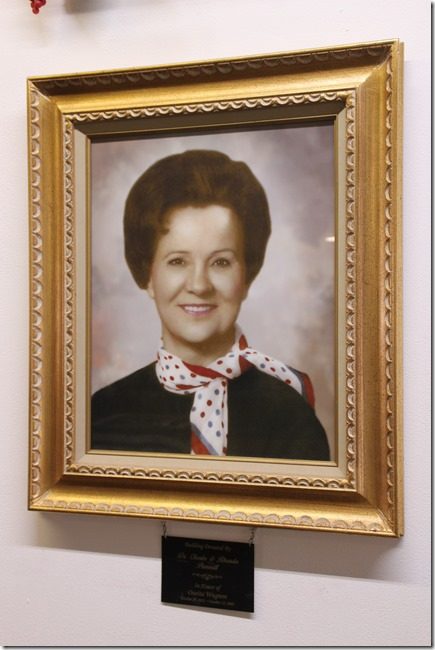 The Oneita Wagnon Senior Center is owned and operated by Bailey County Senior Citizens, Inc. and is a facility devoted to providing a place not only for senior citizens 60 and over, but for all ages and ethnicities to meet for social, educational, and recreational activities.
The game of dominoes is definitely one of those social and recreational activities. But so much more than dominoes take place in the center. Lunch has become one of the main focuses of the center. Sharing lunch at a table with friends and new acquaintances provides a happy social outlet for those who chose to eat lunch there. Computers are available for those who care to use them. A large TV surrounded by comfy seating is another gathering spot. An area arranged as a library with plenty of books and seating is located in the front corner of the building. Several tables hold puzzles in various stages of progress towards completion.
Tables are always set up and available for playing cards and other games when the desire hits. Bingo is held every Thursday at 1:30 and a group of women play Bunko every other Tuesday. Several women also like to play another domino game called 80 which requires using two sets of dominoes. Pool tables are also ready for players. Exercise equipment  is available if games are not your thing. Several regulars get their exercise by walking around the large dance floor that was installed about ten years ago, in part by Carl Bamert, who loved to dance. And that dance floor has been danced on, served as open space for family and class reunions, fashion shows, Tai Chi exercise sessions, and auctions. And I might add here that the center can be reserved for group functions; just talk to Geraldine Redwine, center director, about the details.
Auctions, raffles, pancake breakfasts, and dinners are held from time to time as fundraisers for the center. In fact, on March 4th of this year a steak dinner fed about 375 people and sold 240 auction items. Cliff Black, with help from Craig and Balee Black and Richard Hawkins cooked the steaks, Marion Dooley, Tomasa Cruz, Francis Carranza along with many willing volunteers helped with serving the meal,  C.L. and Thurman Myers, with help from Ronnie Dent, Sam Whalin, Lonnie Adrian, Derrel Embry, Kenneth Henry, Charles Hamilton auctioned off myriad donated items, and it was a very successful fundraiser.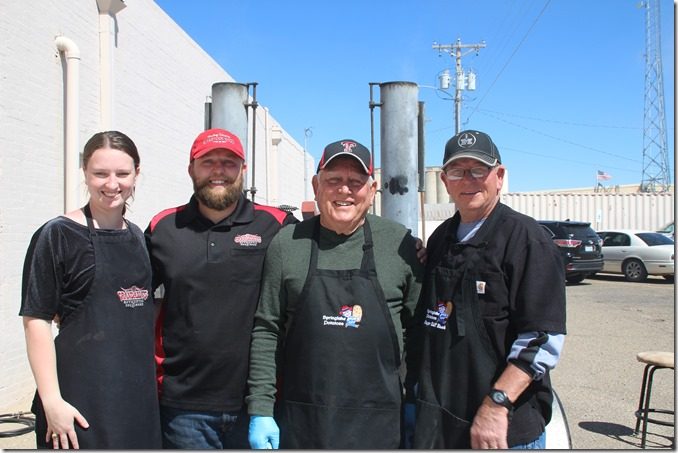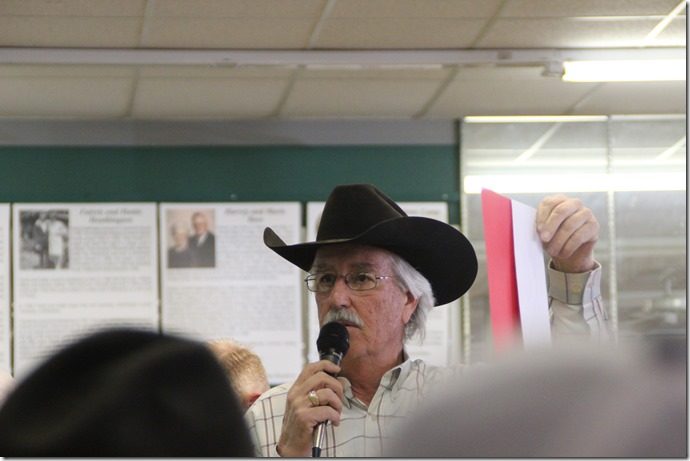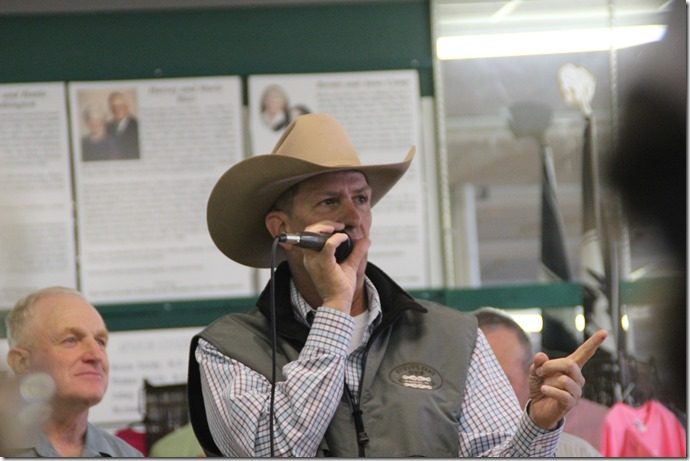 Operating funds for the center also come from SPAG-South Plains Association of Governments, the Area Agency on Aging, a part of the Older Americans Act, some funds from the city of Muleshoe, donations from Ray and Donna West, and several grants awarded to the center, thanks to the grant-writing skills of Ann McElroy.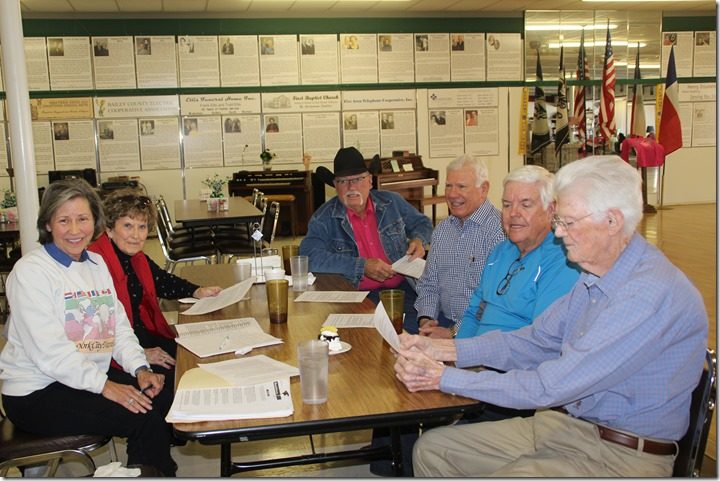 Something that sets the center apart and makes it special are the posters displayed on the walls spotlighting the history of Muleshoe and Bailey County by way of the people, the pioneers, if you will, that made Muleshoe a successful town. The posters also bring in revenue to the center, because a fee is charged to print and hang them, but their real contribution is in the history of the town and its citizens that they document and preserve. If for no other reason than to read their history and reflect on the impact these people had on Muleshoe, you should take the time to step inside the center. And if your family needs to be up there, talk to Geraldine about getting that done, too.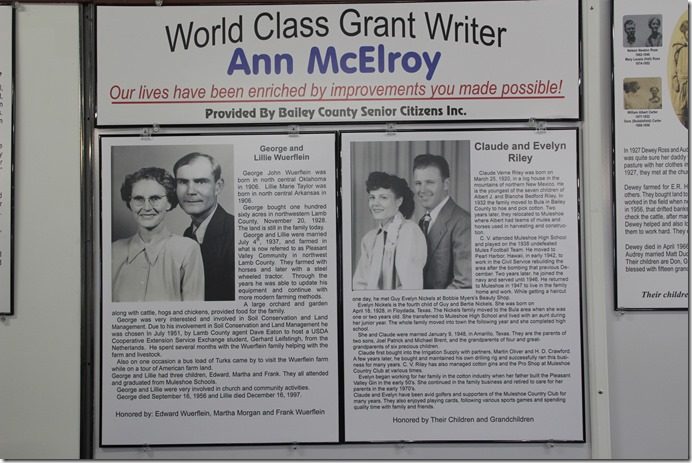 As I gathered information for this article, I kept hearing the same names mentioned, people who gave their time, skills, and dedication to make the center a reality and a comfortable, functional place for people to congregate and enjoy. People like Marshall Cook, Joe Sowder, Fred Clements, Buster Kittrell, Don and Ann McElroy, Nelda Merriott, Royce Turner, Buddy Embry, Carl Bamert, Nancy Kidd,  Mary Nell Bleeker, Savannah Killough, Arline Phelps, Laverne Winn, Helen Cook,  whose names came up more than once for a variety of reasons. The current board's names were mentioned repeatedly too, and continue to be tied to events and jobs at the center: Ronnie Dent is the board president, with Gary Glover serving as vice president, Eva Nell Dale, secretary, with other board members Marsha Rasco, Danny Stancell, Charles Bratcher, and Adrian Meador. I apologize if your name should be in this list and isn't; many people are important to the center, and I certainly don't mean to leave anyone out.
The Oneita Wagnon Senior Center is an asset to Muleshoe that perhaps is sometimes overlooked because it has the word Senior in its name. Don't be misled: the center has much to offer to all people in the community.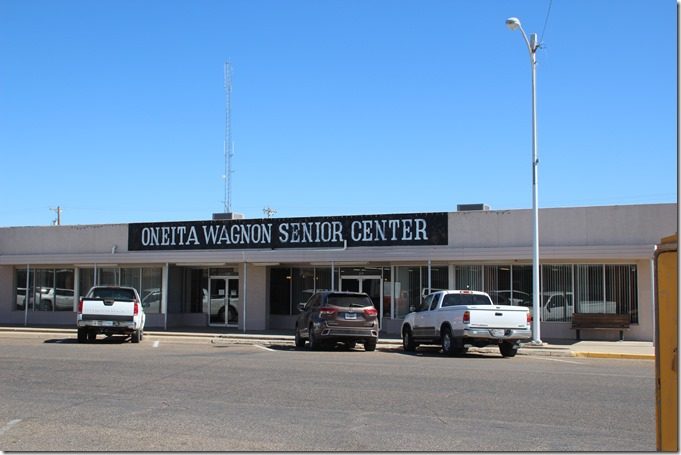 Check it out soon.
Many thanks to Kenneth and Darlene Henry, Ronnie and Regena Dent, Marshall and Helen Cook, Ann McElroy, Geraldine Redwine, and Bob Graves for their help and willingness to answer the phone every time I called with a question to write this story!