Not only is the wind telling us it is spring in West Texas, the Muleshoe Art Association hosted their annual spring art show April 9th through the 13th at AimBank in Muleshoe. Eighty-six pieces of art were entered, and judge Mike Lafleur from Amarillo had his work cut out for him. He commented on the overall quality of work presented and how difficult it was to choose between several pieces that were very close in masterful technique demonstrated and artistic talent at work.
Mike Lafleur lives in Amarillo and teaches classes on clay, pottery, and painting at the Amarillo Art Institute. He has been a full-time artist for the past 34 years and has pieces for sale in seven galleries, the main one being the Romero Street Gallery in Albuquerque, New Mexico. He paints traditional subjects typical of West Texas and New Mexico with a contemporary feel.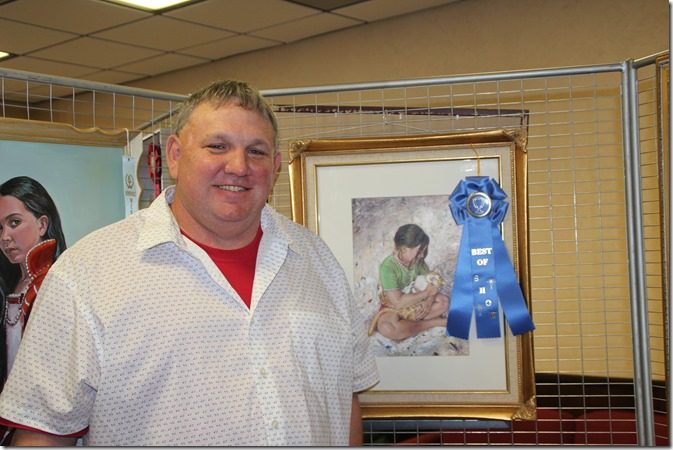 Watercolor was the first medium judged, with First Place going to Neal Kleman of Sudan for a portrait titled "June." Second Place went to June Musick of Lubbock, Third Place to Neal Kleman, with Honorable Mention to Pat Reed of Lubbock, Amy Armenta from Clovis, and Ashley Pippin from Portales.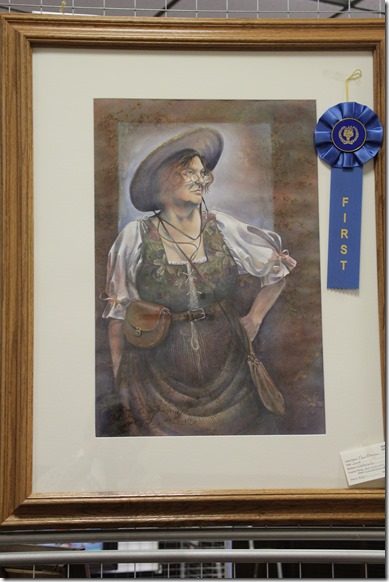 In the acrylic division, First Place went to Margaret Hodgson from Lubbock for "Elaine in Search of a Painting," Second Place was Scott Blazek from Clovis, Third Place went to June Musick, and Honorable Mention to Alba Jones of Sudan for two entries, and Sandi Chitwood, Muleshoe.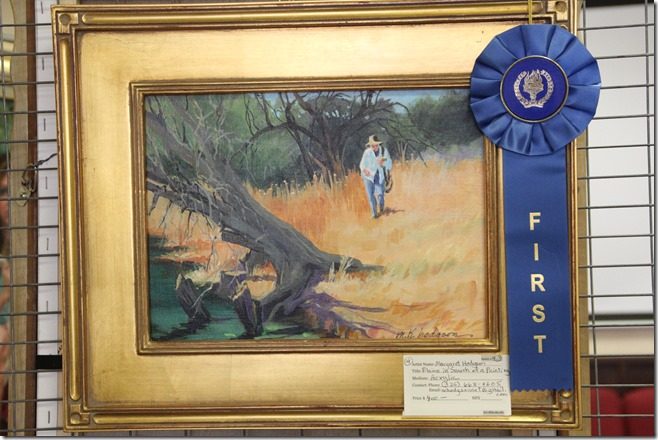 In oils, First Place was awarded to Lois Snyder from Clovis for "Sunflower," Second Place to Margaret Hodgson, Third Place to Lois Snyder from Clovis, and Honorable Mention to Gayle Walker from Portales for two pieces, Lois Snyder, Pauline Clark of Portales, and Sandi Chitwood.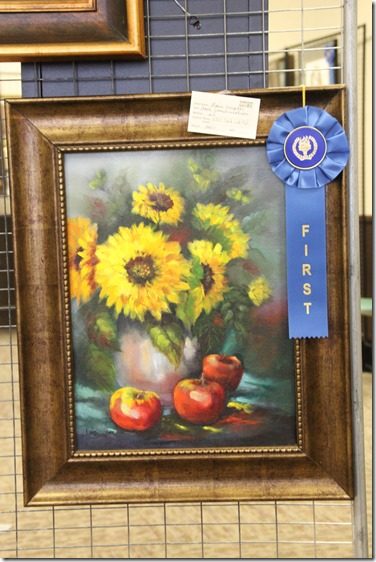 The photography division had the most entries this year. First Place went to Alice Liles from Muleshoe for "Trek to the Crater Rim," Second and Third Place went to Shirley White of Muleshoe, with Honorable Mention going to Shirley White, Tom Guldin from Lubbock, and Kelly Karn from Clovis.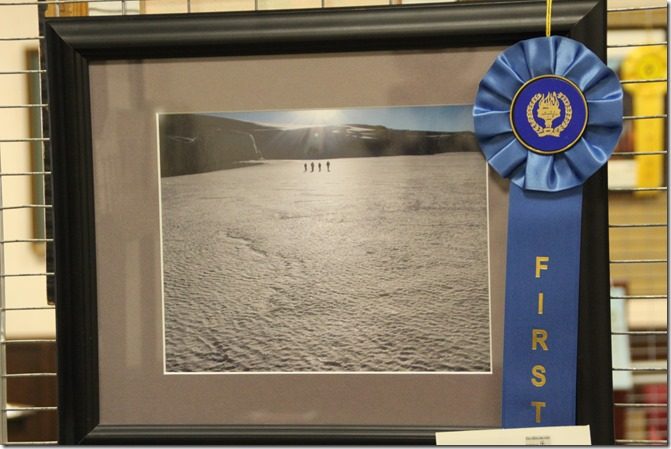 In the drawing and pastels division, First Place was awarded to Neal Kleman for "Clara," Second Place to Misti Prater from Muleshoe, and Third Place to June Musick. Honorable Mention went to Sandi Chitwood and Margaret Hodgson.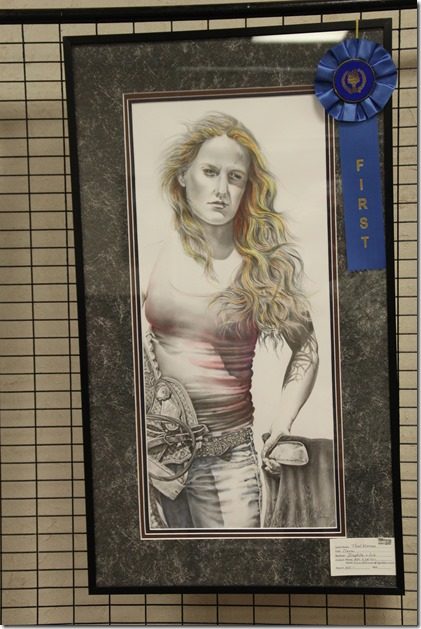 The miscellaneous category was just that, with a variety of mediums used, including cross-stitch needlework, copper enamel, mixed media, digital monoprint on canvas, alcohol ink on tile. First Place was won by June Musick for "Mini Penny in a Vase," Second Place to Sandi Chitwood, Third Place to Scott Blazek of Clovis, and Honorable Mention to Melba Bratcher of Muleshoe.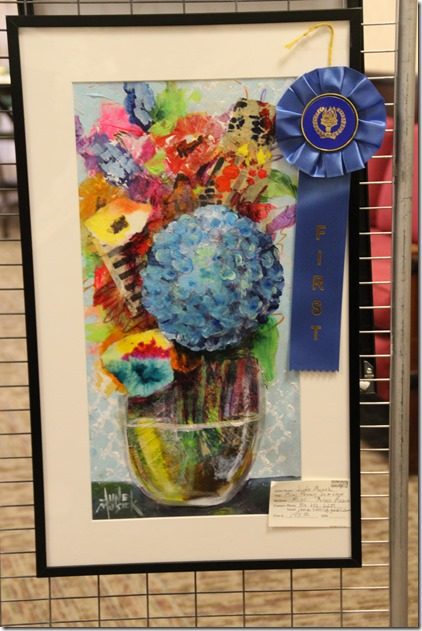 The Best of Show was this very appealing acrylic by Alba Jones titled "Bonding 1."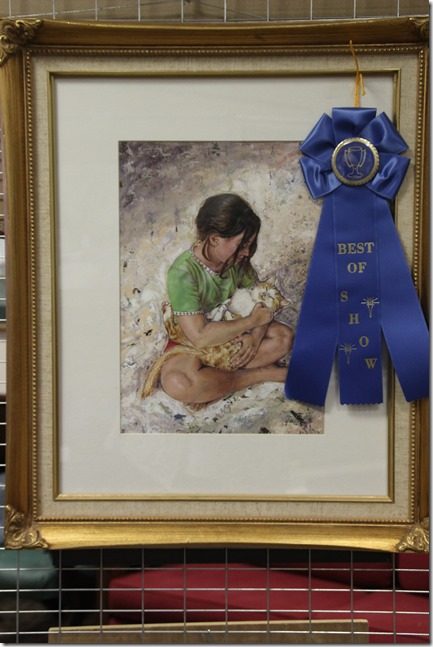 The student division showcased art from Muleshoe ISD students using a variety of mediums. Luke Leal won Best of Show for "El Gato."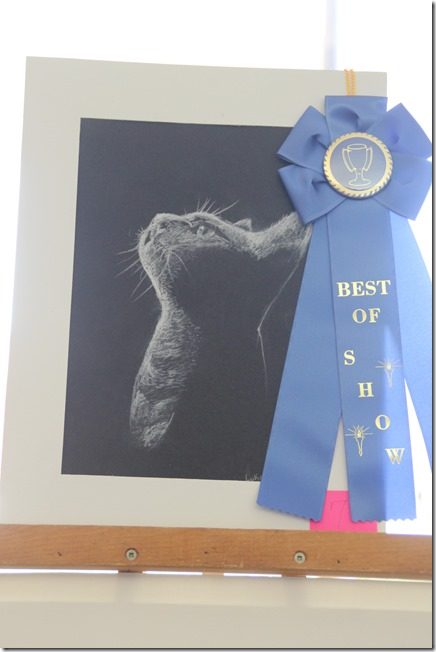 Muleshoe Art Association scholarship winner Romeo Reyes won First Place with "Buffalo," Second Place went to Tatiana Lawson, Third Place to Oliver Puckett, and Honorable Mention to Mary Rodriguez, Isiah Hurtado, Kaitlin Ramirez, and Luke Leal.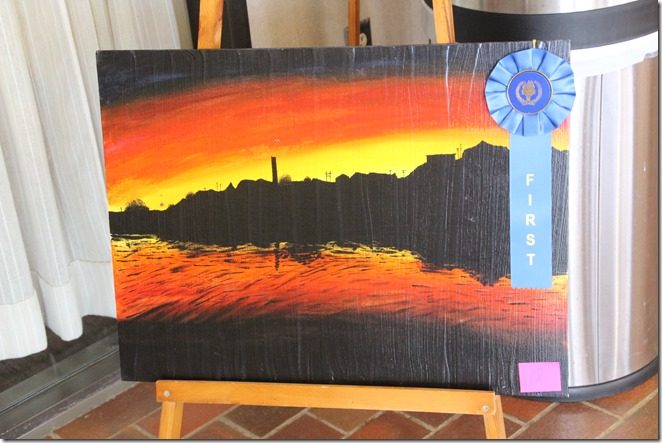 Hector and Angela Reyes were on hand as the association presented Romeo with the 2018 Art Association scholarship which he plans to use when he enters the University of Texas Arlington this fall.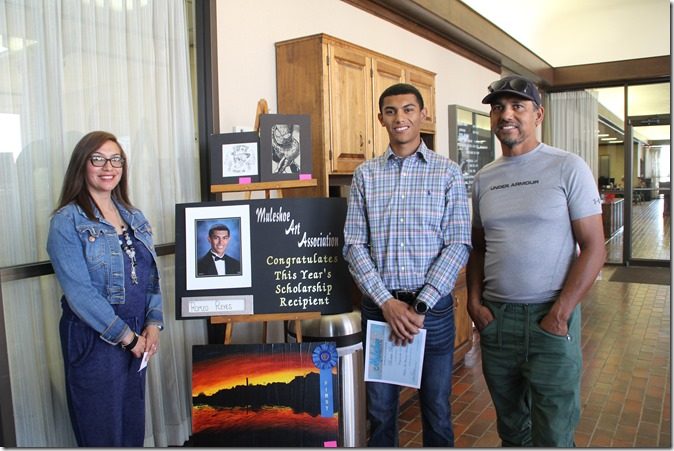 AimBank, in the gracious tradition of Muleshoe State Bank, not only allowed us to use their meeting room for the show, but also purchased a piece voted on by a group of their employees. Their choice for the AimBank Award was the photograph entered by Shirley White, "Share-Croppers," shown here with Jay Messenger, Muleshoe Market President, and Patricia Martinez, Customer Service Representative.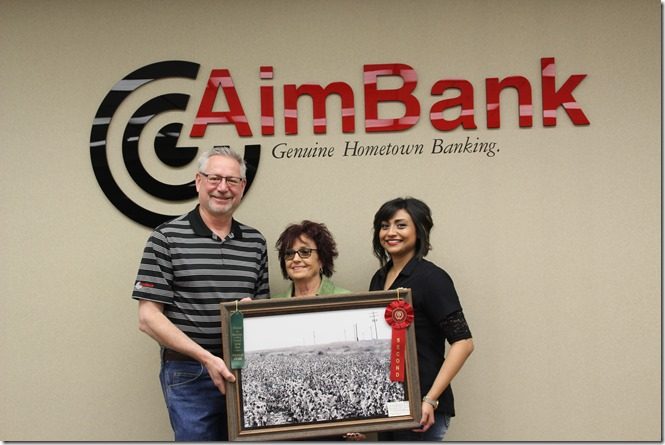 A popular and informal part of the show is the People's Choice Award, which allows visitors to the show to vote on the piece of art they liked the best. This year's winner was also a division first place winner, Neal Kleman's "June."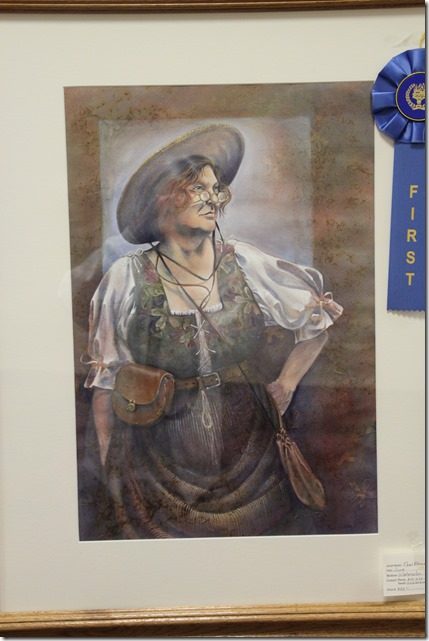 Many quality works of art were on display that were also for sale, so next year if you are in the market for something new to decorate your home, come visit the Muleshoe Art Association's Spring Art Show. Come to browse, buy, visit, or just enjoy art for art's sake. It's worth the trip, and I think you will be pleasantly surprised at the beautiful creations you will see.
My thanks to Sandra Chancey, Sandi Chitwood, and Jay Messenger with their help writing this article.