About the time the Muleshoe Art Association wanted to raise some money for their new art scholarship fund and give the association a bit of publicity, it was time for the Muleshoe Merry Market, which has become a successful marketplace for a variety of goods and gifts as the Christmas shopping season begins. So we decided to reserve a booth and give it a try.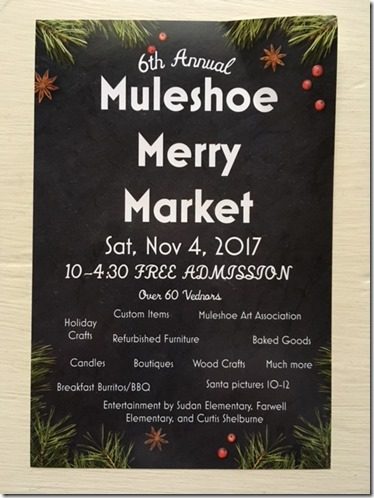 What started out as a social outlet for some young mothers in Muleshoe has turned into the Muleshoe Merry Market under the direction of Kenzi Green. Kenzie said in the beginning her group of friends, who were mostly stay-at-home moms, would take turns having small events in their homes to sell baked goods and various merchandise to make a little extra cash as well as to enjoy the social aspects of the get-togethers. Over time they invited others to join them which led to the idea of having a much larger event, and the first Merry Market was born. As happens, some of the original members moved away, some had other responsibilities needing more attention, but Kenzie still enjoyed organizing the market, and the rest, as they say, is history. For the past six years the market has continued at the Bailey County Civic Center and has attracted the attention of vendors and customers in the greater Muleshoe area and beyond.
This year 62 vendors, including one food truck, came not just from Muleshoe but also Sudan, Lubbock, Lazbuddie, Amarillo, Abernathy, Abilene, even as far away as Crane, Texas, as well as Clovis and Alamogordo, New Mexico, just to name a few. Customers, lots of customers, came from those areas as well, thanks in part to more extensive advertising this year.
Kenzie also invited local schools and appropriate businesses to provide ongoing entertainment during the day. Curtis Shelburne sang Christmas songs, the Sudan Singers performed as well as the Sudan Elementary school choir, and the KATZ gymnastic team from Clovis did flips here and there. Kenzie hopes other groups will be performing at future markets.
Several art association members showed up bright and early to set up our booth. We were encouraged to bring art work, baked goods, and anything else we would like to sell. Members would share a percentage of their sales with the art association and get to keep the rest themselves. Our space filled up with paintings, photographs, original greeting cards, jewelry, baked goods, handcrafted items, and succulents. Donations to the scholarship fund were also gladly accepted, and new members were welcomed.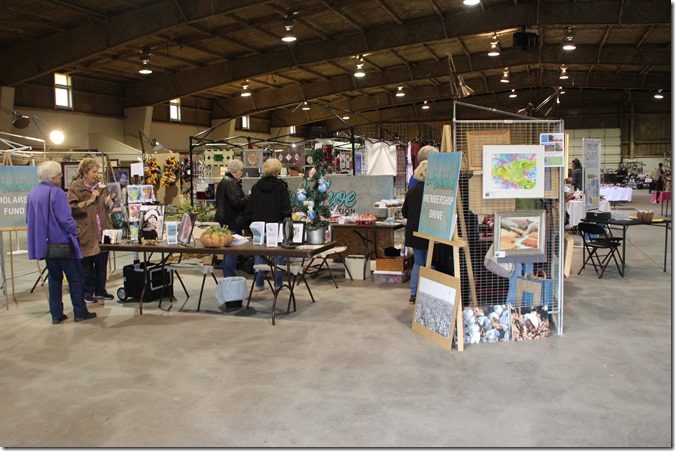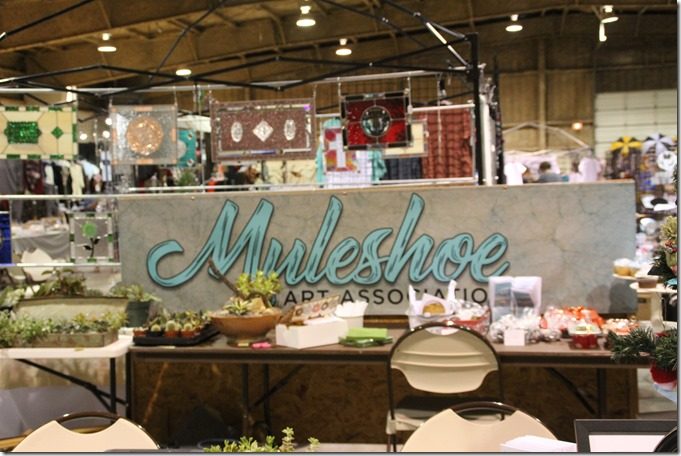 After our booth was set up and before the crowds of people gathered, I walked around to check out the variety of goods for sale. This is just a sample of what was available.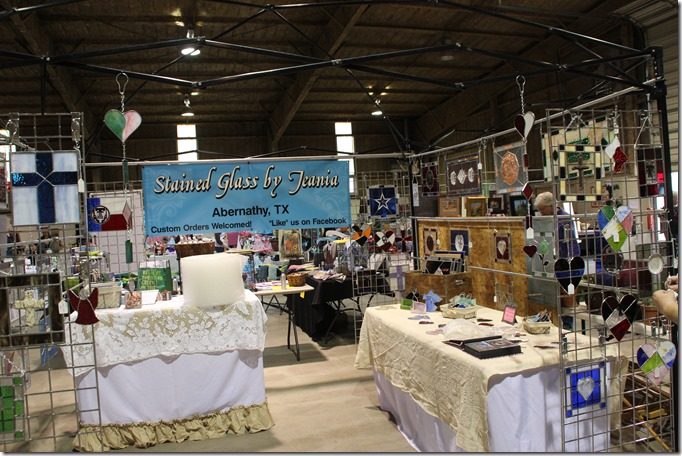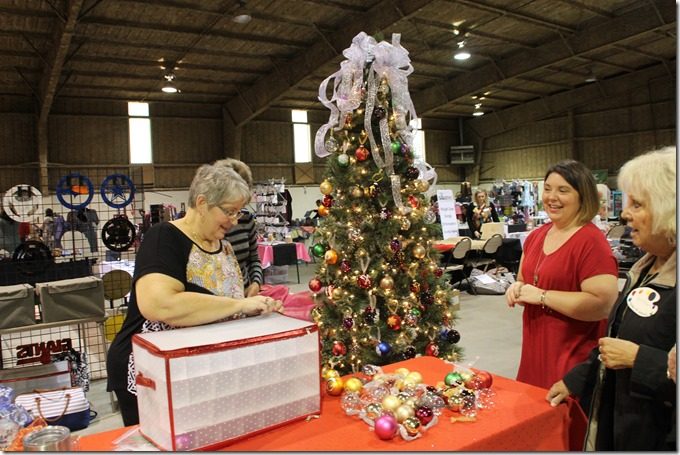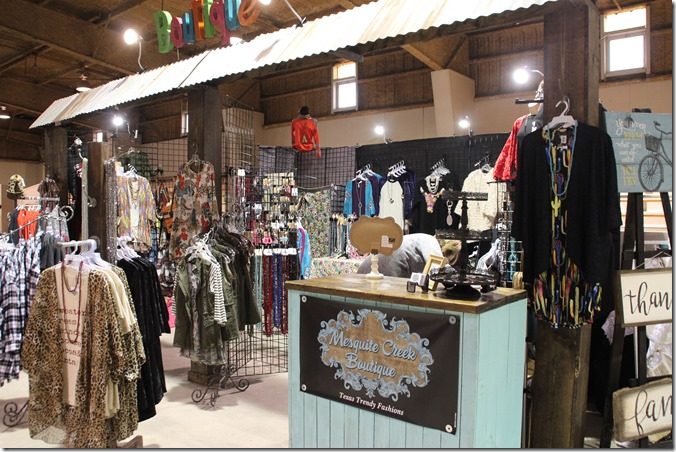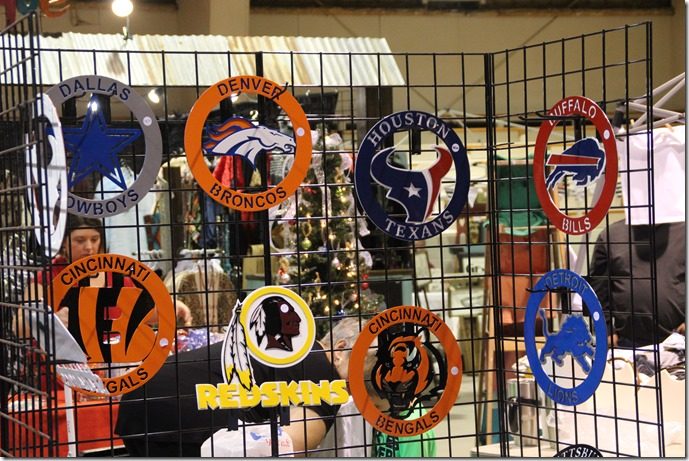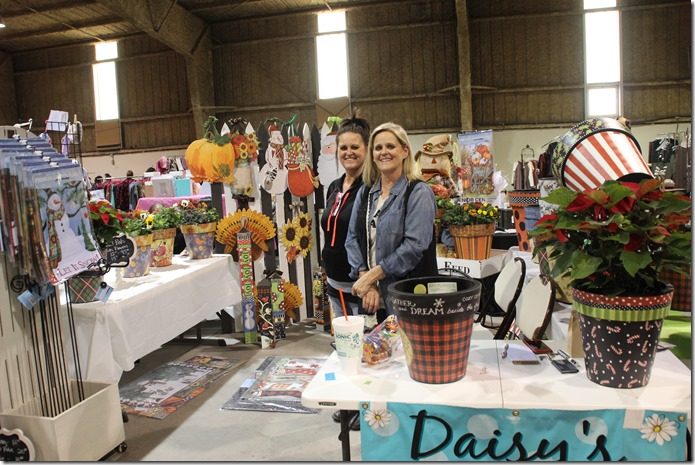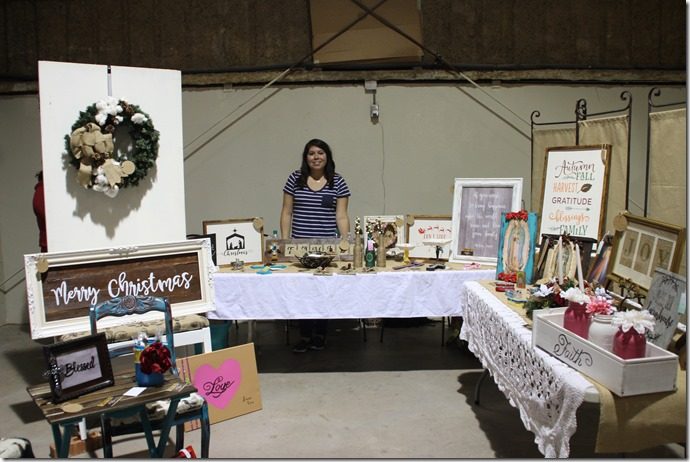 And the crowds did come! Our booth was busy all day; I hope other vendors were equally busy and successful, and judging from the mass of people and activity I saw the whole time, I think they were. The food truck even ran out of food before noon! Kenzie said that is one area she wants to improve upon next year-adding another food truck or two for a variety of meals to be available on site. But she was glad to hear reports of increased traffic at our local establishments, so stimulating the local economy is something else positive generated by the market.
Next year's Muleshoe Merry Market date has already been set: November 3, 2018. Plan to shop till you drop!
Thanks to Kenzie Green for her help with this story. Check out Muleshoe Merry Market on their Facebook page. For further information about next year's event, Kenzie can be contacted at muleshoemerrymarket@hotmail.com .