Last year my friend Elaine and I visited Santa Fe for our yearly road trip. This year we decided it was time for the full Wimberley experience, well, Wimberley minus their famous Wimberley Market Days, the oldest of its kind in the Teas Hill Country and the second largest in the state. We didn't avoid it on purpose; the weekend we went was the second of the month because it was the weekend that worked with both our schedules. But based on the hoards of people it brings to town on the first weekend of the month, I think we had a more pleasant visit missing it. That is another trip for another experience sometime.
We chose to stay in town and Elaine picked a cottage right downtown, which meant we were in walking distance of the shopping and restaurants, which made everything handy and convenient. And parking was not an issue.
I arrived before Elaine did, so I had a chance to find our cottage and walk around to get the lay of the land. Fat lot of good that did; I was turned around the whole time we were there. But it was easy to get back on track when I took a wrong turn. After all, it's not a big town.
After she arrived, we settled into the cottage and the took off to see what we could find that we just couldn't live without. First stop was the Annie James store where we both bought an arloom brand bag. The story behind this purchase was that she had, as she put it, stalked a woman leaving a grocery store in Rosenberg to ask where she bought her bag, which caught Elaine's eye. When the woman said she found it in Wimberley, the very place we were headed, well, we knew what our first stop would be.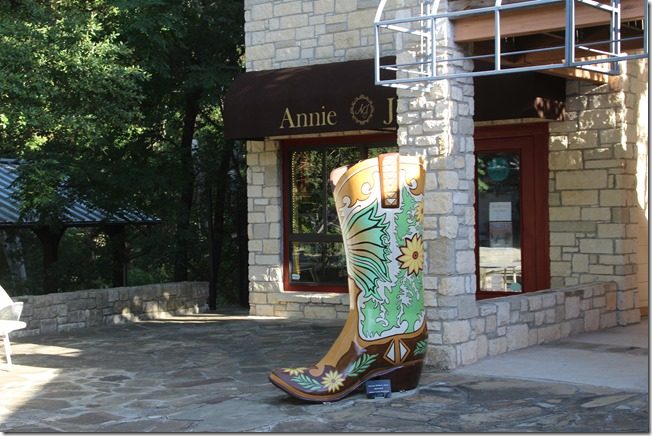 This might be the time to explain the boot in the front of the store. Reminding me of my Painted Pony collection which was conceived in Santa Fe several years ago and which might have inspired this version of artist creations, many stores had boots strategically located at their entrances. I found a brochure explaining that Bootiful Wimberley was started in 2014 to highlight the arts and encourage tourism in this interesting little town that indeed thrives on art and tourism and shopping. According to the brochure, fifty boots are located not just in downtown proper, but all over town and along major highways and roads leading into town. So we had fun checking out the boots as we shopped and drove around.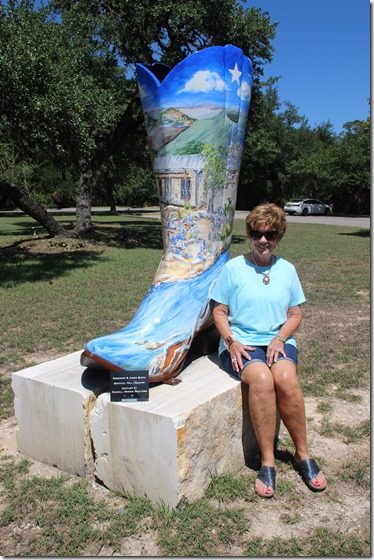 As to the artistic aspect of the boots in relation to the town, we visited several of the art galleries there and found that art is indeed well-represented here.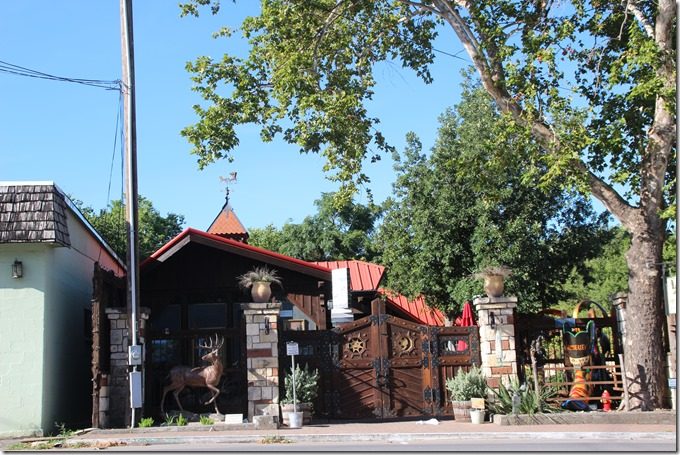 Cypress Creek runs through town, whereas the Blanco River that nearly washed the town away a few years ago is nearby, but this creek is smaller and winds along behind some of the shopping area and is quite nice and peaceful. We ate lunch at a popular place that overlooks the creeks and has outdoor seating called Ino'z. The setting was nice, and the food was good, too.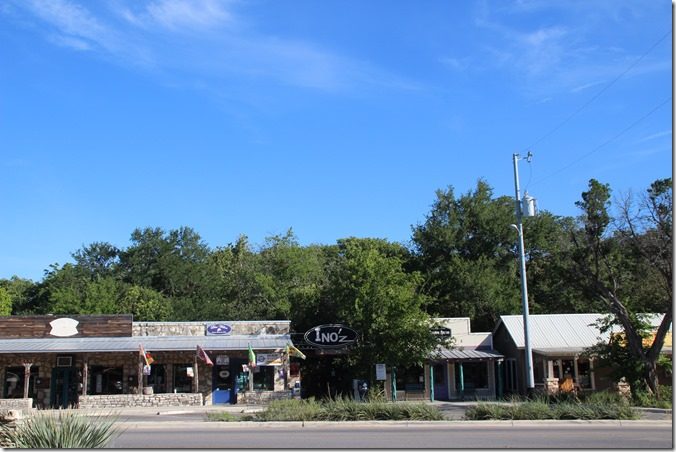 The second day of our visit was more shopping, lunch at the Wimberley Café on the square, and a trip to a nearby olive grove. They called it a ranch, but grove sounded right to me. At any rate, we heard a long history of the olive tree and how it affected history, saw the cold press for extracting the oil, and tasted some of their product. I learned that black and green olives grow on the same tree; they are just picked at different times. I also learned that olives contain capsaicin, the same compound that makes jalapeños hot, and if you slowly swallow pure olive oil, the back of your tongue will feel the warmth.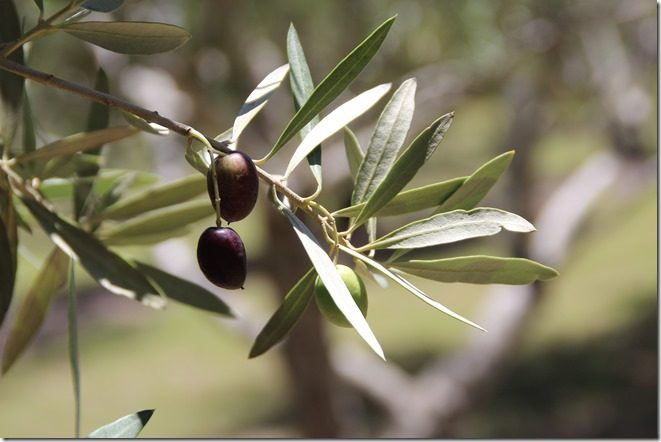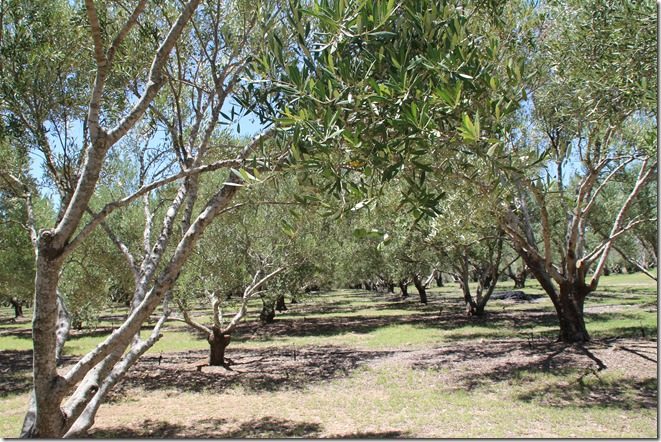 Back to town for more wandering and shopping and we ate the evening meal at a nice but loud little Italian place called Marco's. I had an avocado stuffed with shrimp that is definitely on my list of things to do again on my next trip to Wimberley.
Our third day was a road trip, but before we left I wandered down to the banks of the creek behind Ino'z for a few pictures. Since I was there early, I had the place to myself. I rather enjoyed it before heading back to the cottage to leave for other sights.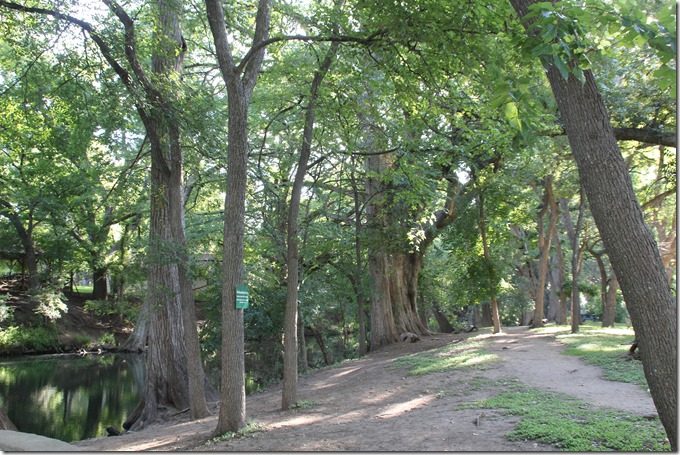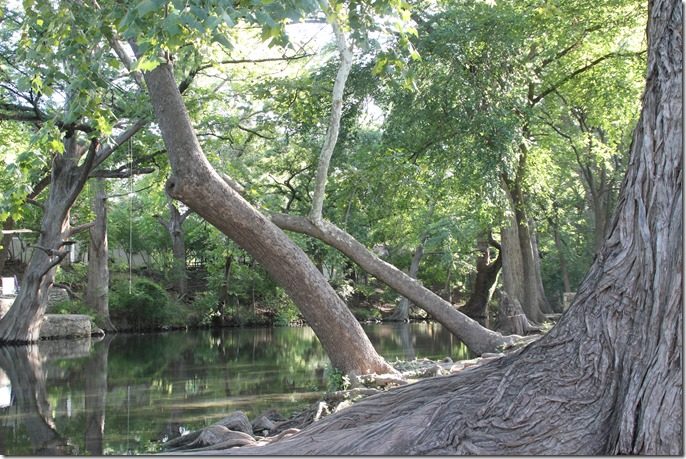 The first destination on our road trip was to an area called the Devil's Backbone on Highway 32 where we stopped to take in the view at a designated scenic viewing stop. Along with the view we also looked at all the crosses hanging on the fence, and based on how they were decorated, we decided they were memorials for deceased motorcycle riders.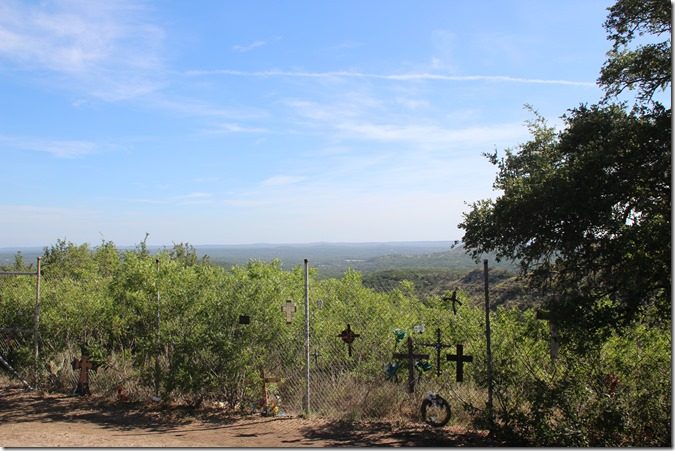 I never really got what I thought was a good shot of the expansive view due to too many trees in the way and dealing with the fence. There were other places along the highway that I thought would have made better look-out spots, but I just did the best I could. What also gives it the Devil's Backbone title is the ups and downs, twists and turns of the road, which have to be experienced, not photographed for the full effect.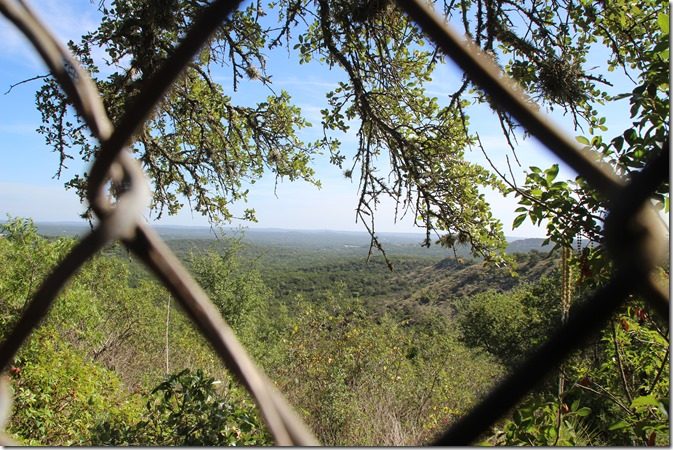 We drove on into Blanco for a little more shopping and then headed back out Highway 32 to hunt for two glass-blowing places on Ranch Road 12. But we stopped again at the scenic view rest stop to have a little picnic lunch of the apples, crackers, and cheese we brought with us. Two young men pulled up and asked me to take their picture there, so I did, and then we asked them to return the favor and take a picture of us.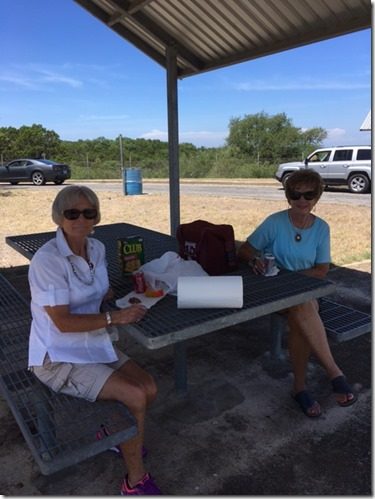 Then it was on to the two glass-blowing operations, Wimberley Glass and Silo Glass, and more shopping there.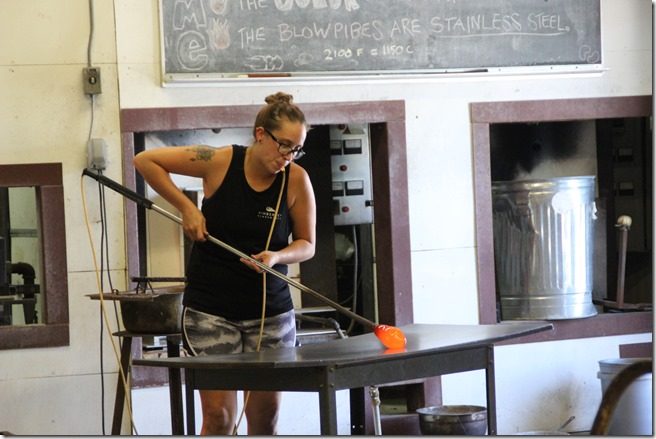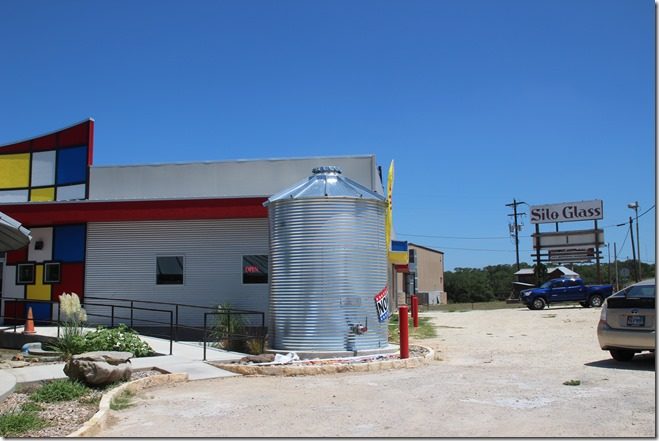 We managed to get in a bit more shopping upon our return to town, had supper and finished up the trip with yet more visiting before heading home the next morning. It was a good trip. Next time we may check out the Market Days, and it will all be easier because now we know where everything is.
And I will probably be just as turned around as I was this time!