There is also such a thing as an association dedicated to cacti and succulents, more than one association in fact. I happen to be a member of one, the Cactus and Succulent Society of America, and attended their 37th Biennial Convention in Temple, Arizona, last week. This was the third convention I have attended, the last one I attended being held in Austin in 2013 ("The Cactus Convention," June 27, 2013).
Various cactus-related tours and side trips are always offered the day before the actual convention opens, and this year I went a day early so I could hike the Barnhardt Trail # 43 to see native cactus and other desert plants in their natural habitat and just enjoy the great outdoors, heat and all. We left at 5:30 a.m. to drive to the trail in the Tonto National Forest near Payton, Arizona, so we could start in the cooler morning hours and be down as it heated up. Which it did. The trail is listed as a hard hike, and I felt better after reading that because I found it challenging! We ate lunch at about 5,250 feet before heading back down the trail, making it a long 5-hour trip. It was amazing to see cactus and agaves growing right out of the cliffs and next to them would be ferns and lichens.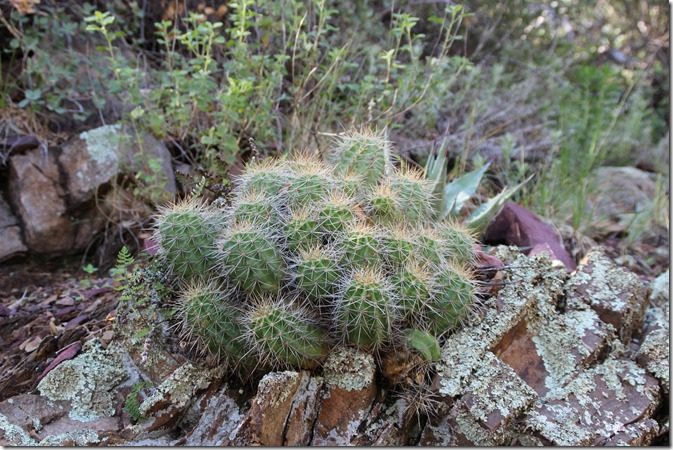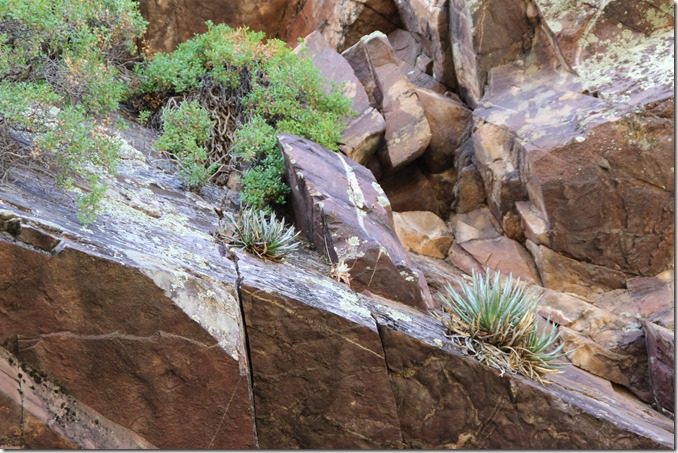 Look carefully and you can spot the trail and two of our hikers.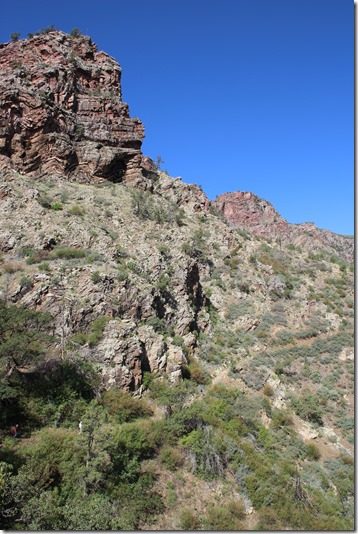 The agave blooms stood out against the landscape and lured this hummingbird to enjoy its nectar.
Saguaros are indigenous to the Sonoran Desert and this area of Arizona and cover the landscape like bluebonnets in the Hill Country. I was fascinated and took pictures all the way back to the hotel in hopes in getting at least one or two good ones from the moving vehicle. Saguaros don't grow in the higher elevations or around Payton where we hiked, but they lined the highway as we drove back to town.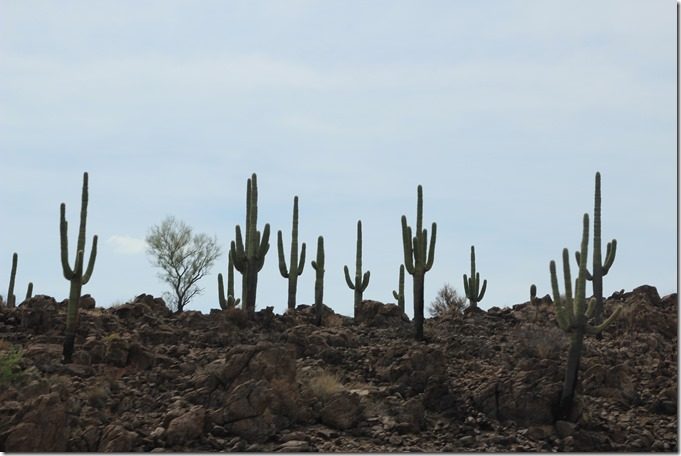 The Phoenix area was just coming off of what they call their monsoon seasonm and the ocotillos were spectacularly green and leafy after all the rain, having already bloomed in the early spring.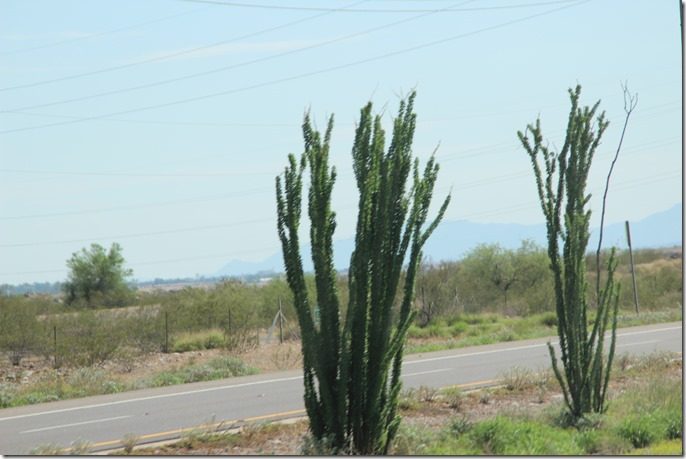 The next three days were filled with presentations from American and international speakers on topics relevant to cactus lovers, but with pictures and narration that would be of interest to anyone who wants to see other parts of the world and what grows there. We heard thirteen speakers give nineteen talks ranging from cactaceae taxonomy-which got pretty technical- to planting rock gardens, cactus and succulents from Mexico, Socotra, Brazil, Arizona, and South Africa; how to grow lithops, adeniums, mantucanas, and sansevierias; propagation techniques; a cautionary tale about habitat destruction and loss of endangered species, and a tongue-in-cheek lecture on the sex lives of cactus that was fun but truly informative.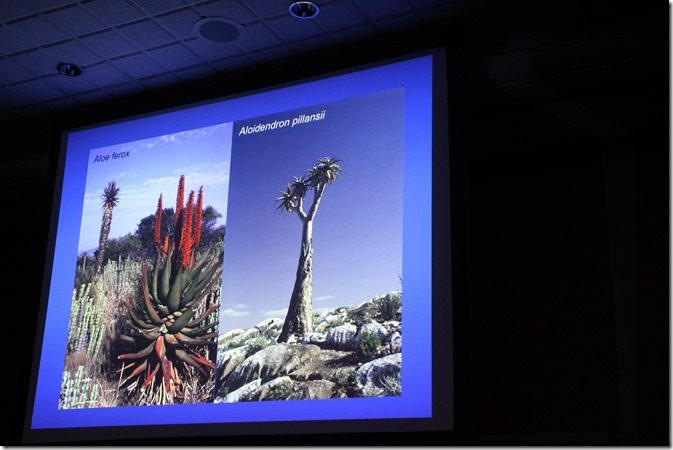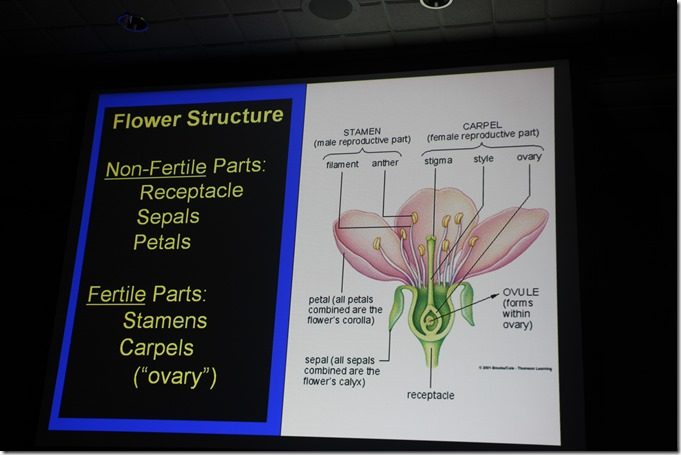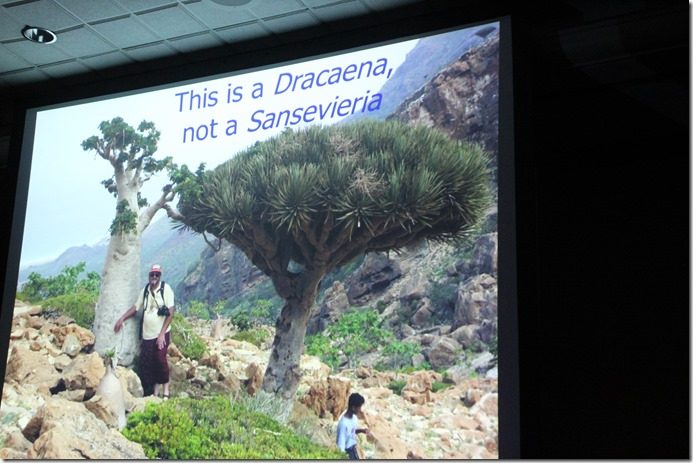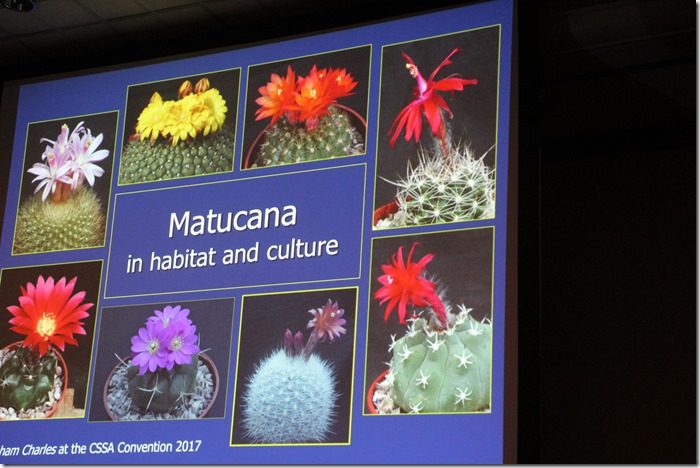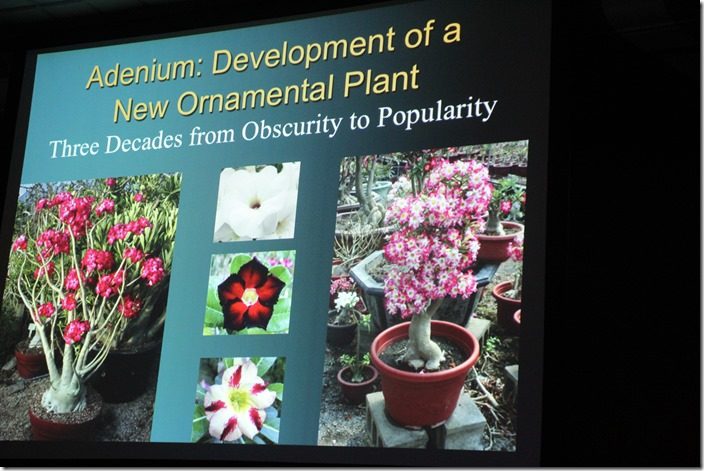 Plant, pottery, book, and cactus-inspired jewelry vendors were set up to sell during the whole convention. I took this picture during a lull in sales, but one speaker jokingly compared the convention-goers to sharks during a feeding frenzy when the doors were first opened for business and everyone hovered over tables anxious to get the best buys and rare plants before they were all gone. To the casual observer that would have been a pretty accurate description!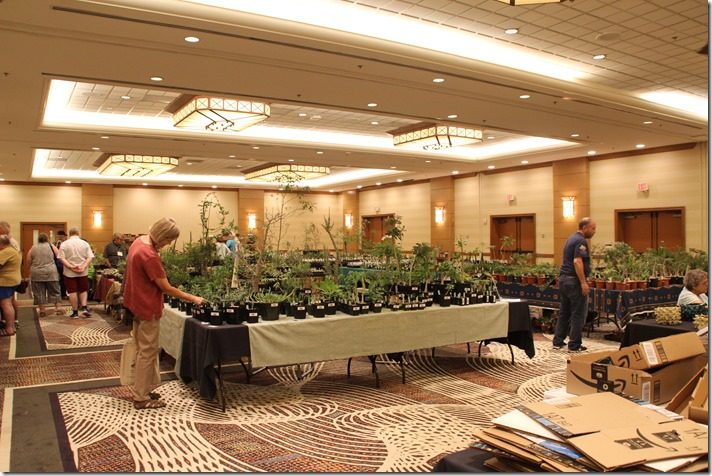 I, of course, managed to find a few that I simply could not live without, including a baby ocotillo, having been seduced by all the beautiful ones I saw on the trip.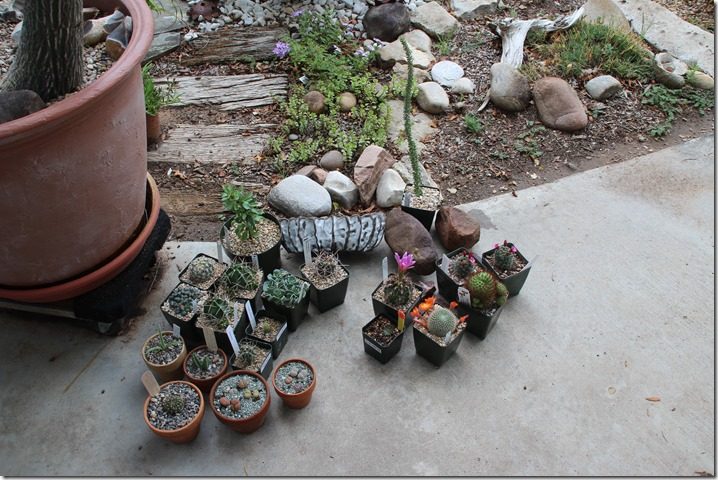 The hotel was lovely, the Tempe Mission Palms.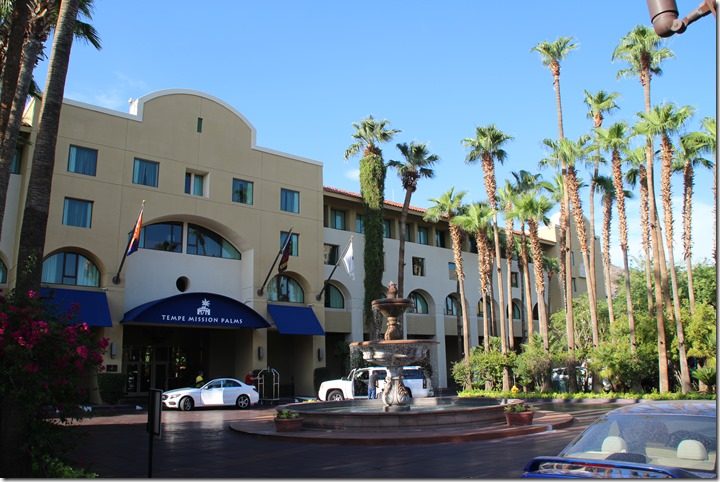 The courtyard at night was pretty.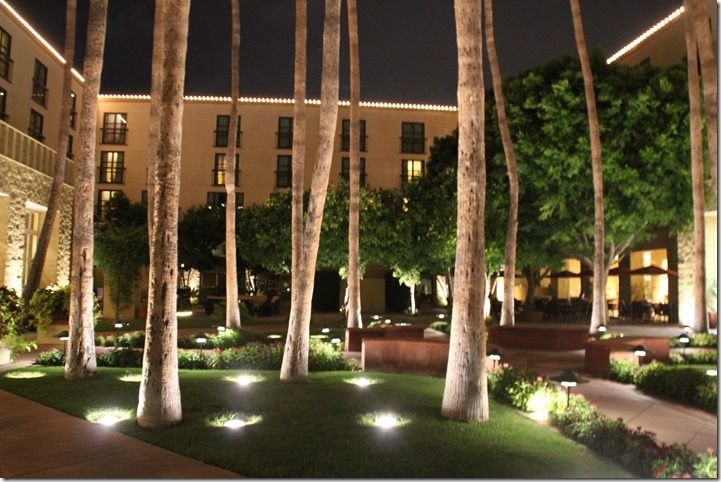 Sunday morning before the presentations started, Doug Dawson, who organized and led our hike, offered to show anyone interested his collection of cactus and lithops, most of which he had propagated by germinating seeds in his greenhouse. Pictured below are Steve, who also made the hike and was there, Josh from California, Doug, our host, and Chris from England. Doug's collection was amazing, and he was a gracious host and even shared some of his seedlings with us to take home. Well, all but Chris, who probably couldn't get plants past customs on the way home. The red Solo cups, by the way, are full of seedlings, not a drink. Doug recycles used cups as his pots; not a bad idea.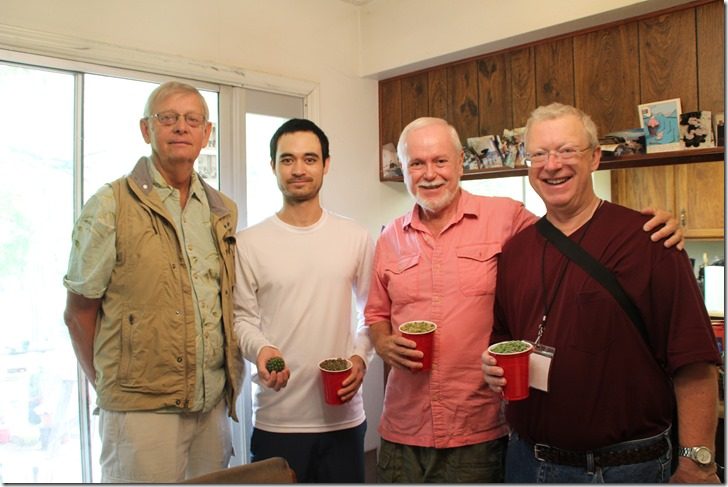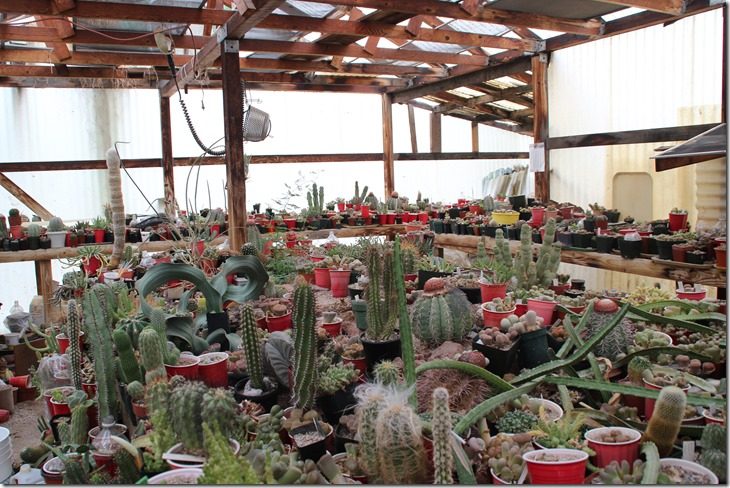 Bougainvilleas, ocotillos, and saguaros seemed to be the landscape plant of choice along the highways in Tempe.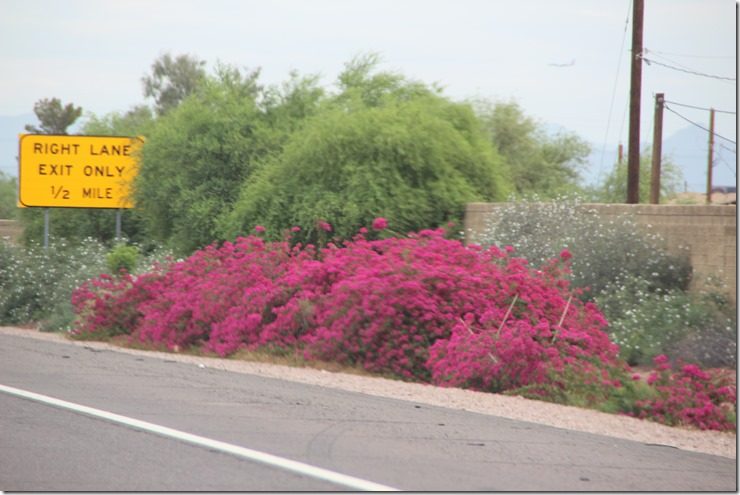 Right behind the hotel and basically right in the middle of town is a mountain with a giant yellow-gold capital "A" plastered on its side, in honor of Arizona State University's main campus being here. I think officially it is Hayden Butte, but everyone knows it as "A" Mountain, and trails have been made for hiking and biking up and around it. I heard comments about all the mammillarias in bloom on the mountain, so nothing would do but that I skip one of the presentations and go see for myself. And I was rewarded with blooming cactus everywhere. The barrels had already bloomed for the season, but the clusters of mammillarias were pretty in pink everywhere.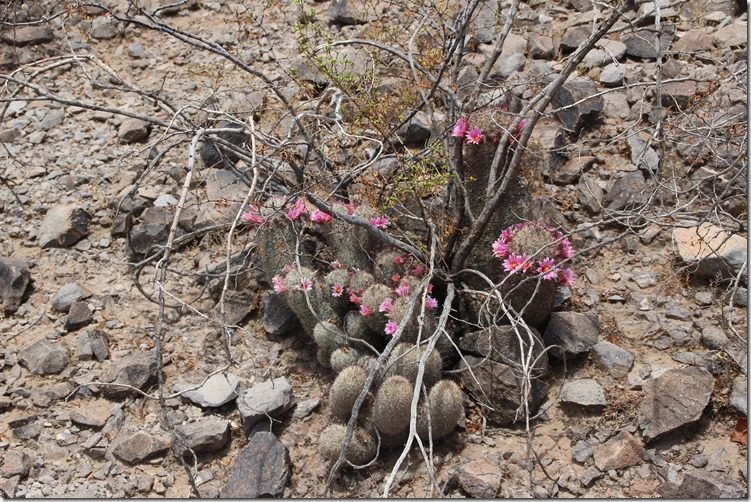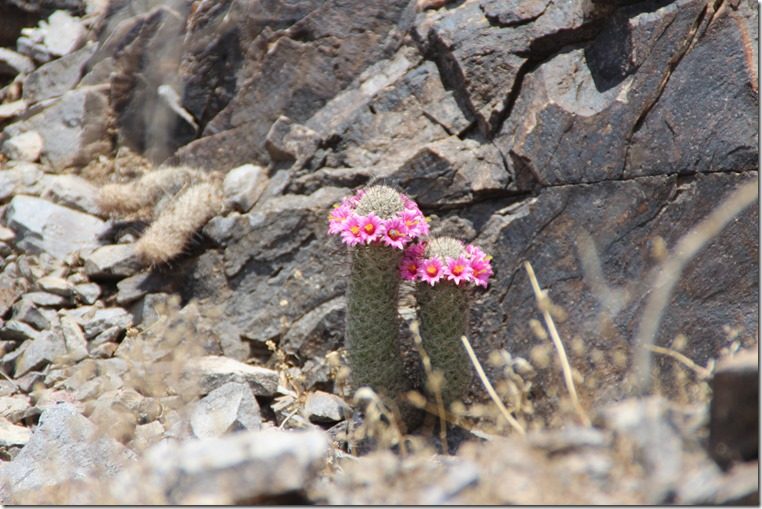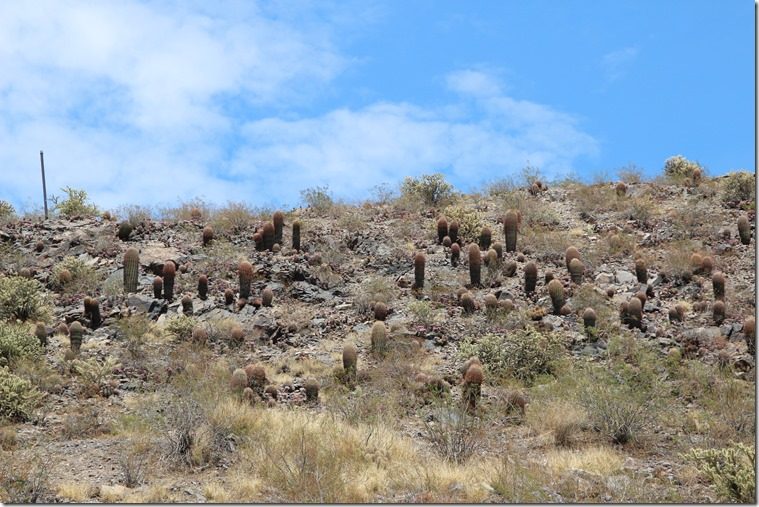 We had a banquet which gave everyone a chance to enjoy a nice meal and visit with old friends and make new friends, like I did with Petra Crist, Mike Cone, and Keith Taylor.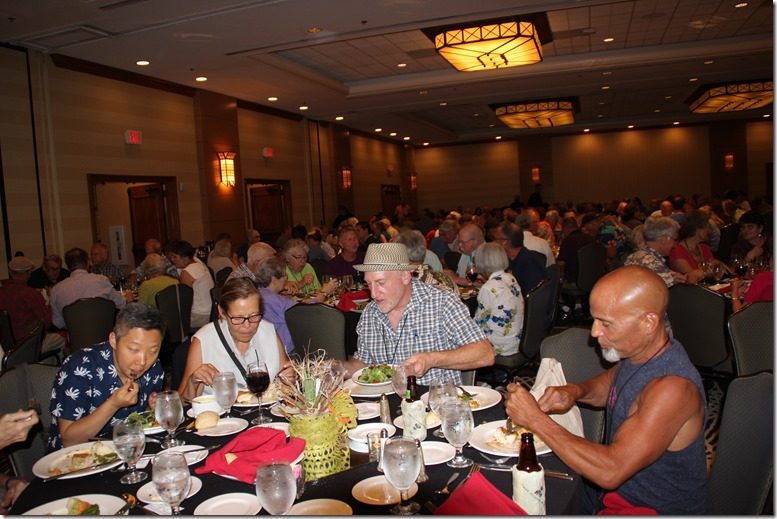 We also had a plant auction, the money from which is used by the association for cacti and succulent research, education, and study grants.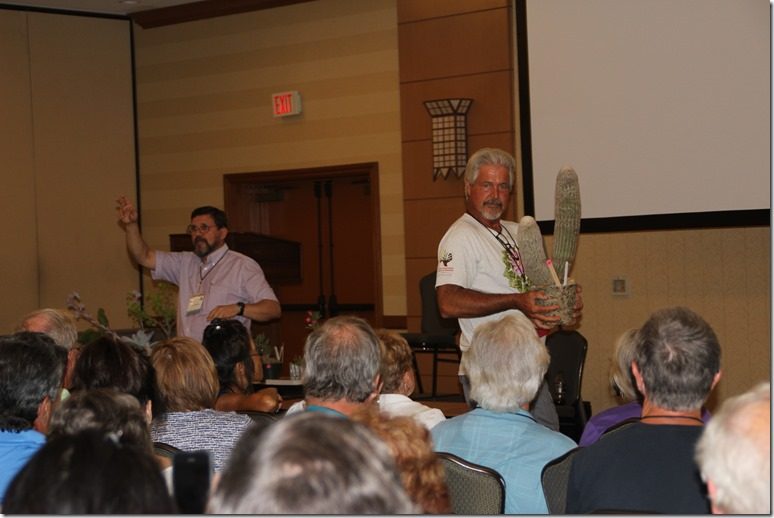 After last speaker Sunday afternoon, I packed all my treasures and headed home full of new information and ideas to try out on my garden and plants at home. It was a long round-trip at 1,391.3 miles, but when you live in Muleshoe, going the distance to get somewhere is business as usual.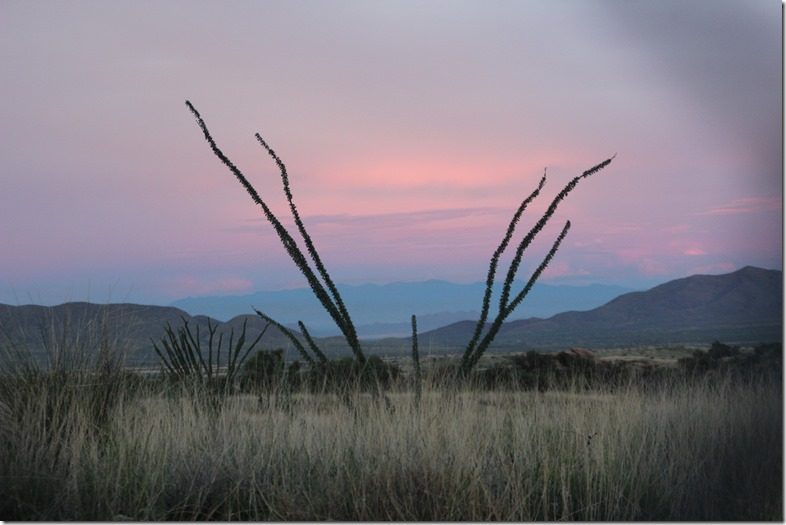 So there will be other cactus conventions in my future.