Grandson Colten graduated from Muleshoe High School in 2013, and I shared that milestone with you ("And Now, the Last Hurrah," June 5, 2013). On May 13, 2017, we watched him walk across the stage at the Janell Center to receive his Bachelor of Business Administration degree from the College of Business at Angelo State University, San Angelo, Texas.
Some colleges limit the number of guests per graduate due to limited seating; that was not the case here, but it was suggested we get there early for good seats. So Bill and I arrived an hour early at 1:00 to save seats, and it's a good thing, because others had heard that same suggestion and seats were filling up pretty fast.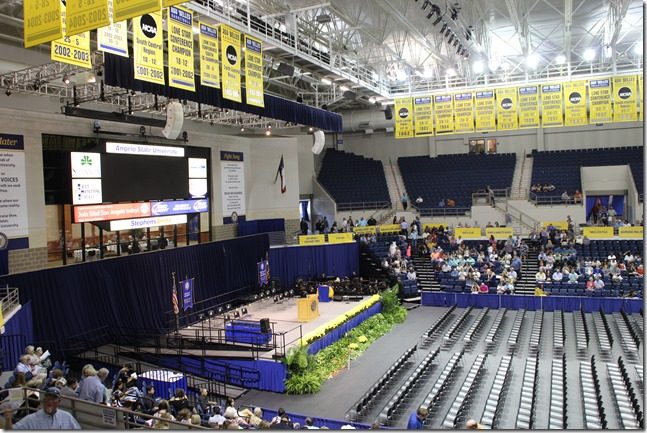 We needed ten seats for our group and had to move up to a higher level to find ten seats together, and even then Neil and Bill sat at the end of the first row and the rest of us filled the next row. You see Colten's mom Caroline at the far end of the second row, the black hair of friend Carina Reyes, his aunt Erin, his cousins Ben and Maya, my cousin Richard Drum, and his uncle AJ. I, of course, am behind the camera.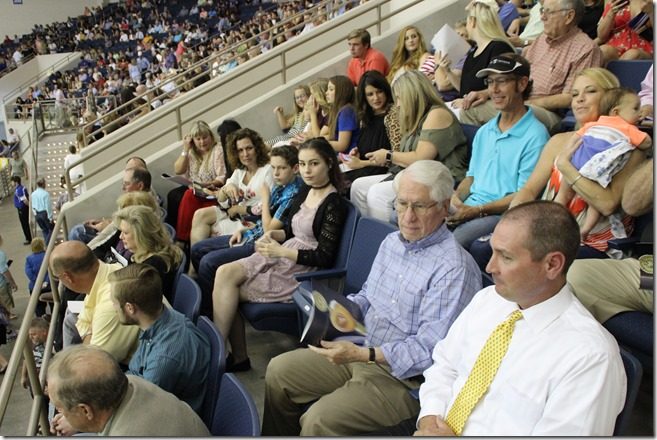 The Processional brought graduates, professors, and dignitaries in right on time.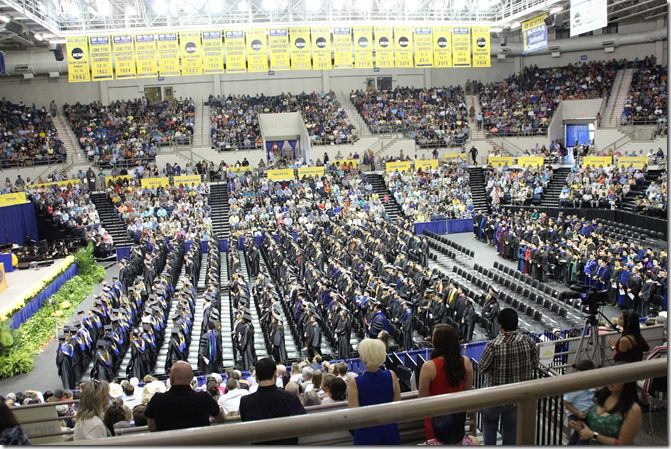 After the National Anthem, welcome, and introductions of the platform party and the speaker, Dr. U. Shivraj Sohur, he gave a nice commencement address. Dr. Sohur is an Angelo State University graduate who earned his M.D. and Ph.D. and went on to do research and teach in the field of neurology as well as treating patients with Parkinson's disease and related disorders. A native of the island of Mauritius, Dr. Sohur had many positive things to say about his adopted country, Texas! One of the things he focused on was the tendency of West Texans in particular to have a humanity of kindness and how important that is. Not his best look, I'm afraid-I caught him between words! And I appreciated his words.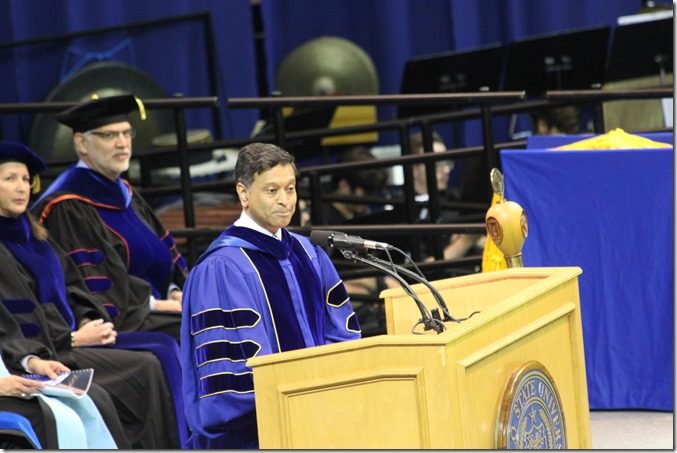 Colten's turn came to walk across the stage, and I'll have to admit we forgot the formality of the occasion and made some noise in his honor. I wished we could have been closer for taking pictures, but we had a good view of everything and they had a photographer taking official photographs which will take the place of what I didn't get a good shot of-the main shot I wanted-naturally, Colten receiving his diploma.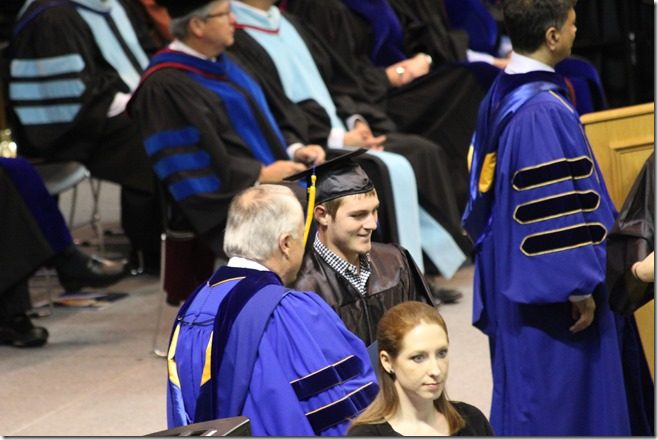 After the Recessional, the School of Business graduates were congratulated by their professors and family, and that's when I was able to take pictures up close and personal. First I cornered Colten and AJ's family.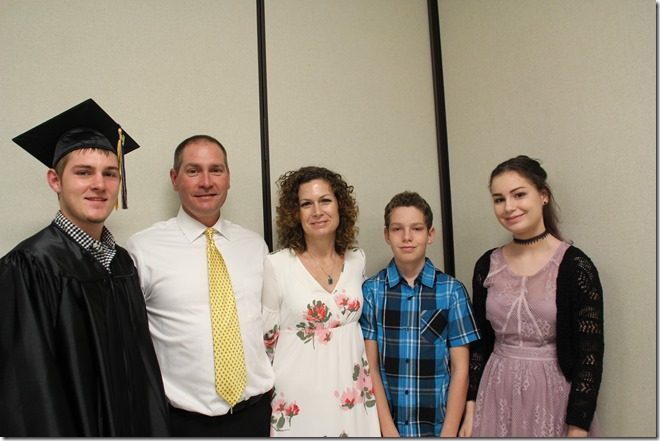 Then it was Richard, Colten, and Carina's turn.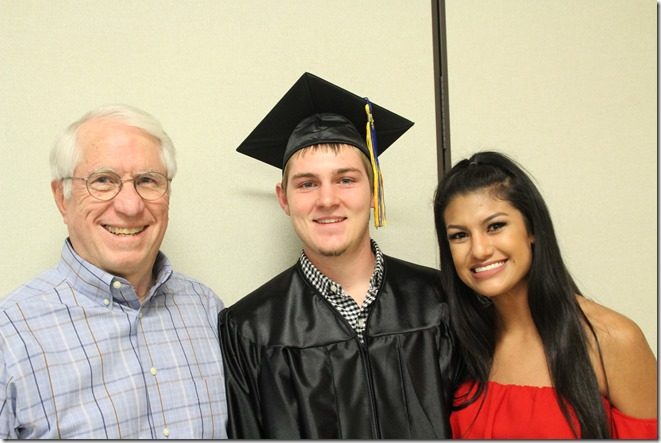 It was important to thank the men who were always there when he needed them-his grandfather Bill and stepfather Neil.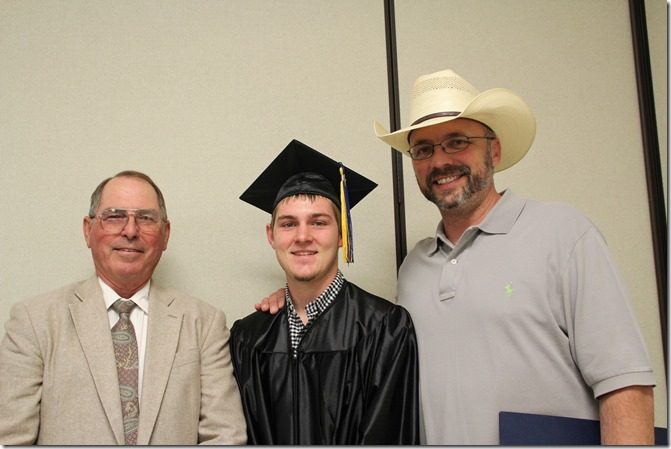 And then it was my turn, the grandmother who always suggested things he really didn't see the point in doing, but did anyway.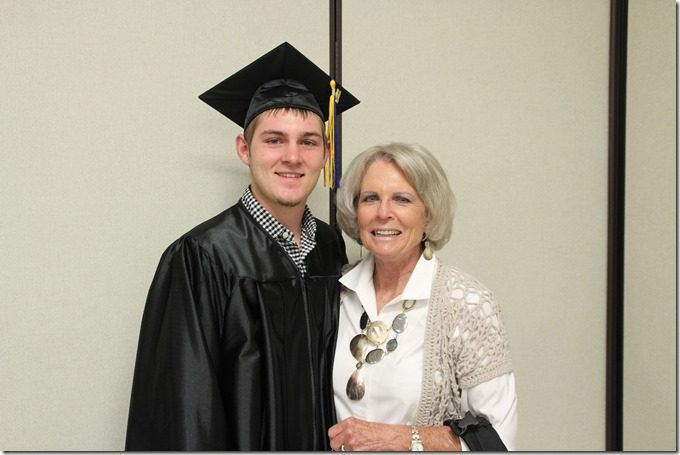 His mother has a thing about not wanting to be in pictures, so she got her way and dodged that bullet, but she was very proud of her son. By then Colten had had enough picture-taking anyway, so I gave it up.
Richard departed after the ceremony, and the rest of us had a good visit and later celebrated with dinner at The Outback. Afterwards, Bill and I called it a night, and everyone else went to Caroline and Neil's hotel room to continue the visit.
The next morning we had one more visit and everyone headed home. Colten still has some decisions to make about life after college, but we were all excited for him to have achieved this milestone in his life and look forward to what comes next.