We had the pleasure of complimentary tickets for the 2017 Muleshoe Chamber of Commerce banquet Saturday night. So we went and thoroughly enjoyed the evening.
Our tickets were sponsored by Hereford Feed Ingredients, one of several businesses that showed support for our city's veterans with tickets for the banquet. When we arrived at the Muleshoe High School commons area, FFA members in their blue and gold jackets were gathering up guests and seating them at the appropriate table based on the sponsor listed on the tickets. Haleigh Kennemer from Muleshoe FFA, who just happens to be the daughter of a former student of mine, escorted us to our table.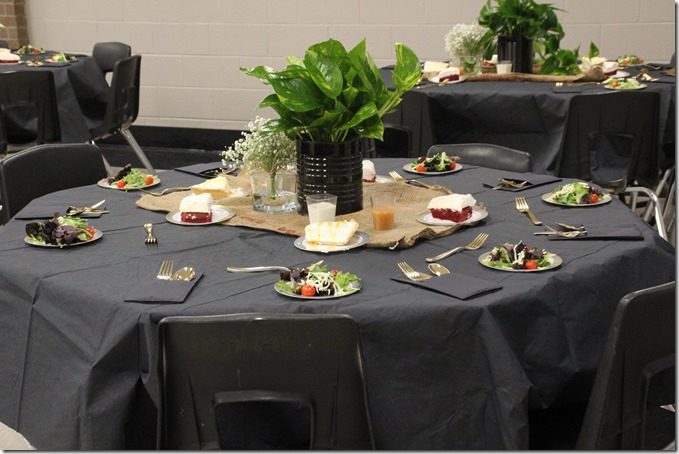 Blue jackets were scurrying around seating people and taking drink orders. Turns out the Farwell FFA was also helping with serving the meal for the banquet. Farwell members Yvonne Gonzales and Sidney Urbantke were helping Nathan Wilson and Jacob Kettner from Muleshoe with tea and water.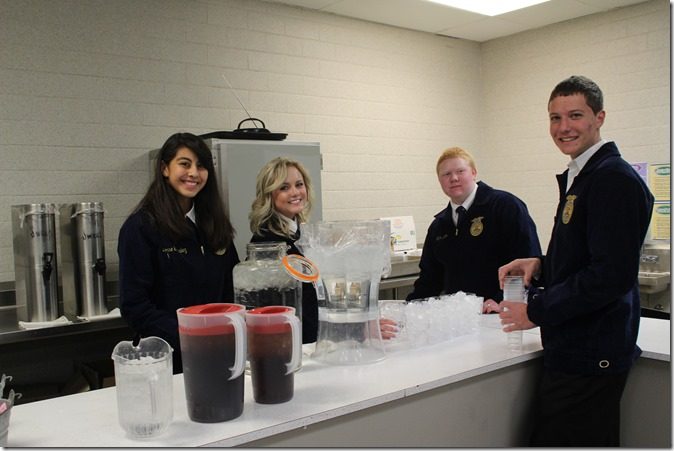 Familiar faces blended in with many unfamiliar faces for us, a sign that perhaps we need to get out more! But I suspect that is part of what happens when one retires and is no longer involved with the general public as much as before. We met some of these new faces, like Mr. and Mrs. Eddie Alvarado and Mr. and Mrs. Jerry Bruton who sat at our table, and visited with familiar faces like those at the table beside us- Khallie Ruthardt, Patty Hartline, Lavon and Curtis Hunt, Cory and Angel Hunt.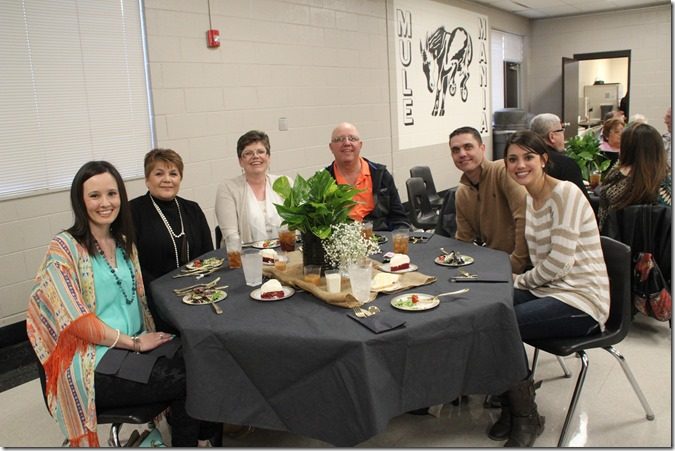 The meal, catered by Grandaddy's, was green salad, shrimp cocktail, beef Wellington, and scalloped potatoes, with desserts of cream cheese cake and red velvet cake from Annie and Martha's Artisan Bakery in Farwell. Sterling Henderson from Farwell helped served this lovely meal to approximately 300 people.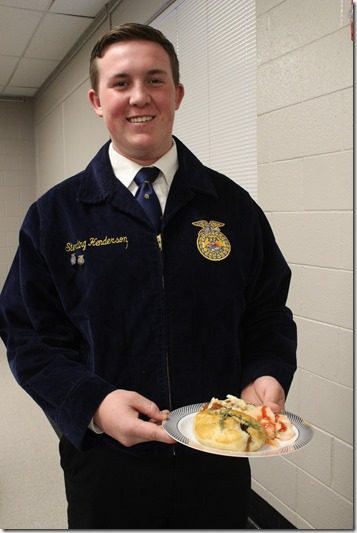 Lonnie Adrian was on hand to take group and/or individual pictures for those who might want to take advantage of the opportunity while everyone was there and dressed up nicely. As Chamber president Steve Friskup pointed out, sometimes it's hard to get the whole crew together so someone else can take the picture and no one be left out.
After the meal, everyone made their way to the reserved sections in the Kerry Moore auditorium next door for the presentation of awards. President Friskup introduced MISD superintendent R.L. Richards who gave the invocation along with blessing the meal we had already enjoyed, and then introduced Rob Hollis, MHS assistant principal, who introduced the chamber board members and announced the award winners.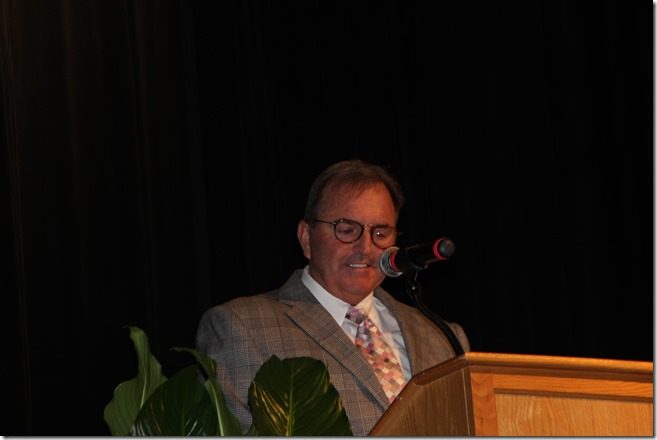 Board member Scott Miller represents Farm Bureau Insurance; board member Kris Phillips represents United Supermarkets, Basil Nash of Wayne Copley Trucking is a board member, Kacey Coker, Director of Economic Development for the city of Muleshoe, serves as Secretary/Treasurer, Sarah Santos, owner of Lasting Impressions, is a board member, and Craig Black, owner of Grandaddy's Barbecue, is Vice President. Kaci Morris, chamber manager, was making the introductions and missed the photo op, as did President Steve Friskup who was also at the podium.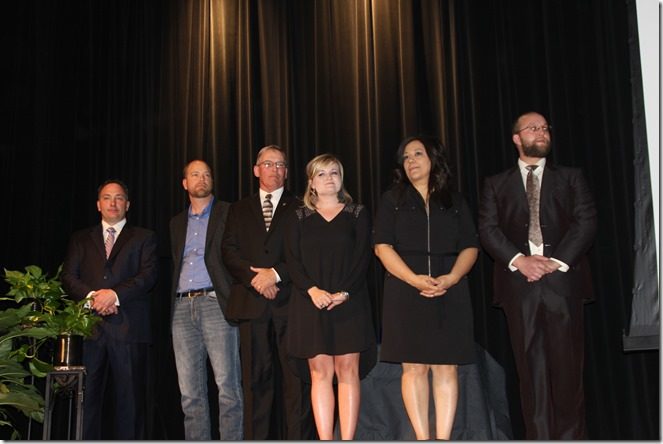 Craig Black received a plaque of appreciation from chamber manager Kaci Morris for his service as 2016 Past President and then we got down to the anticipated awards for the night.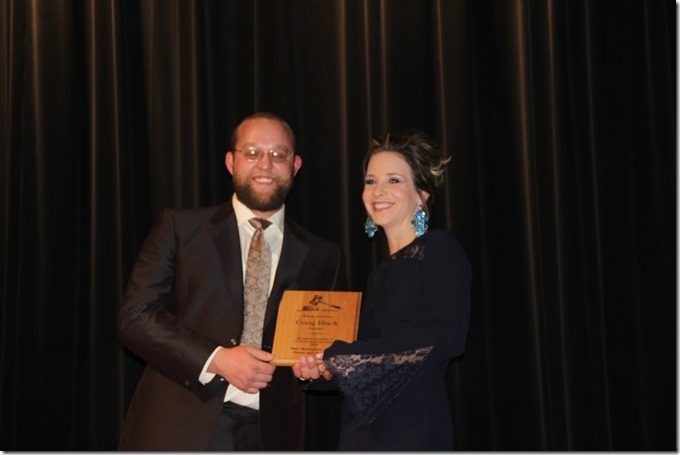 The board tries to keep the award winners in the dark before the presentations, no mean feat in a small town, but were able to pull it off for the most part. The winners were announced as pictures of them, surreptitiously gathered from friends and family, magically appeared on the large projector screen, and as they made their way to the stage, Mr. Hollis shared the background of why they were chosen for the recognition, a novel way to learn the history that brought them there.
First up was a new category, Youth of the Year, won by MHS senior Emily Precure, daughter of Carroll and Terry Precure. Emily plans to attend Texas A&M in the fall, which elicited a few Aggie whoops in the process!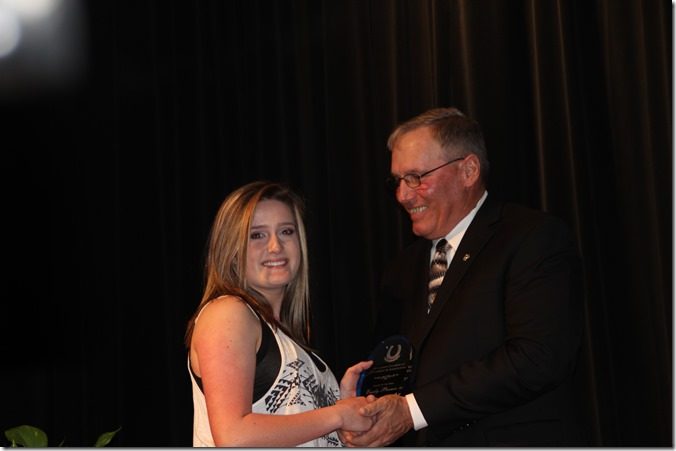 Lori Bales, who works for Ellis Funeral Home, was the Employee of the Year.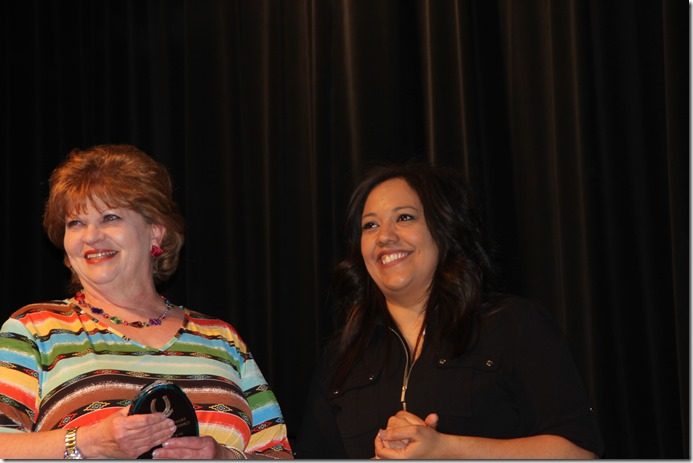 The Man of the Year was Gilrobert Rennels, son of Magann and the late Jack Rennels. Gilrobert is the CEO of Gil Lamb Advertising, known in the old days as Channel 6. Another former student of mine, this young man has always graciously baled me out of computer messes even though he has plenty of other places he needs to be and events he needs to cover, so I knew he was an excellent choice as Man of the Year. I never could catch him in a picture with a smile; ironically, he was a bit nervous to be in the limelight, considering he is always taking pictures or videos of others who are in the limelight. Out of his comfort zone, I suspect.
Woman of the Year went to Dani Heathington, who was the one person told ahead of time she had been chosen because she was not able to attend. She seemed to think she should be with son Tatum when his new baby was being born. Imagine that! So sister Rhonda Myers accepted the award for her.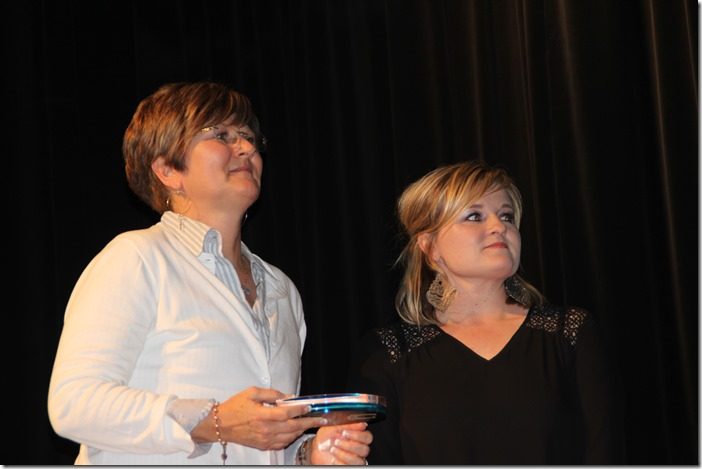 Business of the Year was awarded to Bamert Seed Company, long ago started by Carl and Cookie Bamert and now in the capable hands of son Nick and his wife Rayniel, while their sons Brett and Austin learn the business to carry on the tradition. Pictured left to right are Brett and Madison, Avery and Austin, Rayniel and Nick.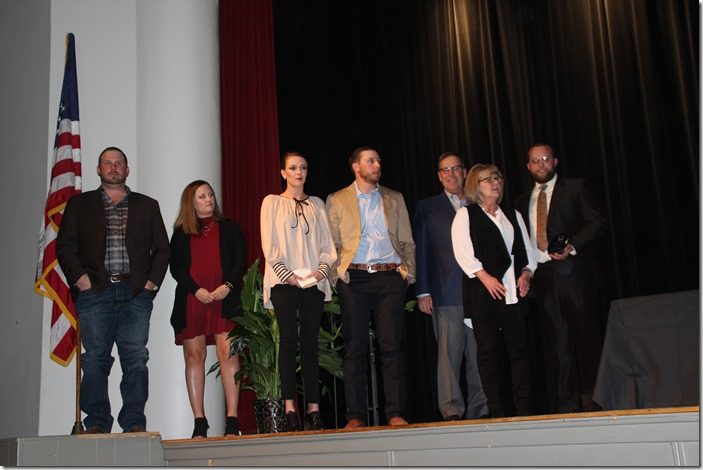 Ag Family of the Year went to a family who moved to Muleshoe from California to start a dairy, Joe and Camille Osterkamp.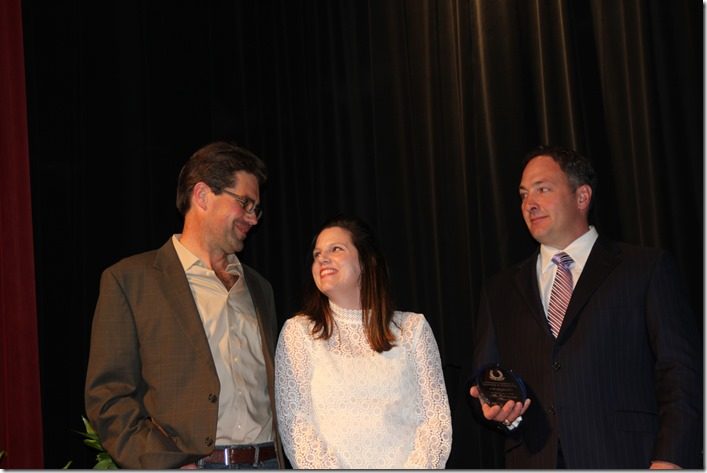 But the night wasn't over yet. Clint Bruce, our motivational speaker, was bright, bubbly, and passionate as he entertained and encouraged the audience to not accept being bad at something, or even average, good, or excellent, instead striving to excel on an elite level, like the example he shared with us when one of his commanding officers disdained speaking of his Navy SEALs as being excellent, but rather that they performed on an elite level, the very best they could be. Having been a college and professional football player and a Navy SEAL, Mr. Bruce wove his messages on motivation and inspiration around football, his military training, and his faith, which kept his audience engaged and eager for more illustrations from his life.
While I certainly won't try to retell his whole presentation-I would never presume to do that and certainly couldn't do it justice-I will share with you the acrostic he gave the audience as a mantra to help get through life. He said as a SEAL, his mission was always first and foremost in his mind, which led him to come up with this acrostic to help him remember what was important. He took the word mission and assigned a vital step to each letter. He then explained each step to us. In simplified form, it went like this: M- Move out-get out there physically and mentally, be involved; I – Inventory-see what you have to work with; S – Select-choose your team well; S – Suffer- be willing to suffer for the team and the mission; I – Inspire-inspire others with your passion; O – Others- think of others, not yourself; N – Next mission-when one mission is finished, your work is not complete, always be looking ahead to what comes next. So then the whole things starts over-move out there, take inventory, select well, suffer for the cause, inspire, think of others, and move on to the next mission. He encouraged us not to relax but to reload and move on to the next challenge.
I encourage you to enjoy his program in his own words at www.gillambadvertisingmuleshoe.com since the evening's Man of the Year videoed the whole thing to be shared with all who care to be inspired, motivated, or just have their spirits lifted.
After Mr. Bruce fielded a few questions from the audience, President Friskup brought the evening to a close, and we all went home with a full tummy and a happy heart.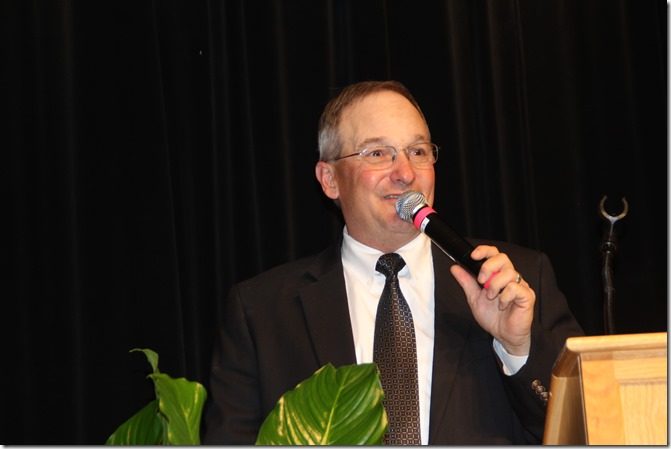 I congratulated Kasey Coker after the evening's gala and complimented the chamber board on the successful banquet. She said the board's objective had been to provide a nice evening out for our community, a night of dining and socializing, recognizing and thanking community leaders, and being entertained and inspired by a quality speaker.
I think Mr. Bruce would agree they fulfilled their mission.
Time to reload for next year.