For twenty-something years members of the First United Methodist Church in Muleshoe have been blessed with the musical leadership of Sally Messenger. She led the choir, played the piano and keyboard, played in the bell choir, organized and directed Christmas pageants and Easter plays, sang solos, helped others sing solos, played keyboard for the Joyful Noise band, and just pretty much did whatever we needed that involved music.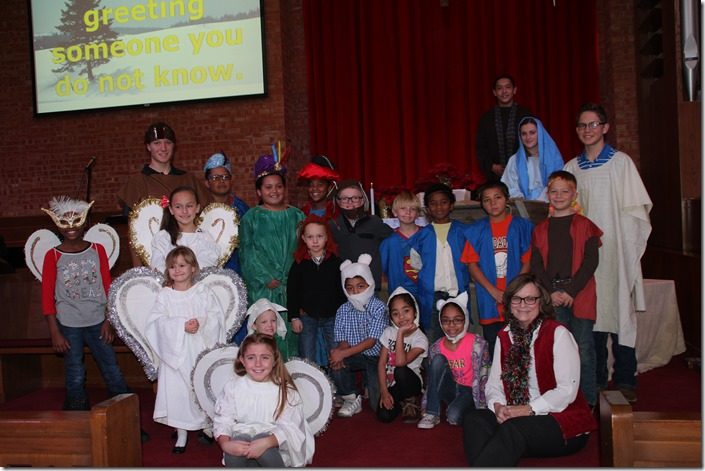 And after all those twenty-something years, Sally has decided it is now time to move on, to give someone else the opportunity to share their musical talents and skills with us, and not surprisingly, to give her time to enjoy other pursuits and passions.
Sally grew up in Friona, graduating from Friona High School in 1972. From there it was on to Texas Tech where she earned a degree in literature and business-interesting combination-in 1975, and later adding her teacher certification at McMurry University in Abilene in 1989.
Sally and her husband, Jay, lived within a block of each other in Friona and started dating when she was a senior and he was a sophomore in high school. As Jay put it, he never didn't know Sally. They shared this picture taken when they were in high school singing together. In later years, they took the second picture, a re-staging of that earlier duet.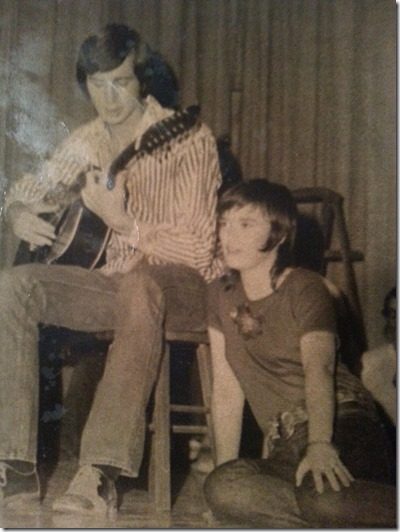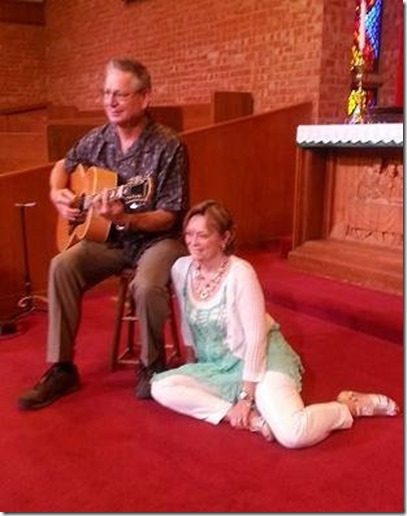 The marriage came in 1974 when they were both students at Texas Tech. After graduation they moved to Amarillo where Jay worked with his dad as a CPA, and Sally worked in the Amarillo Public Library system. The next move was to Littlefield where Jay worked for a bank holding company, and Sally taught piano. Then it was back to Abilene when Jay's job with the holding company required a move, and it was during that time that Sally got the teaching certificate and taught third grade for one year in Holley, a small town near Abilene.
After five years, the next move brought them to Muleshoe where Jay started his career with Muleshoe State Bank and Sally landed a teaching job with Muleshoe ISD where, as Sally put it, she went from dear, sweet little third-graders who love you to eight-grade reading improvement, where the kids don't always love you! But they didn't scare her away. I suspect they liked her more than she admits, and she came to like that age group and stuck with the junior-high level, where she still teaches today. Most of her teaching assignments are in the language arts subject area, but she also teaches ESL, and for fifteen years sponsored the junior high one-act play.
It is probably no surprise to anyone who knows Sally that music has been a part of her life from the beginning. She grew up in the Friona Methodist Church where her grandmother and mother played the organ and piano. Her grandmother taught piano for years and years. Sally sang in a girls' singing group, the Trebleaires. As noted in the photos above, she and Jay also sang together then and now when Jay would also play the guitar during the church service. Her daughters Amanda and Suzanne also enjoy music, both having sung in the church choir and in Spirit Wind choirs over the years. Sally took music lessons from the second grade through college, but said she had more formal training as a pianist and less vocal training. Sally never cared to play the organ, but does enjoy playing keyboard. She commented that keyboards are probably the instrument of the future because they don't have to be tuned like a piano. I asked her which part she liked best, singing or playing, and there was a long pause and a smile, and she said she probably enjoyed doing both together, accompanying herself. What part of that does she do best? Another long pause and a chuckle came before she said, "That would be for someone else to decide whether I am a better singer or pianist."
Being a lover of music myself, I then had to ask if she had a favorite musical genre or style, and she said not really, she just likes most all music. And then she did admit she wasn't a fan of opera or rap, and we both agreed that the phrase rap music is pretty much an oxymoron anyway.
When Sally and Jay moved to Muleshoe and started attending the Methodist Church, she played the piano for music director Jeremy Sanders, one other director whose name has been lost, and later Allan Finney. When Allan left, she was asked to fill in as music director until the position could be filled, which, it turns out, she has filled until this past December. She said she has enjoyed and felt privileged helping pastors with the musical part of the service, tying the music and the message together to make it meaningful to the congregation because, as far as Sally is concerned, music can make or break the service. She said being music director has been a fun journey, and she values the faithful people she has worked with on that journey.
Her decision to quit as music director came at a time when she needed to be with her 91 year-old mother who has been having medical issues, as well as time to lavish on her grandchildren, daughter Amanda's kids Mallory and Jacob, and Suzanne's two, Isla and Rex. She will also now have time to travel with Jay on his sports car racing trips, which she has not been able to do much in the past. I asked her how she will now get her music fix since she won't be organizing music for the church, and she assured me there was a keyboard upstairs for just that purpose.
For someone who worshiped through the act of playing and singing, the idea of worshipping without being directly involved in the music will be a journey of discovery for Sally. Knowing she will need a creative outlet, she is also confident that these things will work out. God, she said, has never let her down, and things have always worked out beyond her expectations.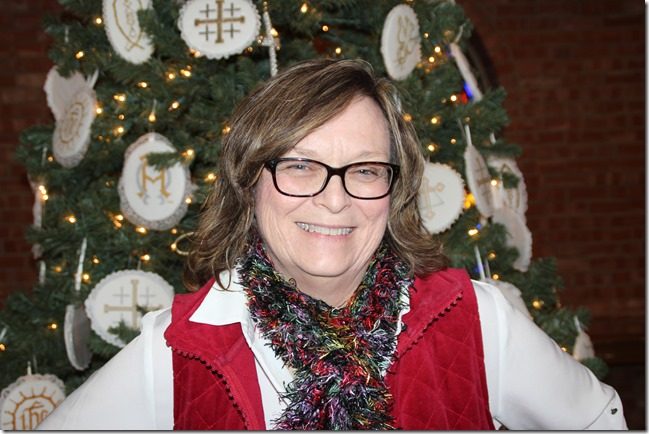 Thanks, Sally, for meeting our needs and expectations and filling our hearts with song.